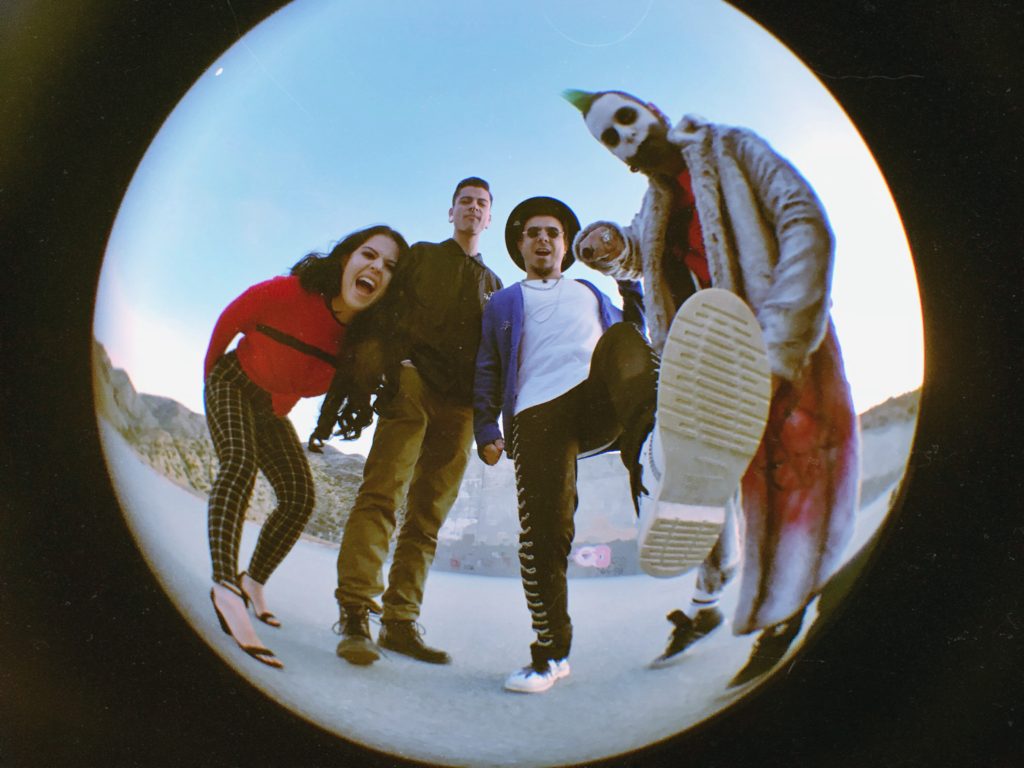 Hey y'all! We thought it'd be great if we could dawn another premiere on you folks. Where all things are flashy, posh and life moves faster than the speed of light, Los Angeles certainly holds an unique as well as an appealing status to it. Similarly, the music that comes out of this world class city is in no different league. Today, we bring to you another Metal Nexus exclusive music video premiere of the LA based alternative gothic/metal trio, SEVEN DAY SLEEP. The quartet are premiering their all new music video, "Down", which is a cover of alternative/indie or dance/electronic duo of Marian Hill from Philadelphia. The music video was filmed during the band's official EP release party for 'Home For Disgusting Fairies', and it incorporates the haunted fairy tale themes that the album revolves around.
The song starts off with a eerie keyboard tune like they play in a jukebox section, and finally the guitars come in bringing in the groove. A lot of gothic influences like the use of electronic synth can also be found, which encapsulates the song in it's true colours. Lead vocalist Sofia Ruszczyk's melodious vocals sits really well on the entire track. You might think given the vocals that the track is no where close to being heavy, but that's where guitarist Okan Isik and bassist/keyboards Can Temiz play a vital role and changes the wholesome dynamic of the song. Melody, symphony and heavy grunge oriented groovy riffs make this cover song an excellent one, I might go as far as to say that, SEVEN DAY SLEEP has outclassed the original artist Marian Hill on this cover(Sorry Marian Hill fans!).  "Down" wonderfully captures what Mohammed Ali said, "Float like a butterfly sting like a bee!".
Here's what the band says about the song,
"We wanted to have a song we could share with our fans that we also loved and that why we chose to cover Down by Marian Hill. While arranging the song we wanted to give it that Seven Day Sleep sound while still keep the essence of the song alive. We weren't really sure what we were going to do for the video but our friend, Gonenc Uyanik surprised us by filming during our EP release party and presented us with the video and we loved it."
They further add, "Marian Hill explains the song to be a party song and going out and having a good time at night. We see it as this but with an evil twist. It's a typical night where were going out to make the night for people that don't deserve to be having a good time miserable and that is what is fun us."
Now for those of you who aren't much aware about this LA quartet, SEVEN DAY SLEEP is a gothic metal or alternative metal band who came to life back in 2016, when they all met through a mutual friend. Taking inspiration and drawing aesthetics from the industry's biggies like Evanescence, Marilyn Manson and My Chemical Romance, the band has been off to a great start with just an EP under their belt. Gothic themes being the central revolving point, the band portrays topics like horror, fantasy and projects a wide array of life experiences fear, death, acceptance, love from varied spectrums. SEVEN DAY SLEEP is like an international food platter where you can find items from all over the world, the band consists of members from Turkey, Sofia was brought up in Switzerland, by an American father and Chilean mother. 
The band have traveled all over the world for the purpose of creating music and following their dreams. Guitarist and bassist, moved to the USA in 2016, after leaving their successful Turkish rock band, Model, to start SEVEN DAY SLEEP. Sofia Ruszczyk moved to the States in 2012 to attend Berklee College of Music. She relocated to Los Angeles in 2015 where she shortly began working for the Madden brothers and joined SEVEN DAY SLEEP.
Their debut EP, 'A Home For Disgusting Fairies' is out now and can be streamed/purchased HERE! On the road to release their new record, the band is already working on it, about which the band says, "has been very exciting". As per them, they've already booked shows in Southern California, and they are very hopeful to go San Francisco very soon. Still on the building blocks, I'm sure they're going to be a great success as the years rolls pass by. So tune into SEVEN DAY SLEEP and keep an eye out for their live shows, as they keep on spreading the darkness amidst melody and heavy symphonies.