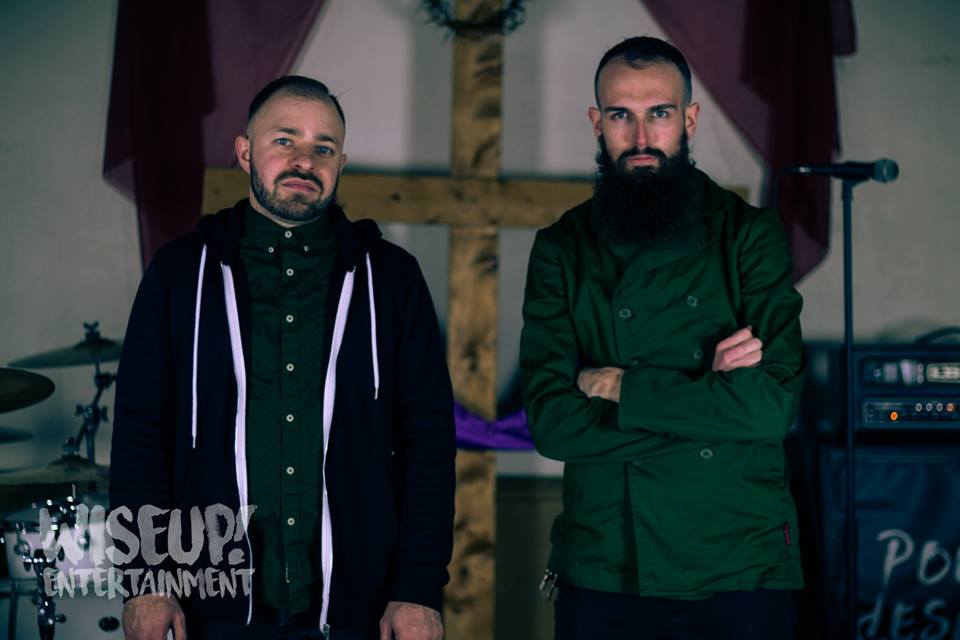 Poetic Descent is an Alt Metal band founded in 2018 in Dayton, Ohio featuring former members of Mayfly. Poetic Decent is the duo of Jared Lacey (vocals, guitar, bass) and Adam Thompson (drums). The pair entered Darkroom Recording Studio (Piqua, OH) to record six songs with Justin Moore shortly after Mayfly announced its end in March of 2017. Their music blends a lot of different elements that allows them to truly stand out. Poetic Descent isn't your run of the mill Alternative metal band. Adam Thompson's drumming often shows flashes of punk, thrash, rock, and hardcore influences. The same really goes for Jared Lacey's vocal approach in the band as well. While he has a more melodic singing voice at times he can instantly belt out some harsh screams that immediately garners your attention.
Lyrically, his songs touch on topics such as the existence of God, addiction, his mother's death, domestic abuse, martyrdom and homosexuality. These songs were released as singles online on all major streaming and download sites starting in March of 2018 with the final song being released in June of 2018. Since then, their debut single, "Close Encounter," has had much success on the radio. In November of 2018, the duo re-entered the studio with Jake Bryant (former guitarist for Dangerkids) and Shaun O'Shaughnessy (Encore Recording Studios in Dayton, OH) to record a new single titled "Pariah" which the the band recently released the audio for. Today the band is releasing an accompanying video to go with the track which also includes guest vocals from Joel Holycross who was also previously a member of Mayfly with Jared and Adam. The video was directed by Jake Wisecup of Wiseup Entertainment.
Joel Holycross who provides some guest vocals on this track also works as the bands manager, and was their former bandmate. About the video and track he has said "As their friend, manager, and co artist in this song I am beyond stoked for this. We've been sitting on this jam for months, and we're ready to release it to the masses! I've watched these guys work hard in the studio, and in their personal lives to make this work. Everything from getting together for the initial ideas, studio time, and working with a wonderful group of people for this video has been great! I'm glad they invited me to do some screaming on this track. Evidently they're pretty aight."
Poetic Decent's new track includes a little bit of everything within "Pariah." You get these rapid paced vocals and incredible harmonies from Jared Lacey who has a variety of tones that is harsh and melodic and everything in between. The rhythm created by Lacey's guitar tone and Adam's drumming consumes your attention and pulls you deep within the song. You will hear elements of nu metal, hardcore, and of course alternative. The final moments of the song introduce you to Adam and Lacey's former bandmate in Mayfly; Joel Holycross who is also a main character within the theme of the video. The song goes into a breakdown and suddenly Joel's guest vocals are introduced adding an over the top heavy touch to "Pariah." It's not often a song can include a variety of elements and still remain cohesive, but that's exactly what Poetic Descent has done here. The song is already receiving airplay on radio making Poetic Descent even more of a household name after ranking them on the singles charts alongside legends like Metallica, Five Finger Death Punch and various others. Enjoy the brand new video for "Pariah" exclusively here at Metal Nexus! Also included below is the a video about the story behind the song, which really gives some insight into the song and its meaning.