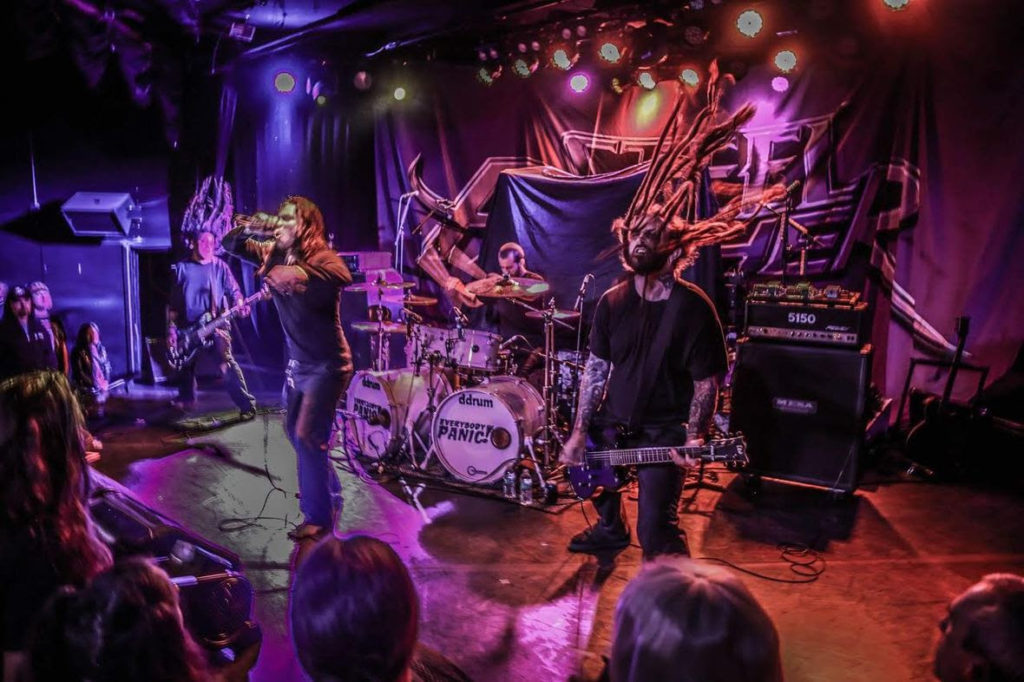 EVERYBODY PANIC! is a highly charged rock band hailing from Oklahoma City, OK by way of Seattle, WA. A powerful four piece, consisting of Ty (Gracie Jiu-Jitsu Black Belt) on vocals, Provo (Skinlab/Rikets) on guitars, Tony on bass, and Levi (Anti-Mortem) on drums, formed in 2012 and released its first self-produced EP independently in February of 2013. The band supported the release with high profile dates with the likes of Five Finger Death Punch, Godsmack, Deftones, and many others. That release would go on to sell over 3,000 copies through digital retailers. The video for "Our Last Goodbye" was shot while out on tour with the band Mushroomhead and is just a live video. It really showcases the band's stage presence and energy while performing.
Through hard work and dedication the band caught the attention of CaviGold Records and entered the famed and haunted Robert Lang Studios in Seattle, WA in March of 2015, to record their follow up, "Attack", which features the highly charged single "No One Gets Out Alive", mixed by Ulrich Wild (Static X, Dethklok).
The band is currently at CaviGold Studios in Orange, CA working on new music, videos and more. Tours will be announced soon for spring/summer 2017.
EVERYBODY PANIC! is:
Ty – Vocals
Provo – Guitars
Tony – Bass
Levi – Drums
Follow EVERYBODY PANIC! on the links below.