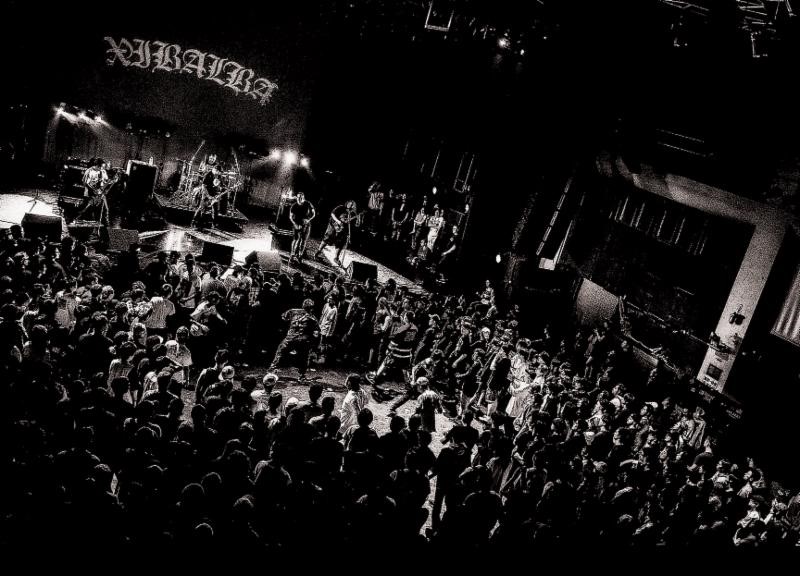 XIBALBA is one of the most violent and fierce acts I have ever witnessed in person. The band formed in 2007 in Pomona, California. The band's sophomore release and Southern Lord Records debut 'Hasta la Muerte' (2012) is still one of the most influential hardcore albums released in the last decade. It was during their tour in support of that album that I was able to see them in what used to be a United States Post Office in the small town of Whitesburg, Kentucky. The city has a population of less than 2,500 people, and it just goes to show the band is willing to play anywhere that their music is wanted. They followed up 'Hasta la Muerte' with their 2015 release 'Tierra y Libertad'. On that album XIBALBA demonstrated their ability to progress their aggressive sound from one album to the next. It's been one year since the release of 'Tierra Y Libertad', XIBALBA now returns with three vicious new tracks of hard hitting hardcore on 'Diablo, Con Amor.. Adios' via Closed Casket Activities. The EP is a continuation of the bands gritty, raw, downtuned, metallic grooves. As with their prior titles, 'Diablo, Con Amor.. Adios' was recorded at The Pit Recording Studio with longtime cohort Taylor Young (Nails, Twitching Tongues, Disgrace) and mastered by Brad Boatright at Audiosiege (Integrity, Nails, Harm's Way), XIBABLA also once again secured artwork from Dan Seagrave (Dismember, Entombed, Suffocation) to visually depict the wrath of these three relentless tracks. XIBALBA has climbed their way to the top in regards to hardcore bands and the new EP is the proof that they have earned their rightful place at the top.
"Diablo" kicks off this EP with an immediate dose of heavy groove. Nate Rebolledo unleashes his harsh vocals over the down tuned guitars. The flow of the song changes tempo several times throughout. The constant cymbal crashes keep the rhythm flowing for the duration of the song. Halfway through this opening track you get this amazing groove breakdown that instantly induces headbanging. "Conamor" wastes no time in showcasing the bands rabid speed and aggressive tendencies. The pace of the song accelerates along with guitarist Brian Ortiz's riffs leading the charge. The song showcases an almost death metal style in regards to the instrumentation. Nate's vocals become more harsh and deeper and he screams along to the break neck speed of the song. "Conamor" is a creative chaos from beginning to end. The deep growls and classic hardcore vocals in the song make it an instant classic. Suddenly the guitar riffs put on the brakes and close out the song with a groove filled instrumental ending. "Adios" is the farewell track on this EP and it's an appropriate send off to this killer 3 track release. The song has constant pace changes and has an almost marching type rhythm. Nate's vocal style on this song eases up slightly and isn't as harsh. Drummer Jason Brunes really unleashes his talents on this track. From double bass kicks to tribal drum beats he really does it all in such a short span of time. The riffs chug along creating this eerie tone that adds another dimension to the style of the song. Most would say that 3 tracks isn't nearly long enough for a release. However, when you have 3 equally face meltingly tracks then it is certainly enough to go around. 'Diablo, Con Amor.. Adios' is a vicious beast that will sink its teeth into you and not let go. You haven't heard hardcore done right until you bear witness to the almighty XIBALBA.
'Diablo, Con Amor… Adios' is available on electric blue with olive/blue splatter, orange with bronze splatter, and solid electric blue vinyl color schemes RIGHT HERE.
XIBALBA Tour Dates:
2/17/2017 Elk's Lodge – Cambridge, MA
2/18/2017 Kung Fu Necktie – Philadelphia, PA
2/19/2017 Sunnyvale – Brooklyn, NY
2/24/2017 Thee Parkside – San Francisco, CA w/ Downpresser, Red Death
2/25/2017 Union – Los Angeles, CA
2/26/2017 PBW – Pomona, CA w/ GodsHate, Red Death, Vamacharra, Hot Heads, Iron Curtain
4/01/2017 Real Art – Tacoma, WA
Follow XIBALBA here.on Facebook