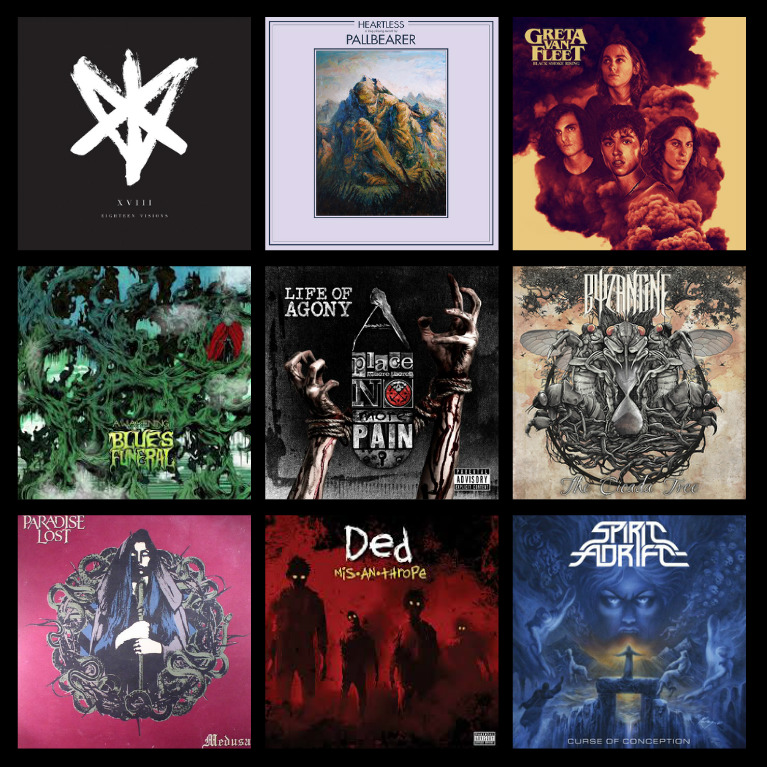 2017 saw the rise of some amazing new bands, the comeback or reunion for others and also genre staples that consistently put out amazing records. Choosing a top 10 albums was incredibly hard this year and some albums I really enjoyed were so close to making the list. Veteran bands return with amazing follow up albums that stay true to their sound and other bands have evolved and changed their sound for the better. Only picking 10 albums meant I had to leave out some albums I truly loved this year, some of those honorable mentions are: Owl Company 'Horizon', Shit The Cow 'Cavelord', Prophets Of Rage 'Self Titled', Body Count 'Bloodlust', Hogan's Goat – 'Self Titled', and Mutoid Man 'War Moans'. In years past without as much competition these albums would have certainly made the cut, but they are each amazing albums that deserve attention.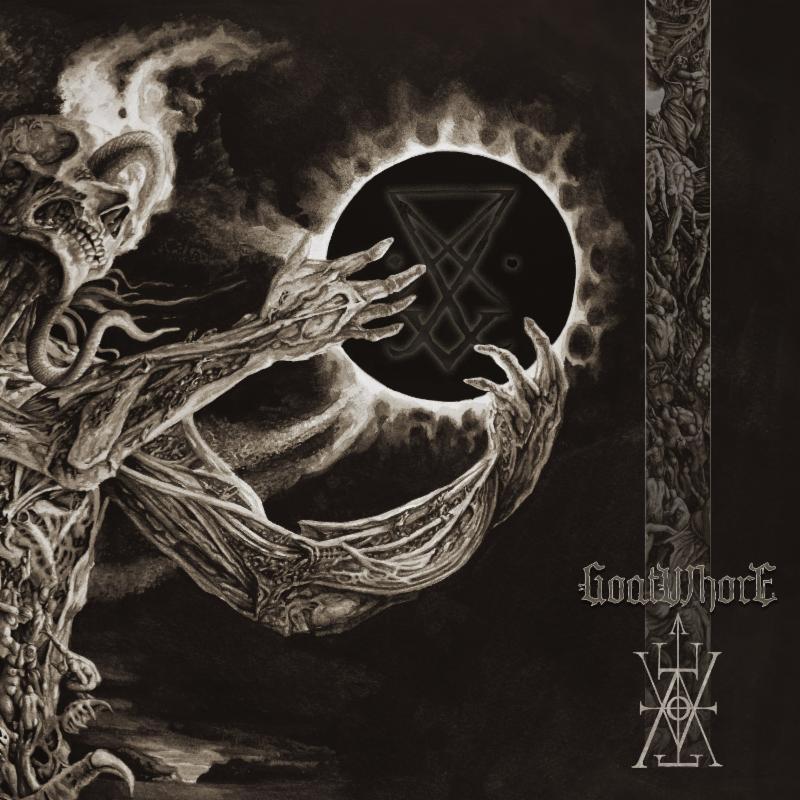 #10. Goatwhore – 'Vengeful Ascension'
Goatwhore never skip a beat from album to album. They are at the top of their game and sit high on the throne in the world of blackened thrash. Sammy Duet unleashes some of the most fierce and unstoppable riffs, Ben Falgoust is always brilliant in his vocal delivery and Zack Simmons thundering percussion is the heartbeat of the band. The title track to the album captures the bands sound like a movie trailer. If you thought 'Carving Out The Eyes Of God' or 'Blood For Our Master' was some of the bands best work you haven't heard this album yet. Always keeping things dark and satanic Goatwhore isn't for the faint of heart. Who needs God when you have Satan? This album is a must have for any fan of riffs, satan and blackened trash.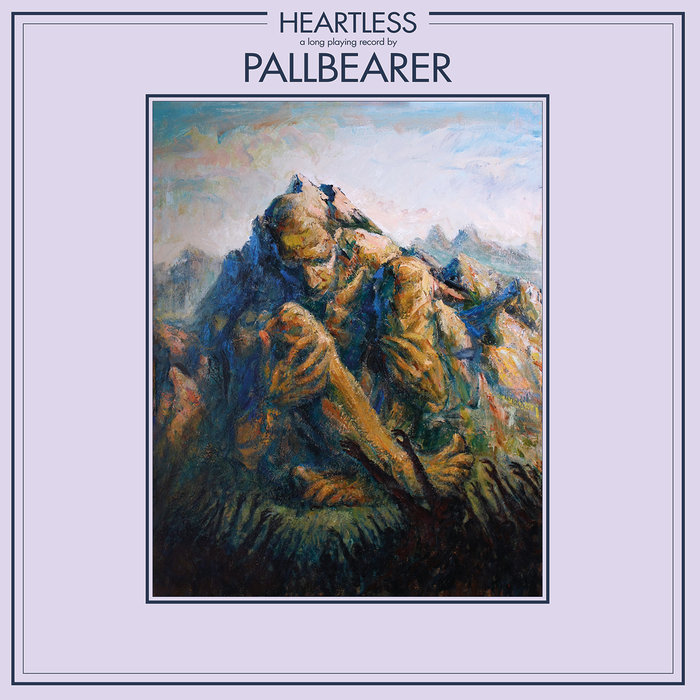 #9. Pallbearer – 'Heartless'
Pallbearer are fighting to keep Arkansas in the music world. And the fight they have brought this year with 'Heartless' is a 100% victory. Theses doomster have done it again and this album may just have on upped the bands amazing debut 'Sorrow and Extinction' that has long been one of my favorite doom albums. The band has incorporated some progressive rock influences into 'Heartless', which has brought some light into their brand of doom and gloom. Brett Campbell's vocals on this album also seem much more stable and clean than on some of the bands previous work. Don't get me wrong I also like the raw feel of his vocals on the earlier album but with the progressive notes they have added the more polished vocal delivery fits the bands evolving sound. Their somber tones and lyrical features tug at your heart strings, and the band is still leading the charge in the world of American Doom. Move over Bill Clinton, Pallbearer are now the icons of Arkansas.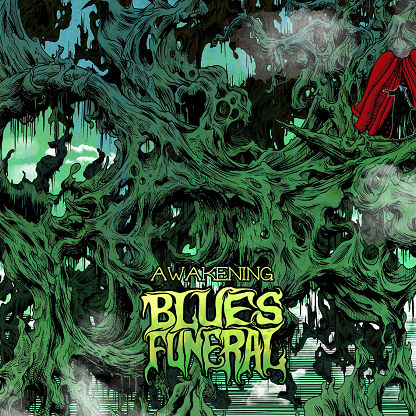 #8. Blues Funeral 'Awakening'.
Blues Funeral has done it again. Their debut 'The Search' made my top 20 albums last year and the bar was raised very high for their second release. Blues Funeral has a powerful raw sound that inches it's way into the doom genre and is drenched with bluesy guitar riffs. Their sound is unique and a blend of so many different influences. The vocal harmonies are a powerful bait that hooks you and drags you into their sound. On "Shadow Of The Snake" you get the bands always amazing riffs and the powerful sounds from the Nord keyboard. You can hear some influence from The Doors within the track, but in addition to that you also get an ear full of doom and blues. Jan Kimmel (El Janni) and Maurice Eggenschwiler's chemistry together is something you not only hear but also feel on this album. There is an ambiance within their music, it's like a landscape mural you want to get lost in. By far one of the most diverse and vibrant releases of the year.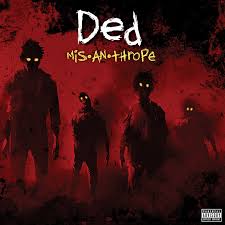 #7. DED – 'MIS AN THROPE' 
There guys came on to the scene and immediately breathed some new life into the nu-metal scene. Old school veterans like Korn, Slipknot, and Linkin Park had been keeping the genre alive, but DED delivered a fresh and aggressive point of view.  My first experience hearing the band actually came in person at Carolina Rebellion, and after seeing the band 3 times in 2017 I can easily say they are just as amazing live as they are on the record. Interviewing the guys on 2 occasions as well they are down to earth, creative and passionate about their craft. "Anti-Everything" became the anthem of the summer, especially to festival goers. This is a band that will not fade away. "Remember The Enemy", "FMFY" and the rest of the album all have that special something that makes you instantly fall in love with the song. These songs are impossible to sit down listen to and not headbang and sing along to. DED is one of the best new bands of 2017. I expect their sophomore album to be just as impressive. See our interviews with the band here and here.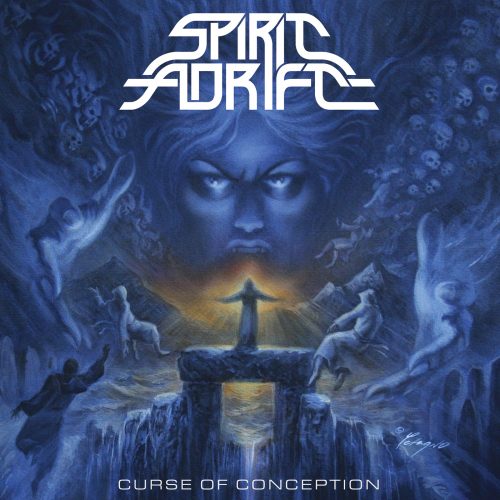 #6. Spirit Adrift  'Curse Of Conception'
Doom lovers beware, you will not be able to stop listening to this album. On tracks like "Earthbound" you hear Nate Garrett chime in with his powerful melodic vocals. He really stretches out the lyrics and vocally holding notes with precision. The slow slamming riffs are what gives the band their amazing doom sound. Featuring members of Gatecreeper, Goya and others the band blends together psychedelia, desert rock, and doom. The album from start to finish is astonishingly heavy. "To Fly On Broken Wings" starts out with this slowed down melodic guitar riff. It has that true live sound where you can even hear the pick scratching along the strings. It's these small raw aesthetics that propel Spirit Adrift even further with their unique sound and style.  There are several special moments throughout the track, often teasing you as the song fades out but then comes back for one more doom filled attack. There were tons of great doom albums this year, but Spirit Adrift put their stamp on 2017 with 'Curse Of Conception'.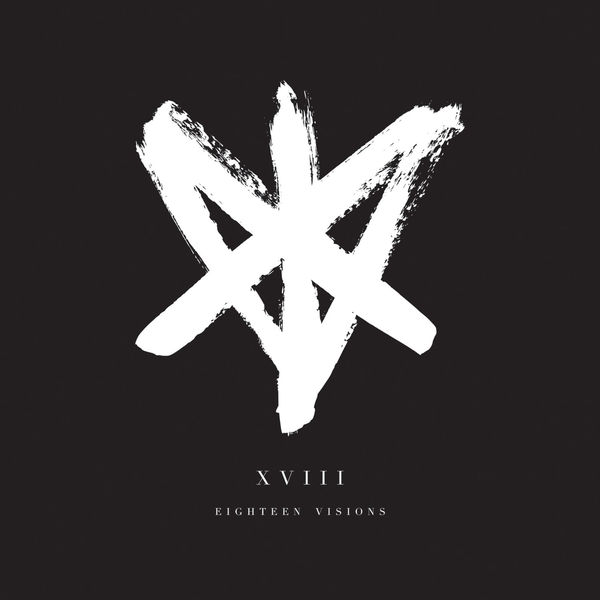 #5. Eighteen Visions – 'XVIII'
This was the first album from the Orange County band in 11 years. Comeback albums are always either amazing or a flop and Eighteen Visions certainly haven't released a flop with 'XVIII'. A band that many of us grew up with and cherished is finally back, and with vengeance I must add. If you are a fan of Eighteen Visions you will absolutely love this album, there is no rust, no cobwebs they are just as good today as they were the day they put the band to rest over a decade ago. If you are new to this band; be prepared to fall in love and instantly start revisiting their discography there is plenty more of this from years past. Eighteen Visions has reawakened a burning fire within themselves and 'XVIII' comes across as if a day hasn't passed since their last release, and this is certainly some of the best material they have ever released.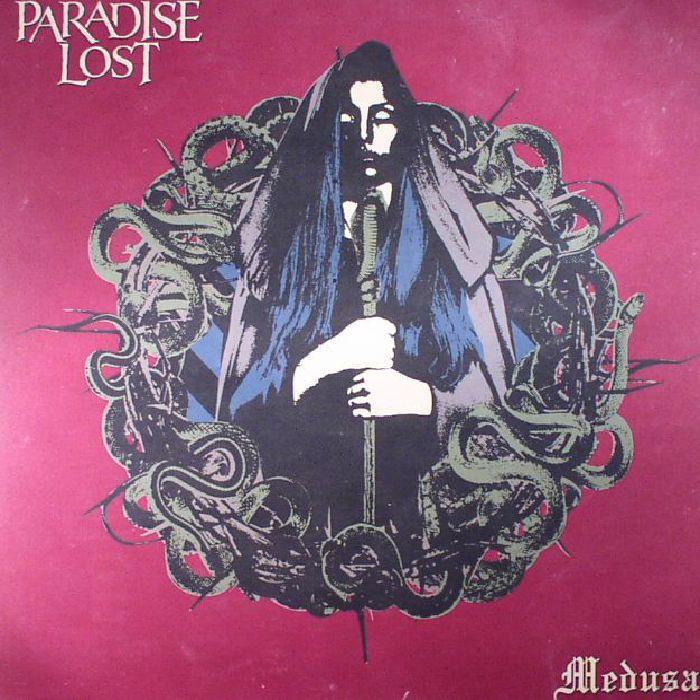 #4. Paradise Lost – 'Medusa'
This marks Paradise Lost's 15th studio album, and they have managed to never repeat themselves and constantly impress listeners. 'Faith Divides Us – Death Unites Us' has been one of my favorite Paradise Lost records in recent years and I never expected 'Medusa' to top that album, but it did. Songs like "The Longest Winter" have that slowed down riffing that the band is known for. Nick Holmes' vocals always with this gothic eeriness. I'm sure all Type 0 Negative fans have fallen in love with his vocal approach, even when he reverts to his much more harsh and less melodic tones. This album sees the band return to their doom roots with ample amounts of goth rock incorporated as well. The band experiments with tempo changes throughout the album and it works magnificently. Guitar solos bookend the title track and some piano is also added to give the track a tremendous amount of depth. Paradise Lost have mastered their sound, they sit in a genre all to themselves because of their constant unique approach to music and their always evolving sound.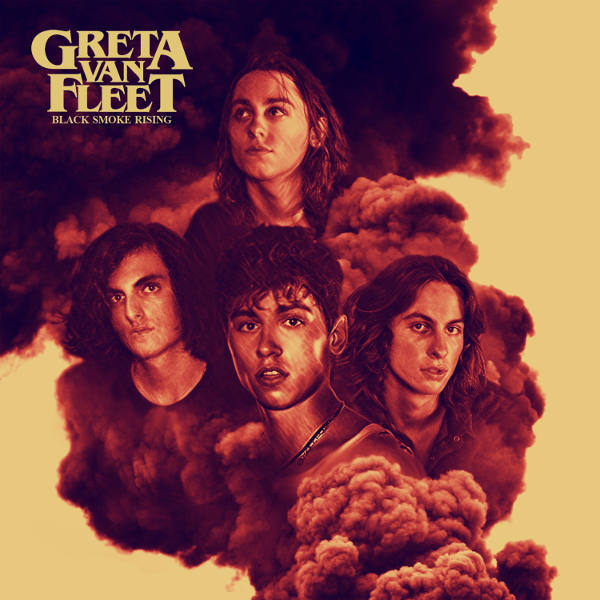 #3. Greta Van Fleet – 'Black Smoke Rising' 
Three brothers and their friend was likely one of the fastest propelling bands of the year. They became the band to see and their headlining tour sold out completely. Their throwback style has revived old metal heads and captured the attention of young fans as well. Josh has a vocal style that is blues inspired and he hits notes that are just jaw-dropping impressive. "Black Smoke Rising", "Safari Song", "Highway Tune" and "Flower Power" are all immediate hits. Yes, this is just a 4 track EP. But each of these 3 songs is completely mind blowing. Each song could easily be the single. All thriller, no filler. The band recently put out a double EP which adds 4 new tracks and also includes the 4 on 'Black Smoke Rising'. This release is just as good, but it was this first initial release that really got the ball rolling for the band and I'm sure it will make most everyone's top 10 list, this is an EP and band that you can't ignore. Greta Van Fleet is an instant success and they are just getting their feet wet. You can also watch our interview with guitarist Jake here.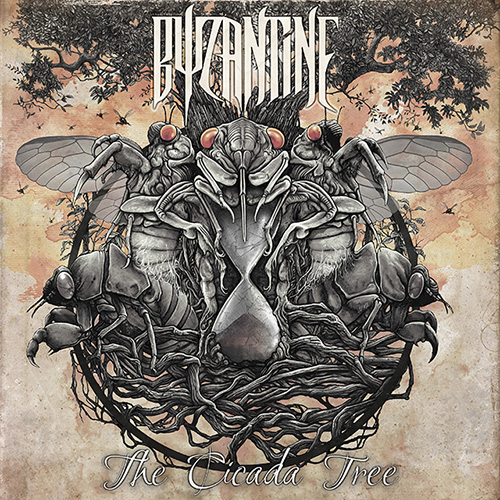 #2. Byzantine – "The Cicada Tree". 
These West Virginians have long been underdogs in the world of metal. Their previous album 'To Release Is To Resolve' was one of the bands best albums to date and with the power of Metal Blade Records now behind them the band was able to keep the momentum flowing with 'The Cicada Tree'. Vocalist/guitarist OJ Ojeda has broadened his vocal approach far beyond his thrash roots and shows off various approaches and tones throughout the album. You also have to give any metal band props when they have the guts to cover The Cars "Moving In Stereo", which I might add is one hell of a damn cover and features guitarist Brian "Hendo" Henderson on vocals. Bassist Sean Sydnor is a large part of the bands sound, his technical abilities and style is the glue that holds everything together and in my book is one of the best bassists in modern metal. "New Ways To Bare Witness" shows off Byzantine's thrash and prog sounds and the video for the song is equally amazing. I'm very happy that people around the world are finally getting to know and respect these West Virginians. If you haven't heard this album I highly suggest you pick it up now.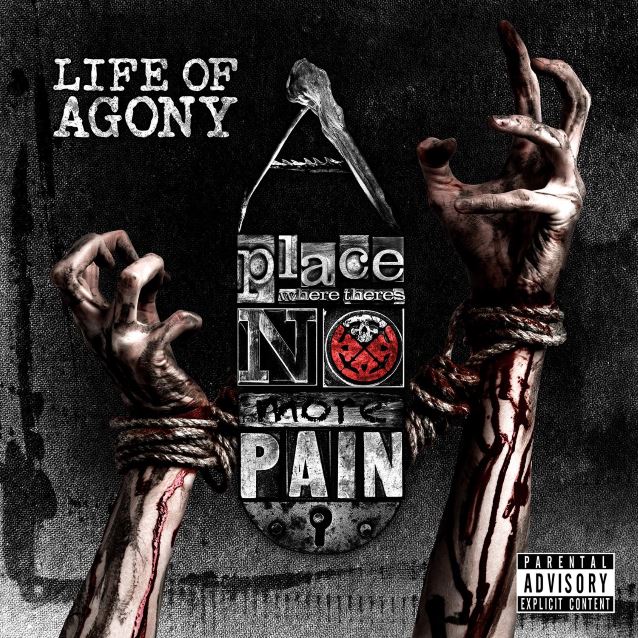 #1. Life Of Agony – 'A Place Where There's No More Pain'
How long have we been waiting on a comeback album from Life Of Agony? 12 years! Was it worth the wait? You damn right it was. 'A Place Where There's No More Pain' had that true New York Hardcore feel and the title track was like a time machine back to the bands debut album 'River Runs Red'. Mina Caputo's vocals are on point as always, Joey Z. is a maestro on the guitar. His abilities is a driving force within the band. We hate to hear that Sal has recently decided to leave the band but we hope this doesn't prevent us from waiting on another Life Of Agony album. Since the albums release in April is has constantly been on rotation in my music rotation.  "World Gone Mad" is an accelerating sing along hit and the rest of the album is just as good. If you are a Life Of Agony fan picking a top album of the year was a no brainer.
It's a hard task picking 10 albums from a year of great music. The rest of the staff will be releasing their personal best of lists over the next week. What has been some of your favorite albums of 2017? Let us know, did we miss your #1 album of the year? Stay tuned as we will also unveil our most anticipated albums of 2018 after the beginning of the year.