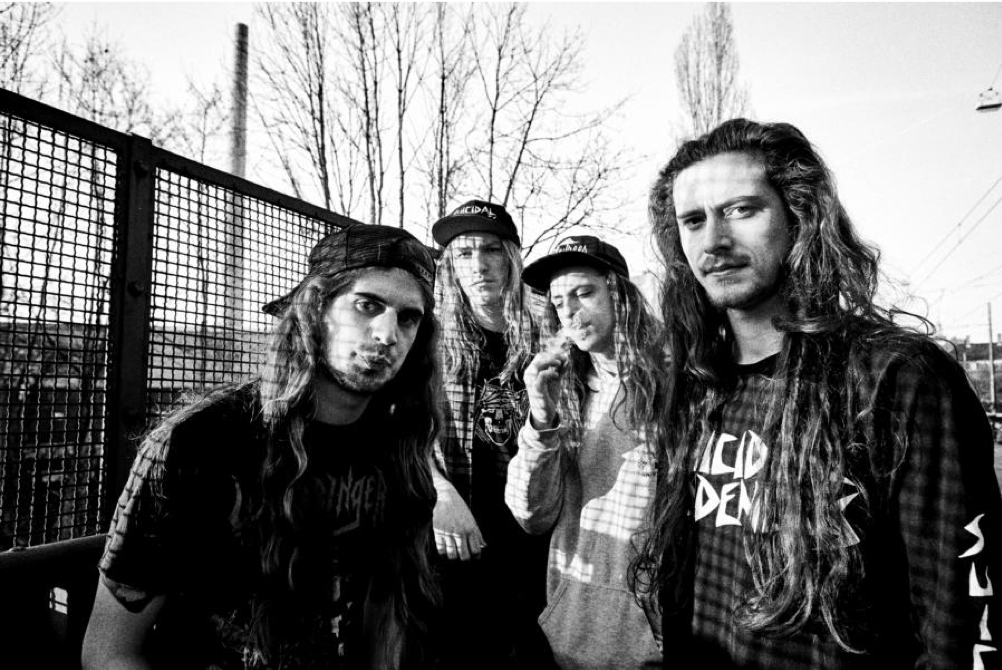 Following an extremely successful North American tour supporting the mighty Obituary, DUST BOLT are now set to return Stateside in May.  The band will again be supporting Obituary, but this time they will also be joined by Pallbearer and Skeletonwitch.  The tour kicks off May 2nd in Atlanta, GA and runs through June 3rd in Miami, FL.  A complete list of dates can be found below.
Frontman Lenny B comments on the upcoming tour, and hints at the release of their upcoming new album, following 2016's 'Mass Confusion', this fall. He says they "might play one or two songs" off of their forthcoming album. The thrashers haven't released any new material and this could be their first time letting the fans have a sneak peek of what this album would look like.
"We are excited to come back to the United States to tour together with our favourite Death Metal band Obituary again! The Battle of the Bays tour last year was a total blast and our first time in States so far.  We can´t be any more stoked to be back again! We are super thankful for the guys in Obituary for taking us out on tour with them and we can´t wait to tear the States apart. We even might play one or two songs of our upcoming album, which is planned to be released in fall, at few shows – who knows!?  2018 is on fire! Be prepared."
Watch a trailer for the tour below.
It's only been six years since Southern Germans DUST BOLT won the W:O:A Metal Battle 2011 – six years the band has used to transform themselves from hot newcomers into national thrash heroes with their debut 'Violent Demolition!' These Bay Area aficionados dropped their third full length 'Mass Confusion' in July 2016. Relentless touring plus constant fine-tuning of the typical DUST BOLT sound have finally paid off: the old school songwriting is focused and free of ballast weight, yet despite all the rage and aggression there is still plenty of breathing space for melodic guitar work, gang shouts and ten-ton grooves.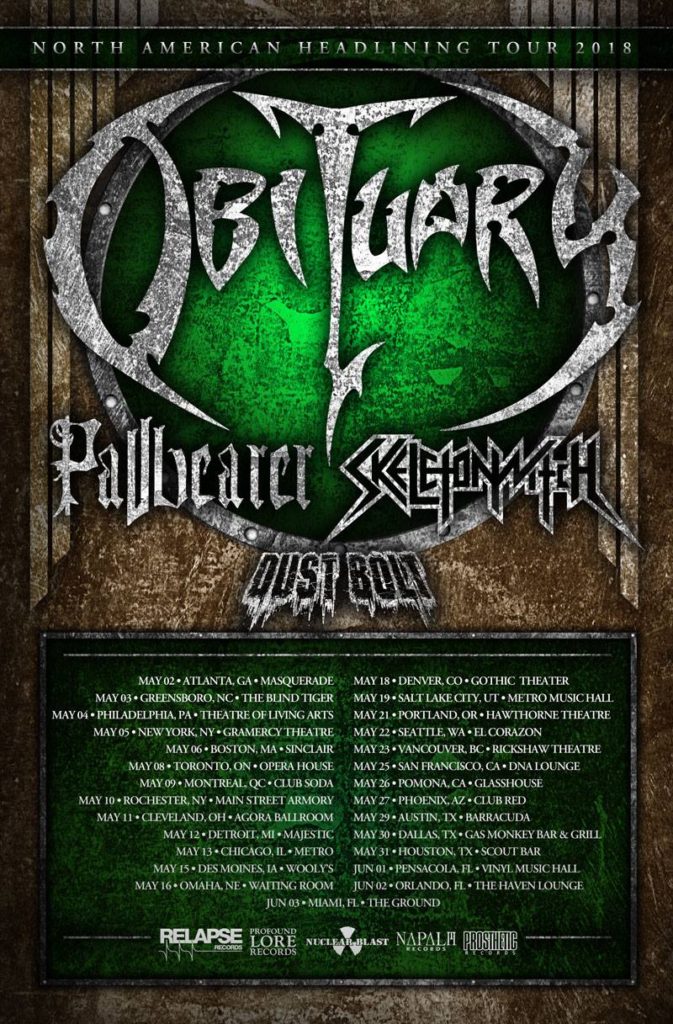 DUST BOLT W/Obituary:
5/2: Atlanta, GA @ Masquerade
5/3: Greensboro, NC @ The Blind Tiger
5/4: Philadelphia, PA @ Theatre of Living Arts
5/5: New York, NY @ Gramercy Theatre
5/6: Boston, MA @ Sinclair
5/8: Toronto, ON @ Opera House
5/9: Montreal, QC @ Club Soda
5/10: Rochester, NY @ Main Street Armory
5/11: Cleveland, OH @ Agora Ballroom
5/12: Detroit, MI @ Majestic
5/13: Chicago, IL @ Metro
5/15: Des Moines, IA @ Wooly's
5/16: Omaha, NE @ Waiting Room
5/18: Denver, CO @ Gothic Theatre
5/19: Salt Lake City, UT @ Metro Music Hall
5/21: Portland, OR @ Hawthorne Theatre
5/22: Seattle, WA @ El Corazon
5/23: Vancouver, BC @ Rickshaw Theatre
5/25: San Francisco, CA @ DNA Lounge
5/26: Pomona, CA @ Glasshouse
5/27: Phoenix, AZ @ Club Red
5/29: Austin, TX @ Barracuda
5/30: Dallas, TX @ Gas Monkey Bar & Grill
5/31: Houston, TX @ Scout Bar
6/1: Pensacola, FL @ Vinyl Music Hall
6/2: Orlando, FL @ The Haven Lounge
6/3: Miami, FL @ The Ground
Don't miss this fatal attack of a tour. Get your tickets before they get over. Buy HERE!