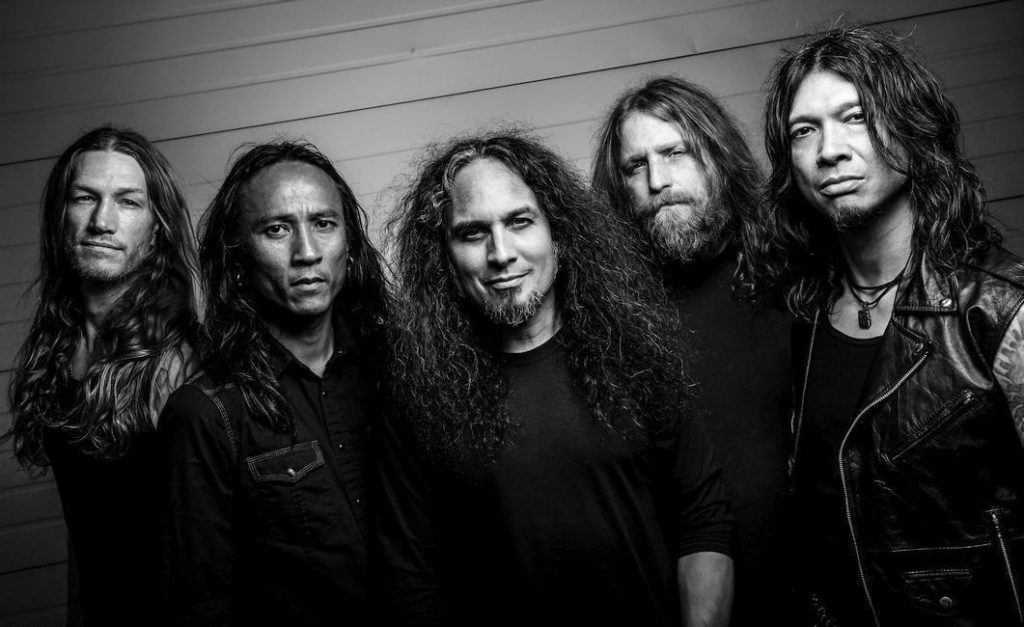 DEATH ANGEL are Bay Area's one of the most well known thrash metal bands of all time who has had an illustrious career spanning well over 30 odd years and having belted out some of the all time thrash metal classics like their debut 'The Ultraviolence' which just breathes pure unadulterated speed/thrash metal. Their recent album was last year's 'The Evil Divide', which in my humble opinion is one of their best works till date. It is raw, gritty and thrash to the core, the way it's meant to be. It has been just a wee bit over a year since 'The Ultraviolence' came out in May 26th, 2016, via record label, Nuclear Blast. On this day, the thrashers release a lyric video for their song, 'Breakaway' from their latest offering, that is, 'The Evil Divide', a great track no doubt!
DEATH ANGEL have been very busy touring in support of their new album, voyaging across countries and continents, also featuring on specials like '70000 Tonnes of Metal'. They are also gonna be there playing at 'Metal Maya' which is a heavy metal dest-fest, a very appealing and innovative concept of a all metal holiday destination. A few days back we featured 'Metal Maya' on an article, which you can read here.
Finally after a significant amount of touring in the United States along with their label mates Slayer and Anthrax and a lot of others, it is finally time for DEATH ANGEL to set foot on European land and perform for you folks out there, supporting their new album as the 'The Evil Divide' touring cycle continues. DEATH ANGEL will pulverize masses this summer with headline shows and appearances at festivals such as Rockharz Open Air, Antwerp Metal Fest, and Bang Your Head Festival. Following are the tour dates.
'The Evil Divide Across Europe Tour 2017'
06.07. – D Ballenstedt – Rockharz Open Air
07.07. – D Berlin – Badehaus
08.07. – NL Eindhoven – Dynamo Club
09.07. – B Antwerp – Antwerp Metal Festival
10.07. – LUX Esch/Alzette – Kulturfabrik
12.07. – D Balingen – Bang Your Head!!! Festival
13.07. – CZ Vizovice – Masters Of Rock
14.07. – S Gävle – Gefle Metal Festival
15.07. – D Weil am Rhein – Baden in Blut
16.07. – D Frankfurt – Zoom
19.07. – F Nantes – Le Ferrailleur
20.07. – F Paris – Le Petit Bain
21.07. – F Puget-Sur-Argens – Le Rat's
23.07. – I Brescia – Colony Open Air
26.07. – CH Aarburg – Musigburg
27.07. – D Munich – Free & Easy Festival
28.07. – SLO Tolmin – Metaldays
29.07. – D Lindau – Club Vaudeville
30.07. – D Essen – Nord Open Air
01.08. – D Nuremberg – Hirsch
04.08. – NL Steenwijkerwold – Dicky Woodstock
05.08. – P Corroios – VOA Fest
06.08. – NL Rotterdam – Baroeg
08.08. – UK Wolverhampton – Slade Rooms
09.08. – UK Glasgow – Audio
10.08. – UK Bridgend – Hobos
11.08. – UK London – Underworld
12.08. – B Kortrijk – Alcatraz Festival
More DEATH ANGEL dates:
01. – 03.07. – CO Bogotá – Rock al Parque
02.09. – D Markneukirchen – ReeveLand Festival
29.10. – 02.11. – MEX Cancun – Metal Maya
Haven't checked out 'The Evil Divide' ? You're missing out. Get it here.