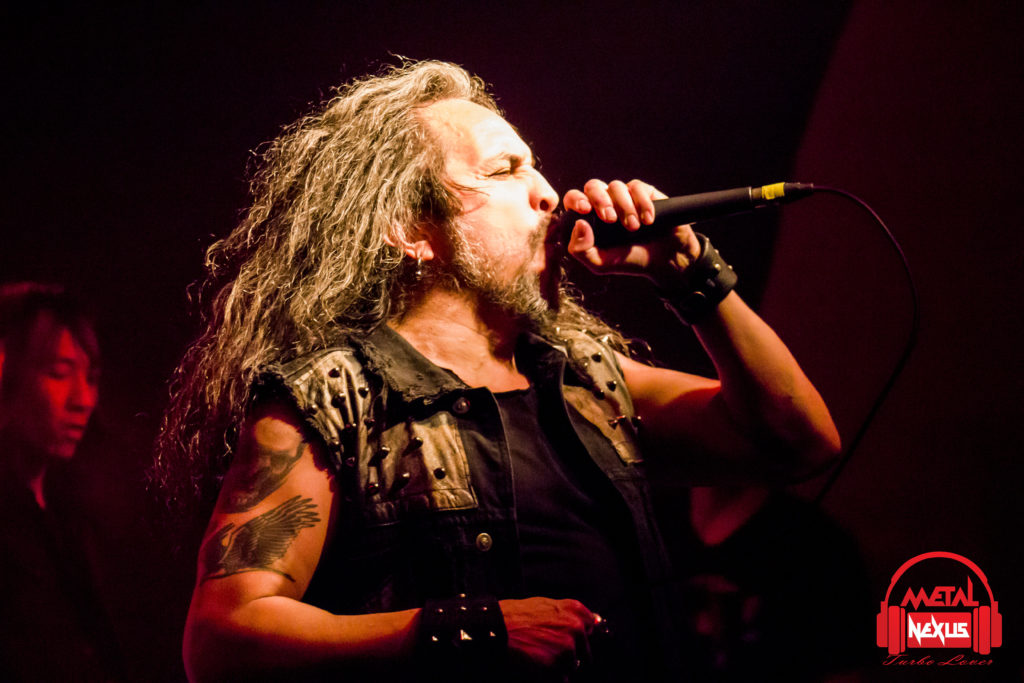 Currently on tour supporting their upcoming release 'Humanicide', Death Angel are hitting several cities across the country. Last week, the thrash legends stormed through Huntington, WV's V Club bringing along Dallas, TX intergalactic rock trio Mothership and Charleston, WV's Byzantine for a night of total destruction and Metal Nexus was there to catch it all!
The 1980's were, as some would say, the Golden Age of thrash metal. A lot of groundwork was laid by bands like Testament, Slayer, Overkill, and several others to pave the way for bands that would come after them. One of the key elements in the growth of thrash metal was the Bay Area thrash scene which introduced bands like Exodus, Metallica, and Daly City, CA natives Death Angel. The band was formed in 1982 by cousins Rob Cavestany, Dennis Pepa, Gus Pepa, and Andy Galeon and released their first demo, 'Heavy Metal Insanity' in 1983. They followed up with a second demo produced by Metallica's Kirk Hammett, 'Kill as One', which quickly spread like wildfire throughout the metal community and eventually landed them a record deal with Enigma Records through whom the band released their debut album, 'The Ultra-Violence'. Death Angel would release two more albums, 'Frolic Through the Park' and 'Act III', before announcing their disbanding in 1991.
The band reunited in 2001 for a cancer benefit show for Testament front man Chuck Billy which was slated to be a one-off performance. Death Angel received an overwhelming reception by fans and ultimately released 'The Art of Dying' in 2004 after signing with Nuclear Blast Records, marking their first release in 14 years. Since then, Death Angel has released four albums, 'Killing Season' (2008), 'Relentless Retribution' (2010), 'The Dream Calls for Blood' (2013), and 'The Evil Divide' (2016), with the highly-anticipated 2019 release, 'Humanicide', with their current lineup consisting of Rob Cavestany (lead guitar/vocals), Ted Aguilar (rhythm guitar), Will Carroll (drums), Damien Sisson (bass), and Mark Osegueda (vocals), due out May 31st!
Last week, Death Angel, Mothership, and Byzantine graced the stage at The V Club in Huntington, WV and the show kicked off in full force as the semi-local boys from Charleston, WV, Byzantine, wasted no time powering into their first song of the night "Slipping on Noise". The entire crowd were primed up and eager to hear more and, without hesitation, Byzantine happily obliged, serving up "Soul Eraser" and "Taking Up Serpents". The intricacies of the guitar work provided by front man/rhythm guitarist Chris "OJ" Ojeda and lead guitarist Brian Henderson are mind-blowing, especially in a live setting, and really added to the showmanship as well as the group's band-to-crowd interaction being one of their most admired qualities, for me anyway. Byzantine continued to power through their set, never losing an ounce of momentum as they crossed "The Agonies" and "Centurion" off the list and finished out their time with 2017's punch in the gut, "Vile Maxim" which you can check out below!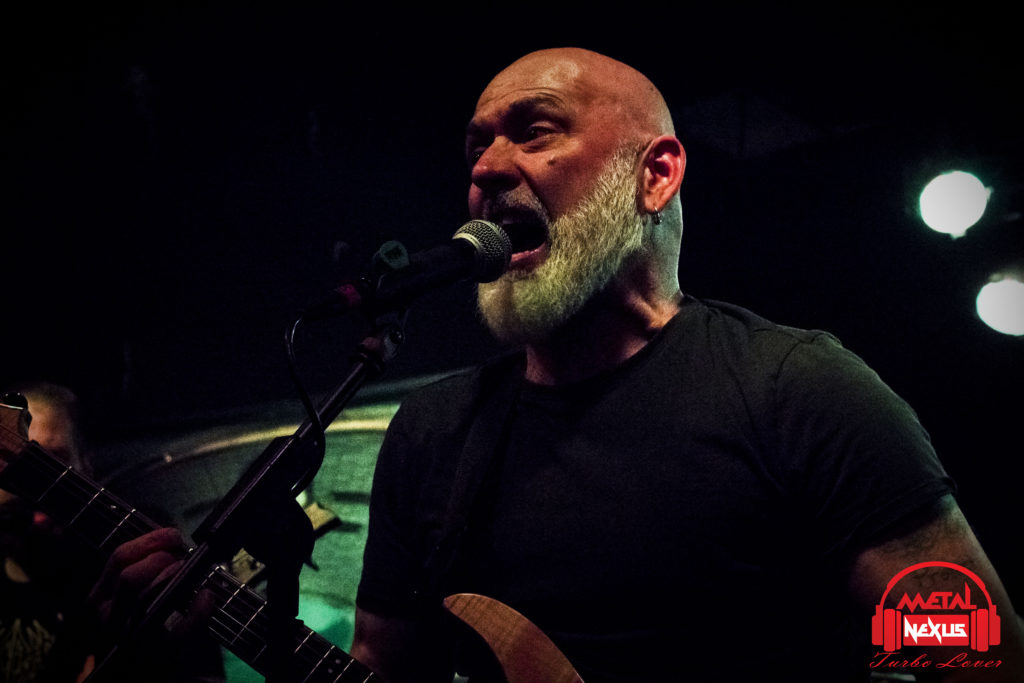 With a short changeover and a refill on beer, it didn't take long for Dallas, TX supersonic intergalactic trio, Mothership, to take the stage. In contrast to Byzantine, as well as Death Angel, Mothership steered the show into a new direction with their heavy sound that the band best describes as "a unique sound that satisfies like a steaming hot stew of UFO and Iron Maiden, blended with the southern swagger of Molly Hatchet and ZZ Top, paired with a deadly chalice of Black Sabbath. Mothership's goal from the beginning has been to carry on the tradition of the classic rock style of the '70′s, updated and amped up for the modern day." No matter what direction Mothership decided to take the show in, one thing was for certain: the crowd would definitely follow! Although their set was a little shorter, Mothership still did their job beautifully and most likely gained several new fans as they opened their set with "Lunar Master", after which the guys took a short minute to down the tequila shots that an audience member gifted them with, so it was obvious they were on the right track with this crowd! Mothership soon followed up and kept the train rolling with "Cosmic Rain", and my personal favorite, "Hot Smoke and Heavy Blues". Guitarist, Kelley Juett, was a show all by himself, however; as he jumped, danced, made faces, and seduced the crowd with his moves, they all made sure to not only bring this kick-ass onslaught of 70's inspired heavy metal, but to also bring some life to the show. The flawless guitar work paired with the thundering bass provided by his brother Kyle Juett and driven by the intense drumming of Judge Smith kept powering on as the group finished up their set with "Crown of Lies" and "Angel of Death" before saying their thanks once more and joining the rest of the venue as we all awaited the almighty Death Angel.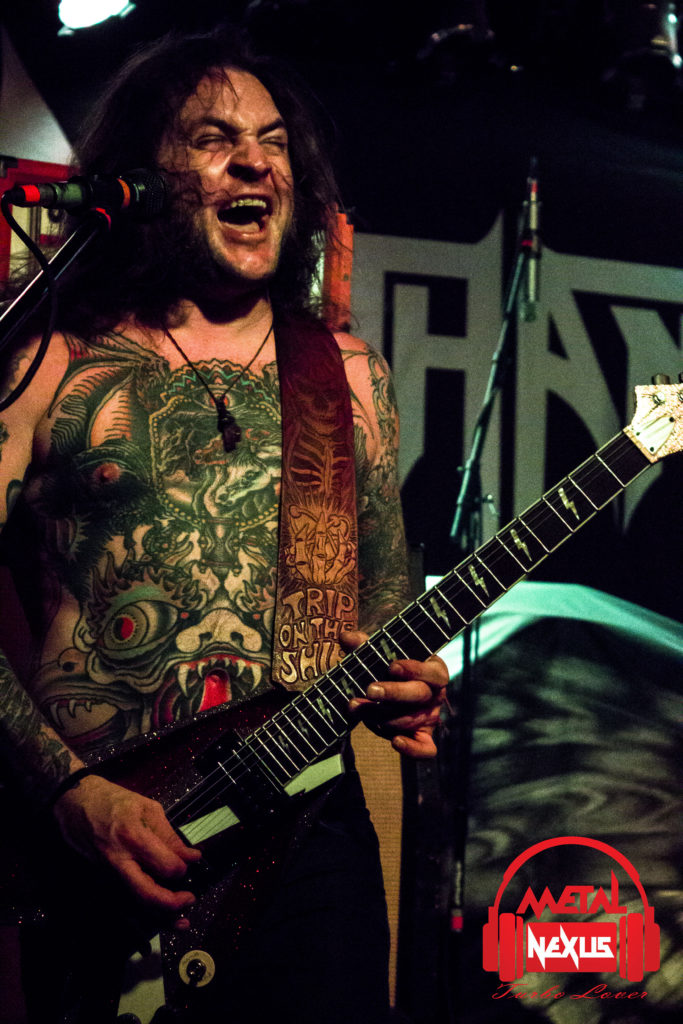 The time had finally come. The California thrash legends were moments away from gracing The V Club stage with their presence. Death Angel members emerged from backstage, one at a time, blue lights pulsated to the cadence of a slow, steady drum track building up to the fast-paced intro stabs everyone would easily recognize as the opening riffs for "Thrown to the Wolves". As the band carried on rattling the building to its core, vocalist Mark Osegueda's piercing, gritty screams belted out the song's first verse: "Led to the slaughter by those who were there to protect/Nailed to the cross then put on display to dissect/Dignity stripped like flesh being ripped from the bone/Sentence: death by mongrels to which you are thrown". Huntington, WV was made well aware that Death Angel had officially arrived. The band chipped away at the set list, following up with "Claws in so Deep", "Voracious Souls", "Father of Lies", and "The Moth" and kept the momentum (and volume) all the way up.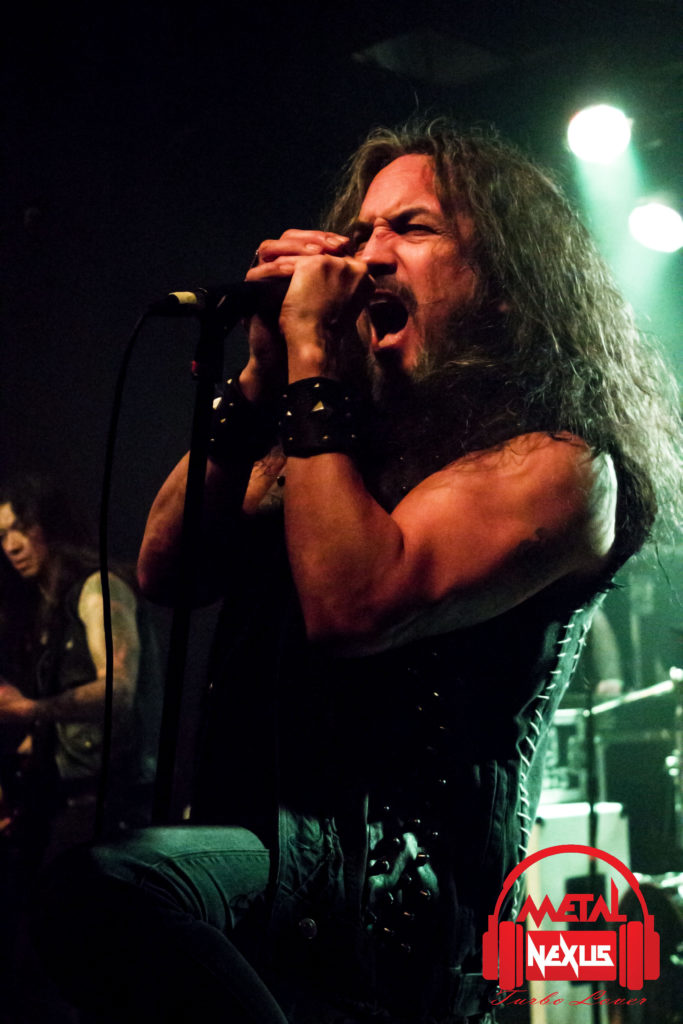 Death Angel were very engaged with the crowd and it was obvious both parties were having the best of times. Several times throughout their set, Osegueda would take time to thank everyone and banter a bit; and although most bands do that as well, there was just something about the way he said it that let you know he really meant it. You could really tell the guys were genuine and humble just from the energy that flowed from the stage to the crowd and when you pair that with some amazing thrash metal all night, count me in! Death Angel continued ripping through the list as they dished out tracks like "The Dream Calls for Blood", "Mistress of Pain", and "Lost" before playing my personal favorite, "Humanicide" from the upcoming 2019 album of the same name. Before leaving the stage, Death Angel powered through the hits "I Came for Blood", "3rd Floor", and finished up their night with "The Ultra-Violence" and "Kill as One", for which they received a roaring response from everyone in attendance.
Now, I'm no stranger to thrash metal, but I do have to admit that this was my first live thrash metal experience and let me be the first to say the Death Angel are icons for a reason. If any of you out there in internet land get a chance to catch a Death Angel show (or Byzantine, or Mothership, for that matter) DEFINITELY DO IT!! All three bands possess the skill, showmanship, passion, and grit to make for a mesmerizing experience set to some kick ass music! You can't go wrong with EITHER of these bands, but to catch them all under the same roof is something surely worth seeing!
Byzantine
Mothership
Death Angel