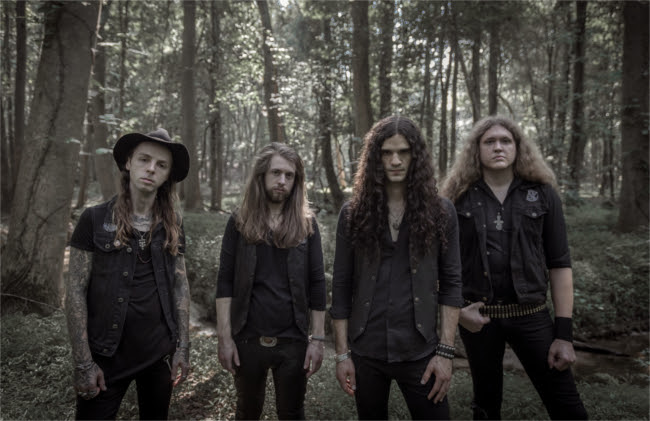 Atlanta, GA's metal quartet CLOAK have announced new dates surrounding their tour supporting MAYHEM. CLOAK will kick off their tour on March 25 at Kentucky's Blood of the Wolf Festival, and will perform across Baltimore, Columbus, and Waterford, NY before joining MAYHEM. A full list of confirmed tour dates can be found below.
CLOAK are touring in support of their debut full length, 'To Venomous Depths'. It is available across various CD and LP formats here. The album is also streaming across Bandcamp, Spotify, Apple Music and more!
Established in 2013, CLOAK initially locked themselves away, carefully preparing the band's debut material. A mere two years later, the band released their first demo (Demo 2015) and created waves in the American underground. Following the release of the demo, a two song self-titled EP was unleashed earlier this year, and saw the band receiving critical acclaim both locally and internationally. In their short time as a band, CLOAK have already shared the stage with bands such as WOLVES IN THE THRONE ROOM, KYLESA, WINDHAND, INTER ARMA, and more. 
CLOAK live
Mar. 25 Lexington, KY @ Blood of the Wolf Fest (tickets)
Mar. 26 Columbus OH @ The Summit w/WITHERED
Mar. 27 Baltimore, MD @ Metro Gallery (tickets)
Mar. 28 Waterford, NY @ Chrome
Mar. 29 South Burlington, VT @ Higher Ground (tickets)*
Mar. 30 Amityville, NY @ Revolution Bar and Music Hall (tickets)*
Mar. 31 Providence, RI @ Fete Music Hall (tickets)*
Apr. 1 Richmond, VA @ Strange Matter w/HELLRAD and OCCULTIST (tickets)
* = w/ MAYHEM, INCANTATION