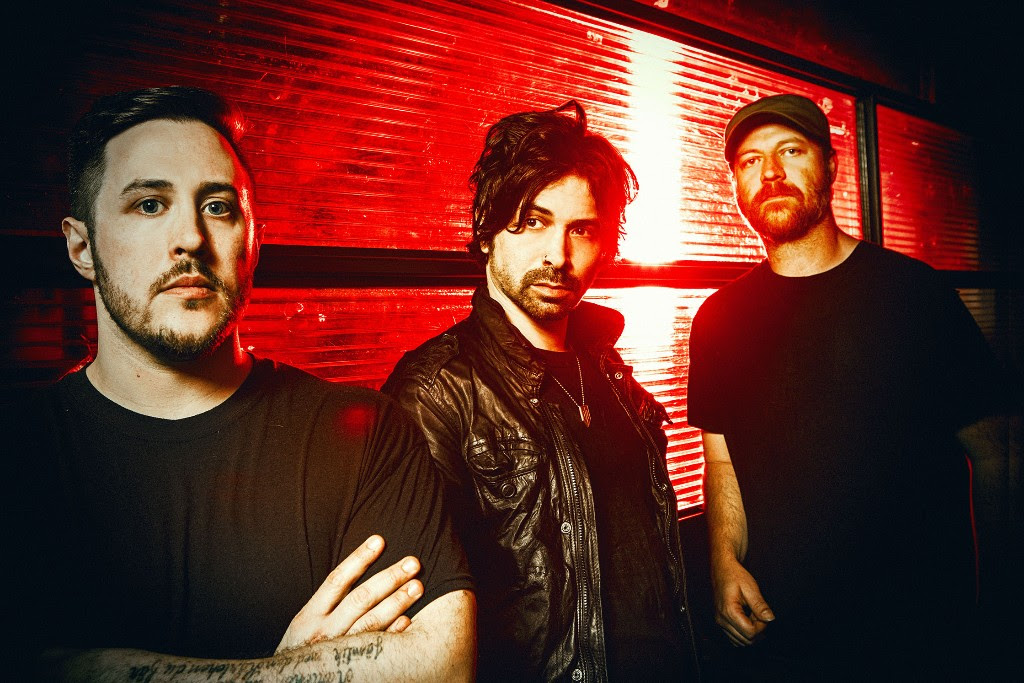 Skate punk legends CKY have released video for "Wiping Off the Dead" and announce upcoming tour. Directed by Dave Causa, this is the third video for the latest release The Phoenix. Drummer Jess Margera explains, "Our good friend Dave Causa filmed us rehearsing for our UK tour last summer and the end result was us making a badass music video. "It was filmed before we ever played a single show for the release of our album. Thank you, Dave, and thank you CKY alliance! Enjoy this great video from the archives." This release follows up the latest video "Head for a Breakdown", filmed around London with The Costa Sisters during their widely successful tour.
The Phoenix was released last summer via Entertainment One, being their first release since the 2009's Carver City. The album was mixed and engineered at the famous Rancho De La Luna in Joshua Tree, California. Now, the band his headed out on a co-headlining tour with Slaves with support from Royal Thunder and Awaken I Am. Tickets and limited VIP meet and greet packages are available now. VIP packages include meet and greets, exclusive merch, and autographs, and more! Along with this tour CKY will also be performing at Lollapalooza, Sturgis Motorcycle Rally, Psycho Las Vegas, and Blue Ridge Rockfest!
CKY is Chad I Ginsburg, Jess Margera, and Matt Deis. To keep up to date on CKY follow them on Facebook and Twitter!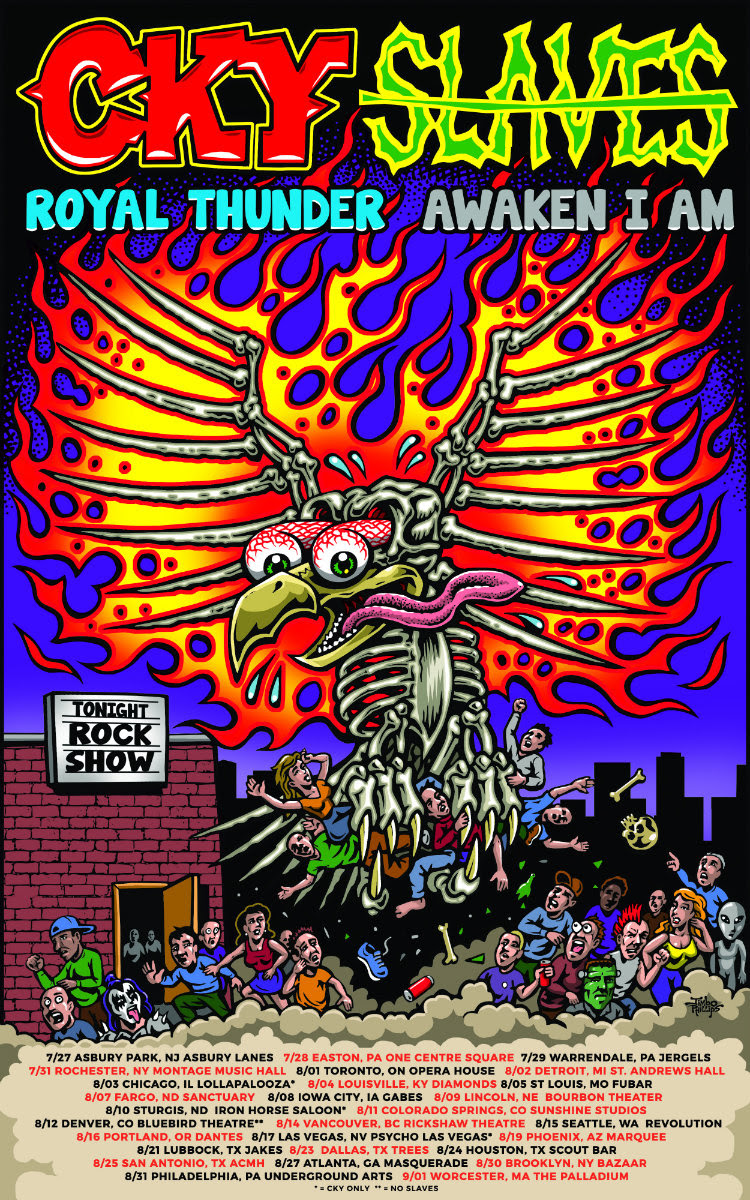 07/18/2018 Thornville, OH @ Gathering of the Juggalos*
07/20/2018 Jacksonville, NC @ Hooligans Music Hall*
07/21/2018 Huntington, WV @ V Club*
07/22/2018 Nashville, TN @ The Basement East*
07/24/2018 Virginia Beach, VA @ Shaka's Live*
07/25/2018 Baltimore, MD @ Baltimore Soundstage*
07/27/2018 Asbury Park, NJ @ Asbury Lanes
07/28/2018 Easton, PA @ One Centre Square
07/29/2018 Warrendale, PA @ Jergels
07/31/2018 Rochester, NY @ Montage Music Hall
08/01/2018 Toronto, ONT @ The Opera House
08/02/2018 Detroit, MI @ St. Andrew's Hall
08/03/2018 Chicago, IL @ Lollapalooza*
08/04/2018 Louisville, KY @ Diamond Pub Concert Hall
08/05/2018 St. Louis, MO @ Fubar
08/07/2018 Fargo, ND @ Sanctuary Events Center
08/08/2018 Iowa City, IA @ Gabes
08/09/2018 Lincoln, NE @ Bourbon Theatre
08/10/2018 Sturgis, SD @ Iron Horse Saloon (formerly Easyriders Saloon)*
08/11/2018 Colorado Springs, CO @ Sunshine Studios Live
08/12/2018 Denver, CO @ Bluebird Theatre*
08/14/2018 Vancouver, BC @ Rickshaw Theatre
08/15/2018 Seattle, WA @ Club Sur Rocks
08/16/2018 Portland, OR @ Dante's
08/18/2018 Las Vegas, NV @ Psycho Las Vegas*
08/19/2018 Tempe, Az @ The Marquee
08/21/2018 Lubbock, TX @ Jakes Backroom
08/23/2018 Dallas, TX @ Trees
08/24/2018 Houston, TX @ Scout Bar
08/25/2018 San Antonio, TX @ Alamo City Music Hall
08/27/2018 Atlanta, GA @ The Masquerade (Heaven)
08/29/2018 Harrisburg, PA @ Harrisburg Midtown Arts
08/30/2018 Brooklyn, NY @ Brooklyn Bazaar
08/31/2018 Philadelphia, PA @ Underground Arts
09/01/2018 Worcester, MA @ The Palladium (Upstairs)
09/02/2018 Concord, VA @ DeVault Vineyards
*=No Slaves