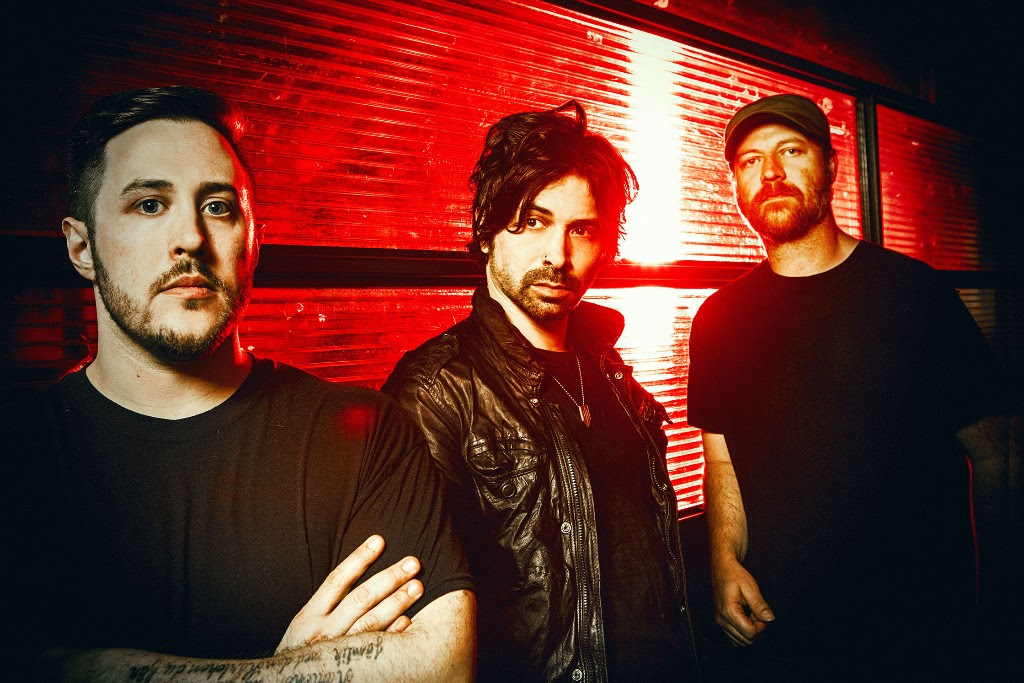 Philly rock n' rollers, CKY are preparing to hit the road, beginning in July, for a summer outing of North American shows along with Sacramento post-hardcore outfit, Slaves as co-headliners. Joining on as supporting acts will be Royal Thunder and Awaken I Am. Full tour dates below.
CKY drummer, Jess Margera comments, "It's going to be a night of some thick ass rock n' roll that you can brag about to all your fake ass 'friends' who stayed home watching Netflix. This is gonna be the tour of all tours and this tour is all yours. Get a ticket now!"
Tickets and a limited number of VIP meet and greet packages are available now. VIP packages will include meet and greets, exclusive merch items, autographs, and more.
CKY is touring in support of their June 2017, most recent LP release, 'The Phoenix.' Check out Metal Nexus' in-depth review of the album here. The band just released a music video for the single "Head for a Breakdown" from the record last October – link to video below. The music video for their previous single, "Replaceable" can be streamed below as well.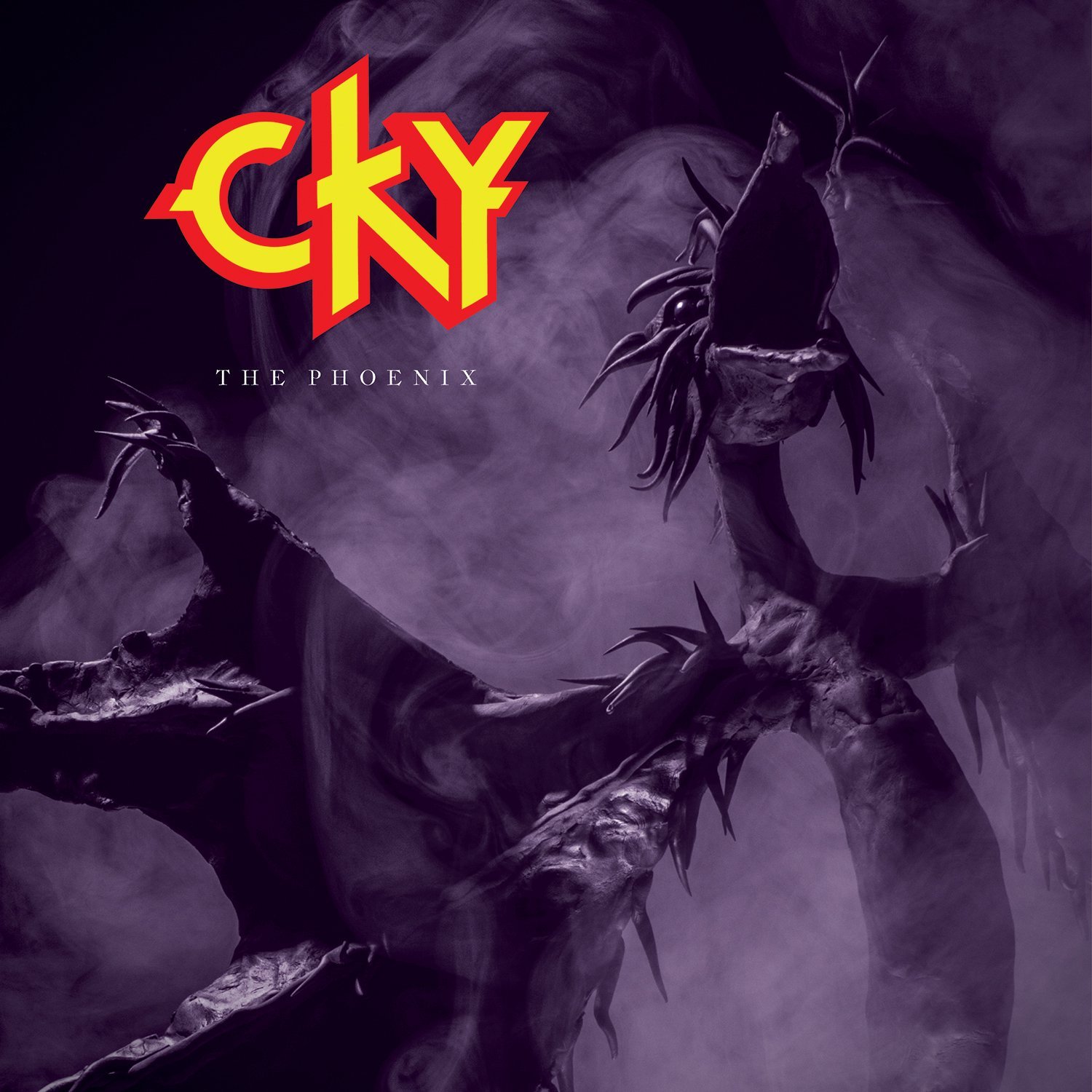 'The Phoenix' – which you can pick up here – is CKY's first album since 2009's 'Carver City' and was engineered and mixed at the historical Rancho De La Luna in Joshua Tree, CA via eOne Music. "It's one thing reading about the vibe at Rancho," Margera says of the studio where notable names including Daniel Lanois, Queens of the Stone Age, Victoria Williams, Fu Manchu, Mark Lanegan, and others have recorded. "And then it's another thing to actually go out there and make an album. You're like, 'Ok, I get it.'"
After parting ways with original singer/guitarist, Deron Miller back in 2011, guitarist/singer Chad Ginsburg steps into the frontman role for the first time on 'The Phoenix.' Rounding out the current trio are fellow co-founder and drummer, Jess Margera; and bassist Matt Deis (All That Remains) who joined the band in 2005.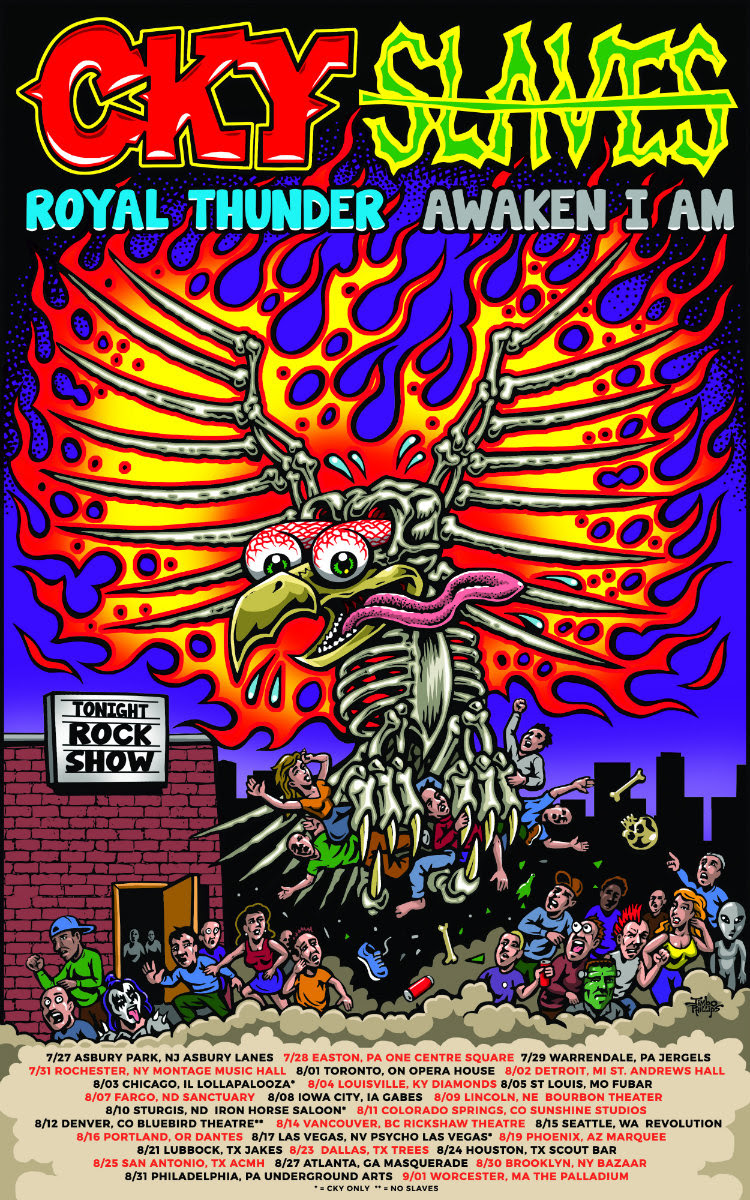 CKY North American Tour Dates:
JULY
27 – Asbury Park, NJ @ Asbury Lanes
28 – Easton, PA @ One Centre Square
29 – Warrendale, PA @ Jergels
31 – Rochester, NY @ Montage Music Hall
AUGUST
1 – Toronto, ON @ Opera House
2 – Detroit, MI @ St. Andrews Hall
3 – Chicago, IL @ Lollapalooza*
4 – Louisville, KY @ Diamonds
5 – St Louis, MO @ Fubar
7 – Fargo, ND @ Sanctuary
8 – Iowa City, IA @ Gabes
9 – Lincoln, NE @ Bourbon Theater
10 – Sturgis, ND @ Iron Horse Saloon*
11 – Colorado Springs, CO @ Sunshine Studios
12 – Denver, CO @ Bluebird Theatre**
14 – Vancouver, BC @ Rickshaw Theatre
15 – Seattle, WA @ Revolution
16 – Portland, OR @ Dantes
17 – Las Vegas, NV @ Psycho Las Vegas*
19 – Phoenix, AZ @ Marquee
21 – Lubbock, TX @ Jakes
23 –  Dallas, TX @ Trees
24 – Houston, TX @ Scout Bar
25 – San Antonio, TX @ ACMH
27 – Atlanta, GA @ Masquerade
30 – Brooklyn, NY @ Bazaar
31 – Philadelphia, PA @ Underground Arts
SEPTEMBER
1 – Worcester, MA @ The Palladium
* CKY ONLY   ** NO SLAVES