*Every Thursday from now until Chicago Open Air gets here we will be releasing an article about a band playing the festival to get you familiar with them.*
This week's artist is Cane Hill.
On Saturday, July 15th, alternative metal band Cane Hill will be bringing their contagiously heavy sound to Chicago Open Air in Toyota Park. It all began back in New Orleans in 2011. Cane Hill's name is actually taken from the name of a deserted mental asylum in the UK. The band really broke through from their very start with their refreshing take on a mix of nu metal and hardcore. Despite only having one album out, Cane Hill has already showed a tremendous amount of diversity in their sound. They cover all aspects of the two genres being very reminiscent of acts like Slipknot, Korn, and Marilyn Manson. They released their first single in 2014 "Sunday School" (check it out below) and were signed to Rise Records in the same day.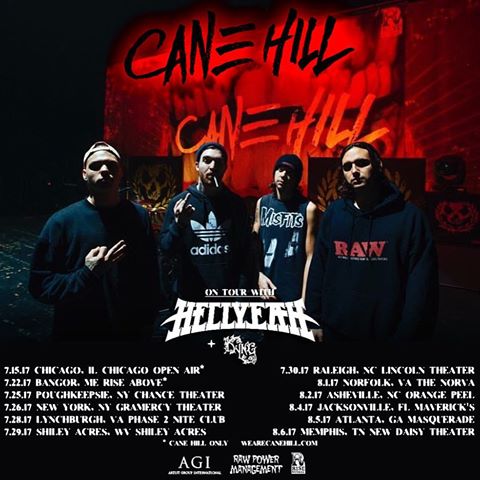 Cane Hill is already a familiar face on the Danny Wimmer Presents festival circuit. You may have seen them last year on the rounds of the World's Loudest Month at festivals like Rock on the Range, Carolina Rebellion, and Welcome to Rockville. They also took part in the world famous Vans Warped Tour playing on the Full Sail stage, which is typically used for new, up-coming bands on the verge of breaking out. They were out on all of these festivals promoting their critically-acclaimed debut record 'Smile'.  The record brought forth the sheer angst that nu metal is known for while proposing a new softer side at times. The boundaries of how far the genre can be taken were expanded yet again with how heavy yet catchy Cane Hill still manages to be. Songs like "Screwtape" demonstrate the vast diversity of the band with the mix of harsh and clean vocals that might not be accessible to the average listener. If you are tired of hearing the same thing in music though.. you will really appreciate what Cane Hill is doing. You can follow the band on Facebook at the link below. Check the photo above to see if the band is coming near you outside of Chicago Open Air with Hellyeah and Kyng. You can currently buy single day bowl tickets to the festival for $20 on TicketMaster. Purchase your Chicago Open Air tickets here.
Cane Hill is:
Elijah Witt – Vocals
James Barnett – Lead Guitar
Ryan Henriquez – Bass
Devin Clark – Drums