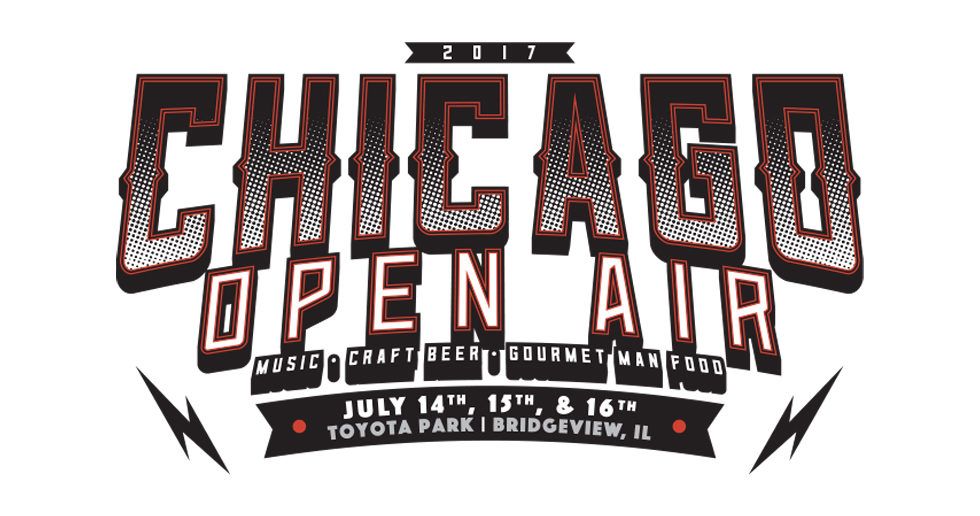 After an electric first day, it was time to get back up early Saturday morning to head in for day two of Chicago Open Air. Several great performances from bands like Rob Zombie, Megadeth, Anthrax, Crobot, The Dillinger Escape Plan, Code Orange, and more had all of us very interested to see if the second day could top it. With Korn, Godsmack, Avatar, Body Count, Clutch, and several others, we knew it would be very close. It only took a few performances and we already knew that Saturday would be on an even higher level.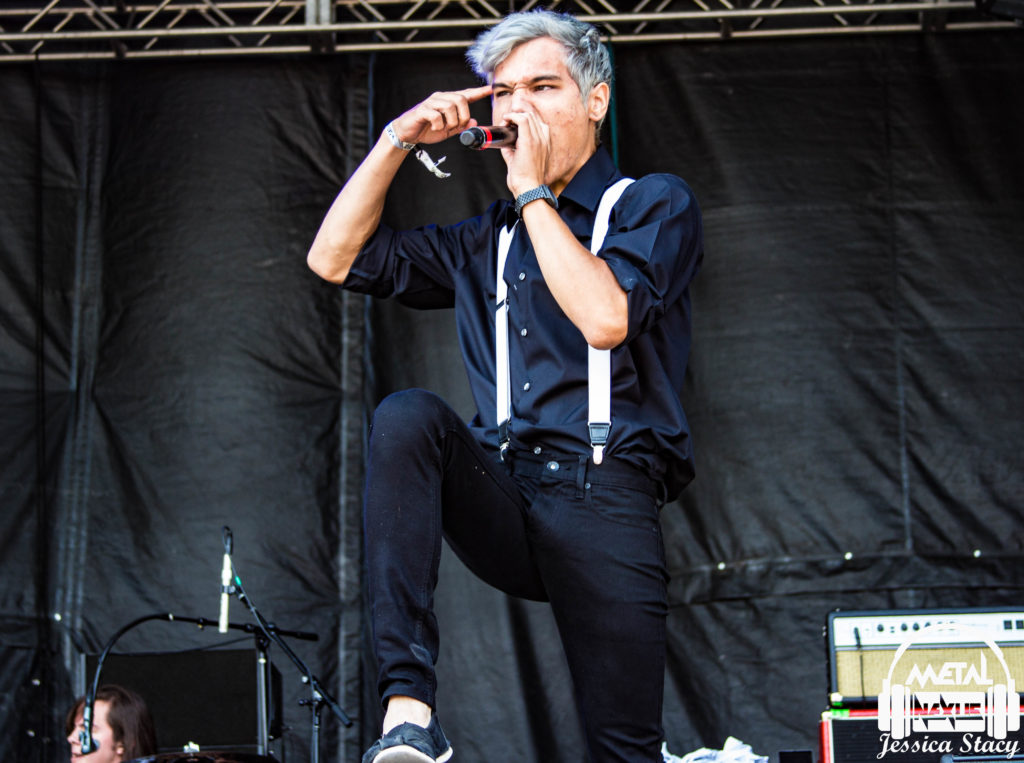 We got things started on the BlackCraft Stage with the band that won the ReverbNation Battle of the Bands contest. For We Are Many lifted us off with that familiar old school metalcore sound that has become well known by metalheads today. It's assumed that they got their band name from the All That Remains album and it shows. They take their main influences from bands like Avenged Sevenfold and Killswitch Engage. Vocalist Logan Trupiano was constantly moving across the stage working out the crowd while tossing pieces of their merch to the fans. The Detroit quintet surfed strongly through their 30 minute set with songs like "United We Purge", "Believe", and "From Ashes To Life". Check out some footage from their performance if you missed the performance here from their YouTube channel.
Next up on the BlackCraft Stage was Black Map. These guys have been out on the road with Chevelle for a while and they fit perfectly. Vocalist Ben Flanagan sounds eerily similar to Pete Loeffler at times on their odd, experimental parts in songs. I've always been a fan of trios and this band is no exception. The post-hardcore group floored the crowd with their haunting sound with songs like "No Color", "Ruin", and their big radio hit "Run Rabbit Run". Mark Engles creates this strange, droning guitar tone on choruses that might really appeal to fans of shoegaze or post rock. They closed their set with "I'm Just The Driver" from '…And We Explode' to cap off a tremendous set very early in the day. We didn't get a chance to photograph their set but you can check out part of their acoustic set at the FYE tent filmed by YouTube user Belly Saber here. Make sure you pick up their newest album 'In Droves' that dropped in March via eOne Music.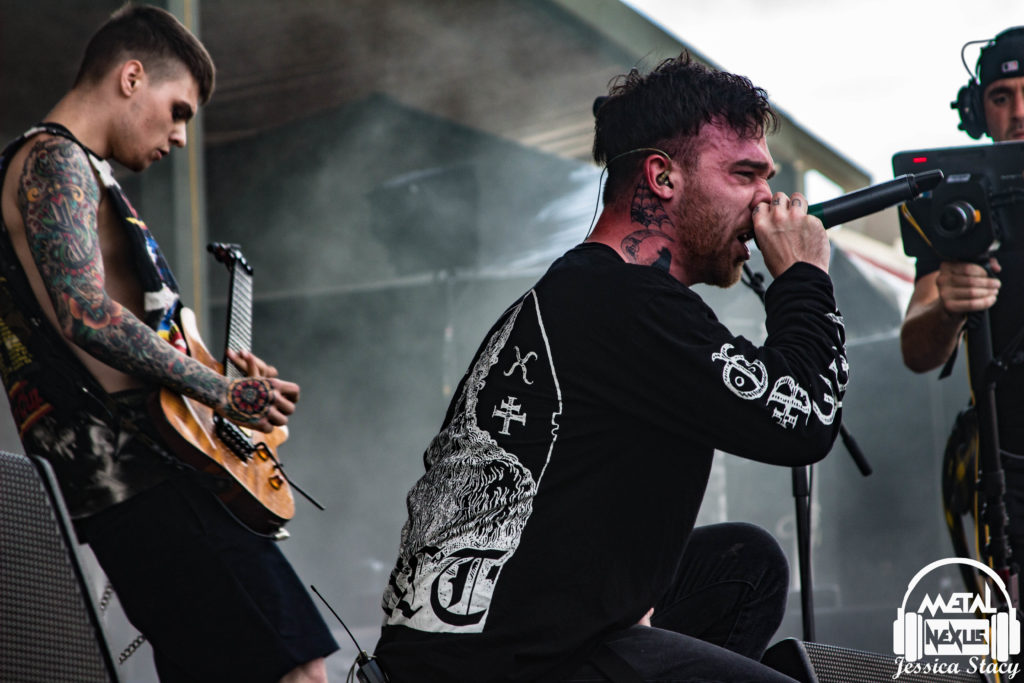 Cane Hill opened up the main stage with their modernized nu metal sound that has brought them onto several tours/festivals including the Vans Warped Tour and Rock on the Range. Some people flew as far as from Australia to see these guys so I knew I had to check them out. I didn't realize it at the time, but the day they played was the one year anniversary of the release of their debut album 'Smile'. Front man Elijah Witt can be compared to several different artists vocally including Marilyn Manson, Jonathon Davis, and even Corey Taylor at times. The quartet performed several cuts from 'Smile' and also included a few brand new songs in their setlist. The new songs are even heavier than what you heard on 'Smile'. Cane Hill fans won't know what hit them when these new tracks drop. Watch out for this band in the future.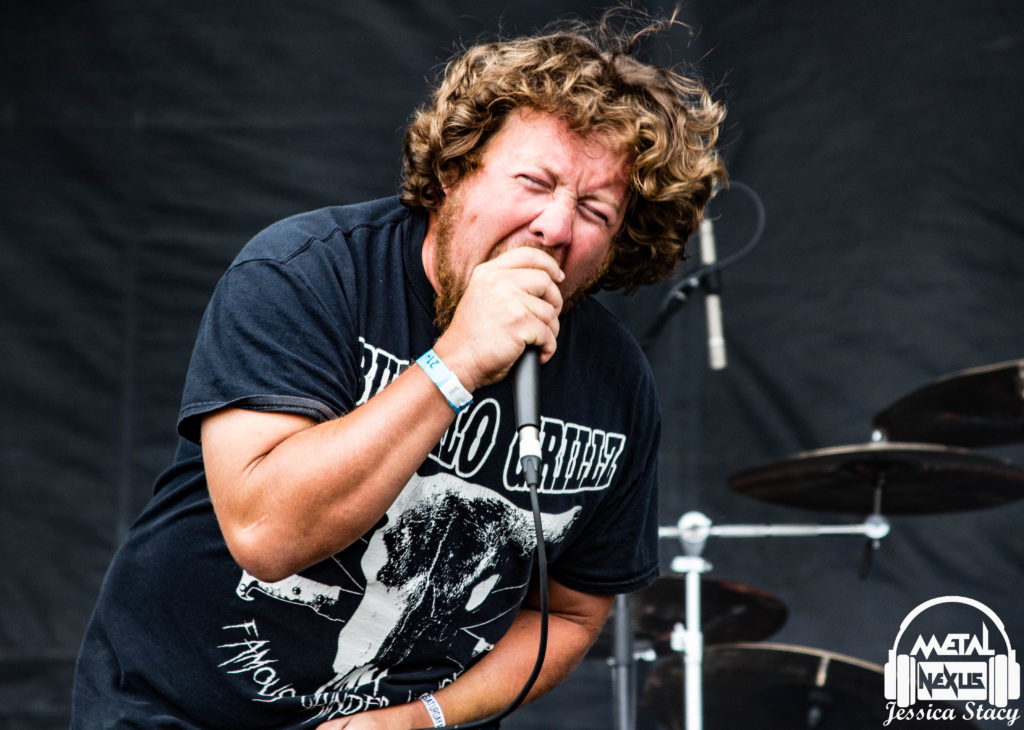 I have been waiting for a very long time to see Pig Destroyer. Vocalist J.R. Hayes said it best, "This is one of the few times that you can eat a Pig Destroyer and watch Pig Destroyer at the same time." Pig Destroyer has a pulled pork sandwich named after them that was being served all weekend long at the Kuma's Corner spot over by the Headbanger's Bier Hall. He asked the crowd if they were loud enough and received a resounding "NO!". The volume was turned up even higher after that. They were without question, the fastest band I have ever seen live. In just 30 minutes, the grindcore legends played 14 songs, almost as much as the headliner later that night. They played lots of material from their three most well known records: 'Prowler in the Yard', 'Terrifyer', and 'Book Burner'. It has been almost five years since their last record so I was surprised to not hear any new songs from the band. Adam Jarvis is an absolute God on drums and I don't know how he is able to keep the pace he does for that long. See them live sometime and you will be wowed by his speed and precision on the drum kit. We had the chance to interview J.R. Hayes while we were there and we will have that uploaded in a few days for you to check out.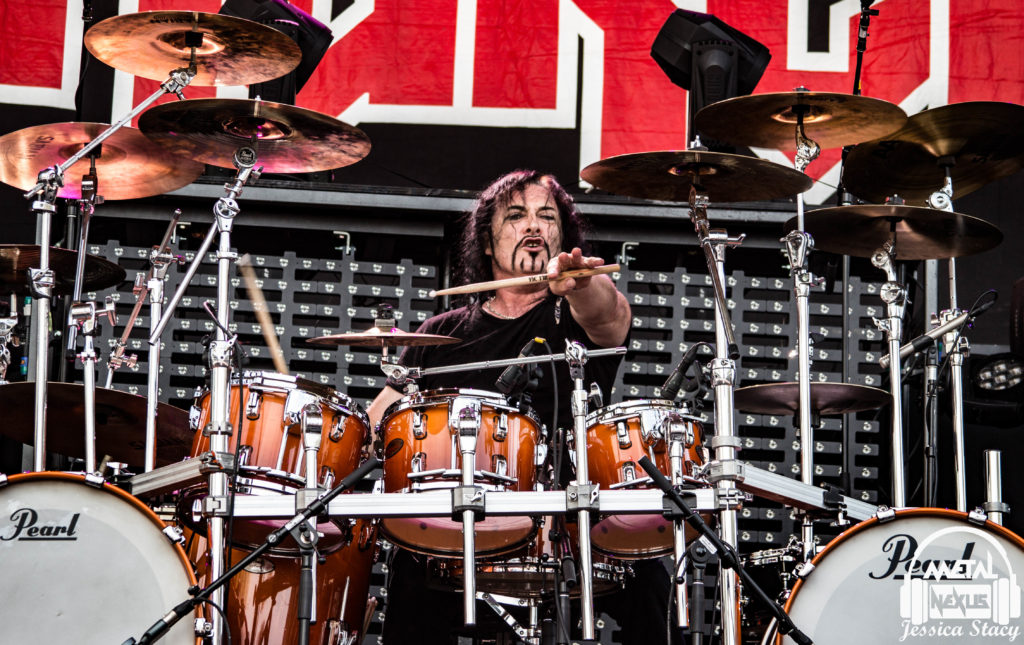 As I was walking back into the main stage from Pig Destroyer, I could hear a loud chant from inside the stadium. It was faint at first but continued to get louder. Thousands of fans out on the floor were chanting "Metal Church!" If you were here for some old school heavy metal, you were probably in the crowd screaming right along with everyone else. Mike Howe returned to front the band in 2015 after a 20 year absence and hasn't missed a beat. He still nailed their classic songs like "Fake Healer" and "Beyond The Black" as if it was still 1989. "Needle and Suture", the one new song they played from 'XI' also shows that they aren't just a band here to bring back nostalgic memories. They're still out here releasing superb material.  Metal Church proved that they were still more than worthy of a main stage spot after all these years.
Once again, I was sprinting over to the other stage as there was hardly any down time between bands this year. UK shredders Dragonforce lit up the stage as if this entire festival belonged to them. I had heard in the past that the band was iffy live. That definitely was not the case on Saturday. Lead vocalist Marc Hudson had just narrowly escaped a tragic accident a few weeks earlier and had been performing shows in an arm sling. The singer was fully mobile for Chicago and was absolutely scorching that day. Hitting every note pitch perfect, he even did a metalled-up version of "Ring of Fire". Herman Li and Sam Totman showed off their insane guitar skills making everything look like it should be second nature for everyone. "Fury of the Storm" wrecked havoc on the minds of those who had only heard one specific song from the band. Dragonforce also played a track off their extravagant new record 'Reaching Into Infinity' called "Ashes of the Dawn". Last but definitely not least, they closed with what will always be remembered as the hardest Guitar Hero 3 song ever. "Through the Fire and Flames" was everything I hoped it would be live and it was astounding to finally experience something that had been a part of my childhood for a long time. We didn't photograph Dragonforce because SoundShooter covered one of their recent headlining shows which should be up soon. You can check out some fan footage here.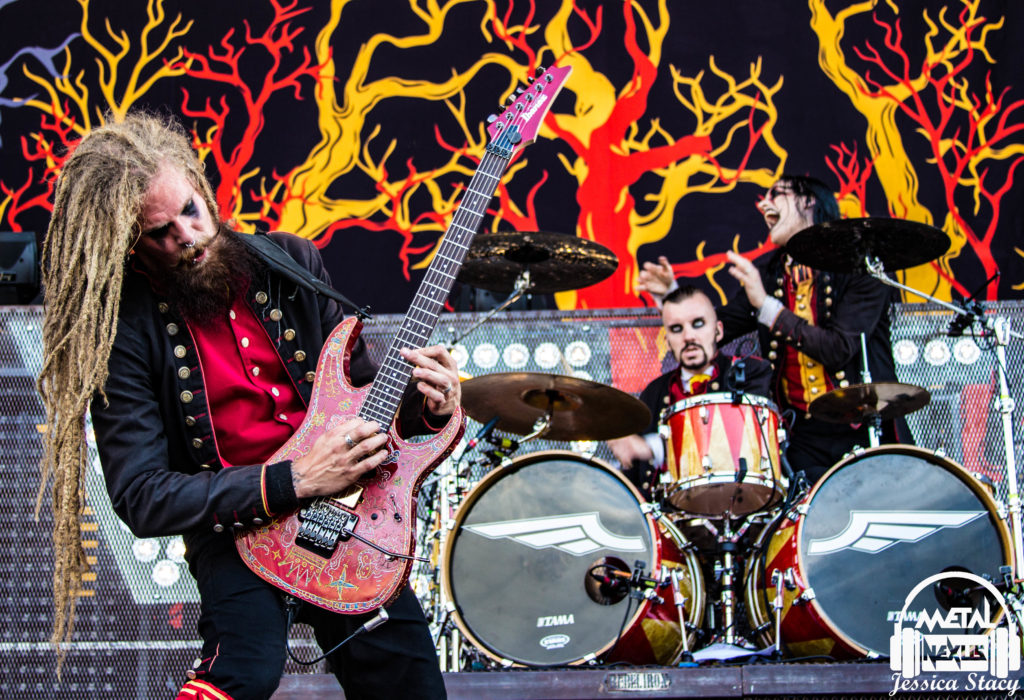 These guys made quite the jump on this lineup, and it's about time. Avatar was slotted for the mid-day slot but played like a headliner. I've been watching these guys grow since early 2013 and they are only getting better live. This was my fifth time seeing them and it still hasn't gotten old. Their studio albums really don't do them justice. You have to see these guys in a live setting to fully appreciate how great they are. The small curtain in front of the drum kit dropped revealing a nearly zombified Johannes Eckerström. That retro riff of "Hail The Apocalypse" kicked in and drove the crowd bonkers. It wasn't until the first verse was about to begin that Eckerström moved and bellowed into the microphone. The band also played "New Land" and "The Eagle Has Landed" (a great song for crowd participation) from their recent record 'Feathers and Flesh'. They brought their show to a close with the song that made their career take off in "Smells Like A Freakshow". Avatar already has quite the following, but their fan base grows larger with each of these festivals they play. After each festival, this is the band that everyone talks about. It won't be long before North America is completely turned into Avatar Country. With just one or two more albums, they will have the potential to headline these events. I can't even imagine what they could do with a bigger budget for stage production.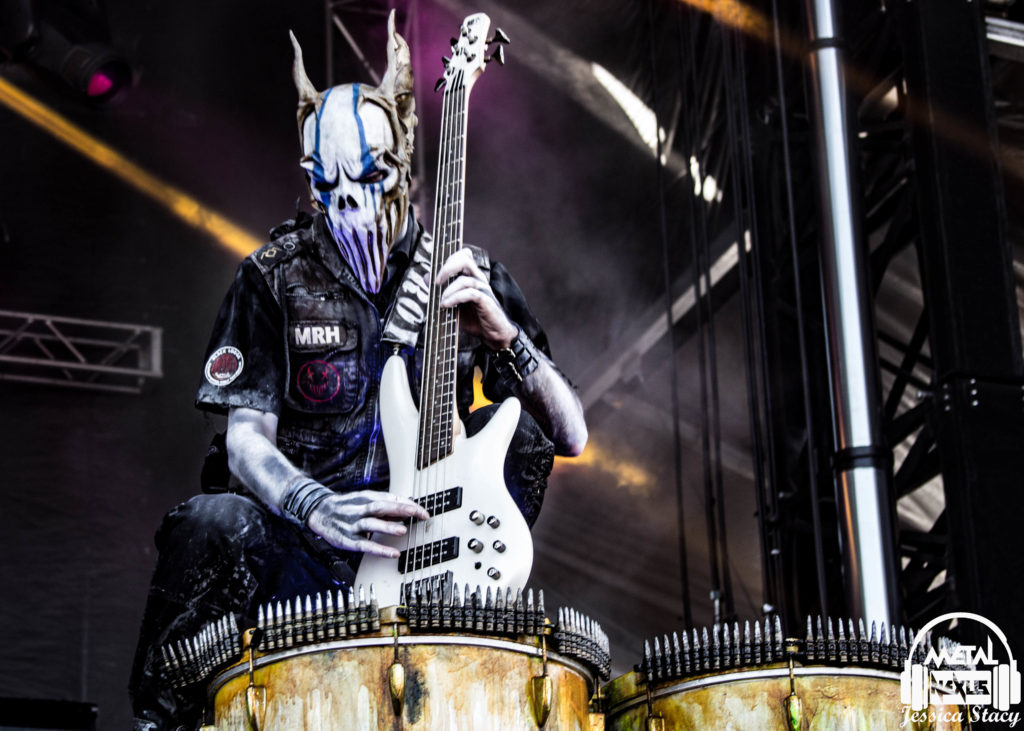 Nearly every band played like they belonged on the main stage on Saturday. The lineup was extremely deep with great acts, like Mushroomhead. Their set started out a little bit shaky on "Qwerty" when their mics were almost completely silent. It was fixed by the end of the song and the crowd shouted with validation. With seven members in the band, there is always something strange happening that you can watch on stage. Stitch was off the stage for nearly half their set since he was out surfing on top of the crowd. During "Out of My Mind", he brought an inflatable whale out typically used for pools and created his own waves on top of the crowd. The front of the stage was drenched from the band pounding on the water drums on both sides of the stage. The water drums were some of the coolest things I've seen anywhere let alone in a live setting. I heard a lot of people talking about the small amount of females being represented at Chicago Open Air. Throughout their set, Jackie Laponza came out and performed guest vocals on several songs. Laponza is the frontwoman for Unsaid Fate based out of Cleveland, Ohio, the same area that Mushroomhead is based out of. Mushroomhead closed their show with a massive cover of Prince's "When Doves Cry" before exploding into "Among the Crows". It has been a long time since the band played a Danny Wimmer Presents festival and it was well worth the wait.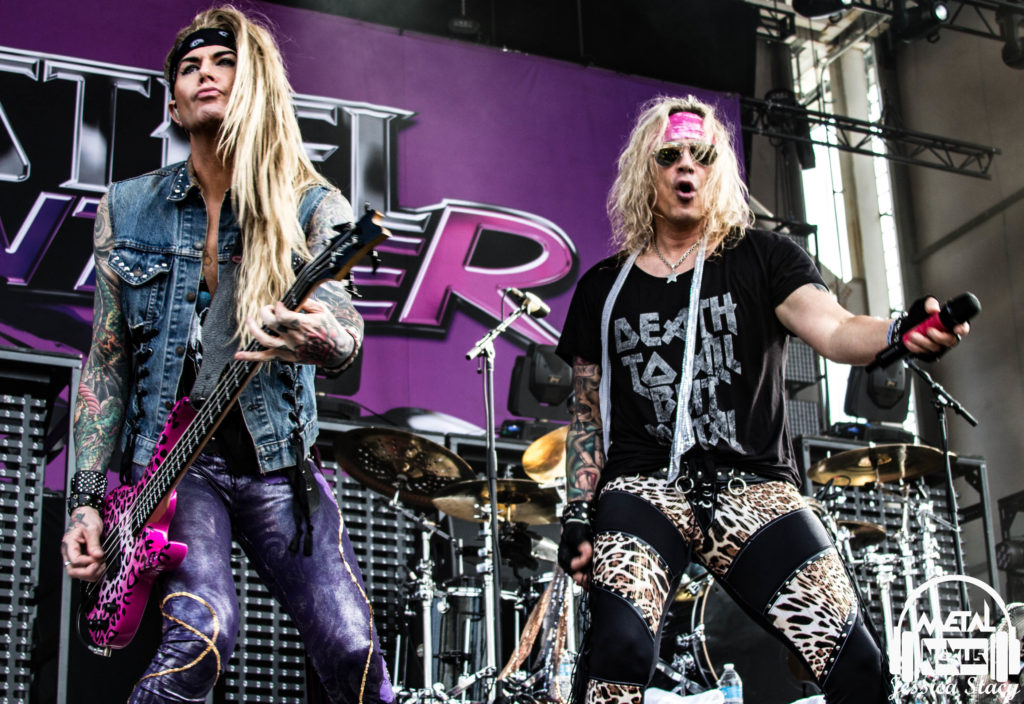 While Chicago Open Air doesn't have a comedy tent like Rock on the Range, they have had comedy acts perform each year. Jim Breuer and the Loud & Rowdy performed on the main stage early on Sunday last year. This year, we were privileged to get to see the hair metal legends, Steel Panther. This is another one of those bands that you never get tired of seeing them. They bring a few new jokes into their routine each time I see them so there's always something different about each show. Guitarist Satchel called vocalist Michael Starr "a fat Bret Michaels" to which Starr responded "no, I'm a skinny Axl Rose". Even though they're a satire act, the band is one of the most talented among the lineup. They do hair metal better than 90% of hair metal bands by making a joke out of it. The music is always great but at the same time you're just wanting to hear them talk in between songs! About halfway though the set, Starr shouted to the crowd, "You guys should all have two hands in the air, unless you're the drummer from Def Leppard!". The band whooshed through what felt like a very fast 45 minute set with big hits like "Death To All But Metal", "Community Property", and "Fat Girl (Thar She Blows)". For the last three songs of the set, any woman in the crowd that wanted to was told to get up on stage with the band. There were at least 200 people up there by the time they started up "17 Girls In A Row" which led into "Gloryhole". Some people might not like what these guys do, especially when kids are watching, but they're just entertainers. It's part of the act. You can catch Steel Panther at more Danny Wimmer Presents festivals this fall including Louder Than Life, Houston Open Air, Rock Allegiance, and Aftershock.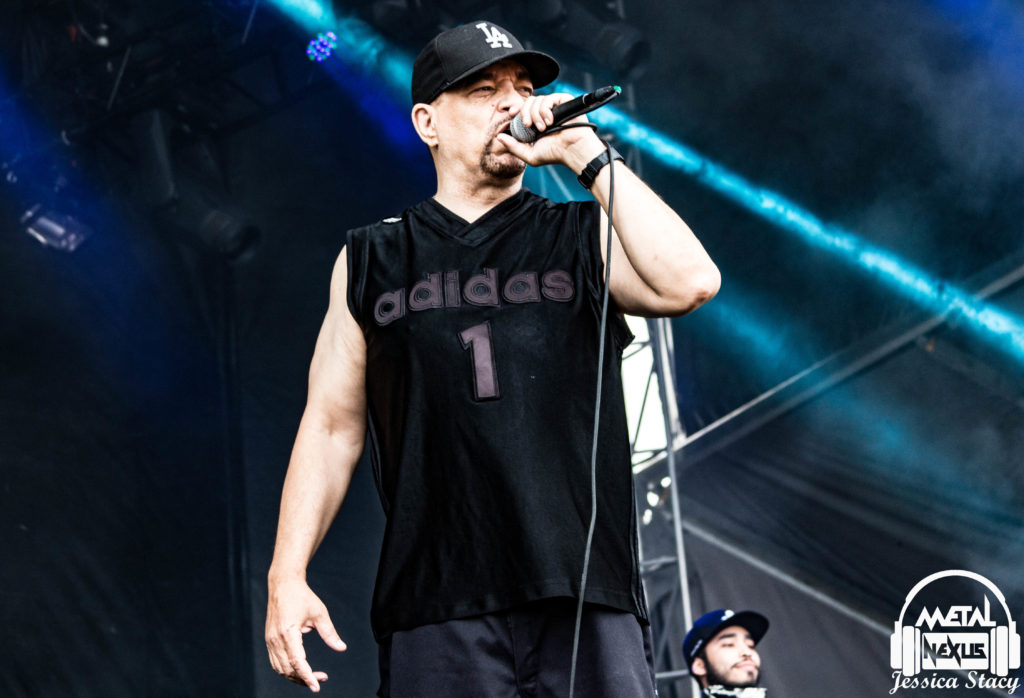 From the start of the festival, I had been hearing a lot of talk about Body Count. I had never seen the band before so I wasn't really sure to expect. Often called the most dangerous band on the planet, Ice-T and his crew showed us exactly why they earned that title. They shocked the crowd by opening up with an epic cover of Slayer's "Raining Blood" and "Postmortem". You could tell from then on that this would be one of the biggest sets of the weekend. Ice-T and Ernie C are the only members left from the original Body Count lineup, as everyone else is no longer with us. You may have noticed that Ice-T had his son, Little Ice, behind him as the hype man. Sometime throughout the thrash/rap onslaught, bassist Vincent Price took a bad step and injured his leg. He vanished for almost two songs before the crowd noticed but he was still playing backstage. Ice-T told him to get back out to the stage immediately. Soon enough, Price was rolled out to the stage and finished the rest of the set in a wheelchair. All Ice-T had to say to this was, "What the fuck?!?" Highlights from the set included "Cop Killer", "There Goes the Neighborhood" (which when I think Price injured himself), and the crowd belting out the chorus to "Manslaughter". Body Count also performed songs from the new album 'Bloodlust' like "No Lives Matter" and "The Ski Mask Way" which Ice-T put a mask on for during the song. In my opinion, this was definitely a top 5 performance of the entire weekend and made me understand the hype about them building up to this weekend. We got the chance to interview Vincent Price before their set so make sure to check that out when we release it.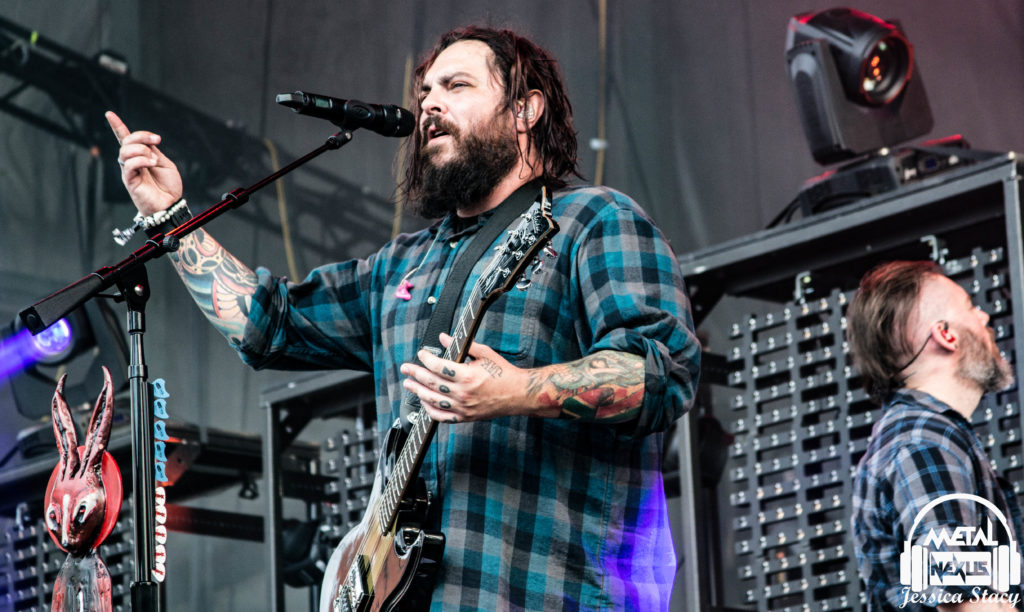 Seether had to follow one of the best acts of the weekend. Other than Shaun Morgan's guitar having technical issues through most of the set, they did not disappoint. The best part about a Seether show is that the music never stops. Even between songs, there are riffs playing in the background as the band prepares for the next track. Morgan has one of the richest voices in rock music today and showcases it in a live setting. They are another one of those bands I've always enjoyed live even more than on a studio recording. The raw power that Seether brings live is something I've really grown to appreciate over the years. It was one of the biggest crowd sing alongs of the weekend as they busted out hits like "Fake It", "Rise Above This", and "Fine Again". Their new song "Let You Down" has that opening riff that always reminds me of "Take Out The Gunman" by Chevelle. You may have noticed their other guitarist on stage looked vaguely familiar. That's because it was Clint Lowery of Sevendust! They closed with a heavier version of "Remedy" as bassist Dale Stewart took over on vocals. This set really energized the crowd as we began to head towards the end of our night with three bands left.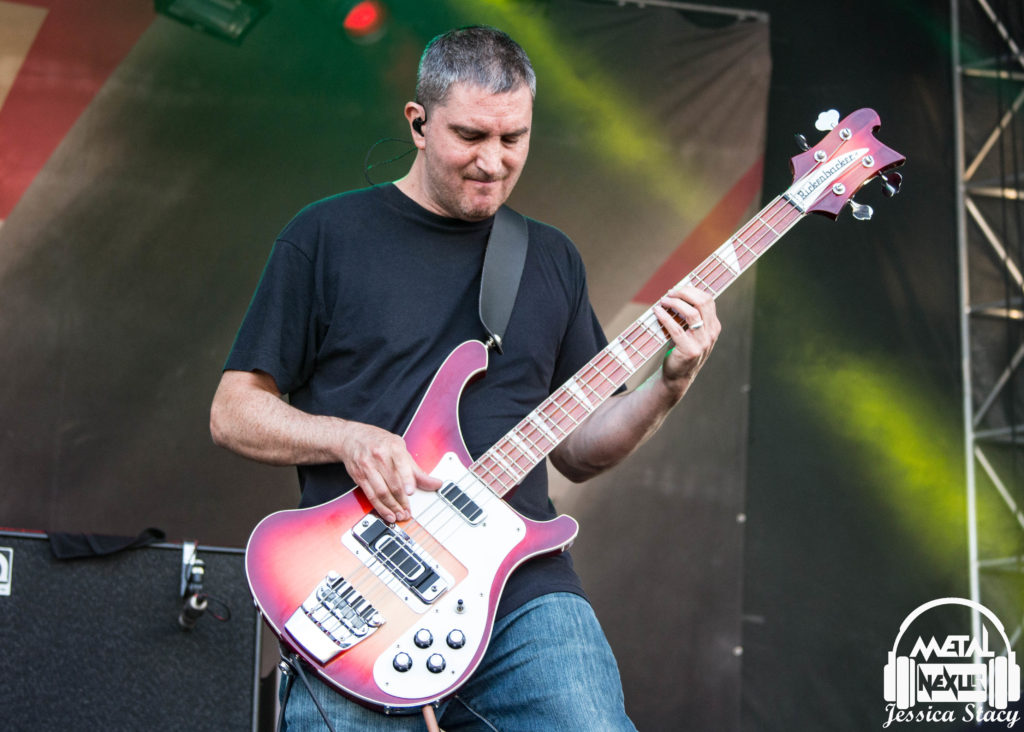 In the last year or two, I've grown to be a huge fan of Clutch. Their consistency in putting out great record after great record astonishes me. I just saw them perform at Louder Than Life last October for the first time and was left wowed by how great they sounded. This performance was no different. The best part is that over half the setlist was different with about the same set length. I can't tell you how many bands I've seen multiple times that always play the same songs over and over. It's refreshing to see a band like Clutch take notice of how many good songs they have by trading them in and out each show. I've heard from many diehard Clutch fans that you will never see the same show twice. At this particular show, they opened up with an instrumental that may have possibly been a short preview of a new song. The song was on setlist titled as "Zep Funk 2x". This led into one of my many favorites from 'Psychic Warfare', "Sucker for the Witch". They played nearly half the album, which was fine by me since it's one of my favorite records from them. A few songs later they even banged out "The Soapmakers" from their 1998 album 'The Elephant Riders'. Clutch also played one of their upcoming, unreleased songs that Neil Fallon said was about "drinking beer and listening to Black Sabbath". It sounded magnificent, of course. Fallon is the most charismatic rock vocalist I've ever seen take the stage. You can feel the energy radiating off of him and the crowd loves it. It also helps that he has a very unique voice that mixes perfectly with blues, rock, and metal. These guys are a treasure in rock n roll. Seeing them isn't just another show, it's an experience. I command you to get out and see Clutch if you haven't already. Your life will be changed for the better. We did an interesting interview with drummer Jean-Paul Gaster that you won't want to miss. Stay tuned.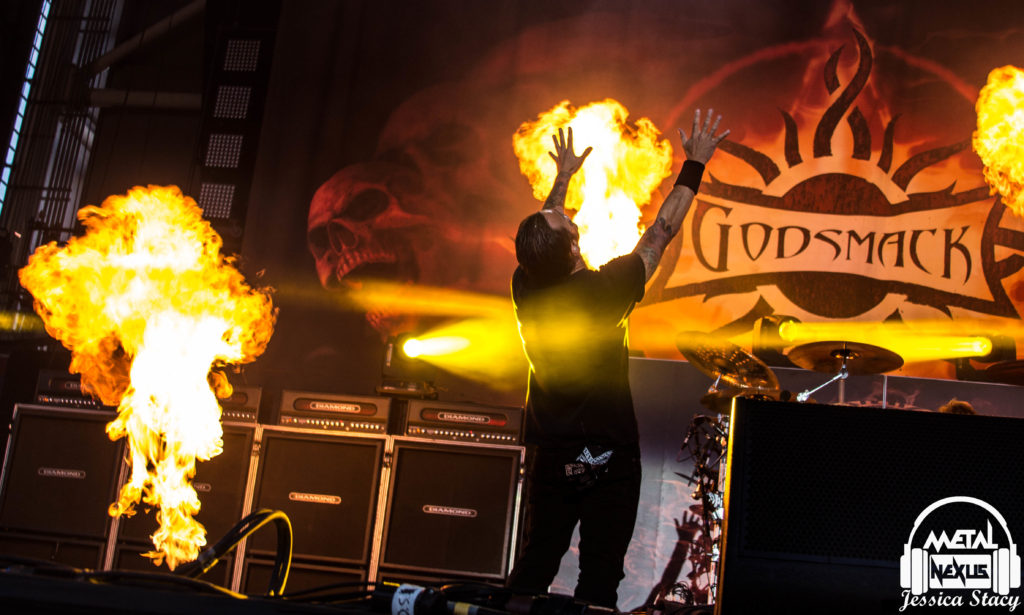 Godsmack has been regarded as one of the best live acts in the rock industry right now. They showed exactly why that has been said with their performance on Saturday night. In an hour, the band stormed through Chicago Open Air with their big hits and a ton of pyro. The first time I saw Godsmack they didn't have any pyro at all so this came as a big surprise. The crowd loved every second of their set, especially the always amazing drum duel between vocalist Sully Erna and full time drummer Shannon Larkin. Erna explained earlier in the set that the band had only scheduled seven shows for this year because they are currently hard at work on their next record. The audience and Godsmack fed off of each other's energy constantly. On "Something Different", Erna demanded that the men in the crowd put the women up on their shoulders. The response to it was huge and was something that I definitely will never forget from the weekend. Following their drum solo, they performed what has become a widely popular cover of "Come Together" by the Beatles. They actually released the cover a few years ago, but it randomly went viral this year after it was heavily shared on social media. They ended their set after that with the packed stadium yelling along with "I Stand Alone". Towards the end of the set, I saw someone on the big screens wildly screaming. While that was cool, his shirt was what caught my eye. It said "Kyle's A Dick" which has become somewhat of an inside joke between fans that attended Rock on the Range and Chicago Open Air this year. It all began last year when Kyle gave this guy a flat tire at a previous Rock on the Range resulting in one of the beer vendors chanting "Kyle's a dick!". Soon after, shirts were made without Kyle's knowledge and they surprised him with them at Rock on the Range this year. His shirt is very special, and says "I'm Kyle". So next time you go to either one of these festivals, just know that Kyle is a dick. You can check out their Facebook page here. They are planning to have shirts available to purchase in the coming weeks.
Along with Meshuggah, Korn was one of the only returning acts from the 2016 lineup. After their performance last year, many couldn't understand why they weren't closing the night when they destroyed their time in the coheadline spot. It was time to settle that argument this year with them coming back to close out Saturday night. After Jose Mangin introduced them, the moment of truth had finally arrived. They came out on fire when they opened with the song that they had previously premiered at the festival in 2016, "Rotting In Vain". They played two other songs from the new record in "Insane" and "Black Is The Soul". These new songs fit in perfect with their old material as this new record really feels like they made a return to their roots. The biggest crowd response was either when Jonathon Davis got the bagpipes out for "Shoots and Ladders" or the classic opening of "Blind" where the crowd roars the words along with Davis, "Are you readyyy??" This was by far the wildest crowd of the weekend in terms of size and chaos. We didn't get to photograph their set but you can check out some fan shot footage of the performance here. Korn closed off what was an unbelievable second day. It's difficult to create a list of the top 5 performances from just this day because everyone was that good. This only got us more excited for the final day of the festival. Stay tuned for our coverage of that and check out the rest of our photos from day 2 below.