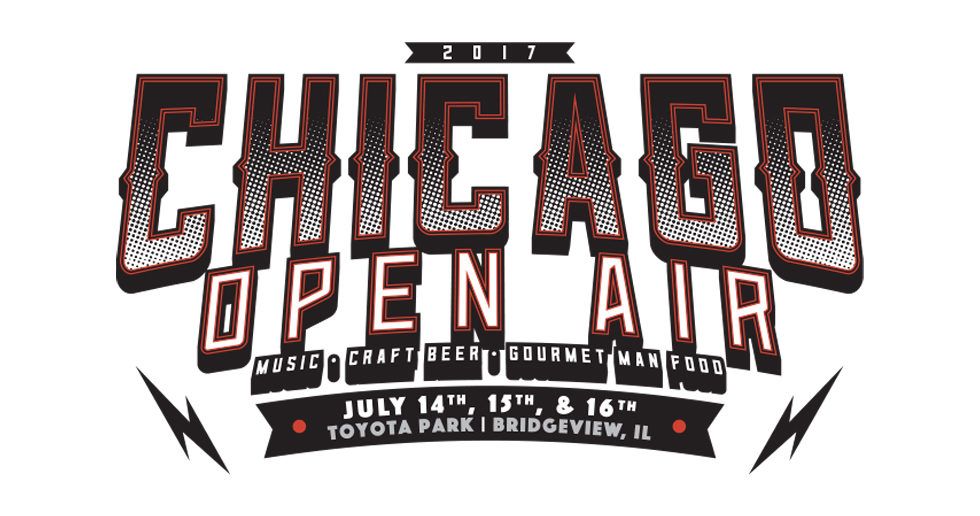 We have finally arrived to the last day of Chicago Open Air. Sunday was the reason many of us made the trip for this huge three day weekend. By the time it rolled around, some fans were calling it "Death Day".  You could definitely understand where they were coming from. There were several heavy hitters taking the stages today including Ozzy and Zakk Wylde, Slayer, Lamb of God, Amon Amarth, DevilDriver, Behemoth, and more. Lots of running back and forth would lead to a very tiring day. Luckily, it ended up being the coolest day of the weekend, which made it a bit more bearable. Continue reading to see our review on the most electric day of the festival.
Sunday kicked off with what what the best opener of the three day weekend. Female-fronted melodic death metal band Aversed heated things up on the BlackCraft Stage with high energy and a great stage presence for such a young band. The band consists of students from the Berklee College of Music in Boston, MA so there was no denying their talent. Lead singer Haydee Irizarry said she was originally from Chicago so the audience made sure to give her a warm welcome back. You might have seen the band walking around sometime through the weekend as they were hanging out here all three days. They were all very nice when I talked to them in The Music Experience and gave me a free download card for their 2016 EP 'Renewal' (which you can check out here). They opened their set with "Prison of Existence" and even debuted two new songs that were heavy as a boulder. They did a great job at interacting with the crowd, even throwing out lots of shirts and guitar picks at the end of their set. As their set continued, you could see the crowd growing in size as people flocked in to see who was playing this extraordinary music. I expect great things out of Aversed in the future. Unfortunately, our photographer got stuck in traffic for a bit and didn't get a chance to shoot them. That shouldn't stop you from going here to like their Facebook page to be on the lookout for their new music.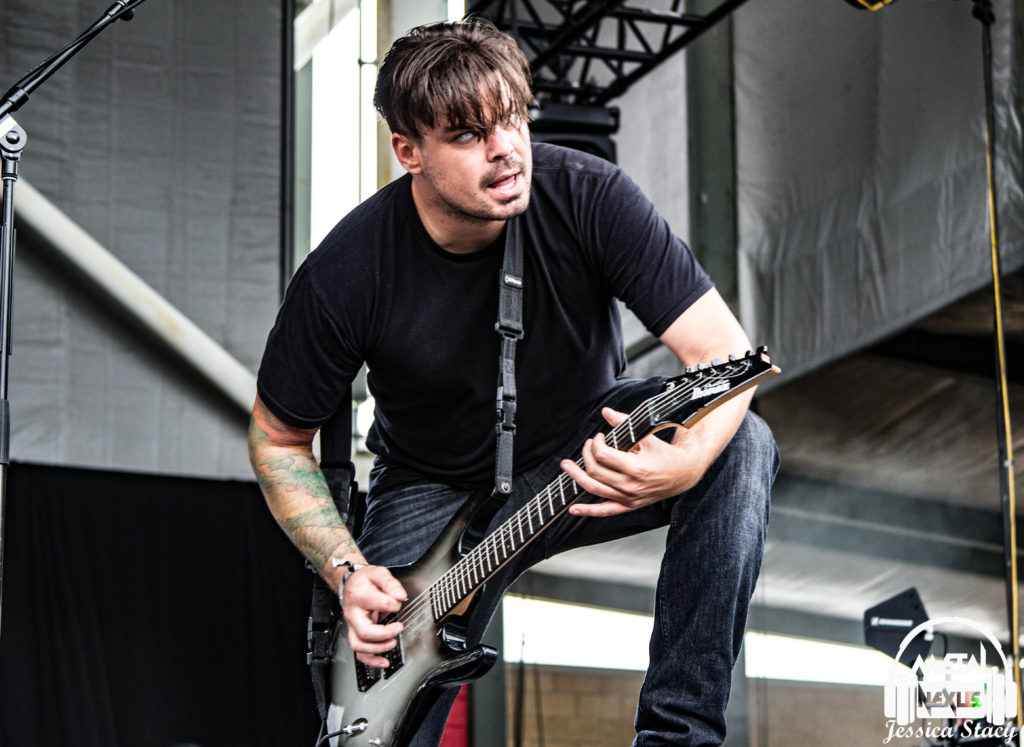 On the first two days, there were two bands on the BlackCraft Stage before we had to head over to the main stage. Today was a bit different as we headed right over to watch DED after Aversed crushed the second stage. DED had already grown to be pretty popular over the last few months without even having an album out. Other than a few mic issues at the start, they crushed their set. They just dropped their debut album 'Mis•An•Thrope' a few days ago which you can pick up here. The quartet played about half of the record featuring already highly-known songs like "FMFY", "Dead to Me", and "Anti-Everything". One of the new songs that really stood out to me live was "Architect". The hook on it is catchy as hell and is a great representation of nu metal. The band was nice enough to allow fans to purchase their record a week early over at the FYE tent. We did an interview with guitarist  David Ludlow and drummer Matt Reinhard of DED. We will have it posted in the coming weeks.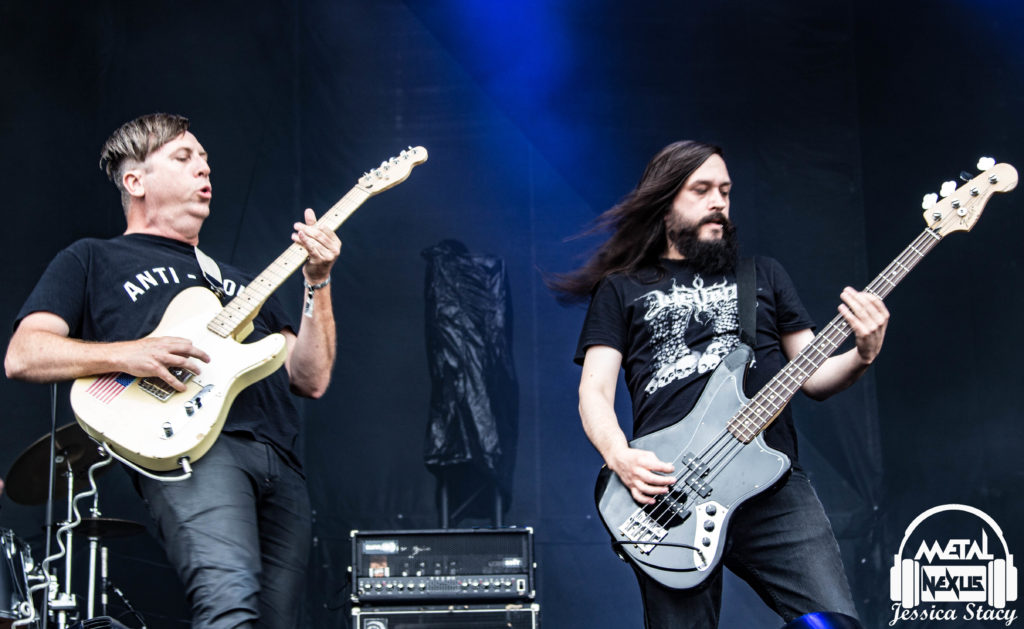 Next up, the band with the best name of the festival, Whores.. I discovered these guys a while back because the name was quite intriguing. Whores. is a dynamic noise rock trio hailing from Atlanta, GA (also Mastodon's hometown) and has been kicking ass since forming in 2010. Their album 'Gold' was highly praised by the metal community last year and regarded as one of the best records of 2016. They opened their set with the sludgy "Fake Life" from their first EP 'Ruiner'. The band doesn't shy away from playing their old material as it makes up half of their set. Christian Lembach is highly personable on stage as he blasts through huge riffs and shouts his lyrics at the crowd. Don't get too close to the stage or you will be met with a swinging guitar axe. They continued ripping into songs across all of their catalogue like "I Am Not A Goal-Oriented Person", "Shower Time", and my personal favorite "Bloody Like The Day You Were Born". Whores. absolutely owned this stage in the middle of the afternoon so I can only imagine how good they are headlining a club venue. Check out our interview with the band that we did at the festival here.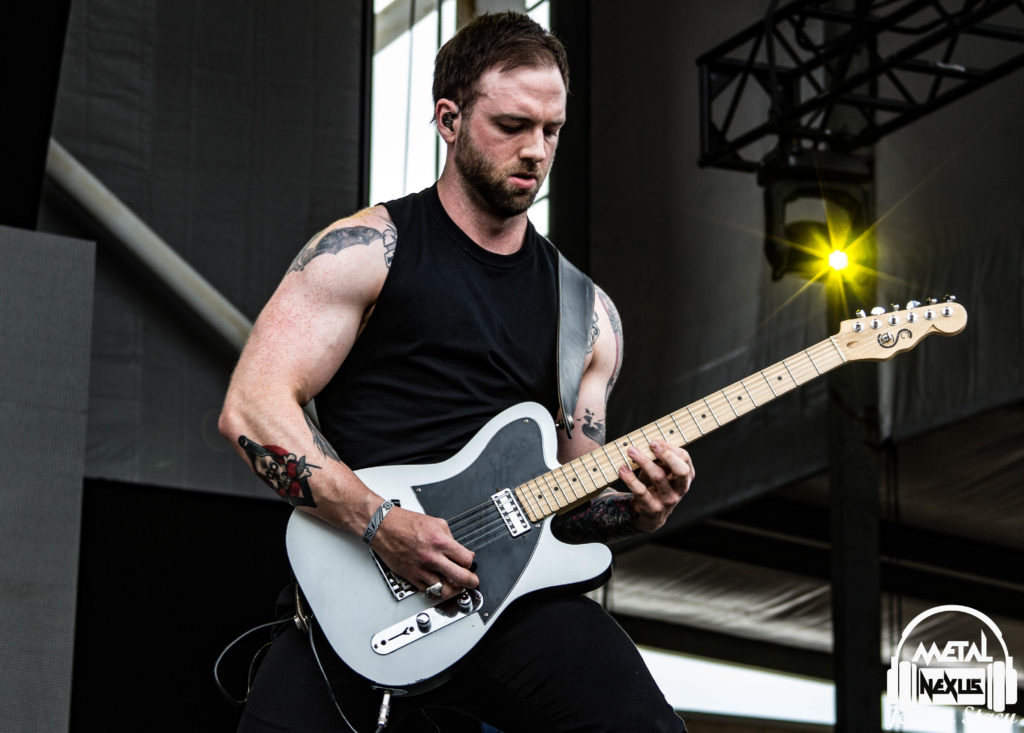 Demon Hunter continued the party over on the main stage with their ace metalcore sound. As one of the few Christian bands on the bill, the band came out with something to prove. They looked a bit out of place playing along with acts like Slayer and Behemoth on the same day. They showed that they could rock just as hard as any of the other artists there that day. They actually ended up being one of the heaviest acts of the day playing some of their older material like "Storm The Gates of Hell", "Undying", and "LifeWar" that combine elements of thrash, metalcore, and nu metal. Their newer material that they played like "Cold Winter Sun" and "The Last One Alive" leans more towards alternative metal and is equally great. It just shows the diversity of the band and how they've grown through the years. There were several hardcore fans in house losing their minds for the whole 30 minutes. This was only the band's third or fourth show since late 2014 but they showed no rust whatsoever. Demon Hunter just released their new album 'Outlive' a few months ago so expect to see them out on the road more often in the coming months.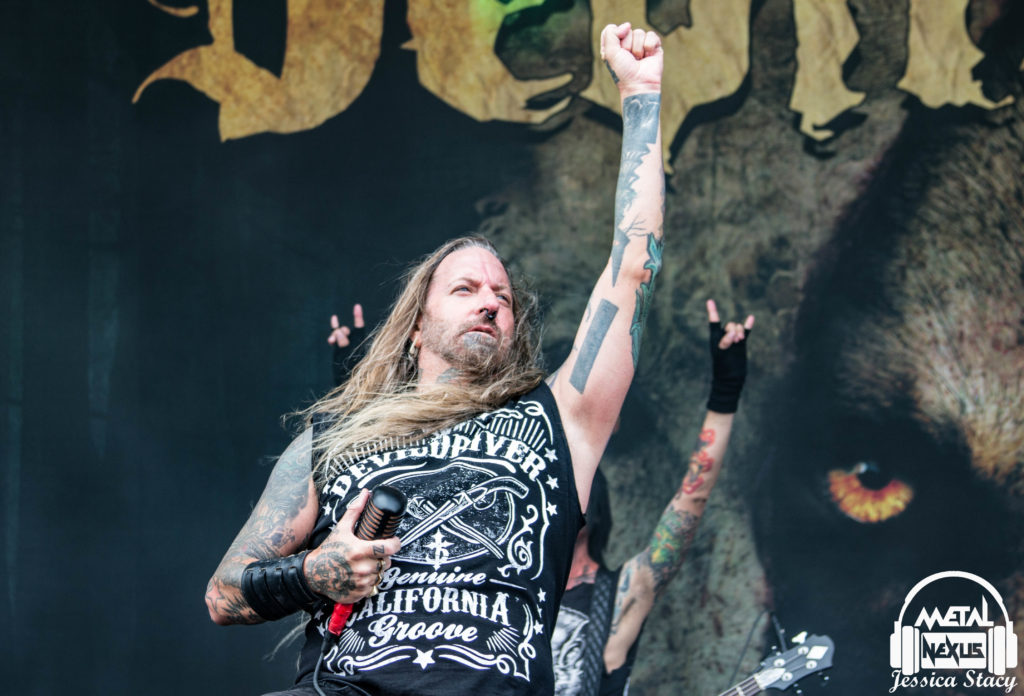 Ironically, DevilDriver followed up Demon Hunter over on the BlackCraft Stage. Earlier in the day, I saw a few of the band members hanging out by the second stage taking pictures with the fans. It was great to see a band that still stays close to their fan base and remembers that they're the reason they are here. There were plenty of DevilDriver fans out that day as everyone packed into the second stage area for one of the biggest crowds of the weekend on the BlackCraft Stage. They started about five minutes late but made up for it by playing around five minutes over their time. So basically, they still managed to get their full 30 minutes in. They had the first humongous pits of the day as Dez Fafara commanded the crowd to stir it up. There is a reason they did two tours in the US with Hatebreed last year who leveled the second stage here at COA in 2016. They busted through a brutal set with fan favorites like "I Could Care Less", "Meet the Wretched", and "Clouds Over California". They also played "Daybreak" off their prominent new record 'Trust No One' that dropped last year. You have to see DevilDriver live to fully grasp how talented the band really is. There has been talk about Dez wanting to include Coal Chamber songs in DevilDriver sets but that didn't happen on Sunday. It might possibly happen on their upcoming headline tour with 36 Crazyfists, Uncured, Cane Hill, and Tetrarch. That tour hits Belvidere, IL at The Apollo Theatre on August 25th. They will also be doing some dates with Superjoint along with a few of those bands as well.
HellYeah is one of those bands that has improved with each record. The supergroup featuring Chad Gray and Vinnie Paul has always put on a spirited performance in the four times I've seen them. The crowd piled in from DevilDriver as the band had already begun their set with "X". While I still enjoy Mudvayne more, Gray has really came into his own with HellYeah with an immense stage presence that brings the audience together as one. No one in the genre can scream as well as he does and switch right back to clean vocals effortlessly. Vinnie Paul is smiling behind the kit as always having a great time. I loved the cover they did of Phil Collins' famous song "I Don't Care Anymore" before closing with "Hellyeah!". We didn't photograph their set but you can check out our photos we took of them at Louder Than Life in 2016 right here.
Kyng was introduced by COA host Jose Mangin before hitting the stage. Mangin is the main reason I know of this killer band because he's always played the hell out of them on Sirius XM channels like Octane and Liquid Metal. I've seen these guys three times now and they're yet another band that gets better every time I see them. All three performances have been at festivals so I'm hoping to catch a longer set somewhere down the road. The trio shows off a heavy stoner rock sound with an overload of riffs and badass drumming. Lead singer/guitarist Eddie Veliz made it clear from the start that they were going to try to hold their own on the BlackCraft Stage as they were playing with a ton of heavy acts on that stage that day. He later mentioned that he was more excited about seeing the other bands that day like Behemoth and Slayer than his own performance. Who could blame the guy? It really was a stacked day. About halfway in the set, drummer Pepe Clark's snare was having problems.. so they replaced it mid song! The whole scene was hilarious, but nerve wracking to watch at the same time. Kyng closed their set with "Pristine Warning" and one of their older songs "Falling Down". We didn't get a chance to photograph them this time around but you can check out our interview we did with Tony Castaneda a couple months earlier at Carolina Rebellion here.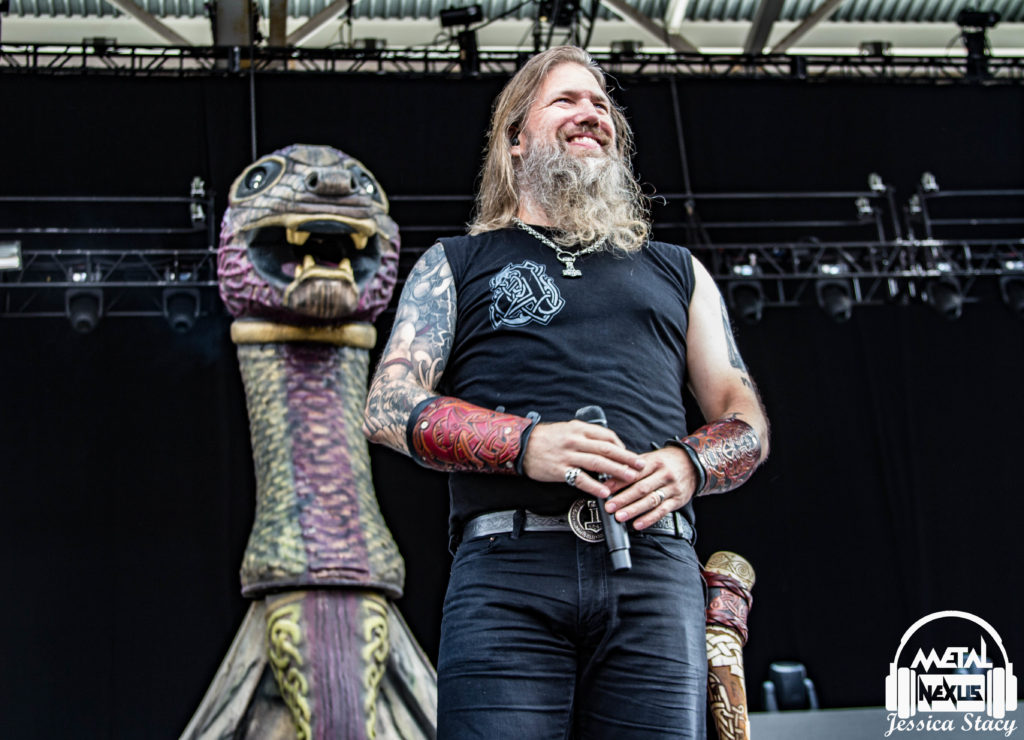 Amon Amarth delivered arguably the best set of the weekend in the middle of the day. I was shocked to see them on the lineup this year considering they played a festival in Sweden two days before Chicago Open Air. The logistics to get here on time for load in must have been insane but they made it happen. The jet lag had no effect whatsoever on the vikings as they pillaged and conquered our land! Flames and smoke arose from the stage as their viking ship set sail for us. Several people in the crowd participated in a rowboat mosh pit where everyone got down in a seated position and began their journey to Valhalla. It appeared that the vikings brought their full European stage production with fire, fireworks, smoke, and even more. During "The Way Of Vikings", they had two swordsmen come to the stage and duel to the death. The crowd brought all the props needed for "Raise Your Horns" as we all put up our drinking horns that were sold by Chicago Open Air all weekend. For "Twilight of the Thunder God", Johan Hegg lifted Mjölnir and brought thunder down across the sky. The legends were playing so furiously that the speakers blew out at one point in the set for about 10 seconds. The band didn't miss a beat. Hegg also announced that this would be the band's last US show on the 'Jomsviking' album cycle. They couldn't have ended it in a better way. All the anticipation that Chicago Open Air built up for these guys paid off with a show I will never forget.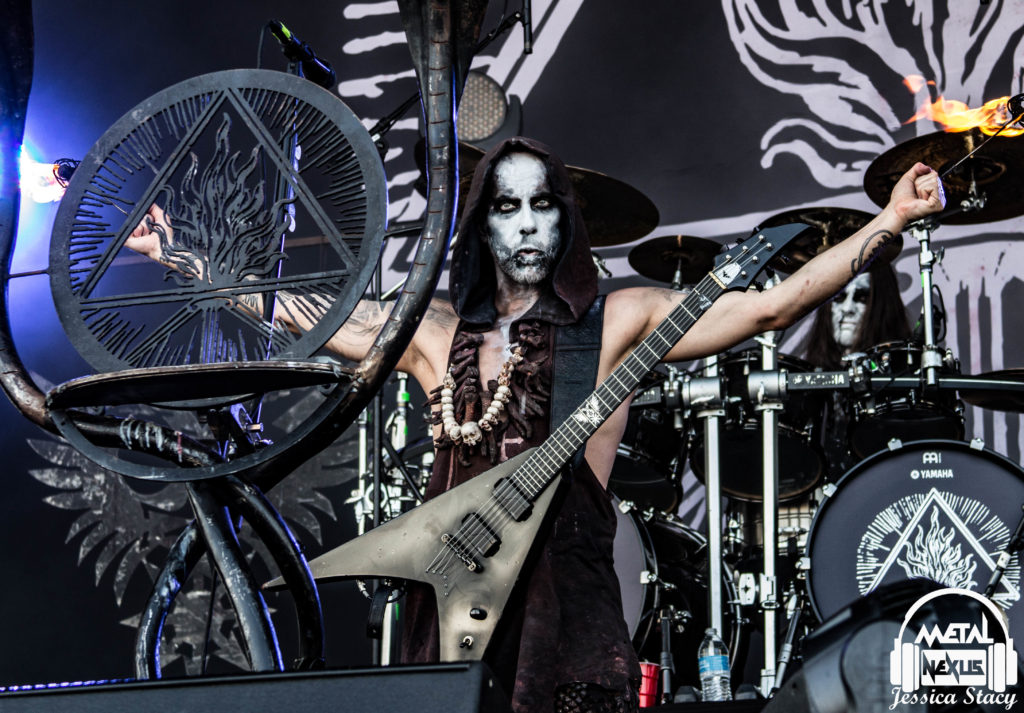 I know that a lot of people came to this festival specifically to see Behemoth. You could tell this was the case with the mass amount of people wearing their shirts throughout the entire weekend. It was a bit strange to see them playing out in the sunlight but performance made the sun feel nonexistent at the time. I had been waiting to see Behemoth since they had to pull off of the Mayhem Festival tour in 2013 when Inferno had an injury. It was well worth the wait. Inferno was absent again this time but with good reason. He had just became a father and wanted to take some time off. Instead of Inferno, we were treated to Jon Rice from Job For A Cowboy, a more than acceptable replacement. The quartet kicked their set off with "Ora Pro Nobis Lucifer", the song I had dreamed they would open with. Nergal, Seth, and Orion all took turns on vocal duties which was something I rarely see from bands. It makes me wonder if maybe we will see Seth and Orion doing some vocals on the upcoming record. The crowd reception was breathtaking. It was loud and people were shouting the words without regards of who it bothered. Nergal had the crowd in the palm of his hand. The band took a bit of a departure from their recent setlists and finally began playing more old material. Their festival setlists in the last couple of years mainly consisted of material from 'The Satanist'. We were lucky enough to get material from 'Evangelion', 'Satanica', 'Demigod', and 'The Satanist' all in just 30 minutes. The atmosphere really took the day into new territory and I hope it acknowledges the fact that black metal belongs at these US festivals. I hope to see a little bit more of it next year as well.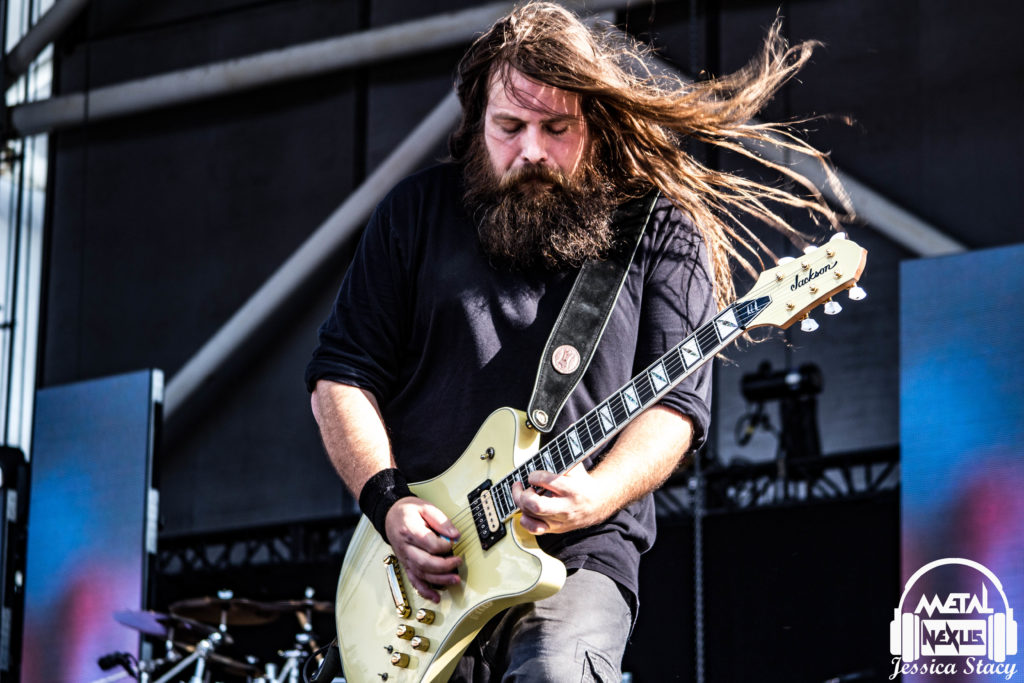 This was my first time seeing Lamb of God performing on the main stage at a Danny Wimmer Presents festival. I understand them typically closing the side stages because of the chaos that ensues but I couldn't wait to see them play to a large crowd. Randy Blythe was ecstatic about being here in Chicago and gave plenty of Ric Flair woos to go around. If you were running back in from Behemoth, you could hear "Laid To Rest" bouncing off the walls of Toyota Park. The band is unusually tight live. Like one of the tightest bands I've seen. Chris Adler could be regarded as a machine and it'd be pretty believable to be honest. After the heavy metal anthem "Now You've Got Something To Die For", Blythe let us know that the next song was about "a little gated community that he spent some time in" as that eerie guitar intro to "512" kicked in. If you don't know what he's talking about, please read his book called "Dark Days" sometime. Their authentic American Heavy metal provided the soundtrack for plenty of mayhem to run wild through the crowd. Lamb of God packed in a monstrous 10 song set that was very heavy on tracks from 'Sacrament' and their new album 'VII: Sturm und Drang'. The crowd went out to take a short breather after they got done to prepare for Stone Sour, Slayer, and Ozzy.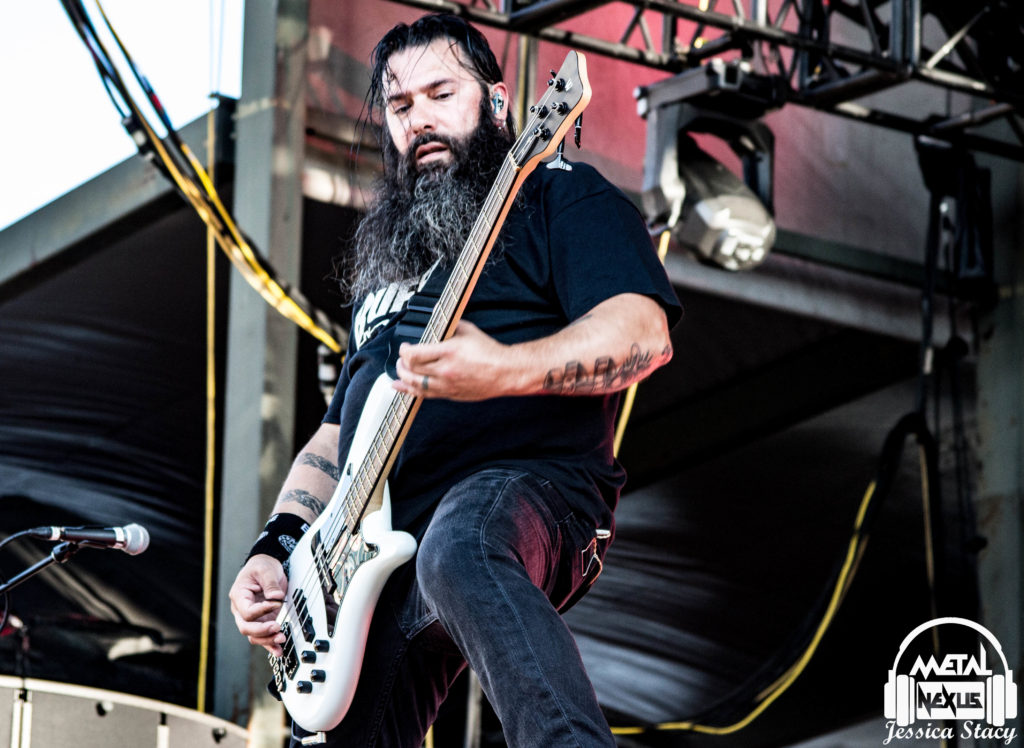 After a 30 minute break, Stone Sour got things started back up on the main stage. The crowd made sure that Corey Taylor could hear them when they began chanting "Fuck Nickelback" at a break in the set. Corey couldn't help but smile and said "here's a 'non-hit' song for ya, what a dick", taking a jab at Nickelback's Chad Kroeger's comments about challenging Corey Taylor to write a hit song. He then began strumming the guitar as "Bother" rang out through the venue, a song that was a very big hit. I wasn't a fan of 'Hydrograd' but I still enjoyed hearing Stone Sour play some of their older songs like "Made of Scars", "Tired", and "Say You'll Haunt Me". I wish I had gotten to see the band with Jim Root as it seems they've gotten to be a little more radio friendly as of late. A lot of the crowd seemed disinterested or maybe just tired from Lamb of God before. Taylor has always been an idol to me since my childhood so I'm hoping to give them another shot later down the road. They felt a bit out of place on this day.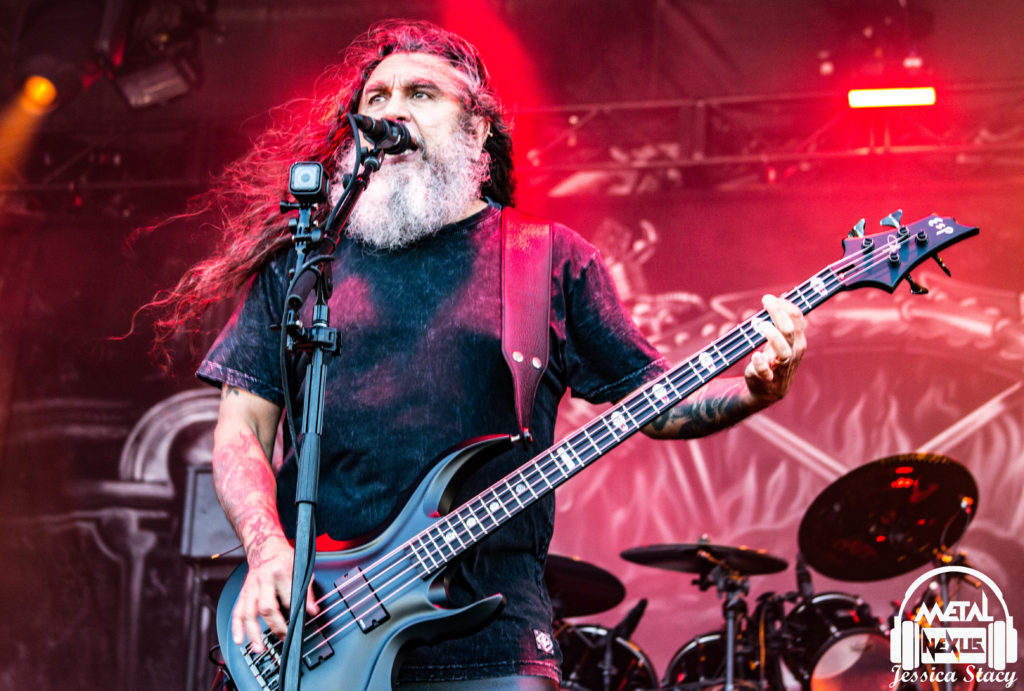 There isn't much that needs to be said about Slayer. The thrash legends have been out decimating stages for over 30 years now and have no intentions of slowing down. I lost track of the hundreds (maybe thousands) of Slayer yells I heard over the weekend. To the surprise of many, it has been rumored that the band actually requested to close down the BlackCraft Stage, rather than having played on the main stage. Whether that's true or not, it doesn't really matter. Other than some sound issues here and there, it really didn't have any effect on how great they were. Pyro shot out across the stage nonstop as the band dived into "Repentless". Before the first note even broke out, the crowd was raging. Some guy even broke his leg before the first song ended. I really enjoy Slayer live because there isn't a lot of messing around between songs. There is continuous thrash for an hour and I love it. Before "War Ensemble",  Tom Araya thanked the crowd for coming out to watch them in the parking lot. He then said "We don't need grass, we got asphalt.. and concrete!" A lot of people started heading over to the main stage with a few songs left to get a good spot for Ozzy. I couldn't make myself leave because I had to hear Araya do that iconic shriek on "Angel of Death". It's been 31 years since they released that and he still does it effortlessly. They valiantly closed the second stage for the weekend and sent us sprinting over to the main stage for what we've been waiting for all weekend.
This grueling, but engaging weekend finally came to its close with the legend himself. I was unsure what to expect as I had never seen Ozzy in the near 50 years he has been performing. I didn't really go in with any expectations and left Toyota Park stunned. For a guy that is almost 70 years old, the man can still sing his head off. This was also only Zakk Wylde's second show back with Ozzy as an official member since 2009. The stage setup was rather simple because a large scale production wasn't necessary. The music was just that damn good. Ozzy didn't seem to mind sharing the spotlight with his band members as he left the stage for a while and let Zakk shred his ass off in an extended version of "War Pigs" with a ridiculous solo. I'm fairly certain that Zakk played his guitar behind his head just as much as he did the regular way. Right after this, Tommy Clufetos performed an incredible drum solo. If you saw Black Sabbath on their final run, you may have noticed him behind the kit there as well. Some people complained about Ozzy still playing the Black Sabbath songs since they wanted to hear more cuts from his solo career. I didn't mind it since I had never seen Sabbath before they retired, but in the future, it would be nice to hear more of his solo material like they mentioned. With Zakk back in the band, Ozzy decided to bring back the classic "No More Tears" into the setlist. This was only his second time playing the song since late 2010. He let the crowd hit the high notes, but he still sounded truly great. After closing the regular set with "Crazy Train", the Ozzman came back out for two more songs. "Mama I'm Coming Home" brought the crowd together for one of the biggest sing alongs of the weekend. As usual, Ozzy took the crowd home with one of the songs that started it all in "Paranoid". Ozzy was exceedingly remarkable on this night. We didn't get to photograph him but you can find several videos of the performance on YouTube. If you have a chance, I highly encourage you to get out and see him regardless of how many times you've seen him. He will be performing at several festivals this year including Louder Than Life, Aftershock, Ozzfest, and Moonstock.
With 70,000 in attendance over the weekend, Chicago Open Air had another successful year full of unbelievable performances from bands all across the rock and metal genres. If you couldn't make it this year, you should start saving up for next year when it returns! We are all looking forward to seeing how next year's lineup will compare to 2017. Thanks to Danny Wimmer Presents and Live Nation for putting together such an incredible event again. We can't wait to come back next year. Next up, we will be covering Louder Than Life taking place in Louisville, Kentucky. Artist spotlights begin this Tuesday with COA Alumni Through Fire. We hope to see you there! If you can't make Louder Than Life, check out other Danny Wimmer Presents festivals like Aftershock, Houston Open Air, and Rock Allegiance this fall!