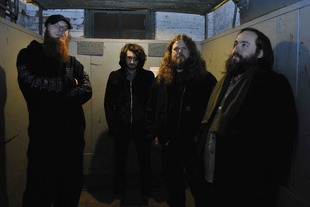 *This is part of our State Of The Arts series, showcasing bands every Monday from the state of the month*
This month's state is Ohio.
Beneath Oblivion are based out of Cincinnati, Ohio. They have been together since 2003 and self released their first full length in 2006 titled "Existence Without Purpose". The album they released in 2011  "From Man to Dust" is an incredible piece of doom from start to finish. The band defines funeral doom. The symphony of darkness on tracks like "Atomic Mother" capture you and have you listening and out of nowhere the vocals take hold of your throat keeping your attention. Each song seems to capture a darkness in its own way. The only way to convey the sound is like feeling each stage of death then hitchhiking your way back from hell. They are expecting another release soon. This band should not slip by anyone the vocals Scott T. Simpson brings to this album are flawlessly combined with the guitar work by himself and Allen L. Scott II. Nothing in the music is overdone, it's the correct amount of everything. Bassist Keith Messerle and drummer Nate Bidwell play off each other like dirt beating down on a casket. When everything seems unbearably dark they let just a little light in, only so they can again bring you into the darkness again.
Follow Beneath Oblivion at:
http://www.beneathoblivion.info/