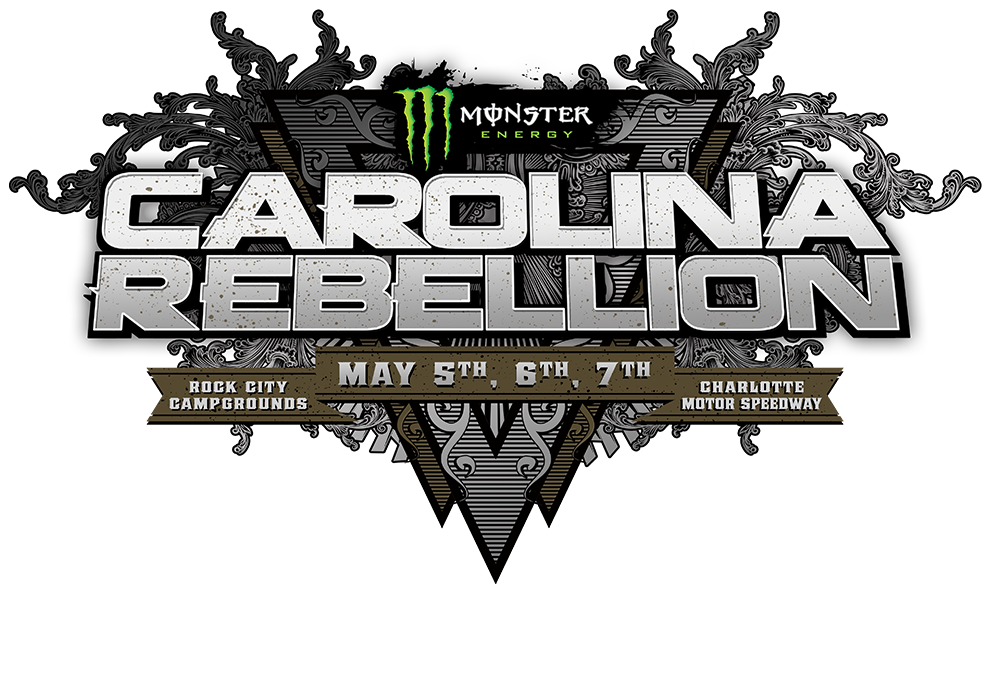 Ready for day 2 of Carolina Rebellion. After an amazing first day everyone was pumped and ready to enter the show for day 2. The day was full of diverse bands from different generations and wide ranging genres. You can go from Tesla to Machine Gun Kelly, or Sum 41 to DED. Today's lineup really had a little something for everyone.  The Saturday lineup was filled with a tremendous amount of new names in metal like DED, Cover Your Tracks, Frank Carter & The Rattlesnakes and many more. Of course those are then followed up by bands who have been around the block a few times now like In This Moment, Nothing More, All That Remains and Alter Bridge. Then you have bands that have been around for decades like Sum 41, In Flames, Tesla, Korn and Def Leppard. Saturday we spent a lot of time interviewing bands and didn't get a chance to make it out to see every band, but the ones we did see blew our minds. The must see bands on our list for this day cane in the form of a veteran act Sum 41 and a brand new band DED. Being around for the glory years of Sum 41's career made me want to experience them live for the first time. DED is an amazing up and coming band that is about to release their debut album and their single "Anti-Everything" has become an anthem to the troublesome times we live in today.
DED was by far one the bands I was most looking forward to throughout the entire weekend. Their style certainly resonates with fans of the late 90's nu-metal era but they also put a modern twists on their music that allows them to connect with modern music fans as well. Not only were they one of the bands I was looking forward to but they absolutely delivered with their performance as well. "Anti-Everything" the bands current single really got the crowd going. Though they are a somewhat new band vocalist Joe Cotela sang his heart out and the fans noticed. Moments during the song he even held the mic out and the concert goers fighting their way closer to the stage finished the chorus for him. Joe takes an aggressive stance on stage and his vocals also come across super aggressive as well. Then when the chorus kicks in he has this more melodic style that is pure perfection. If you haven't seen this band yet you are truly missing out. I myself can't wait to see them do a headlining set.
I Prevail has pretty much become a household name since their cover of Taylor Swift's blank space blew up and sent them on a fast track to metal stardom. Trust me when I say these guys are by no means one hit wonders. Though their cover of that song got them started their original tracks on their new album 'Lifelines' is some of the most compelling song writing you can hear. The Michigan band opened their set with one of their newer singles "Stuck In Your Head" and the song does exactly what the title says. By the time the chorus rang out the second time on the song everyone in the crowd was screaming along with the lyrics. As the band kicked in playing the track "Scars" a mosh pit started to form, but was actually much more like a wall of death. While harsh vocalist Eric was singing the pit would become really aggressive and then when clean vocalist Brian sang the chorus the pit opened up and they just started jumping up and down singing the lyrics. Almost every single song the band played ignited a smile on the face of fans. "Scars" was their final song and the band left with some parting words. "We are I Prevail, Let's go get drunk!"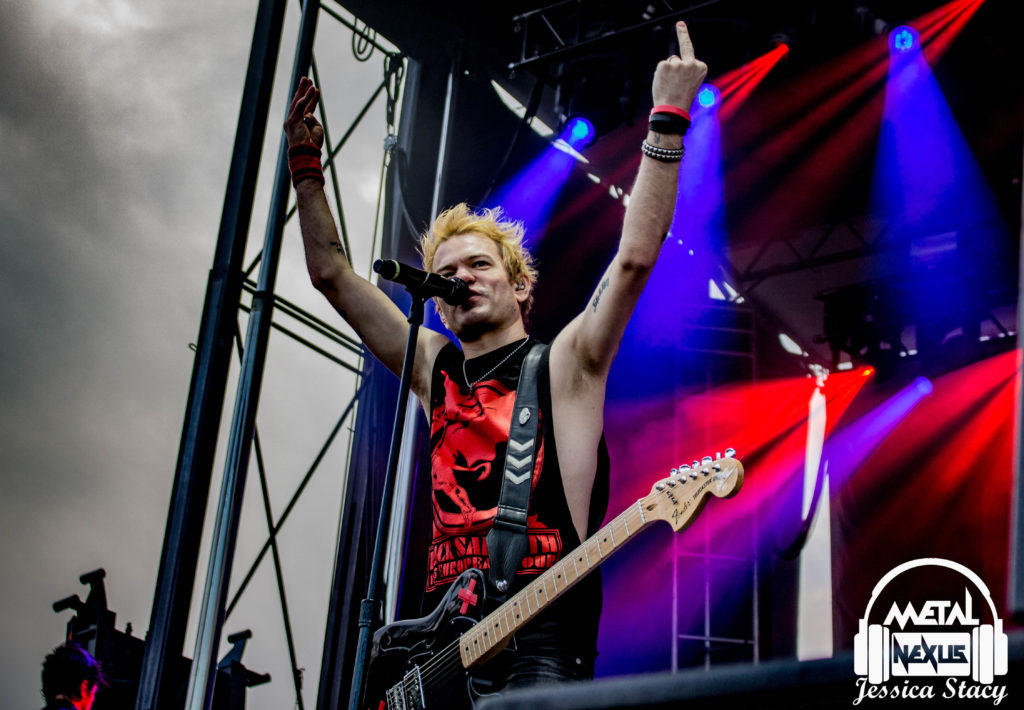 Let's face it Sum 41 was a powerhouse in the last 90's and early 2000's. Did they band still have it together this many years later? Hell yes they did. They kicked their set off with a cloud of confetti and the track "The Hell Song" from their 2002 effort 'Does This Look Infected?' There was a massive crowd for the band even though the Swedish metal master In Flames was playing at the same time. Thought this band is well known as a punk band they turned things up and got heavier throughout their set list. They even played a cover of Metallica's "Master Of Puppets" and did a damn good job with it too I might add. Of course that wasn't the only cover the band played, also doing a rendition of Queen's "We Will Rock You". Sum 41 made us wait til the end of their set to hear their two biggest hit songs. They certainly ended things with a band closing it out with "In Too Deep" which heavily showcases David "Brownsound" Baksh's amazing guitar skills, and then the song we all waited for "Fat Lip". The band rightfully deserves a 41 salute for their performance, one of the best bands of the entire weekend.
Nothing More always put on an exciting show. The Texans opened their set with "Christ Copyright" from their 2014 self-titled album. With their second song they jumped to a new track titled "Let 'Em Burn" that will be on their upcoming album 'The Stories We Tell Ourselves' which releases on June 23rd. The fans really took to the new material just as if it was one of their favorite tracks they've heard numerous times. They followed the new song with their incredible hit "Jenny" and then moved on to a Skrillex cover "First Of The Year". The band also always seems to add some entertaining element to their show, in the past they have played a bass with drumsticks, and on this day it was an excellent drum interlude. It's almost like choreography how every member of the band lays down their instrument and takes on percussion for a few moments. What most of you may not know is that vocalist Jonny Hawkins is a super talented drummer in addition to being an amazing singer. Needless to say they impressed everyone in the crowd and a select few walked away with a drumstick as a souvenir.
In This Moment has such an interactive show. There is all kinds of props on stage as well as the ambience they create with fog machines and intro music. In a way they kind of creep on stage and when they finally appear the crowd instantly roars in applause. Dressed in robes the band begins to open their set with "Blood". The extra ladies on stage that surround Maria Brink on stage are known as "The Blood Girls" and they add amazing depth to the bands show. The band then cranked out two consecutive hit songs with "Black Widow" and "Sick Like Me". Of course with almost each song brings on a new wardrobe not only for Maria but The Blood Girls as well. It's something that doesn't often happen in metal and might be seen more in pop music, but Maria pulls it off well and doesn't ever let their stage show become stagnant. "Whore" comes up next as the front lady appears in her school girl outfit and sings from the pulpit. She first provides a eulogy leading into the song. It's impossible to get bored anytime In This Moment is on stage, and their unique stage show easily makes them one of the most memorable bands of the day.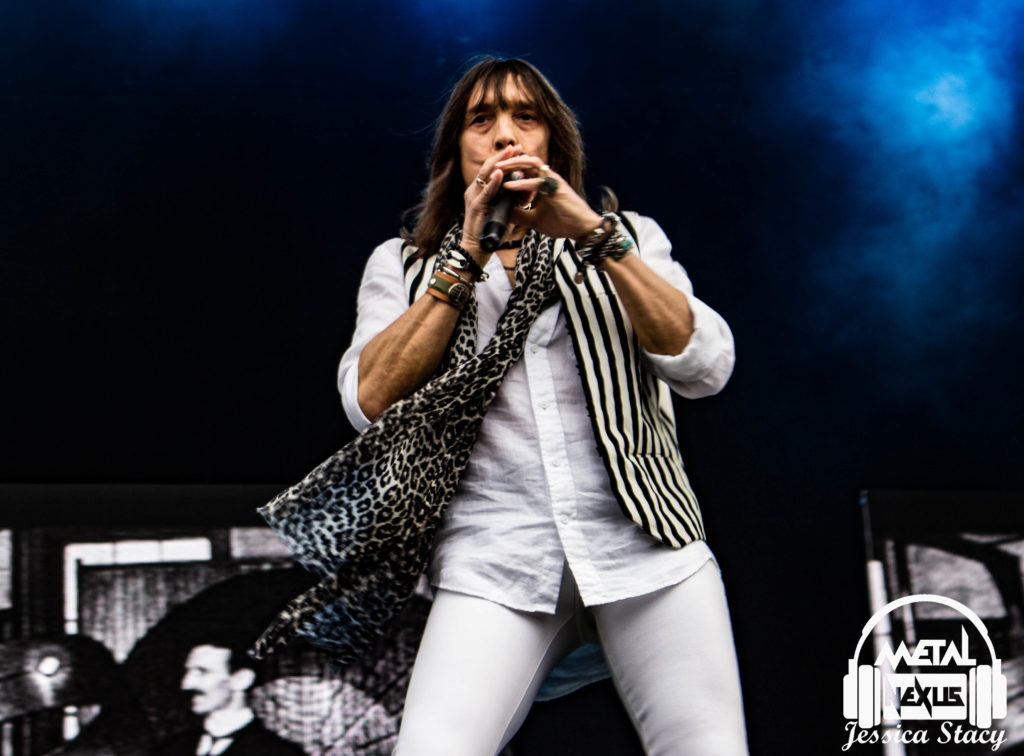 Tesla brought some classic hair metal to a weekend filled with a lot of modern music. Formed in 1981 this band was making music while some of the other acts were still in diapers. Opening their set with the 1991 hit "Edison's Medicine" it had every old school metal head in the crowd singing along "Man out of time, man out of time". It's always great to hear these old school guitar riffs as well. Tesla were one of the kings of writing hooks in their music and they still get you hook line and sinker still today. You'd think a frontman's vocals may fade over time but Jeff Keith sounds just as amazing today as he did in the 80's. We also got an exciting treat when guitarists Dave Rude and Frank Hannon came out and played some acoustic guitar leading into "Love Song". It's the moment where all the couples in the crowd starting dancing together. It's one of the ballads that has actually stood the test of time. Most metal heads want to rock hard from morning to night, but no one complained when Tesla jammed this old school hit. They really cranked things back up with their final track "Modern Day Cowboy". The chugging riffs rang out and even the event security couldn't help but band their heads. "Bang bang" the crowd sang along and gave an astounding round of applause as the band finished their set.
"Korn, Korn, Korn" was being chanted before the band even hit the stage. As the lights turned up so did the hits. The band recently had Metallica's bassist Robert Trujillo's son Tai Trujillo performing in place of Fieldy during their South American tour, but on this night the band welcomed Fieldy back to the fold. It would have been great to see the younger Trujillo perform but as always it's mesmerizing to see fieldy slap around on his bass with his unique playing style. Opening the show with "Right Now" the band really signified the moment we were all living in… the right now. The crowd is always intense anytime the Bakersfield, Californians take the stage, there was hands and fists in the air as far as you could see. There were some death defying moments in the bands set. Some people in the back couldn't see over the vast crowd of people so he took things to new heights. What I mean by that is he climbed on of the light poles about 70 yards from the stage and truly got a birds eye view of the show. Of course he made it down safely and the crowd was prepared to catch him in case he did take a fall. Korn played one of the fan favorites from their later years in "Yall Want A Single" and the fans of course screamed along to the track "fuck that fuck that". You can't have a Korn show without frontman Jon Davis showing off his bagpipe skills and they played "Shoots And Ladders" perfectly. Everyone knows one of Korn's heaviest songs is "Blind"from their self titled debut in 1994. I assumed they would close out the show with this track letting the crowd expel all their moshing energy at the very end. However, this night was a little different as they played this song with a little snippet of Metallica's "One" thrown in and chose some other songs to close the night. After this the band played "Falling Away From Me", and then capped off the night with probably their biggest hit from 'Follow The Leader' the song "Freak On A Leash". It's incredible to see a band that has been around this long still maintain at the levels they have. They still have all their original members other than drummer David Silveria. If you haven't yet seen Korn they are truly professionals when it comes to entertaining fans with their music and stage show.
If you missed this years Carolina Rebellion, you truly missed an amazing show. The festival season hasn't ended yet and runs all the way through the fall. You still have a chance to see a slew of amazing bands on some of the festivals Danny Wimmer Presents has to offer. Chicago Open Air boasts likely the heaviest lineup of any festival this year with this bottom half of the bill and is headlined by Kiss and Ozzy (Featuring Zakk Wylde) pick up your tickets now to see them July 14th – 16th. Next up is Louisville, Kentucky's Louder Than Life fest which features not only amazing music, but an epic beverage experience with craft beers and bourbon. This date is stacked with amazing headlining acts like Ozzy (Featuring Zakk Wylde), Prophets Of Rage, Rise Against, Incubus and Five Finger Death Punch. While it is still several months away we don't know yet who we will see fronting FFDP, Will Ivan return? Will Tommy Vext (Westfield Massacre,Divine Heresy, Bad Wolves)  still be filling in? Or will there be another vocalist handling the microphone. Be there to find out. Next up is the one day festival Rock Allegiance in Camden, New Jersey on October 7th. Headlined by Five Finger Death Punch, Rob Zombie and Marilyn Manson and the rest of the lineup is just as good. Amazing one day rock festival. The month of October just keeps getting better with Houston Open Air returning for their 2nd year after a storm last year pretty much cancelled the entire festival. This years lineup will play over two days on October 21st and 22nd. Headliners include Five Finger Death Punch, Stone Sour, Prophets Of Rage and Marilyn Manson. There is also a must see act on the festival as well which is Suicidal Tendancies, don't miss this band. The year winds down with one of the last festivals of the season in California's Aftershock Festival. California is always a destination for bands and this lineup proves they can get amazing talent there that other festivals often miss out on. Headlining Aftershock includes Nine Inch Nails, A Perfect Circle, Ozzy Osbourne and one of the most talked about bands who everyone is stoked for Run The Jewels. You still have time to pickup tickets. Don't let the rest of your summer be dull and boring, and the same goes for the fall. See you there!