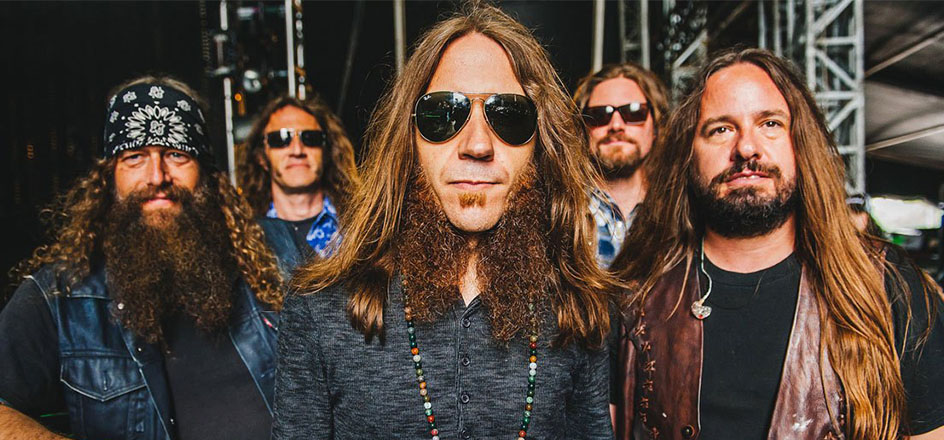 Welcome back to our ongoing series of Bourbon & Beyond 2019 artist profiles, our weekly guide through the lineup of acts who'll take the stage at Louisville, Kentucky's Highland Festival Grounds at Kentucky Expo Center September 20-22nd in what's sure to be one of the biggest concert events of the year. This week, we're taking a closer look at Blackberry Smoke.
Blackberry Smoke is one of the up and coming bands to play this year at the Bourbon and Beyond Festival. Bourbon and Beyond has a new home this year. It is still in Louisville, Kentucky of course, but a different festival grounds. This new location is the Highland Festival Grounds at the Kentucky Expo. The former location, Champions Park, was flooded last year and day 2 of Bourbon and Beyond was cancelled along with the whole Louder Than Life festival. Bourbon and Beyond was previously a 2 day festival but this year has expanded to 3 days, so you get an entire additional day of bands. Blackberry Smoke was set to play last year but didn't get the opportunity due to the park flooding. So, all the fans that missed out last year, get ready because they are making their phenomenal return and I'm sure they will make up for the rains that washed them away last year! Let's talk some about Blackberry Smoke.
Blackberry Smoke is a southern rock band from Atlanta, Georgia. These guys are the modern day Lynyrd Skynyrd. They have such a unique sound that you don't really find in southern rock bands anymore. If someone was to tell me Blackberry Smoke time traveled from the 70's after doing a huge tour with Molly Hatchet or The Outlaws or even Lynyrd Skynyrd, I would definitely believe it. It's a throwback sound in this modern era which is excellent. I am glad to see this sound returning and saying, "I'm not dead yet." When listening to Blackberry Smoke, it's like eating some of grandma's southern cooking, it's comforting and familiar and puts us at ease. If that doesn't get southern enough, they have toured with bands such as ZZ Top (who will also be at Bourbon and Beyond this year), Lynyrd Skynyrd, Eric Church, The Zac Brown Band (who will be at Bourbon and Beyond as well) and Gov't Mule. Blackberry Smoke never fails to rock the stage no matter who they tour with. I seen them open for Aaron Lewis in Pikeville, Kentucky and let me tell you, from the first song to the last, there was no letting up. They were ready to rock! The team of Charlie Starr (Lead Vocals, Rhythm Guitar, Lead Guitar), Paul Jackson (Lead Guitar, Rhythm Guitar, Backing Vocals), Brandon Still (Keyboards), Richard Turner (Bass, Backing Vocals) and Brit Turner (Drums) just captures your soul with the amount of talent these 5 gentlemen have. The 5 piece have released 6 full studio albums. The first being 'Bad Luck Ain't No Crime' (2003) and the latest being 'Find a Light' (2018). Both albums have that southern rock sound that just makes you feel good and want to put on your dancing shoes! Bourbon and Beyond fans, be ready to experience a thrilling show with Blackberry Smoke! If you have never seen these guys live, PLEASE do yourself a favor and be sure to go over to the stage they are playing and watch from start to finish! I guarantee your head will not stop moving for their whole set! They are playing the first day of Bourbon and Beyond, Friday, September 20th. Make sure to pick up your tickets here!