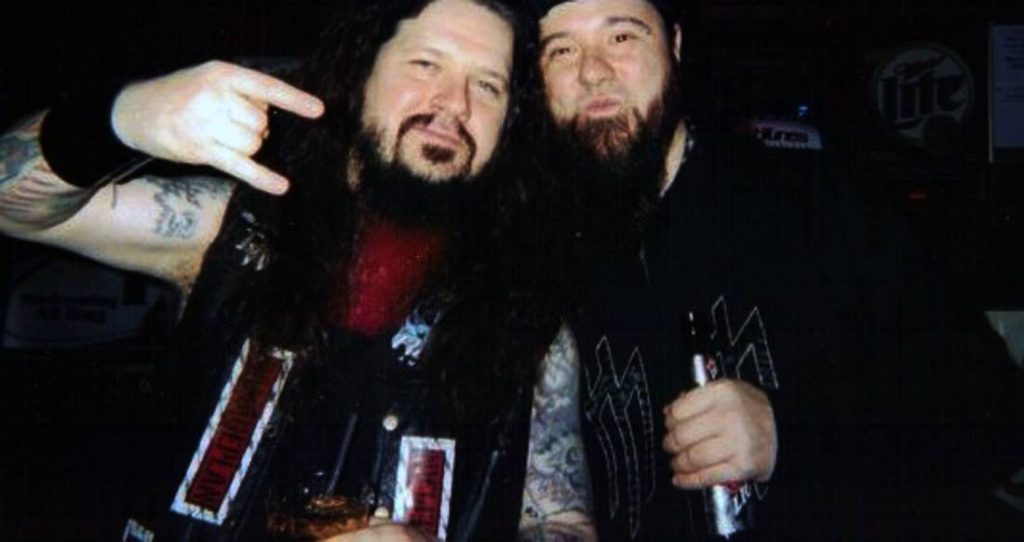 I am sure you all have seen those crazy ass PANTERA home videos, where Dime and others in the band would do loads of silly stuff and make fun of each other, and it was hilarious and awesome for a normal fan to just be able to witness what actually happened in the PANTERA camp. Sometimes Dime would end up dead drunk in the videos pulling pranks on his band mates, Phil would join in on the fun and all that jazz. But you ever wondered who the man behind all these captured memories are? Sure, you've seen him a thousand times in interviews and on the internet. He is none other than the band's official videographer and roadie Bobby Tongs. And yeah Bobby would not survive the Dime and Co.'s stupid pranks too!
Over the years when he was with PANTERA, he amassed  a ton worth of home videos and also made a film out of it under the moniker of 2006's 'Dimevision Vol 1: That's The Fun I Have' and this year's 'Dimevision Vol 2: Roll With It Or Get Rolled Over' which was released this past week, on 24th November, 2017. It contains all the memories associated with Dimebag, over the years and it is a funny and poignant memorial. Bobby Tongs also has worked for SLIPKNOT, DOLLY PARTON to include some of the big A-listers on the industry.
Our official podcast Talk Toomey's latest episode features the man himself, Bobby Tongs. Host Joshua talks about a lot of stuff to him. Bobby goes on to say how he joined the PANTERA crew, when he'd hear the band jamming everytime he came back from school walking on the street and then he would eventually go ahead and talk to them. He also talks a few funny stories during his time in the legendary band. As 'Dimevision Vol 2: Roll With It Or Get Rolled Over' was just released this past week, Bobby goes on to say the entire Dimevision series and the videos are "therapeutic", and how they now hold an emotional value to the entire crew and everyone who was related to the band. 'Dimevision Vol 2: Roll With It Or Get Rolled Over' is now out world wide HERE!
Check out the podcast and get to know more what it was like to be a crew member of one of the best heavy metal bands on this planet.