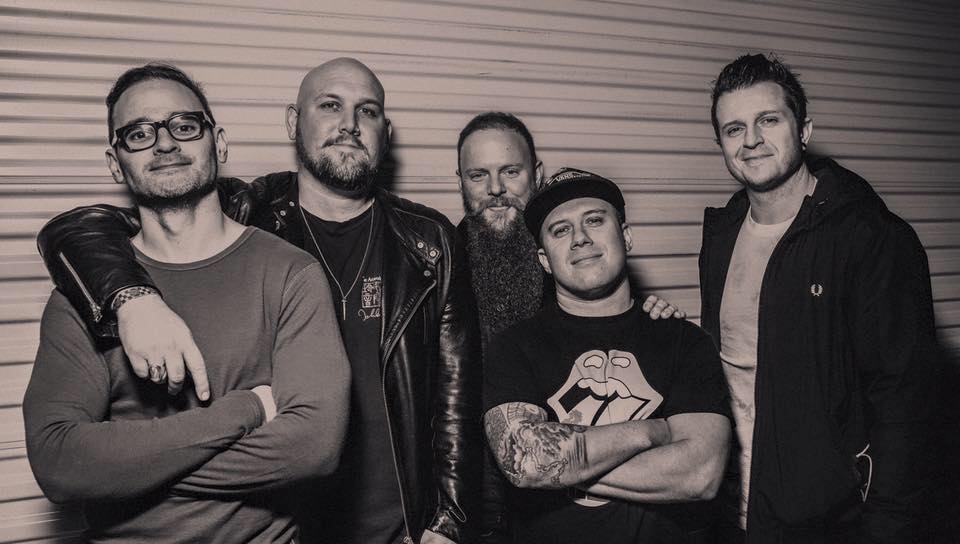 "Everything we do causes a ripple or a wake…It can be positive and good, or it can be fucked up and horrible. However, we are the masters of our own destiny. We want to leave something good behind."
This statement is a perfect representation of the theme for the newest release entitled 'In Our Wake' from metal veterans Atreyu.  We all want to leave behind some sort of legacy, but few are unsure of how we will be remembered when we are gone.  The SoCal quintet has made it a point to direct attention to such uncertainties.
Drummer Brandon Saller elaborates:
"What are you going to leave behind?" asks Brandon. "We named the album 'In Our Wake' because a lot of the concepts address this question. There are lyrics about dealing with your own personal demons and darkness. Some of it is about our children, which is who we leave directly in our wake. Others are about the general public and the outpouring of hate and fear — especially in our country. We created something of a concept record without even trying."
Atreyu has become a household name in the hard rock/metal community since their first release, 2002's 'Suicide Notes and Butterfly Kisses', and became an even stronger dominating force with 2004's sophomore release 'The Curse' which sold a staggering 450,000+ copies and 2006's 'A Deathgrip on Yesterday' which peaked at #9 on the Billboard Top 200.  However, the band's fourth studio release in 2007, 'Lead Sails Paper Anchor', would turn out to be (arguably) Atreyu's most successful album selling over 500,000 copies and earning the band their first gold certification in early 2018 – something that is becoming increasingly more difficult for bands and musicians with the rise in popularity of digital media.  Following their fifth installment, 'Congregation of the Damned', in 2009, vocalist Alex Varkatzas announced in 2011 the band would be taking a hiatus to "recharge and focus on other parts of our lives."
With several Atreyu members pursuing different avenues with different side projects during this hiatus, the cavalry reunited once again, ready to annihilate crowds from all over with a heavy-hitting 'Long Live' in 2015 on which the band rejoined forces with 'Lead Sails Paper Anchor' producer John Feldmann.  "'Long Live' was really heavy and reminiscent of our early material," states Brandon. "While we were on the road, fans kept asking to hear more from 'Lead Sails Paper Anchor.' It made us revisit that era of the band. It was a fun, experimental, and explorative time for us, which is so fun. We wanted to give ourselves and the landscape of heavy music a jolt, so we reached out to [John] Feldmann."
After extensive touring, writing and recording, we're now privileged with the upcoming release 'In Our Wake', out October 12, 2018.  Once again, the band has evolved and delivered a monstrous, well-executed piece of art that has the potential to reach the likes of 'The Curse' and 'Lead Sails Paper Anchor', and could quite possibly give the band their second gold certification or maybe even further.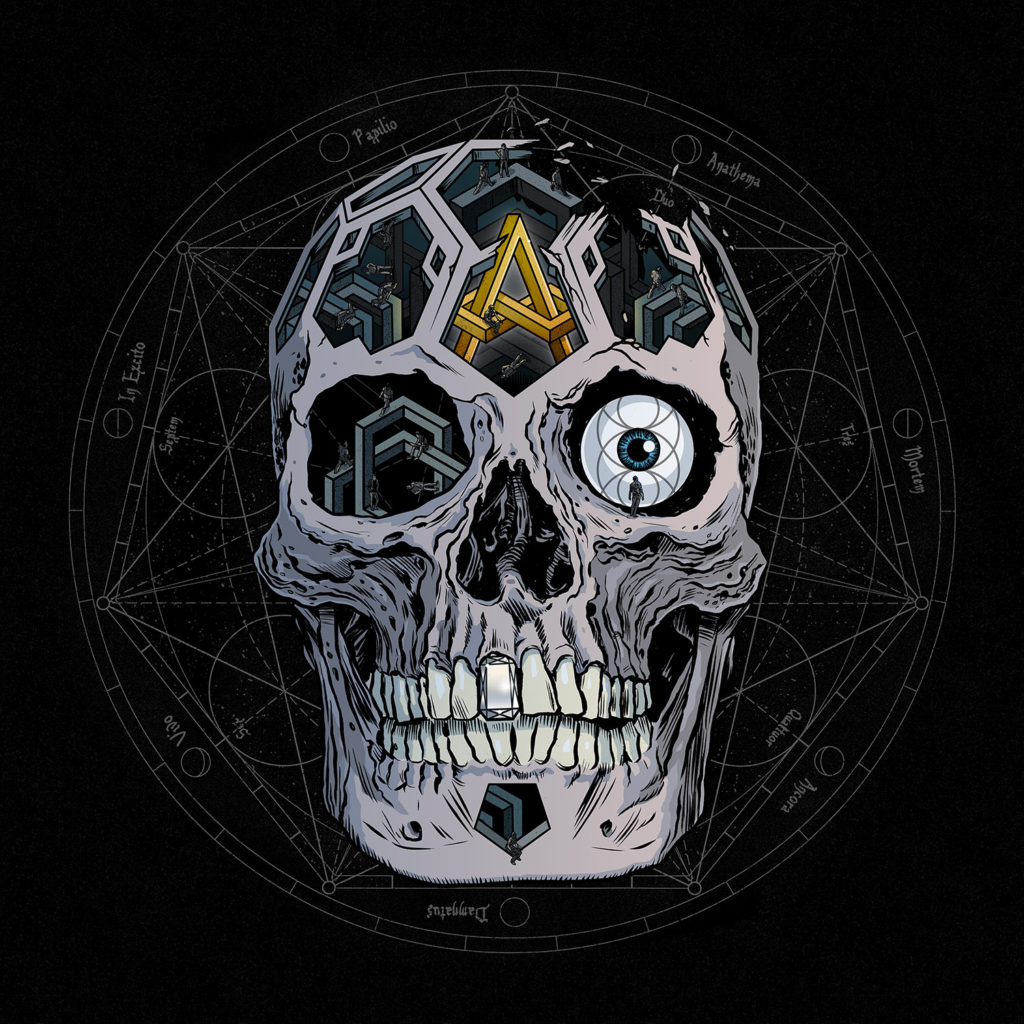 The album opens with the title track – the perfect introduction to just what the album represents.  To me, the track has a bit of a foreshadowing element as it seems to hint at just what the rest of the album contains.  "It's a deep one," admits Alex. "We looked up to Chris Cornell and Chester Bennington, and their deaths were fresh during the writing process. It made us think of what we'll leave in our wake. We have a choice to change the lives of others for the better."  From beginning to end, the song features everything we love about Atreyu: gut-busting drums, more-than-impressive fretwork from guitarists Travis Miguel and Dan Jacobs, and gravely screams from Varkatzas accented by the finesse of Saller's clean vocals, all held together with McKnight's smooth bass lines.
For fans of the more melodic Atreyu numbers, "House of Gold" is for you.  The album's second track opens with a spacey, clean guitar build into an energetic main riff that is intensified by Saller's drum work.  The track features several melodic tendencies and a very catchy, repetitive chorus:
"You give me a reason to feel like I belong here
I've been building this house made of gold
Darling, I've no fear
I've pushed through the rain and the cold
And forgot all the pain that I know
You give me a reason to feel like I belong here
In this house made of gold"
The final track on the album, "Super Hero", takes a step in a different direction than the rest of the album with its softened tone without sacrificing the trademark Atreyu sound.  The song features Aaron Gillespie of Underoath and M. Shadows of Avenged Sevenfold who were kind enough to lend their vocal and writing abilities on the album's closer.
"It's about being your kid's superhero, so we invited other singers who are fathers to join us," Brandon explains. "Everyone wrote his own respective part and gave perspective on what fatherhood meant to him. I wanted it to feel like the music from the Soaring Over California ride at Disney's California Adventure park. It ends on such a huge note and offers a breath of fresh air."
Though only a select few songs from 'In Our Wake' are mentioned here, every song on the album has its own personality and is just as impressive as any other on the album.  "We want to give listeners an experience," Alex concludes. "Every track functions as its own moment. There's something that you can hopefully come back and listen to again and again."
"I feel like this is the record that people will remember our band by," Brandon states. "I'm saying that because the best parts of Atreyu happened on it. We're continuing something we began a long time ago. This band means everything to me. We've been through incredible highs and incredible lows. We've loved each other, and we've wanted to kill each other. Somehow, twenty years later, it's reached a whole new level. I feel like we're alive, and Atreyu has never been more on fire than we are now."
'In Our Wake' hits shelves and streaming services October 12, 2018 so make sure to get your copy to truly understand just what this album is and how it showcases the evolution and growth of a band that has proved time and time again they are going nowhere but up.
'In Our Wake' Track Listing
In Our Wake
House of Gold
The Time is Now
Nothing Will Ever Change
Blind Deaf & Dumb
Terrified
Safety Pin
Into the Open
Paper Castle
No Control
Anger Left Behind
Super Hero
Atreyu w/ Memphis May Fire. Ice Nine Kills and Sleep Signals:
11/9: Phoenix, AZ @ The Van Buren
11/10: Albuquerque, NM @ El Rey Theater 
11/12: San Antonio, TX @ The Aztec Theater
11/13: Houston, TX @ House of Blues
11/14: Baton Rouge, LA @ Varsity Theatre 
11/16: Ft. Lauderdale, FL @ Revolution Live 
11/17: Tampa, FL @ Ritz Ybor
11/19: Atlanta, GA @ Buckhead Theatre 
11/20: Greensboro, NC @ The Cone Denim Entertainment Center
11/21: Baltimore, MD @ Baltimore Soundstage
11/23: Harrisburg, PA @ Capitol Room @ HMAC
11/24: Sayreville, NJ @ Starland Ballroom
11/25: Boston, MA @ Paradise Rock Club
11/27: New York, NY @ Gramercy Theatre
11/28: Rochester, NY @ Anthology
11/30: Detroit MI @ Majestic Theatre
12/1: Ft. Wayne, IN @ Piere's Entertainment Center
12/2: Chicago, IL @ House of Blues 
12/4: Denver, CO @ Summit Music Hall
12/5: Salt Lake City, UT @ The Depot
12/6: Boise, ID @ The Knitting Factory
12/7: Seattle, WA @ El Corazon
12/8: Portland, OR @ Hawthorne Theater
12/10: Sacramento, CA @ Ace of Spades
12/11: San Francisco, CA @ The Fillmore
12/12: San Diego, CA @ House of Blues
12/13: Anaheim, CA @ House of Blues