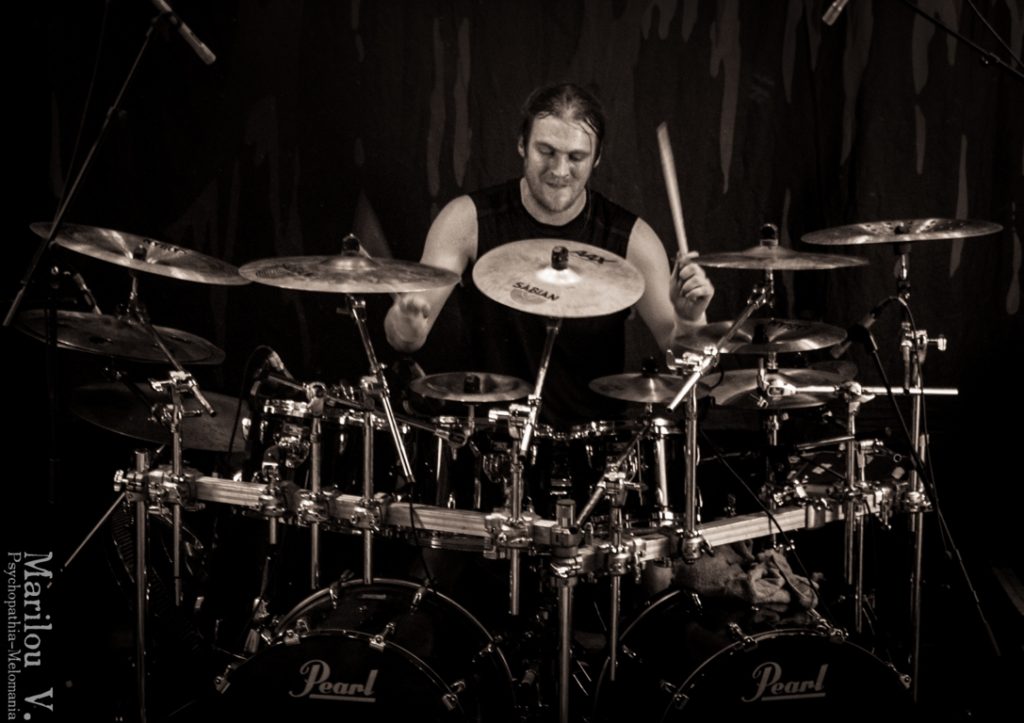 DYING FETUS are on the verge of releasing their new eighth studio album, 'Wrong One To Fuck With', which comes out this month on 23rd out via Relapse Records. The new album is one hell of a sonic demolition and DYING FETUS are on top of their game as of now. Previously, we reviewed the new album 'Wrong One To Fuck With', and if you are a fan and planning to buy one copy of it then you should go ahead and read the review here, to get a mild idea what the big picture looks like. Trey's drumming has been at an all time highest in this record just like any other Fetus record since he joined, we all know how punishing he can be on the kit. On that note, I recently caught up with Trey Williams and had the honor of interviewing one of the best death metal drummers in the modern day scene. Keeping it short and simple, this is how things went down in the interview.
---
METAL NEXUS : Greetings from Metal Nexus. How is it going with the new album coming up in a few days time? I'm sure you have had some reviews come in already, what do you take away from the feedback on album reviews?
TREY WILLIAMS : We are eager to see how the album will do. To be honest, I have not seen any reviews for the album yet. I hope they are good though.
METAL NEXUS : Death metal in general when performing live is one of the most physically demanding forms of live music. And coupled with non stop back to back month long tours, it definitely gets hectic. What keeps Dying Fetus performing and going with the same intensity despite it being hectic ?
TREY WILLIAMS : We each need to have some home time. Not only to deal with the day to day needs of home but some time away from each other. We are all friends but some space is always good.
METAL NEXUS : As death metal artists playing and touring with other similar metal artists could get quite monotonous. What does the band prefer listening to other than the usual Death Metal or Metal at all while on tour?
TREY WILLIAMS : I listen to talk radio sometimes.  But we typically rock all kinds of 80's hits.
METAL NEXUS : Places like Disney recently banned some artists like Every Time I Die, Machine Head, Skeletonwitch, and Exmortus  from playing the House Of Blues due to their name or lyrical content, How do you feel about censorship when it comes to music? Has the band name ever posed any problems?
TREY WILLIAMS : Not as often as you would think. We did have a death threat some years ago in England.  And an OBGYN doctor in the Netherlands had an issue with the name of the band. But he actually was not opposed to the band at all. He just wanted the flyers to be thoughtfully placed. Flyers were outside his office and patients were offended, rightfully.
METAL NEXUS : The album title 'Wrong One To Fuck With' is unapologetic, straight forward and brutal. What inspired this title?
TREY WILLIAMS : A strong and intimidating title was what we were looking for. So we named the album after the last song on the album.
METAL NEXUS : Back in Download 2014, you weren't included in the original bill initially, but your fans all took to social media and demanded Dying Fetus to be added to the lineup by using the hashtag #WhyNotDyingFetus? Which, in the end all worked out. What do you have to say about that regarding your fan base and how you felt in regards to the outcome?
TREY WILLIAMS : So cool! We were amazed at the fuss our fans caused. Keep it up guys. Send that hashtag everywhere.
METAL NEXUS : The band has always taken up political commentary as one of the primary lyrical subjects. Why do you think something like political commentary goes well with the brutal, heavy and gory music you play?
TREY WILLIAMS : Because the world is a hateful place, and the political realm is ripe with that emotion.
METAL NEXUS : Speaking of political commentary, how much has it been of an influence on the new record ?
TREY WILLIAMS : Not a lot really. We used the overall world is getting crazy feel for this album. It just seem like we are on the brink of something.
METAL NEXUS : Can you explain how does things work out before going into recording an album. Is everyone a part of the writing process? Or how does a Dying Fetus song come together?
TREY WILLIAMS : We take a bucket full of baby guts and spread it from head to toe. Just kidding! We all have input. We did all the prep ourselves this time. That meant I had to learn how to record the band. It started slow but we got it done in the end. John and Sean would bring ideas to the mix and we would see what fit. We named most of the songs before lyrics were written. That way we at least had a theme for Sean to write lyrics.
METAL NEXUS : Dying Fetus has a distinct sound that is almost a characteristic of the band. How difficult is it to maintain the same sound while also adding in new elements to every record ?
TREY WILLIAMS : As long as John keeps pulling riffs from the same well then I think we will maintain our sound.  It really depends on how John plays that defines Dying Fetus.
METAL NEXUS : We would like to thank you for your time, and leave you with an open floor. What would you like to say to any fans that are reading this interview?
TREY WILLIAMS : Big thanks go to the fans. Without their interest we could not keep this up. So thanks guys, see you all in the pit!
---