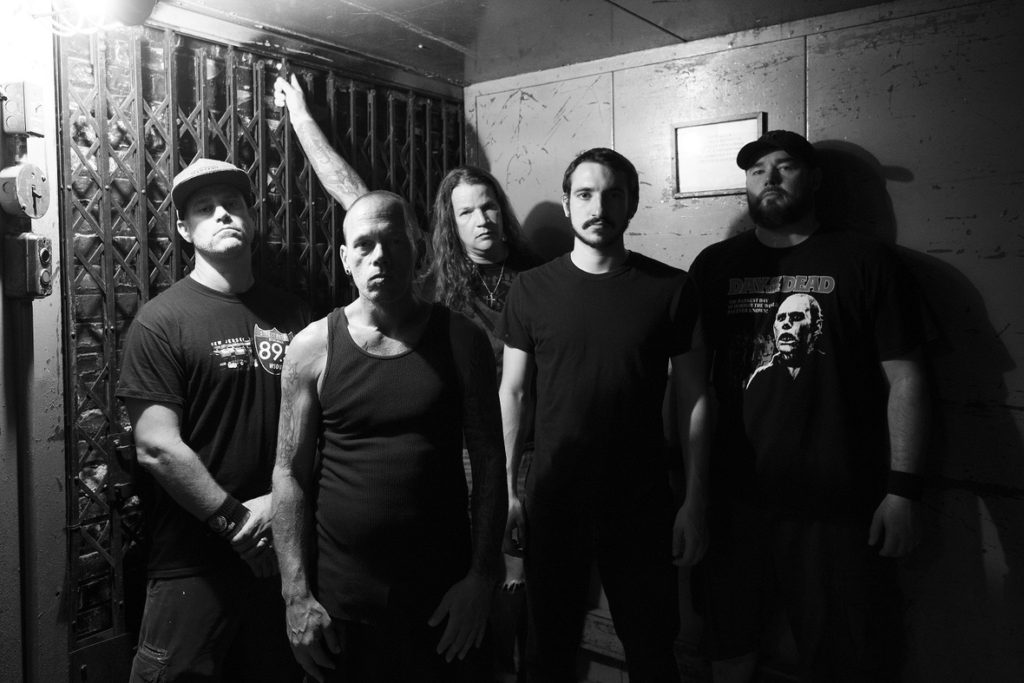 New Jersey natives Negative Sky have just recently put the final touches on their upcoming release 'Placid Black'. They also released a video for the hard hitting and aggressive track "The Dark Unknown". The band certainly carries with it a ton of influence from the New York Hardcore scene, but they also add differing elements that really sends their music to a new level. From the very first listen to this new track I was immediately drawn to their music. Beware of your surroundings when you first listen to "The Dark Unknown" because it will make you want to start a circle pit 30 seconds into the song. We were fortunate enough to speak with Negative Sky drummer Tom Fitzgibbon and get some info on the bands formation and what their plans are for the future.
Metal Nexus: New York and New Jersey is known for producing some of the most successful bands to date. Do you feel there is anything specific to the area that has influenced your overall sound as a band?
Tom Fitzgibbon: Growing up in this area we've all had cool experiences with known bands throughout our lives. Whether it was playing with and getting to know bands like Biohazard and Life Of Agony in the early days of their careers or being associated with the guys in Black Label Society or playing early NJ shows with Slipknot. This has always been a great area for music and if anything else it makes you wanna bring your A game.
Metal Nexus: It's said that one of the main focuses of the band was to "captivate a live audience" when you first formed. Why did you feel that was the most important, and what did you do to ensure you were successful at doing this?
Tom Fitzgibbon: So much of what a band is based on these days is your live performance. With the technology of today any band can make a great recording. You have to go out and prove you can actually pull off an amazing performance. We definitely try and bring a live show that's tight but energetic and real. We don't use samples or backing tracks. What you see is what you get.
Metal Nexus: In the past few decades metal has given birth to an overwhelming amount of sub-genres. Your music has been classified as metalcore. How do you feel about subgenres and do you feel metalcore is the most appropriate title for your unique sound?
Tom Fitzgibbon: At first I wasn't sure about being labeled metalcore. I always just viewed us as Metal. But then I realized that we are Metalcore. We have both Metal and Hardcore qualities. But I feel we have even more to offer than that. I think there are many styles that influence our music from Hard Rock to Progressive, but I guess it's really up to the listener to determine those things.
Metal Nexus: Corey Pierce of God Forbid had a hand in helping the band with some songs. How did he get involved and how did his involvement help the band?
Tom Fitzgibbon: He became involved through Conclave Studios in Manhattan where we recorded our album "Placid Black." He was very instrumental with arrangements and Drum sounds/perfomance, and it was very cool having him co-produce and having his insight and guidance.
JMetal Nexus: Danny Puma was added as the second guitarist because you wanted to thicken up your sound. Was there an audition process, or how did he become a part of the band?
Tom Fitzgibbon: Yes we auditioned a bunch of guitarists and he totally nailed it. He happened to work at our rehearsal space. He's definitely amazing.. especially for his young age. He is a full member of Negative Sky and he's brought a ton to this band. We're very pleased to be working with him.
Metal Nexus: What can fans expect from your upcoming album 'PLACID BLACK'?
Tom Fitzgibbon: We put a lot of ourselves personally into this album. Much of the content was written over a couple of years. And in that time we've gone through many personal ups and downs. We feel it's an eclectic mix of songs. And I think listeners will appreciate and enjoy it. It's no doubt heavy.
Metal Nexus: You have already released a video for the aggressively amazing track "The Dark Unknown". Did you immediately know this would be the first single off the album?
Tom Fitzgibbon: Yes. We wanted to introduce the album with an energetic single accompanied by energetic visuals. Believe me when I say that this single is only the tip of the madness.
Metal Nexus: In regards to the video Danny Puma said "Even though we spent 8 hours playing the song through 14 times and it was 119 degrees under hot lights in a warehouse with no AC, it was some of the most fun I've ever had!" How was the video shoot special and do you think it truly captured your stage presence?
Tom Fitzgibbon: Yes. We shot it with long time friend and collaborator Tom Monahan, and it was a hot sweaty crazy live show we did in a warehouse. But we also have live shots of us from the Stone Pony show we played with Deftones. Overall it was a great experience with many wonderful supporters, and Tommy really captured the energy and passion that we try to bring with every performance. He's a true artist like us.
Metal Nexus: Once the album is released is there any plans for a larger scale / U.S. tour?
Tom Fitzgibbon: Absolutely. There will definitely be a tour to follow.
Metal Nexus: If there was anything you could say to a potential fan that hasn't had a chance to hear your music or see you live yet, what would it be?
Tom Fitzgibbon: Give us a listen. Check us out live. We've always felt that we can connect because we've always been fans of cool music ourselves. We don't try and push anything on anyone. At the end of the day it's up to the individual to decide what they want to support.
Follow Negative Sky on Facebook here, and make sure to keep your eyes peeled for their upcoming release 'Placid Black'. We will have details once the album has a scheduled release date.