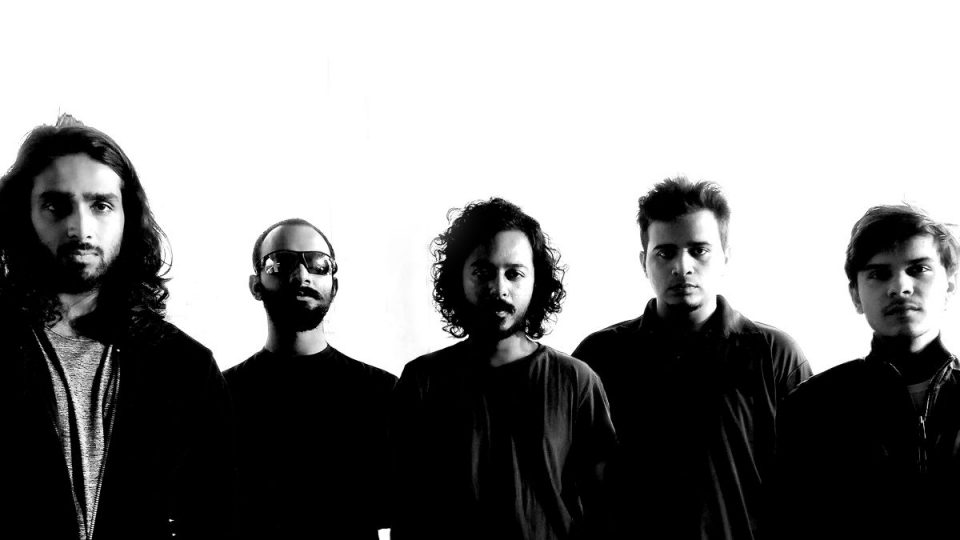 When a band cites legends like BOLT THROWER, OBITUARY & DEATH as inspiration, you know you're in for an old school death metal ear splitting shred fest. Hailing from Mumbai, KILLCHAIN are slowly creating major ripples across the country's domestic scene. Just three years into it's formation, KILLCHAIN released their debut EP 'Psychosis' in 2015, and have garnered some fervid death metal fans under their belt. They have also performed for reputed fests in and around Mumbai, such as, 'Domination: The Deathfest', 'Thunderstorm' etc.
Their music reeks straight up, pure, unabashed, old school death metal. With the groove of BOLT THROWER, the heaviness and vocal prowess of OBITUARY, KILLCHAIN are proving yet again that old school death metal has not died and will never ever perish. Before the boys head out for a mini India tour, under the name of Durance Of Hate II Tour along with two other killer bands, we had the opportunity of interviewing the dudes from Mumbai. Take a look below, as we talk about their EP, the upcoming tour and tad bit of here and there. Also, don't forget to check the band out HERE!

---
METAL NEXUS: Hey guys, how's it going? You guys formed back in 2014, and ever since then you have featured on Thunderstorm and Domination Deathfest along with some of the country's biggest and rising bands. You did also released your debut EP, 'Psychosis'. Tell us how does it feel to have come this far and has everything lived up to your expectations?
KILLCHAIN: "Hey it's great in our camp. Hope you're well too. To be very honest, we didn't exactly have any kind of expectations but we kind of started at a point in time when all the amateur bands that played college shows for a while were calling it quits and I kind of felt it was a good time to start with something serious with the right kind of people."
METAL NEXUS: You're known to have a very strong DIY work ethic. Be it right from doing the EP artwork, to putting out the CDs etc. Tell us why does this DIY work ethic matters to you the most, when we're at a hand's distance of various services at our disposal from different providers.
KILLCHAIN: "It's not something we stress upon a lot, but I can't deny the fact that all of us are sort of control freaks when it comes to the working of the band on an individual level and whatever other roles we must play besides the writing. Turns out we do an alright job ourselves for the most of it. Can't say we execute everything correctly since for me and everyone else, this band has gotten us to do things for the first time. Things we wouldn't spend time on otherwise. And also, cause we're broke so we try to do most of our stuff in-house haha!"
METAL NEXUS: After the release of 'Psychosis', various reviews and outlets have linked your sound with all time greats like BOLT THROWER, OBITUARY, DEATH etc. How does it feel to be compared with alongside bands that have shaped the genre itself? Does the appreciation feel as a burden that might be an annoyance to outdo your work on the debut EP in further releases?
KILLCHAIN: "There's really no pressure of that kind really. It's more like the whole ol-school situation feels like home when it comes to writing. We've been experimenting with our sound while writing new music off late and so far, we haven't really come up with anything substantial but I like where it's going."
METAL NEXUS: Tell us how the writing process went for your debut EP, 'Psychosis'. Was it a collective effort?
KILLCHAIN: "I think the writing for the EP started about a year before the actual release. We got to writing about 8 songs of which we picked 4 that seemed alright to us. As far as the process aspect goes, for the most of it Aditya and Niraj finish songs on their own and the rest of us just provide inputs after they're ready with the first draft of the track. Once that's done I lay down the vocal melodies, also involves screaming gibberish for the first few times, once I have that, the lyrics happen based on what we want to write about and how it fits with the whole track. We tend to scrutinize our individual roles quite a bit."
METAL NEXUS: You are on the bill for this second edition of Durance Of Hate II India tour along with DARKRYPT & CARNAGE INC. The tour series is still in its infancy, but it definitely has grown considerably from its debut edition. Tell us how important are domestic tours for the growth of the scene as a whole and is it a sign of the growing scene? How do you feel to be featured on the tour?
KILLCHAIN: "I think India is now a big enough market to house bands that are actually nice, almost all major cities have two to three promoters that do shows regularly. One of the reasons we never really cared about a more international fan base because we don't want to completely give up on the Indian heavy metal demographic just yet. We have time on our sides, and rushing through things has never worked in our favour. Working with Harsha/Proximity Productions has been great, we spent quite a lot of time figuring out the overall execution of the tour months before we got to pitching it to the local promoters. It's our first time doing shows consecutively so it'll be a nice rookie situation and it'll be hilarious to see how people keep up haha!"
METAL NEXUS: For the budding artists and musicians, in order to churn out crushing old school death metal like you do, tell us what does your rig comprise of?
KILLCHAIN: "Aditya and Niraj both use distortion pedals, Dark Blood by KHDK and Tight Metal by Amptweaker, respectively. They've both used processors before but I think they've grown fond of the organic sound that comes with pedals. Aditya has been experimenting with a lot of effects on his rig as well."
METAL NEXUS: You're fairly new to the scene, and I believe you do want to achieve great long term success. Is there a definite goal you have set, in the sense that, you'd want the band to go in a certain direction? If yes, what keeps you driven for the same?
KILLCHAIN: "Personally I feel this has potential to become a thing where we're doing about a month worth of dates in Europe along with another 10 shows every year in the country. That seems to be a very realistic place where I would want the band to get to, and maybe get to that in about 5 years(?) I think it's realistic considering how easy things have gotten off late. I mean bands like Kryptos, Gutslit and Demonic Resurrection tour quite alright now not because they were waiting for someone to validate their music, it's just become easier to reach the right people now, the people that "just get it""
METAL NEXUS: So you recently posted on your Facebook page that Neil Parmar and Yash Khona will be joining you for the Durance Of Hate II Tour. Tell us about them and what made you chose them specifically for the tour?
KILLCHAIN: "Neil and Yash, both have their other projects, Sutledge and Wrath respectively. We've known these guys since the time we started the band since we'd meet them at shows and otherwise too. Niraj also played with Sutledge during their initial years. Yash also briefly handled drumming duties with Darkrypt, who are also touring with us. They're going to be involved with the band even after the tour."
METAL NEXUS: It's been two years since you released your debut effort to critical acclaim. And once you're done with DOH tour, are there any plans to start writing and recording for the next material any time sooner? How long until we receive another kick ass old school death metal assault?
KILLCHAIN: "We plan on releasing material early next year, nothing that's on schedule, we've been writing on and off since the time of the EP release last year but that's been more of an experimentation kind of a phase and I think we'll spend more time on that before we enter the studio to do something substantial."
METAL NEXUS: 'Psychosis' was an unsigned or independent maiden release of the band. Would you say this is another sign of your DIY work ethic? Also, what advantages do you think you enjoyed from an independent release?
KILLCHAIN: "Besides the lack of pressure of selling xyz number of copies to get a fraction of your investment back, everyone seems more responsible subconsciously and I feel if we're working with a deadline provided to us by someone who's not exactly aware of how we function as a band and as people, we wouldn't get the best of results. It's not like we're a DIY ONLY band but most of the things we've done have happened in that fashion and I sort of feel we've done quite a bit considering all the chaos and confusion that never ceases to exist around this band."
METAL NEXUS: Thank you so much for having a chat with us. We wish you all the best for the oncoming tour and your future as well. Leaving you with an open floor, is there anything you would like to add for your fans and our viewers?
KILLCHAIN: "If you have ideas, and you can't do it by yourself, find other people that think on the same page and it will most likely materialize if everyone's driven. Also, if you're coming for any of the shows, drop by and say hi! Thanks for the questions again, cheers!"
---
KILLCHAIN will be touring with their fellow friends and brothers in DARKRYPT & CARNAGE INC. at select few cities for a mini tour under the moniker of Durance Of Hate II, starting this 3rd of November. Check out the dates and other details HERE!
We also interviewed DARKRYPT and CARNAGE INC. a couple of days ago. Click on the links to read the interviews!
Buy  KILLCHAIN's debut EP "Psychosis" HERE!(Only for Indian fans)