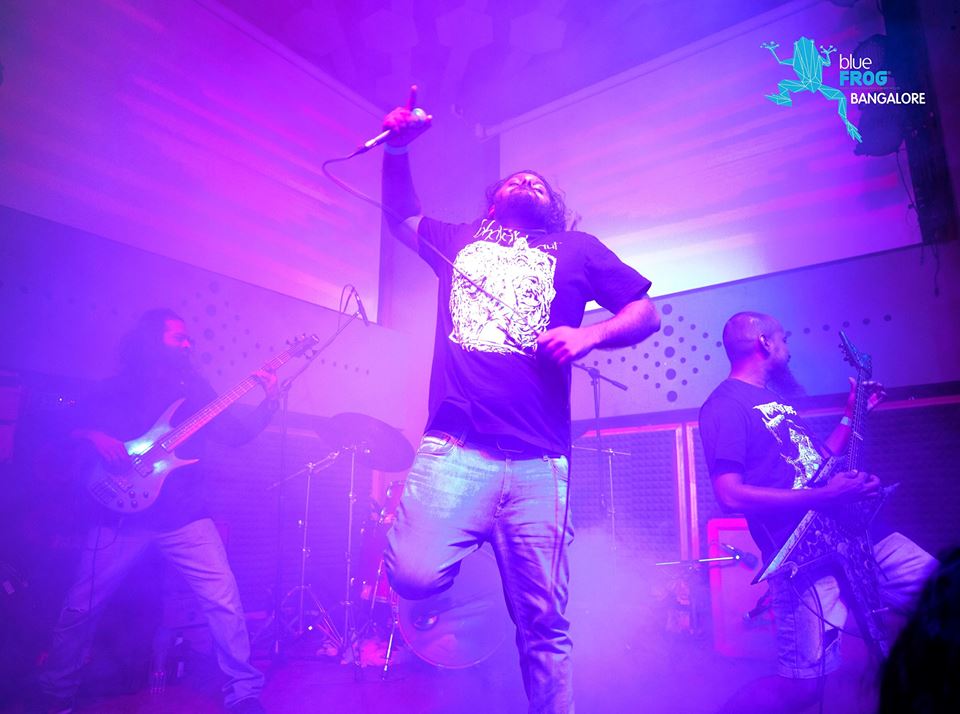 Ever since I joined MetalNexus and became friends with my Indian co-worker I started to be interested in bands from India and Chaos is one of those bands I instantly fell in love with. Just after a couple of songs I realized that this is what I needed for my collection, some hard hitting and most of all brutal thrash from the Indian music scene!
Before getting into the interview we need to talk a bit more about their second record 'All Against All' which came out last year. It has been released on the 15th of June and the entire album is now available via their official bandcamp page which is linked at the end of this page. And the perfect way to describe the album would be 'Complete Chaos'. It is as brutal as it is fast and it touches some of the biggest and most emotional topics that are going on right now. So without wasting anymore of your time, let's get right into the interview!
Chaos Interview:
MetalNexus:
1. How does it feel to acquire multiple radio awards and to be nominated for Best Metal Act & Best Metal Band in the past?
Chaos:
It's always a great feeling to get recognition for the hard work that you put in while making a record, especially in a genre that's considered niche in this part of the world.
MetalNexus:
2.Your debut album 'Violent Redemption' was extremely brutal, how do you compare your 2017 record 'All Against All' to your debut? Was there any thought behind it needing to be better or different?
Chaos:
'Violent Redemption' was our first experience going into the studio and recording an album. We did, to the best of our ability manage to capture in its entirety what we were trying to go for then. When it came to 'All Against All', we had a better understanding of the process and as far as the music is concerned, we wanted it to be heavier and more aggressive that the first record. I think we've managed to achieve that as well.
MetalNexus:
3. ''All Against All'' holds a very powerful and important meaning, what has made you decide to write about this specific issue and do you think there is a solution?
Chaos:
All the things that we write about are inspired by things that happen around us. We still come across so many instances of people being divided on the basis of a lot of irrelevant things that are obsolete and downright toxic. It's baffling to see and experience it first hand when the world is taking huge strides in the field of science and technology, the collective IQ of us as a race is climbing with each generation, and still people in power are able to use things like religion to make people fight with each other to stay in power. The only way out of this is a conscious effort to fight ignorance and focus on what's important for the betterment of the race and a better future for the generations to come. Although art is a powerful medium that can nudge a person to think on these lines, change can only be triggered by each individual opening themselves up to see the reality of the situation, which is the fact that whatever may be the differences between us, we're all human beings and we need to stick together.
MetalNexus:
4. How does coming from India affect your band?
Chaos:
Coming from India, we've never faced a scarcity in things to write about. There's always something going on that pisses you off and metal for us, has always been screaming about things that piss you off!
MetalNexus:
5. What is it like to be touring again in your own country?
Chaos:
It feels good to get back on the stage after a brief break. We enjoy getting on stage and performing our music because it's the most intimate way of expressing what we are trying to express through our craft. The best part is that the feedback is instant and so that much more satisfying.
MetalNexus:
6. What are your future plans? Any big announcement coming up or big tour we need to know about?
Chaos:
The next step is putting out a single and a music video, leading up to the third album, which we're hoping to be on the groovier side, rather than the emphasis being on aggression and speed. There are a few big announcements related to the same in the pipeline, but it's too early to let them out of the bag yet.
MetalNexus:
7. How does 'Chaos' fit into the Indian metal scene?
Chaos:
Like a fucking sock.
MetalNexus:
8. Last but not least, when can we expect more music and if so what will it be like?
Chaos:
We're hoping to put out the next album mid 2019.
Chaos line-up:
JK- Vocals
Nikhil- Leads
Vishnu – Bass
Manu – Drums