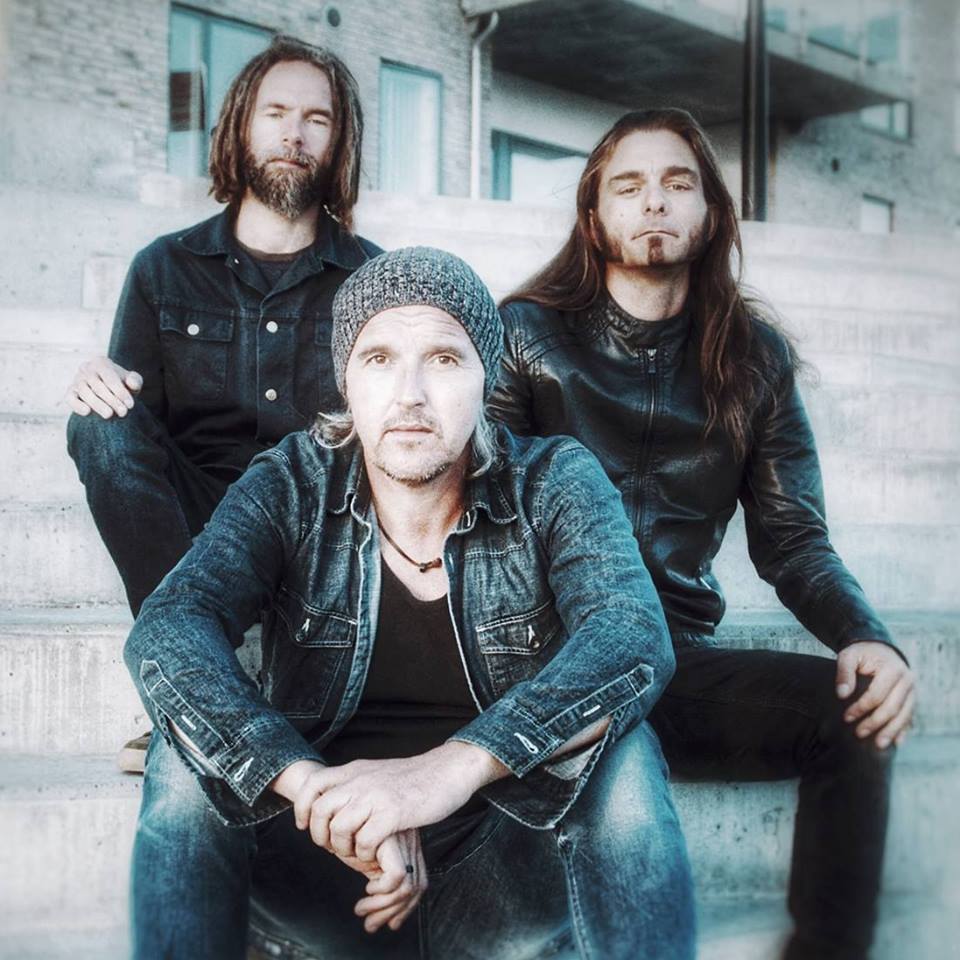 Denmark's Black Income is not ordinary band. These rockers have a unique style that blends several different genres to create a sound and style that you have never came close to hearing before. Influenced heavily by the grunge era and stoner rock the band incorporates melodic thought provoking lyrics with a fuzzy guitar heavy sound. It's what I like to call "heavy stoner grunge". They use the best portions of both genres and their own unique creative input which brings a final product that is jaw dropping when you first hear it. You might even hear a little desert rock influence in there like Queens Of The Stone Age as well. The band formed in 2011 but didn't really get things started until 2012. Black Income teamed up with producer Soren Andersen (Glenn Hughes, Mike Tramp, D-A-D) and entered the legendary Medley Studio in Copenhagen, where bands like Radiohead, D-A-D and Kent has recorded some of their best albums. Their debut album would be released via Mighty Music titled 'Noise Pollution'. The band has already began work on new material and has released the track "Drugs" which is available for stream on Spotify. Black Income plans to release one more single prior to their sophomore upcoming album release.
We had the opportunity to speak with Black Income singer and guitarist Henrik Thrane to talk about the bands new single, their bad experience with a previous label and their grunge influence. The band has released a new single "Drugs" which we talk about its inspiration and what the band has planned for the rest of 2018. You can read the entire conversation below.
Metal Nexus: The band formed in 2012 and you have a pretty unique sound, mixing some stoner rock with a heavy grunge influence. Did you have an idea for your sound when the band formed or was it just born out of jamming together?
Henrik Thrane: That's a good question .. thank you.. 🙂 Actually we started out in 2011, but we didn't get much done the first year besides jamming together and finding each other musically.. we didn't set of to do a Stoner Grunge Sound at first, Henrik had a lot of songs and ideas written down, and as we came along putting the material together for our debut album "Noise Pollution", it was clear to us that we were on to something you don't find everyday on the Rock / Metal scene.. So when we recorded at Medley Studios Copenhagen and the first album came along, it got more and more clear to what we where doing, and how our sound was coming together, but it was certainly not something we aimed for, it all natural by our individual sound as musicians, and that's the sound of Black Income.
Metal Nexus: Seattle Washington was the birthplace of Grunge and the majority of all the grunge bands hail from there. What is the predominant genre of rock or metal in Denmark and how has your local scene reacted to your unique style of music?
Henrik Thrane: Well we're only about 5 million people in Denmark, so as you can expect Rock and Metal is not that big a deal here. But the Rock music lives, and we like to think that Grunge like music is doing very well in here in Denmark. But of course we're not only about the Danish people, we live near Germany,England,Sweden and Norway and in those countries the Rock/Grunge and Metal scene are a lot bigger, so that's why we often aim to play gigs in those countries.
Metal Nexus: You've mentioned previously you weren't happy after signing with the label Mighty Music. Can you tell us what happened there?
Henrik Thrane: Well at first it was all good, and we really did get of to a good start, but after a while i was clear that the focus was not to help the artists, but get them to sign a deal, and then just let them sink to the bottom of the endless sea of Noise. So when we followed the label and it came to our attention that they sign like 100-200 Bands a year, only to get money for promotion, and could see the same thing was happening to a lot of good fellow bands, ending by the bands to die because of it, we decided to take things into our own hands, that's why we're with TUBE IT – music now, and we keep all our rights a 100%.
Metal Nexus:  After having a bad experience with a label what persuaded you to sign with Tube It Music?
Henrik Thrane: Well Tube It – music has a whole different approach, they help the artist in many ways. for instance they have a awesome studio TUBE IT – Studio where some of our new material is recorded, and they just help you distribute your music, and don't change any percentage of your income from your music, that's what the modern music bizz is all about we think, we feel very much at home here..
Metal Nexus: Your new single "Drug" is now streaming everywhere. What was the lyrical inspiration for the song?
Henrik Thrane: Yes it is, got +5000 Streams on Spotify the first week that's a new record for us :).Well the song is more like a Anti Drug song, we see so many people today "Racing Away" not really able to cope with the reality they live in, and hold everything together they are forced into doing drugs to keep the head above water.. so that's what inspired us for the song.
Metal Nexus: Do you feel your new music is a continuation of what you did with 'Noise Pollution' or do you feel your sound has progressed or changed since it's release?
Henrik Thrane: We think we're still the same, but as a band we are evolving… and we need to move forward as an artist, we love when bands keep on moving in a natural direction, and as for our next album we are move ind new directions but not away from "Noise Pollution", but exploring new territory musically. We think it's our finest mission as an artist to evolve and do new things and not just repeating the old stuff, that way aou fans get some new flavors to pick from.
Metal Nexus: What are your touring plans for 2018?
Henrik Thrane: We got a few gigs coming up in the summer here in Denmark, but as for now we're finishing our next full album, and after that we plan to go touring, but it's too early to say something about that for now.
Metal Nexus: The grunge scene has seen some of our favorite vocalists pass away far too early like Kurt Cobain, Layne Staley, Scott Weiland and more recently Chris Cornell. How important is it to you as a vocalist to carry on in the genre what they started?
Henrik Thrane: Yes it's so sad, I don't think any music genre has lost so many good people.. We don't feel obligated to keep a certain genre or sound alive, as for me I'm just born with my voice and people often set a similarity between me and Scott Weiland or Chris Cornell for that matter, both awesome singers, but it's certainly not some I aim to sound like them.. but of cause when you play in a Stoner Grunge band, that's what popup in people's minds.
Metal Nexus: The band has cited Soundgarden as an influence. I was fortunate enough to see one of Soundgarden's final shows. Do you recall your reaction when you first heard the news about Chris Cornell's passing?
Henrik Thrane: Yes, it was actually one of the worst days in a long long time.. I felt so lost, because I for one think Chris Cornell really embraced not only Soundgarden i loved he's solo work as well, and I felt totally empty inside when I saw the news that he had taken his own life, I couldn't believe it.. 🙁
Metal Nexus: Now that fans are addicted to the new single "Drug" what is the plan for your next album or release?
Henrik Thrane: The plan is to release another new single, before our next full length album hit's the streets in the summer this year, and hopefully after that we're going on the road to play some gigs and meat the fans here in europe.