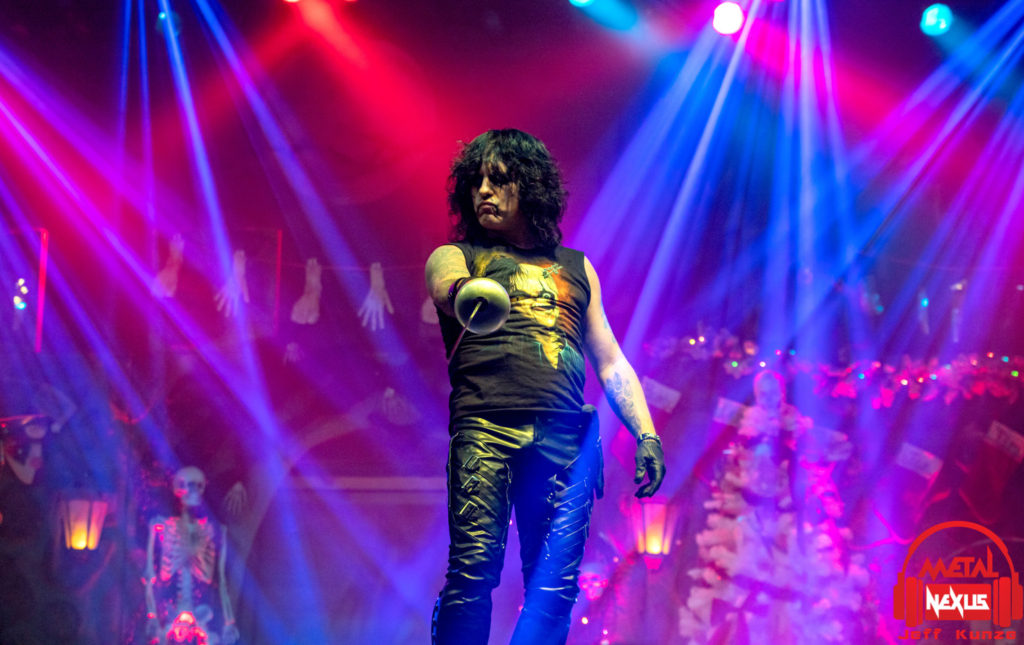 The one and only Alice Cooper is one of rock's most adored figures. His legacy of music and theatrical stage shows is nothing short of legendary. The precision of his performance and the way the songs create a soundtrack that play along with the madness on stage is sheer brilliance. Alice Cooper doesn't live in Minnesota but we have a man, Bobby Jensen, who can amazingly embody Cooper's spirit and take it to the stage. Jensen took his Alice Cooper Tribute band called Almost Cooper to Myth Live in Maplewood, Minnesota for the Almost Cooper Christmas Fruitcake show. The event is a take on the Annual Alice Cooper Christmas Pudding Show held in Phoenix, Arizona. Proceeds and donations from the event went to the Alice Cooper Solid Rock Foundation and Toys For Tots. Before Almost Cooper played, local acts Fookey and Blue Felix warmed up the crowd.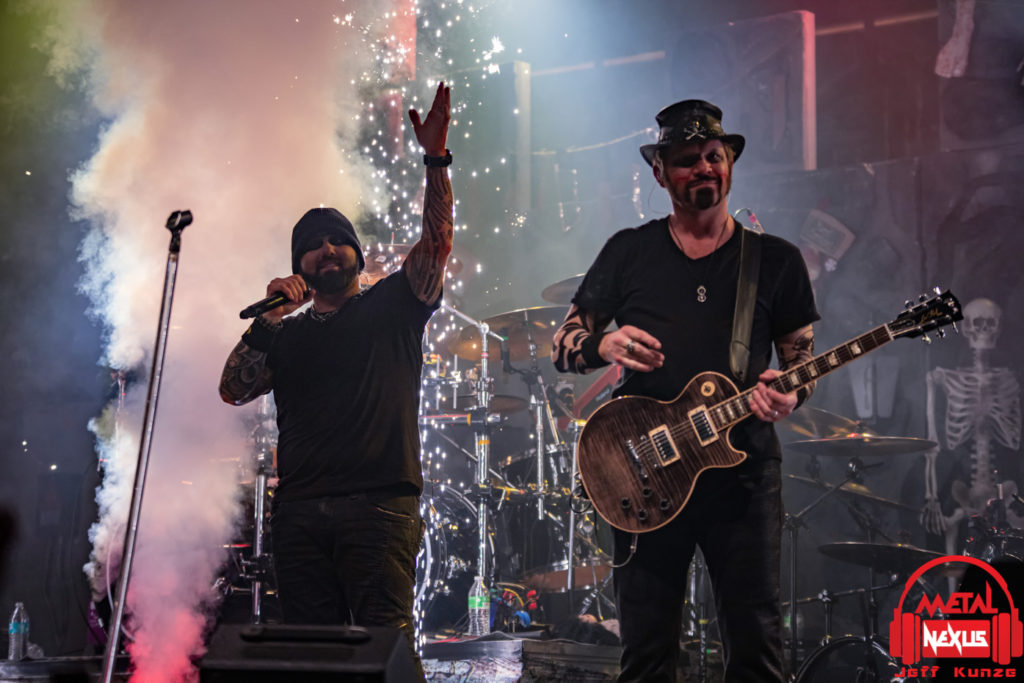 Unfortunately I was able to see Blue Felix play. I've seen the band before and they usually bring a high-energy show to the stage I'm sure they played a great set. I arrived with Fookey already barreling through their set. They are a mash-up of musicians that have joined together, all in the name of Heavy Metal, to play a set of cool covers that range from Megadeth to Shinedown. I've caught them before and they sound incredible and are fun to watch. Vocalist Chris Hawkey can be heard every morning on the very successful radio show The Power Trip on KFAN. He also fronts his own band called the Chris Hawkey Band.  He has a powerful and versatile voice, which lends itself to just about any genre of music he wants to sing. Also coming from the Chris Hawkey Band was guitarist Tony Williams and behind the kit sat John Gensmer who also plays with Wicked Garden and Arch Allies. The bass duties fell upon the monster player Sam Van Moer. He also plays in a local powerhouse progressive act called GracePoint. The other two guitarists are no strangers to Twin Cities sports fans. Draped in a black wig and white face paint, former Minnesota Viking and current Vikings radio color commentator was Pete Bercich. The other was Mark Parrish, former NHL and Minnesota Wild player. Although this unit doesn't come together all that often, they really bring down the thunder and attack each song with everything they have.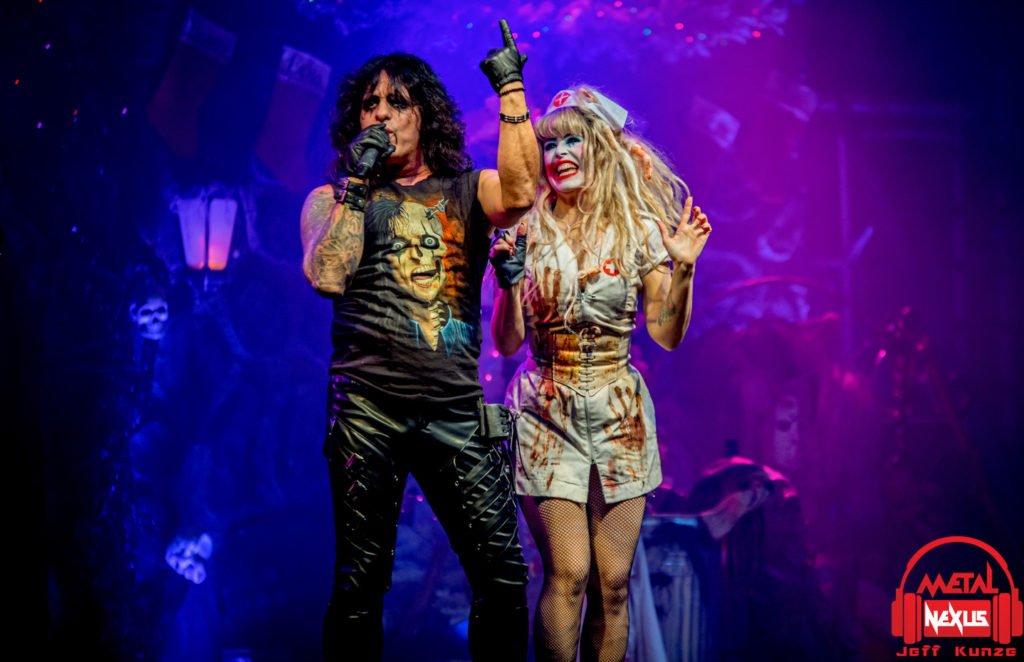 I'll come clean before going any further; I had never bought into tribute bands. I've always been a hardcore purist, give me the real thing or give me nothing. It's a mantra I've kept in my pocket until I finally made a trip to see a band called Hairball. They were once Minnesota's best-kept secret but now they are nationally known act and play venues across the United States. I was probably the last rock fan in the state to check them out even though everybody I knew was going to every show they did. I was completely blown away that night. The singers would dress up as one of our musical hero's, David Lee Roth, Vince Neil, Dee Snider, Brian Johnson, along with many others and play a couple songs from that band and then switch to a different character and band. It was that night I saw Bobby Jensen doing Alice Cooper and I was astonished how well he captured every nuance. Needless to say, my attitude changed as I saw so many people rocking, singing and having a great time listening to live music and romancing the past with all those iconic songs.
Fast-forward now to Almost Cooper and the excitement of what Jensen could do with a stage all geared to bring Alice Cooper alive in Maplewood. From the opening minute it felt like we were transported right into Alice Cooper's Nightmare. The visuals were stunning and right on point. The guillotine, Frankenalice, the sword and just about everything else you would see at a Cooper show was present. The most iconic moment, I believe anyway, is the snake. There is no greater and memorable image than Alice Cooper holding that snake and almost becoming one with it. Jensen captured that moment perfectly. The nightmare nurses, played by Stefanie Star and Leisa Magee, worked seamlessly in the choreography as the show progressed through the various events that take place in the nightmare.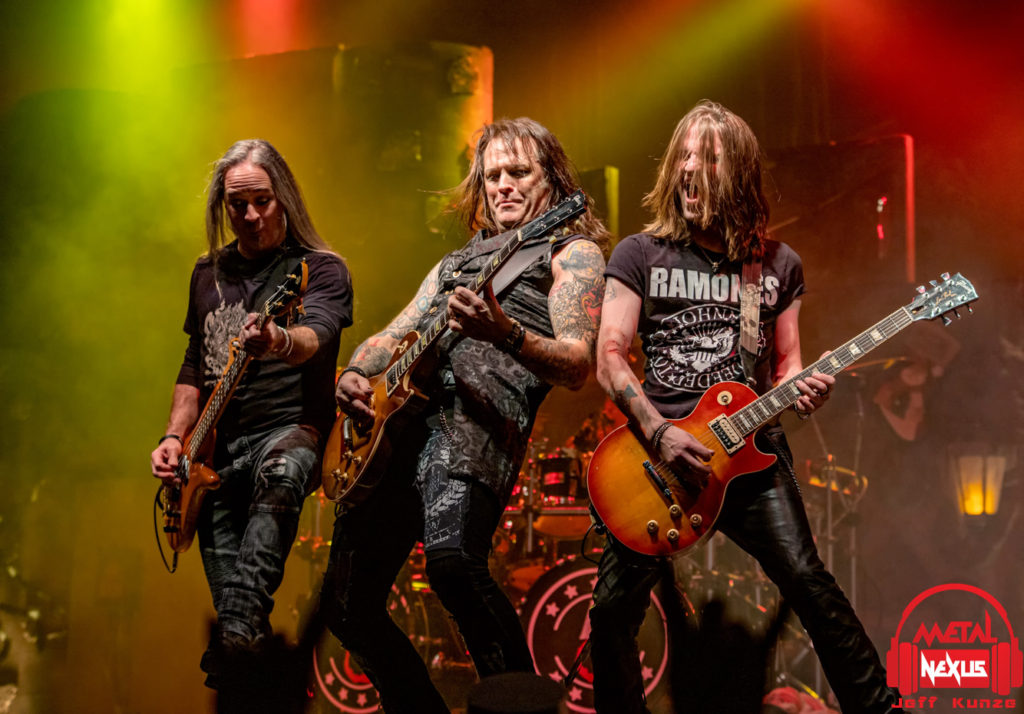 The visual side of the show was stunning, but honestly I knew that going in. The props are without a doubt a crucial component to the show but so is the performance of the music. That's the engine and without it, the props mean very little. It starts with the vocals and since I had seen him before with Hairball, I knew Jensen would sound great and he did. The show ran about an hour and half and he powered through every song until the end without a problem. The band that exacuted the sound was extremely impressive. The twin-guitar attack of Tim Kletti, who also plays with Arena, and Tyler Taz were electrifying. They played fantastic but what was even more exciting was how they actually enjoyed themselves on stage. They were having fun, engaging with each other and the other members of the band and that excitement and fun flowed right off the stage and into the crowd. That's what playing live is all about; it's bringing that thrill of playing and planting that right on the people that came to see you. Those two, along with rock solid bassist John Lockner worked the stage just as much as Jensen did. Kris Vox, who also sings for Hairball, was on drums and was machine-like while also providing backing vocals. The show contained every song you would want to hear, one after the other, and everyone one of them came across perfectly. Jensen starred as the character of Alice Cooper. From the vocals to the way he walked, pointed, and acted out the various scenes, everything was right on cue. The closing number, "Schools Out," featured a couple guests on stage as Hairball guitarist Michael Schneider (Happy) and Jake Tox Crooks of Blue Felix joined into the celebration. A great ending as "Alice" popped the balloons with his sword.
I know some people love tribute acts and other don't. My mind was changed as I realized how much fun people were having and it really didn't matter who was singing it or playing that guitar riff. It just needed to sound great and have a lot of volume. As many of our most loved bands start to retire from the live circuit, tributes are just about all we will have left, unless you're a believer in holograms. I believe in live music and hopefully things like this will continue to bring people together to celebrate music that they hold close to their hearts. Almost Cooper is exactly that, a great night of entertainment and celebration of one of the greatest characters rock-n-roll have ever seen…Alice Cooper.