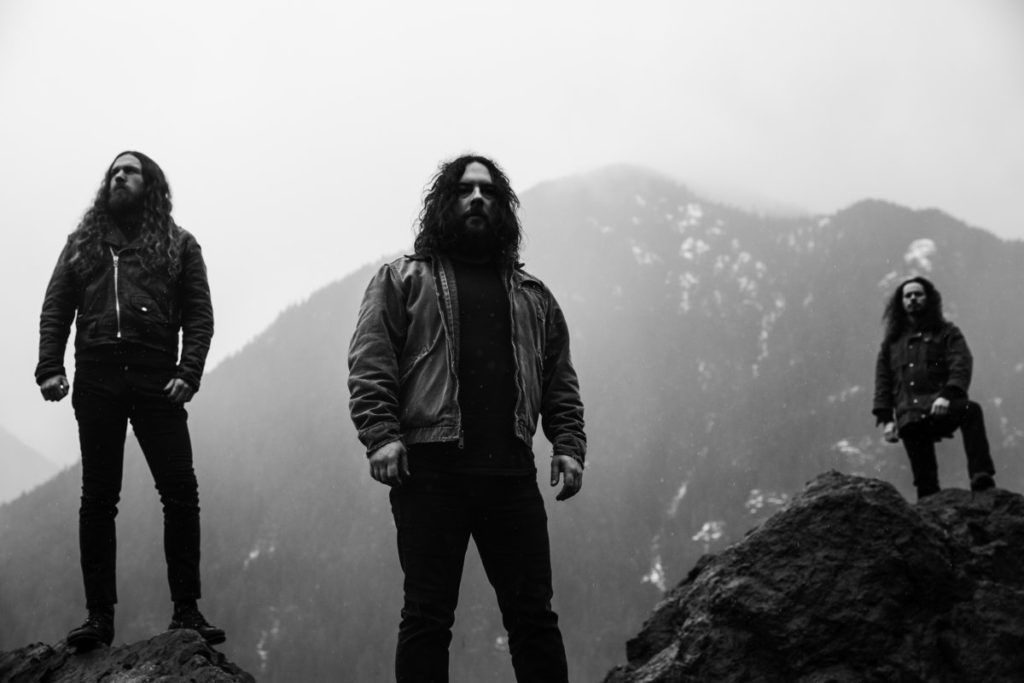 I'm going to be perfectly blunt: American black metal bands aren't supposed to be this damn good. While black metal is a dark, brooding, and relentless musical style that has cultivated a reverential following in Europe, it's also a genre that truly lacks a thriving North American music scene that is comparative to bay area thrash metal or Floridian death metal, and great American black metal bands are few and far between.
Thankfully, WOLVES IN THE THRONE ROOM is one of those rare and exceptional black metal bands from the good ole US of A who have attained a level of excellency rivaling that of their European counterparts. After over a decade since releasing their punishing yet atmospheric debut 'Diadem Of 12 Stars' in 2006, WOLVES IN THE THRONE ROOM have unveiled their newest record 'Thrice Woven': an album that is a masterpiece of thematic musicianship that intellectually moves the listener into a spellbinding trance from start to finish. Sure, it's not necessarily news to say that WOLVES IN THE THRONE ROOM have crafted a truly excellent album (again), but even at just five tracks in length, it still needs to be said that vocalist/guitarist Nathan Weaver, vocalist/guitarist Kody Keyworth, and drummer Aaron Weaver have created an album of the highest quality.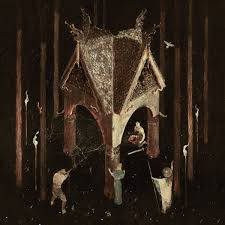 'Thrice Woven' opens with a soft classical/medieval style acoustic intro on the track Born From The Serpents Eye. However, don't be fooled by the melody: the track eventually picks up in pace and packs a serious punch, and the accomplished musicianship by the Weaver brothers and Keyworth thoroughly pummels the listener with an array of heavy riffs and ripping drum beats that allow Born From The Serpents Eye to be perfectly representative of the sonic assault awaiting the listener on the rest of 'Thrice Woven'.
However, as great as Born From The Serpents Eye is, the second track The Old Ones Are With Us is the song that truly sets the tone for the LP. Where Born From The Serpents Eye musically embodies all the hard hitting riffs you'll hear on 'Thrice Woven', The Old Ones Are With Us showcases WOLVES IN THE THRONE ROOM's remarkable ability to imbue their music with a melodic and naturalistic ambiance. Sure, The Old Ones Are With Us is as head-banging worthy a track as any other on the album (and one that features Steve Von Till from NEUROSIS!), but the track shines when it transforms from a metallic rager into a soft-sung blues song that feels as if it were being sung around a toasty campfire. It's in this moment where 'Thrice Woven' becomes an album that busts out of the confines of a studio room and enters the ethereal realm of a natural landscape that is native to WOLVES IN THE THRONE ROOM's dwellings in the pacific northwest.
Truly, 'Thrice Woven' in its entirety is an experience that needs to be heard due to how it effectively induces the listener into a state of self-introspection. Tracks such as Angrboda, Fires Roar In The Palace Of The Moon, and Mother Owl, Father Ocean encourage the listener to surrender their ability to be conscious of their immediate surroundings in order to allow the precise drumming to impact you like a lightning strike, the guitar work to hit you like a downpour of rain, and the brutal vocals that place you in the center of an intense storm of heavy metal where the music whips you to and fro akin to a 120 mile per hour wind. Despite the fact that this description of doom and gloom sounds incredibly violent, the intense music (storms?) have a tranquilizing effect and inspires the listener to approach this magnificent album in a meditative state that allows this 'Thrice Woven' to truly embody the idea of music being an "artistic listening experience".
By the end, 'Thrice Woven' is yet another excellent addition to WOLVES IN THE THRONE ROOM's growing discography and is an album of the highest caliber. Old school fans and newcomers alike will be blasting 'Thrice Woven' on repeat for months to come and will thoroughly enjoy getting lost within its stormy realm.
Don't pass this one up: it's one of 2017's best releases for sure.
Listen to the full album and like the band's Facebook page below: