It's said that if the term "Insider Tip" wasn't so drawn out, it would be perfect to describe Tricky Lobsters. Formed in Rostock, Germany around 1996, this band has spanned the genres with their sound throughout the years. From the early days of noise to punk rock, to their last effort, 'The Blue Hospital Conspiracy' that took on a gnarly sludge rock blues sound. Tending to be unknown outside of their native home of Germany, they still enjoy quite the substantial following back home. After four years of wadding in the waters, the Lobsters have returned to shore with a western-driven face off in an epic clash of stories, riffs, and drama on 'Worlds Collide'. The power trio consisting of Sarge (Guitar/Vocals), Doc (Bass/Backing Vocals), and Cpt. Peters (Drums/Backing Vocals) come at you with thunderous rhythm sections that take shape song after song. Their new album 'Worlds Collide' courtesy of Exile On Mainstream, coming out June 23rd, is a perfect example of this statement. Rocker after Rocker, their newest effort is a must listen for all stoner rock and blues rock enthusiasts.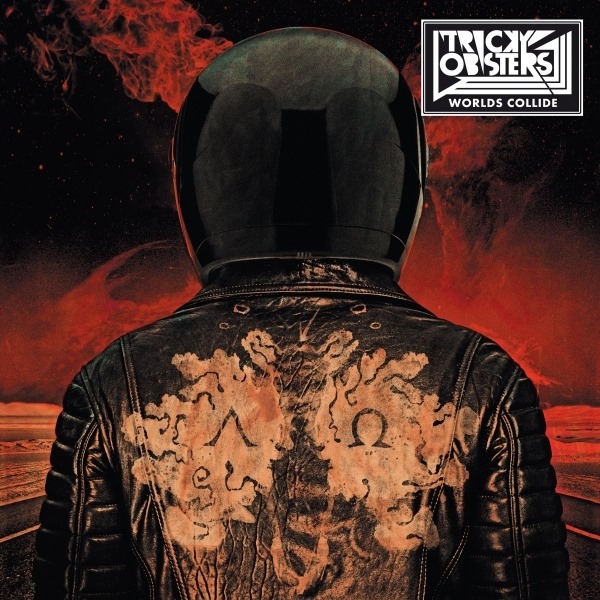 Tricky Lobsters have really outdone themselves with this record and their choice to have "Bitter Man's Fame" as their first single and video was a solid decision.  "Bitterman's Fame" opens the album with a crunchy and dirty bass line that then sees the rest of the band join in and set us off on the heavy blues based rocker. The chorus of the track "It's all part of the game, Come hell or high-water, or The bitter man's Fame" reminds us that nobody is above the perils that we may encounter on our journey throughout life. Then comes the sounds of a man trying to rid himself of this game we play but still beckons the question "Is it too late?" still remains. The story telling on this album has just begun and what better way to start us off, then with this gem. "Dreamdiver Pt. I & II" has a slow and methodical start that is met with a snare barrage that kicks up the pace into the second act of the song. The song title is fitting for this track as it lulls you at the beginning and then quickly turns things on its head. That muddy, gritty tone we have come to love on this album is shining here all through the different progressions we hear during the 7 min epic. The solo that helps move us to the close is a real damn treat that serves as the proper send off to the journey just told. "Black and Blue" is the tale of a person who is stuck in their ways and blind to the change that is needed. In return, driving themselves to only be surrounded by inner demons and the ghosts of past. This is on of the heavier songs and my god the groove that is on display is second to none. Then, they say let's do a little bit of a mellower undertone and lets toss it in a blender and spit back out at you with that pure Lobster grit.
After 21 years, Tricky Lobsters are showing no signs of fatigue. 'Worlds Collide" is a great album from the German trio and one that is sure to satisfy all comers. The song writing is stellar and build that mental story I love in a band. They follow diverse paths through rock history and bind them all together on this album. The album paints a vivid picture of their current world and the one they are leaving behind. Their trademark of infectious grooves/riffs are born from the melodies and lyrics that are deeply rooted in old and reoccurring stories of love, dreams, and deception. The album is captivating and screams every bit of "Repeat Me!".  'Worlds Collide' is everything you want from a hard rock album that doesn't try to live up to past pretenses. So, sit back with a cold one or light one up, which ever is your preference, put this on play and enjoy the great work by Tricky Lobsters that is 'Worlds Collide' due June 23rd via Exile On Mainstream.

German fans can catch TRICKY LOBSTERS throughout the country over the weeks ahead in support of the album, including a record release show and several festival performances, with additional dates to be announced.
TRICKY LOBSTERS Tour Dates:
6/23/2017 Helgas Stadtpalast – Rostock, DE *record release show
6/30/2017 Rock an der Ilm Festival – Langenwiesen, DE
7/01/2017 Hangar Metal Meeting – Bad Duerrenberg, DE
7/28/2017 Festevil Nopperhof – Buetzow, DE