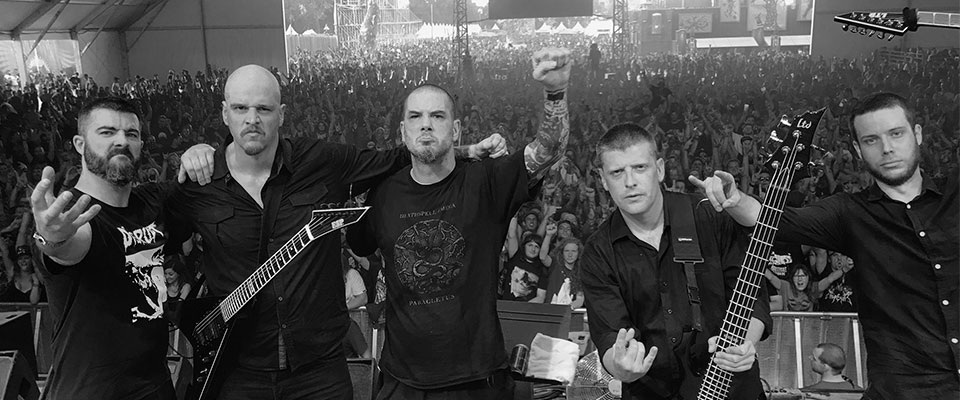 "[T]he Scour thing was something that just popped up, and it's something that I think I can kill, something I can lay it out…it's predominantly, in my ear, modern-ish black metal sounding, thrash black metal type stuff. I'm going to put my own spin on it. I don't have to sound like your boy from Gorgoroth (laughter) to get my point across, man. There's other ways of singing over that style of music, and I shall employ many styles" – Philip H. Anselmo talking to hellbound.ca
Just kill it? – too tame! The US extreme metal supergroup Scour, the brainchild of Philip H. Anselmo (Pantera, Down), John Jarvis (Pig Destroyer, Agoraphobic Nosebleed), Derek Engemann (Cattle Decapitation), Chase Fraser (Animosity, Decrepit Birth), and Adam Jarvis (Pig Destroyer, Misery Index) have absolutely annihilated it once again with their ferocious new 'Red' EP out this Friday 3rd Nov via Anselmo's own Housecore records label (physicals including CD, LP and merchandise orders here, and digital available here). The 'Red' EP offers a punishing 16-minute mix of pure modern black metal with pulsating grind and thrash which will leave you 'seeing red' with an insatiable bloodthirsty appetite for more – not that that's a bad thing, existing fans of Scour are waiting heavily in anticipation for a full-length and if this EP is anything to go by, it will be an absolutely formidable aural battery full, pioneering the new chapter in US Black metal!
The record well exceeds expectations that were already set high after 2016's debut 'Grey' EP, which reached an unprecedented #4 on the iTunes top 100 heavy metal albums just 2 days after release. The 'Grey' also saw release via Anselmo's own Housecore label, just before their crushing performance at Hellfest Open Air festival featuring the Pantera classic "Strength Beyond Strength".
The 'Red' EP follows a similar format to its predecessor with both being short sharp shocks of intense macabre stained black metal – the longest track "Shank" topping in at just 2 minutes 57 seconds! (That's a whole 13 seconds longer than the longest track "Dispatched" on the 'Grey'). Whilst it may seem that the record totalling in at just 16 minutes could potentially be over before it's begun, I would dispute the notion that a short record can't be memorable and pack a powerful punch. The tracks stand solid in their distinctive foundations and each relays an addictive quality that is bound to have you play the record on constant repeat. The opener "Red" throws you into the grips of a ferocious winter storm with Anselmo's howling vocals depicting a murderous evil force at play which remains consistent across the EP, harking back to the days of Christ Inversion. The heavily fast tempo with sweeping bends and opportunistic tapping mimics the exhilarative beauty and unpredictable wrath of nature herself and is altogether an enlivening introduction that sets the standard for the whole EP.
The following tracks "Piles" and "Barricade" both have an overwhelming sense of urgency about them, like you are rising out from the depths and about to take that life saving gasp of air. The heavily reverbed and echoed frenzy of fretwork has an extreme black metal sound that oozes atmosphere against the slightly calmer chord work and droning melody. But, the overall fast-pace remains the same whilst violently accentuated by Adam Jarvis' unparalleled thundering rolling toms and well-timed blast beats which fortunately are not overdone (a frequent unwelcome addiction in many a typical black metal release).
The general overtone reeks of inspiration from the Norwegian greats, with its clean-cut conviction enabling the modern black metal sound to be digested on mass by many-a-listener that values a high level of production. The record was after all mixed and mastered by Dave Otero at Flatline Audio, best known for his work with Cephalic Carnage, Cattle Decapitation, Cobalt and Khemmis and recorded at Noferatu's Lair with Steve Berrigan (Down, Philip H. Anselmo & The Illegals, Eyehategod et al). Whilst this 'cleaner' approach may put off the traditionalists who prefer 'true black' metals more primitive and raw aesthetics; I would say that just by being fronted by Anselmo, (described as "the ultimate frontman" and "the stuff of modern day legend" by blabbermouth.net) with his dedicated following with whatever project he undertakes. He has opened the door to those who perhaps may not know the genre well or are yet to divulge.
This is not to say that there are no similarities to older styles of black metal. The fifth track "Sentenced" follows suit from the "Grey" EP as a purely instrumental offering, which induces an ever-mounting terror through its richly layered waves of symphonic-styled horror. The church organ-like keys are set against a backdrop of screeching string ensemble that builds and builds in intensity with sharp broken chords until the climax that is the sixth and final track "Shank". This is certainly the most unforgiving track on the EP and definitely the best. From the outset it is full of a bleak and foreboding frenzy with an overpowering, crushing atmosphere. The ghostly droning guitar melody punctures right through to your heart whilst the punishing blast-beats keep your pulse racing to witness these final adrenaline fuelled moments. The highly trebled harmonising guitars are a climatic ecstasy in contrast to the main riff, intertwining beautifully haunting sweeping and tapping against a melody of suggestive unease – this is the moment your life flashes before your eyes before the darkness seeps in and consumes you. Though, my heart is still racing and I am pining for more.