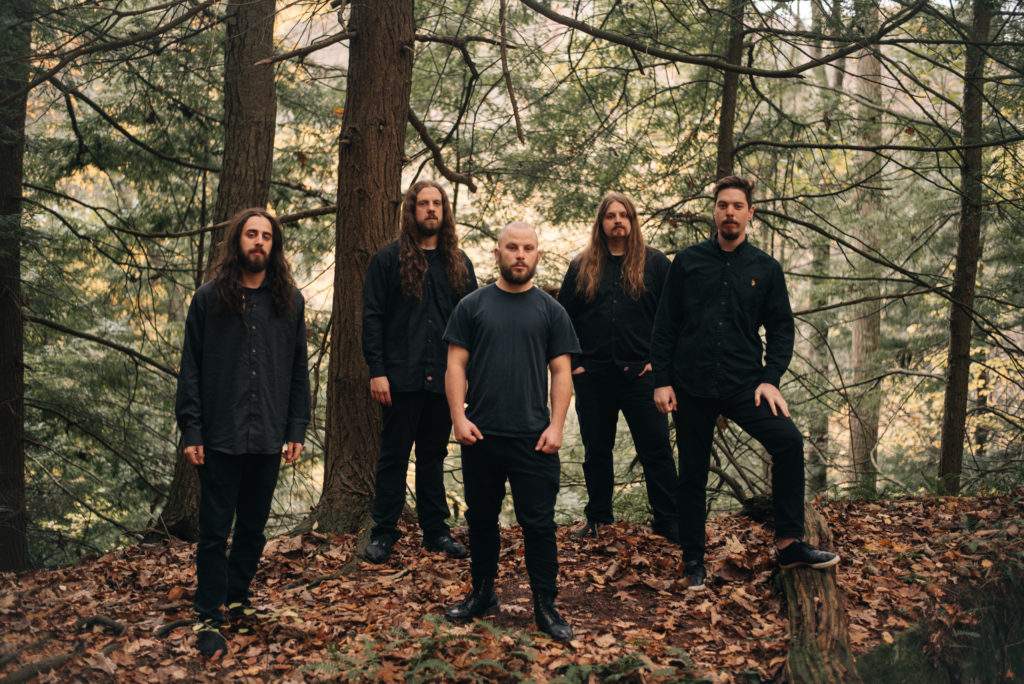 The mystery that shrouds any band's upcoming album, especially of a band that is well versed with diversity in their music, is certainly not nonchalant. I wasn't aware RIVERS OF NIHIL would be coming up with their third studio effort, 'Where Owls Know My Name' this year until a few weeks back. As soon as the news dawned upon my conscience, I knew I had to request the album for a review, cause I remember their 2015 album, 'Monarchy' had impressed me so much, it left me wanting for more. Fast forward to March 16th, 2018, the Pennsylvania quintet will be dropping their third full length in what could possibly be their best effort and certainly one that will garner itself a place in the top ten album listing by this year's end.
Releasing on Metal Blade Records this 16th, RIVERS OF NIHIL have set the bar high when it comes to discovering uncharted territories that transcends your musical comfort zone. One of the most recently emerging and forward thinking artist in the metal sphere, the band has always managed to drop jaws with their progressive yet ferocious music. Not to forget, the wide array of experimentation the band has delved in their work, which makes RIVERS OF NIHIL truly an artistically elite band. So, with all the teasing I just did, do I make it look like 'Where Owls Know My Name' easily surpasses what its predecessor achieved? Let's find out!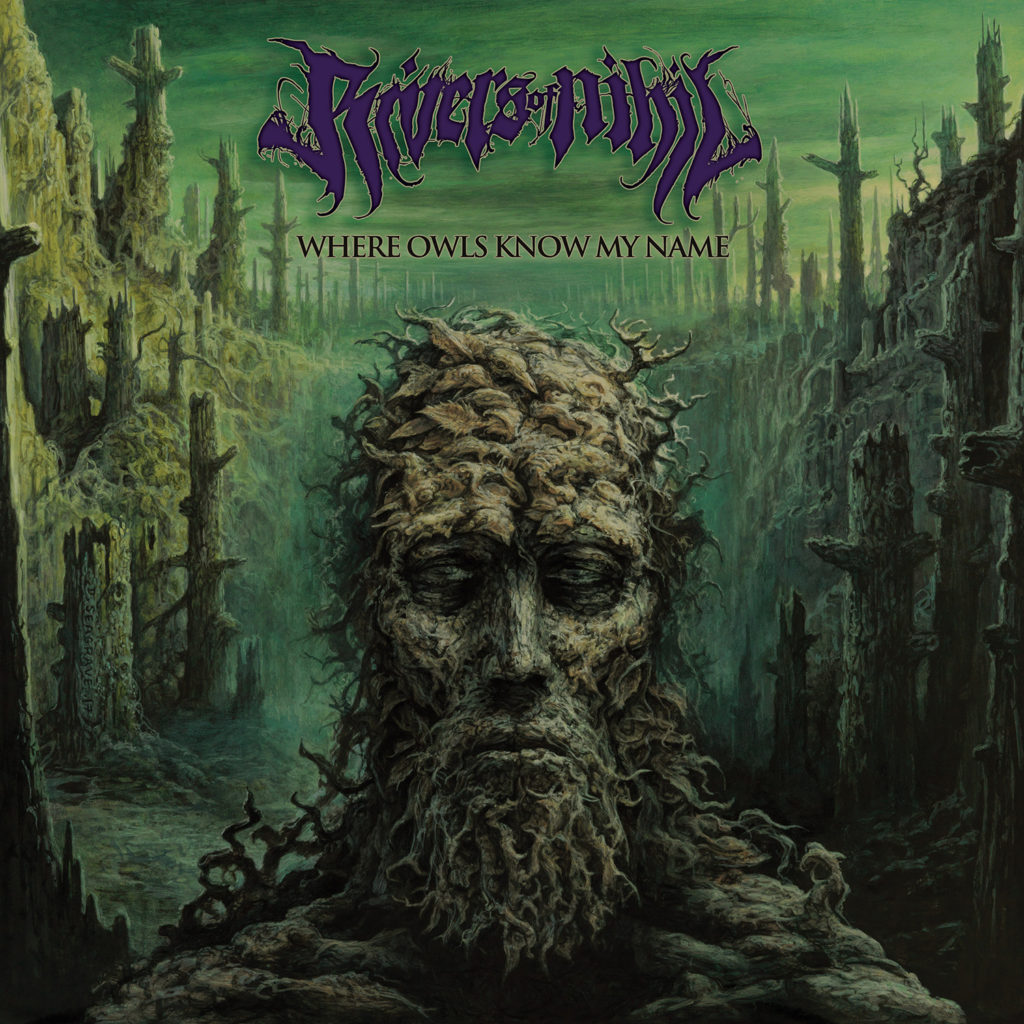 As excited I'm before diving into the album, I'm equally curious. I mean, I know it's goddamn death metal, but the fact that RIVERS OF NIHIL refrain from playing a straight move always keeps me on my toes. So, I put on my headphone like a pilot does his helmet in a F-16 hornet, and I zoom off to some freaking loud progressive pulverizing stuff! The intro is an ambient with spoken words, "Fear drowns the mind, in this kingdom of mine", thus giving us a picture of the dark theme this album revolves around, just like what the cover art depicts. As the intro subsides into oblivion, the first track kicks off on a chuggy and pumped up note, one that'll leave you windmilling. Relentless double bass drumming, heavy guitar riffing and crushing vocals makes this track my favorite on the album. And guess what, we have saxophone here! Yes, a freaking sax solo, adding an unique jazzy vibe to the song. Right after bringing in an exotic vibe to it, the song pulls you into a downward spiral as the outro commences with those morbid sounding guitars.
As the album progresses, it's evident that 'Where Owls Know My Name' is already breaking the traditional death metal album's repertoire. There are a lot of things going on here, the fabric of this album looks and feels so detailed with layers of meticulously carved musical textures with the usage of a wide array of different instruments, sounds and ambience. All in all, working in unison to create the mind blowing album that it really is. There are a few songs I would like to point out that caught my attention.
Fifth track, "Subtle Change.." is probably the most diverse in the entire album. It has progressive sections reminding one of bands like Skyharbor, Karnivool, to fast and merciless death metal pounding with the likes of The Black Dahlia Murder. Sudden tempo changes, immaculate bass lines and the use of keyboards is really worth your awe. Next track will throw you off your seat, "Terrestria III: Wither" is an electronic piece that uses heavy industrial soundscapes. Well, sorry if you thought only metal is the harbinger of all things heavy! It sounds like a soundtrack straight out of a Terminator movie where you're just awaiting your death as the humanoid robots jeopardize your freedom. This was a total blinder from RIVERS OF NIHIL and it actually clicks with me so much. I can already tell this will receive so many mixed feelings, but I know fans of Depeche Mode, Godflesh and other acts that incorporate industrial/electronic elements will find this up their alley.
The lyrical content on the album is pretty solid and macabre, it reeks of nihilism with themes of existential angst, human suffering, death and decay. Songs like "Hollow", "Death Is Real" display the emotional nature of the album, while at the same time also emanating the heavy, intense and dark fervour in the listener. The last track, "Capricorn/Agoratopia", continues from where the intro left, thus making it seem like the album has come full circle. This track pretty much switches between mid to fast tempo all through its entirety. They could have ended the album with an even better track but I can't sit and complain when the album in average is a solid kick ass one.
As a metal music aficionado, and more importantly one who admires and is always on the look for something new and diverse that breaks that normal monotony in music, I really love when bands chose to do the same. This helps expands the realm of the genre you love, tickles those taste buds into something new and adds virgin material into the scene. That is what exactly RIVERS OF NIHIL has done with this effort ever so precisely.
Every component involved in churning out this album has been done to perfection. Jake Dieffenbach's vocals and Adam Biggs' thundering bass cuts through the fabric like a knife on butter, and the bass lines are so damn inexplicably amazing, respectively. It carves it's way out through the creeks and narrow spaces like water through rocks, the bass lines have been really well done. Brody and Jon manage to pull off extremely tight, progressive death metal riffs taken out from the crypts of hell and channels it like a wall of impermeable sound. Also, I really have to give a huge shout out to the drummer Jared Klein, this man has machine guns fitted on his legs. The defeaning drumming is restless and wrecks havoc on whatever may blind it's way.
All in all, be it the sax, the assimilation of ingredients from musical genres as varied as electronica, jazz, alternative makes this album one that you surely wouldn't wanna miss. Go ahead and pre-0rder 'Where Owls Know My Name' HERE, as RIVERS OF NIHIL break the musical constructs in the realm of metal and take a major leap in pushing forth the envelope of creativity.