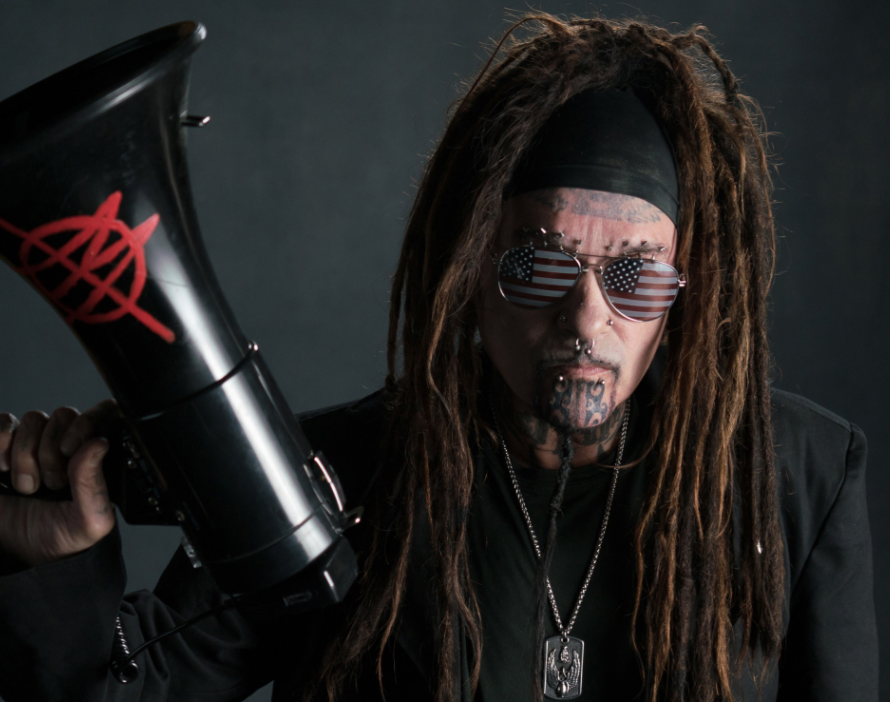 Industrial pioneers, Ministry return with the highly topical and timely release of their fourteenth full-length studio album, 'AmeriKKKant' –  scheduled to drop on March 9th, 2018 via Nuclear Blast Records.  Coming out during a time when the political climate in America is at its most volatile in recent years, "Uncle Al" and co. are clearly pissed off at the current state of things and are not at all interested in sugar-coating or holding back their anger on this record.  The resulting tone, presented cynically throughout 'AmeriKKKant,' is a hypnotically and grittily electronic, apocalyptic waltz of anarchist protest.
Initially following the death of longtime guitarist, Mike Scaccia in 2012; founding member, lead vocalist, and main songwriter, Al Jourgensen stated that their 2013 album, 'From Beer to Eternity' would be Ministry's last.  He has since reconsidered, inspired upon waking up the morning after the country elected Donald Trump as the next US President, proclaiming, "We are making a fuckin' album – right now."  Jourgensen further goes on to explain, "It's not an anti-Trump album, it's like a 'did you pay attention in school? Does anybody have any intellectual curiosity anymore?' album. [It's] basically just holding up a mirror to ourselves and saying, 'Look at this. Is this what you really want to be?'"
Ministry was originally formed in Chicago, Illinois back in 1980. They saw significant mainstream success during the popularity of industrial music in the early nineties when songs like "Jesus Built My Hotrod" started receiving heavy rotation on MTV and rock radio. Now, over thirty years into their career, and with "Uncle Al" celebrating his 60th birthday later this year, Ministry is still going strong and carrying the torch for industrial music into the millennium and beyond.
The current Ministry lineup on 'AmeriKKKant' includes "Uncle Al" Jourgensen (vocals/guitars), John Bechdel (keyboards), Sin Quirin (guitars), Tony Campos (bass), Cesar Soto (guitars), Derek Abrams (drums), and DJ Swamp (turntables).  N.W.A. co-founder, Arabian Prince and Fear Factory's Burton C. Bell make guest appearances.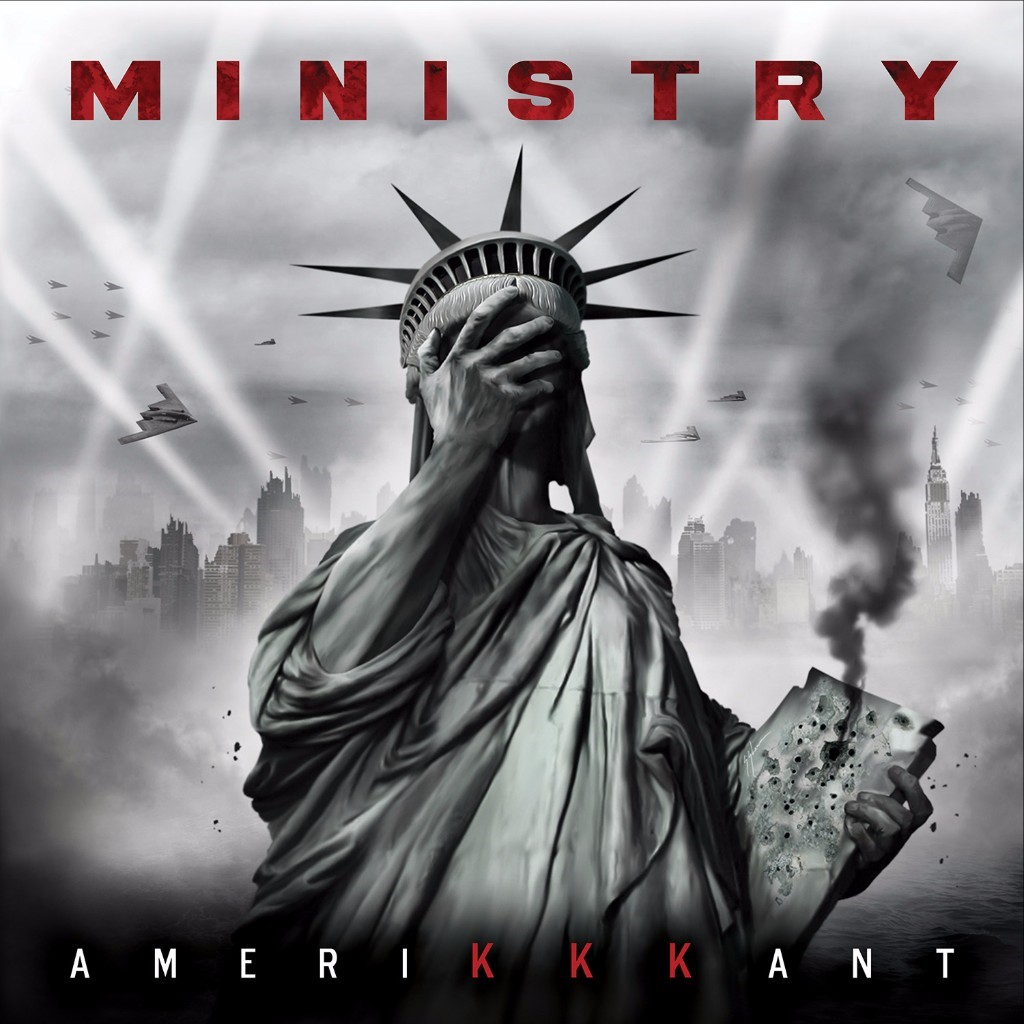 The majority of the songs on this album feature a slow to mid-paced, repetitively hypnotic groove that seductively lures the listener into the revolution.  The first track, "I Know Words," is essentially a cinematic-style, three-minute long intro, leading into the second track and third single, "Twilight Zone."  The song features slow and pulsating beats; dirty guitar licks; slick turntable scratches and sampling; and Jourgensen's raspy, robotic vocal delivery and signature fuzzy harmonica.  It's a well-rounded and creatively entertaining song that's like something you'd want to hear played at a post-apocalyptic strip club in a Mad Max movie; although its satirical message focuses on that fateful morning of November 9th, 2016 – waking up knowing who's just been elected President – and that feeling being akin to something out of an episode of the Twilight Zone.
"Victims of a Clown" follows a similar formula and has an underlying Nirvana "Scentless Apprentice" sounding bassline running throughout.  There's a more rock-ish feel to it in general, while also incorporating layers upon layers of powerful atmospheric elements.  The sampling and turntable work is dynamic and exceptionally utilized as a prominent instrument on this track.  It ends in a brief, aggressively explosive, thrash metal outro.  "We're Tired of It," whose lyrical message is pretty self-explanatory, is mostly pure, balls-out metal.  The sampling and turntable work (while still present), take the backseat as Sepultura/Nailbomb-esque riffing, harsher growling vocals, and fast-paced drumming step forward for this aggressive thrasher.
Burton C. Bell of Fear Factory provides vocal narrations for the second single, "Wargasm" – a primal, filthy, hard-hitting statement on America's perverse infatuation with blood and war.  Bell speaks explicitly with distorted, echoing vocals over tribal drumming as he describes being sexually excited by images of war and death on the TV screen.  The chorus features a Killing Joke-reminiscent chorus as Jourgensen barks the lyrics "wargasm addict, we'll blow you away" and then later "carnage and calamity, it's how we masturbate," getting straight to the point without any foreplay.
"Antifa" the first single from 'AmeriKKKant' is arguably the most hard-hitting lyrically and politically.  It has a recognizable, gritty, "N.W.O." and "Just One Fix" Ministry sound while being heavy and aggressive.  It drips with gobs of distortion on basically every element, and Jourgensen's vocals are as poignant and venomous as ever with lyrics like, "I've got something to say to you. I'm backing it up with my fist."
Overall, this album has all of the elements to make up a great industrial record.  Influences of metal, techno, punk, hip-hop, and even some blues can be heard throughout and are incorporated imaginatively and in interesting ways to create layers of nuances which add to the album's replayability value.  The political and social messages presented come across as authentic and from a place of real raw emotion and passion – at times aggressively, and at others somewhat satirical, with a tongue-in-cheek sensibility.
'AmeriKKKant' is a return to form of sorts and a reawakening of the primal rage that brought Ministry their earlier success.  Regardless of one's personal political beliefs, this record is well worth a listen as a creatively artistic representation of the tone of present-day America and a look into the minds of those who radically oppose its current direction.