You're never to old to "Bang Your Head". Here in 2017 QUIET RIOT are still giving fans a reason to keep their heads banging with their newest release "Road Rage", Available August 4th from FRONTIERS MUSIC. "Road Rage" marks the first release with new front man, and ex American Idol finalist James Durbin. The lineup is Rounded out with long time drummer Frankie "Boom Boom" Banali, long time bassist Chuck Wright and Guitarist Alex Grossi who's been with the group since 2004.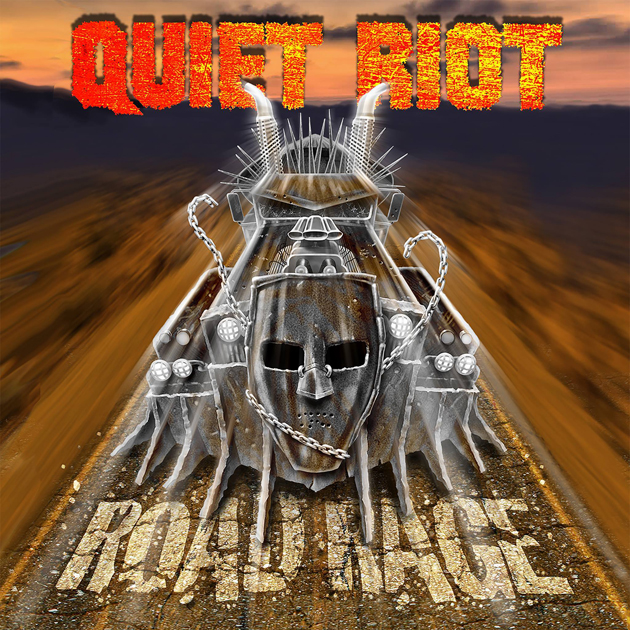 "Road Rage" has a lot of the same up-tempo rock-n-roll greatness that made fans fall in love with the group back in 1983 when their album "Metal Health" became the first metal album to ever go to #1 on the Billboard 200, Dethroning Michael Jackson's "Thriller". New vocalist James Durban doesn't really sound like long time vocalist and founding member Kevin DuBrow but a lot of his accents, energy and style are enough to keep the sound of the band very authentic to what you expect from a QUIET RIOT album.
"Road Rage" bursts out of the gate with the first five tracks "I Can't Get Enough", "Getaway", "Roll This Joint", "Freak Flag" and "Wasted". They are all up tempo rockers that are sure to make you nod your head, stomp your feet and sing along as they are all arena anthem style rockers. Track 6 is called "Still Wild" and you can really hear how inspired drummer Frankie Banali is by his hero, Led Zeppelin's Jon Bonham. A lot of great stuff here for you drummers. This is my favorite track from the album. It has so much flavor and so many shades. Long time fans of the band will go nuts for it. MAKE A WAY is another up-tempo rockers with some smoking guitar work. While "Renegades" is more of a heavy ballsy bruiser. The effort closes out just as solid as it started with "The Road", "Shame" and "Knock Em' Down".

"Road Rage" is a definite solid effort from  QUIET RIOT. It was hard to picture a world with QUIET RIOT in it after the sudden death of Kevin DeBrow back in 2007. But now, ten years later, they have recaptured the magic. Kevin's spirit will continue to live on through their music.