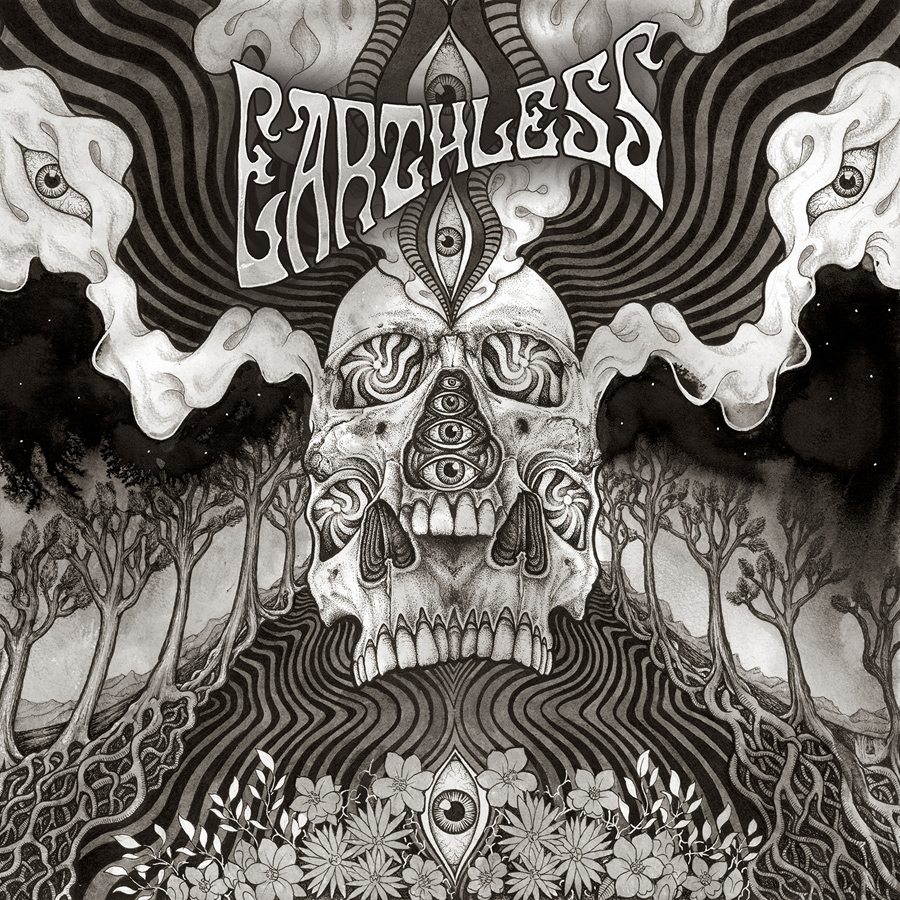 Earthless
Black Heaven
Nuclear Blast Records
Release Date: March 16, 2018
It's been more than four years since the last Earthless album, the mammoth double LP From the Ages, and to say things are a little different now would be an understatement. Since the 2005 release of their debut album Sonic Prayer, the San Diego power trio have built their reputation on a repertoire of expansive, instrumental psych-rock explorations, side-long, many-movement mindfucks that split the difference between Amon Düül II and Black Sabbath. Black Heaven, their latest effort (and first under the Nuclear Blast banner), is a leaner, meaner affair that's way more James Gang than Flower Travellin' Band. The songwriting and structures have been tightened up and whittled down (the longest song on Black Heaven is slightly less than nine minutes, which for Earthless is practically a pop single), based more on refined guitar riffs than semi-improvised rhythm section interplay and trimmed of a lot of hallucinogenic fat. Perhaps most jarring for longtime listeners will be the introduction of the human voice into the Earthless equation; four of Black Heaven's six tracks feature guitarist Isaiah Mitchell stepping into the vocal spotlight. Doubters and worrywarts can relax and unclench, though; this is still Earthless through and through, plenty trippy, plenty heavy, and more than capable of levelling even the most hardened of psychic warriors.
Album opener "Gifted by the Wind" sounds like a southern rock band having a go at "Earache My Eye" while doing rips from a bong made from a Heil talk box. You're not going to find too many guitarists as good as Mitchell; a tasteful shredder, he starts ripping here and doesn't let up until Black Heaven hits the run-out groove. He hits his vocal stride on the feedback-laden stomper "End to End," with its straight-up classic rock belting and harmonies (and a dynamite hepped-up double-time outro). "Electric Flame" is a full-on riff-fest, chockablock with skittery, jittery Zeppelinisms and absolutely monstrous chunks of instrumental space cake. It's the sound of a band flexing their musical muscle and clearly illustrating why they're known as a devastating force live. The instrumental title track marries "Good Times Bad Times" to the KISS nugget "Watchin' You" and sends them on an all-expenses-paid trip to the edge of the universe for the honeymoon. "Sudden End" wraps things up with a stoner-metal take on Blackfoot's "Highway Song," an anthemic burner that meanders in and out on a steady swirl of wind and wash.
Much credit is to be given to the album's producer, Eagles of Death Metal guitarist and desert rock patriarch Dave Catching; Black Heaven was recorded at his world-renowned Rancho de la Luna Studios, and it sounds positively divine. The amazing Mario Rubalcaba's drums pop and thump, his cymbals jingle and chime (my goodness at that hi-hat sound) without washing out or getting lost in the mix; bassist Mike Eginton is a steady, defiant rumble that guides the ship through hairpin curves and death-defying aerial maneuvers. Mitchell's guitar work is impeccable throughout, and he more than holds his own vocally, staying in a range that suits his throaty, soulful beller. The songs may be shorter than what fans have grown accustomed to with Earthless, but it's all relative; not counting the two-minute blast "Volt Rush" (a nasty little instrumental jumper that does just what it says on the label), the shortest thing here is still over five minutes. The songs have plenty of room to roam, but not to wander off. This precision and efficiency (not to mention the undying power of a tasty vocal melody) transforms Black Heaven into the sleekest bruiser in the Earthless catalog to date, a streamlined stunner that should satisfy diehards and satiate newcomers. 2018 is young, I know, but this is one of the best things I've heard so far this year.