From fanatic heavy-metal advocates to casual listeners, a group that has managed to reel in an eclectic mixture of both communities is the now long-established, versatile force of Zakk Wylde's Black Label Society, whose tenth studio album, whimsically titled 'Grimmest Hits' is perhaps a little bit of a celebration record for the band as it marks their twentieth anniversary as a recording unit. The record is scheduled to be released via eOne Music on 19/01/2018. With the release date drawing ever so near, it would be a great sacrilege of us not to give the album the attention it aptly deserves through the medium of a review. The album features Wylde on vocals / guitar, John DeServio on bass, Dario Lorina on guitar and Jeff Fabb on drums.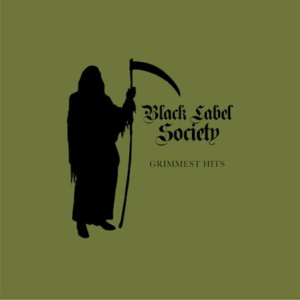 The album begins with an atmospheric bass line accompanied by strings, before it engages into a quick paroxysm of crunching guitars and dynamic drums. 'Trampled Down Below' is the opening track in question and it's a quintessential Zakk Wylde piece, almost sounding reminiscent of the ambience that permeated his work throughout Ozzy Osbourne's 'No More Tears' and the ominous tones that he would soon become synonymous with. Featuring a rare guitar solo without the prototypical reliance upon pinch harmonics, you hear Wylde in a much more fluid and rapid state of playing. 'Seasons of Falter' is the second song on the album and it's fair to say this one is a little bit more introspective. The verse is bluesy, groovy and everything you'd expect but the chorus is surprisingly quite downtrodden and dejected. The guitar solo here is much more Wylde-esque, although there's lots of different chops and intricate pieces, some of which he may have to improvise in a live setting. 'The Betrayal' is another foot-stomper. Written in a very tight 4/4 structure, the song is led by driving riffs, energetic crash cymbals and synchronised bass playing. They're very good at spreading their attention to all aspects of the music, so as soon as the vocals begin to come in the rest of the instrumentation does take a little step back. The guitar solo here features a nice conglomeration of unusual scales, minor pentatonic licks, Egyptian-styled tremolo and a lot of vibrato. 'All that Once Shined' is perhaps among the more sombre of tracks here. It certainly isn't a foot-stomper but rather something to listen to while slowly nodding your head in a semi-contemplative, semi-dazed fashion, yet not so much that one can really decipher which one takes precedence. It could also be on the verge of being considered a 'doom' song before it picks up into an ebullition of groove-based rock towards the middle. Oddly enough the song is kind of a fusion between the groove and the doom elements yet the solo surprisingly enough is accompanied by one of the album's slowest passages. 'The Only Words' is a pretty acoustic ballad accompanied by phased Hammond organ, dulcet vocals and relaxed ride-cymbal drumming. This is the one where you'd start to wave the lighter in the inevitable melancholic fashion. The song's latter half is mostly occupied by a sprawling blues solo that is perhaps a little bit too long although it does add to the atmosphere. 'Room of Nightmares' returns to the mid-tempo ominous groove style the group are known for, and it's probably one of the best tracks on the album. It's very short, concise and sharp and it doesn't lose focus. 'A Love Unreal' is yet another blend of the sombre contemplation and high-voltage rock energy, with both elements complimenting each other rather nicely. It seems to be a common trend within the group for the verses to be angst-driven, hard-hitting and fast in nature while the choruses are generally more melodic and slightly dark-sounding. This song is comprised of many different riffs, tempo changes and alternating sections which adds to its interesting appeal. 'Disbelief' is another good song with a catchy riff. One thing I will say about this album as an entirety is that it's incredibly consistent and solid. While it most certainly isn't revolutionary in nature it's something that will certainly please fans across the vast metal spectrum. The balances of ebb-and-flow are well thought out in terms of arrangement and you can tell they've probably put an awful lot of consideration into concepts like enhancement. 'The Day That Heaven Had Gone Away' is the sequel in the album's interpolation of acoustic ballads, although it may be fair to say this song is more matured and introspective. Phased Hammond organs do seem to play a vital part whenever the group go acoustic but I think it would also be interesting to see them incorporate the keyboards on heavier parts, too. Both the verse and chorus is in a very relaxed time signature of 3/4. The guitar solo is sentimental as you'd expect but it's not overtly saccharine. One can particularly appreciate how it immediately reverts back to its original quiet state after the solo before the reprise of the chorus. I'd say this song definitely has more excitement out of the two ballads. 'Illusions of Peace' throws you back into the grasping clutches of aggression and once again you're transported into the realms of angst. Probably one of the most political songs in nature, too. The middle section is a slightly disconcerting quiet section of wordless vocal harmonies before it bursts into the solo. 'Bury Your Sorrow' is a phased, fuzz-rock type song with 70s influences which is based upon a riff that alternates between 4/4 and 7/4.  Closing track 'Nothing Left to Say' is the trilogy of acoustic ballads here and I'd mark it as my favourite. It has the nicest melody to one's ears and it's just a very soporific close to the record.
Personnel:
Zakk Wylde – Vocals/Guitar
John DeServio – Bass
Dario Lorina – Guitar
Jeff Fabb – Drums
Be sure to check out the links below!