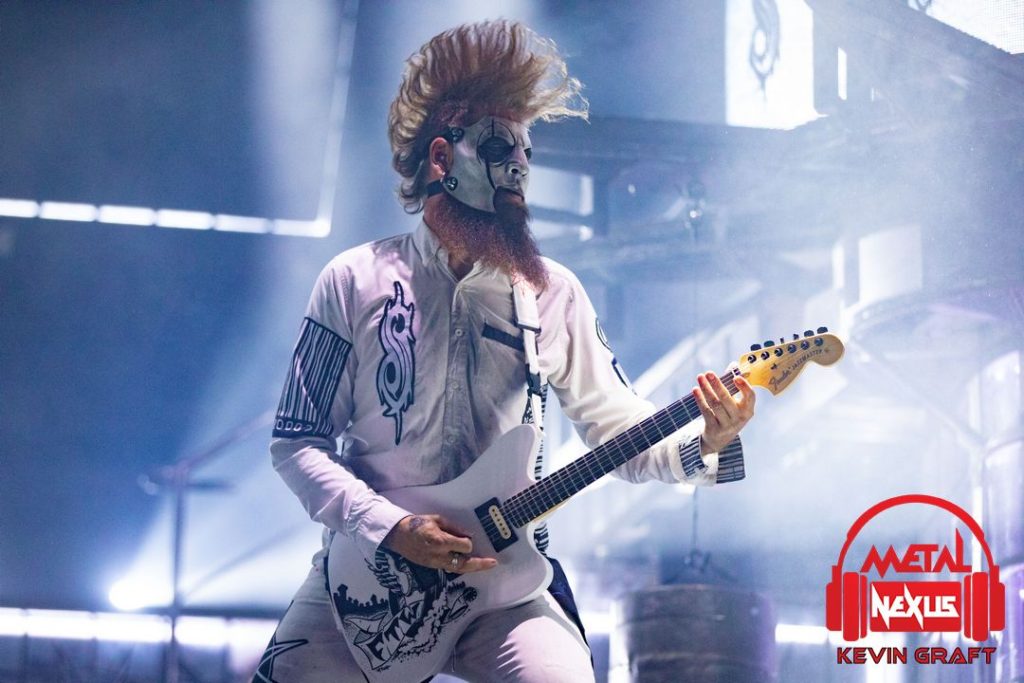 Following a sold-out crowd of 60,000 last year, the Aftershock Festival expanded to three full days for 2019 with attendance reaching an unheard of 97,500 this year. The eighth annual edition of the Northern California rock festival, produced by Danny Wimmer Presents, took place on Friday October 11th, Saturday, October 12th, and Sunday, October 13th at Sacramento's Discovery Park. The massive lineup of over 50 bands was headlined by Tool, who debuted music from their chart-topping new album 'Fear Inoculum.' blink-182, who headlined the second night, made their Danny Wimmer Presents debut in support of their new album 'Nine.' Slipknot, whose new release 'We Are Not Your Kind' has been burning up the Billboard 200 album chart, headlined day one.
Just as things were set to get underway for the big show, it was announced that Metallica was confirmed to headline 2 days of the festival in 2020. That's right, the almighty Metallica has signed on for two headlining nights of completely different sets for next year's Aftershock Festival. The crowd was abuzz of the exciting news as we entered the venue just before Ded, the first act of the big event, was getting ready to play.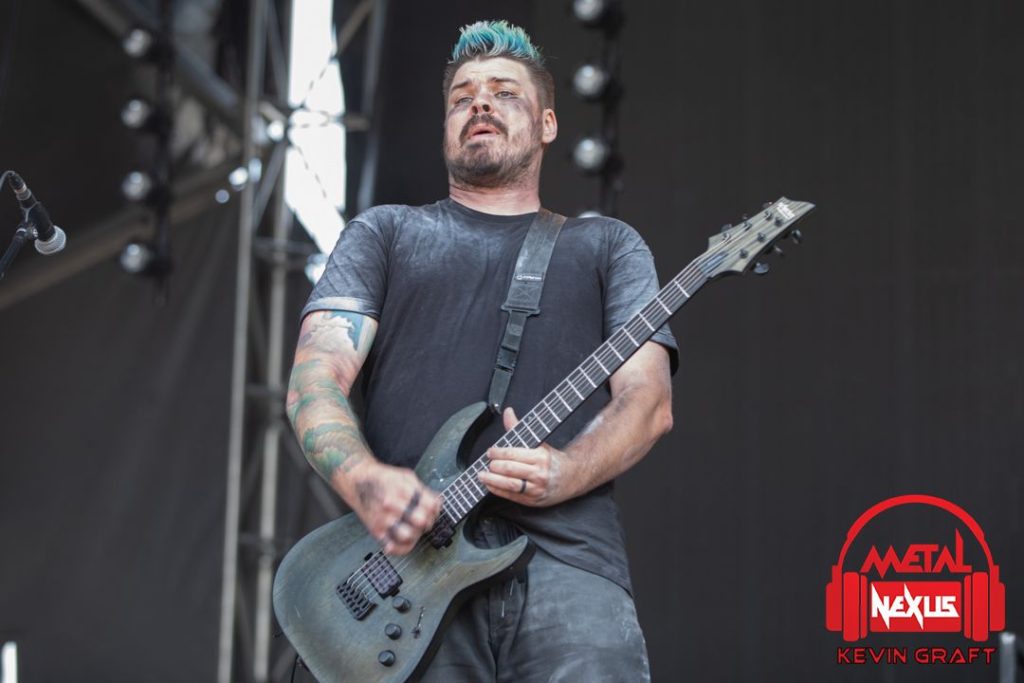 The musical performances at Aftershock were split up over three stages ranging from largest to smallest: Monster Energy Stage, Discovery Stage, and Capital Stage. Ded, who kicked things off on the Discovery Stage, had already attracted a large audience by the time I entered just before their 12:30 PM start time. The Arizona nu-metal act came out looking like they'd just returned from the afterlife, covered in grave dust. As they played their high-intensity set, crowds of people were filing into the venue while the bright California sun began to heat things up. Ded quickly whipped the early festivalgoers into a frenzy as multiple chaotic moshpits broke out. With so many bands in the lineup, each act must adhere to a punctual start time and, other than the headliners, end their set promptly at the 30-minute mark.
At 1:00 PM it was time to check out the next act, YouTuber and singer/songwriter Poppy. Unfortunately, we were informed by event staff that the pop/metal princess was not in the building. No other information was given as to the reason for Poppy's no-show and nothing so far has been announced via her socials.
Meanwhile, over on the Capital Stage, Finland glam metal act Santa Cruz were rocking out their 80s-inspired "glamcore."  With nostalgia bands like Guns N' Roses making a huge comeback and acts like the always-entertaining Steel Panther gaining big success recently, these hair metallers are bursting onto the scene at just the right time. Santa Cruz lead singer/guitarist Archie Cruz rocked his throwback Metallica t-shirt for their short but electrifying set.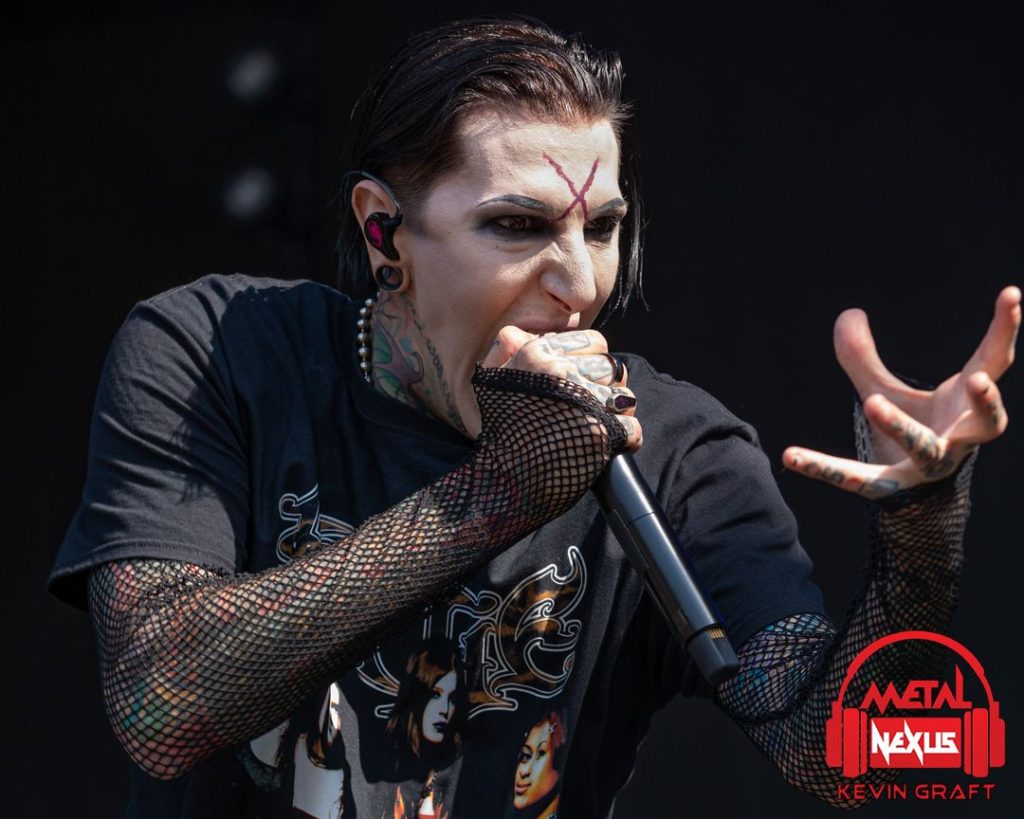 Next, Pennsylvania goth/metalcore act Motionless in White took to the Discovery Stage at 1:30 PM in their white face paint and goth gear to an already massive crowd. By this point, Friday was shaping up to be a huge turnout, which was no doubt due largely in part by Slipknot being billed as the evening's headliner – and judging by the number of Slipknot band shirts in the crowd, the Maggots were definitely in the building. Meanwhile, MIW had their audience fully engaged, headbanging, fist-pumping, and jumping along to their set of melodic and heavy tunes.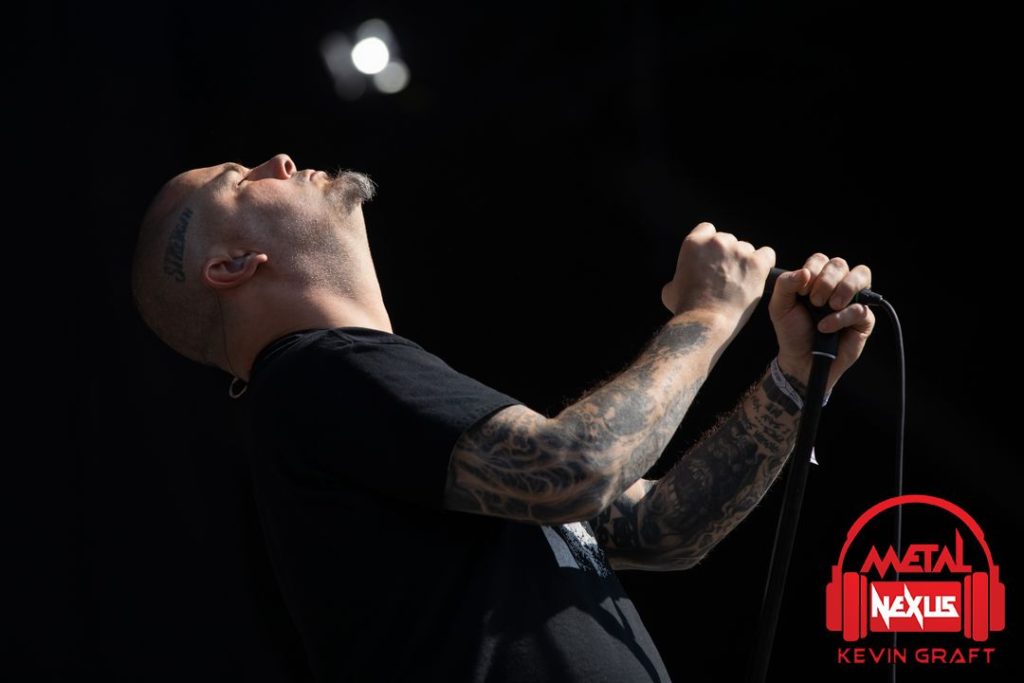 Next up was Philip H. Anselmo and the Illegals on the Monster Stage, who played an entire set of nothing but Pantera classics in honor of Anselmo's fallen bandmates, Dimebag Darrell and Vinnie Paul. The large crowd was pumped for the ex-Pantera frontman to deliver the hits as "Mouth for War" kicked things off powerfully. Fans sang along to every word of the greats such as "Becoming," "Strength Beyond Strength," "Yesterday Don't Mean Shit," and of course, "Walk," which had the venue booming with unison voices. Anselmo, whose stage presence has become physically much more low-energy than in his younger years, commanded the stage like a seasoned pro and belted out his vocals like a beast for a nostalgic and entertaining performance.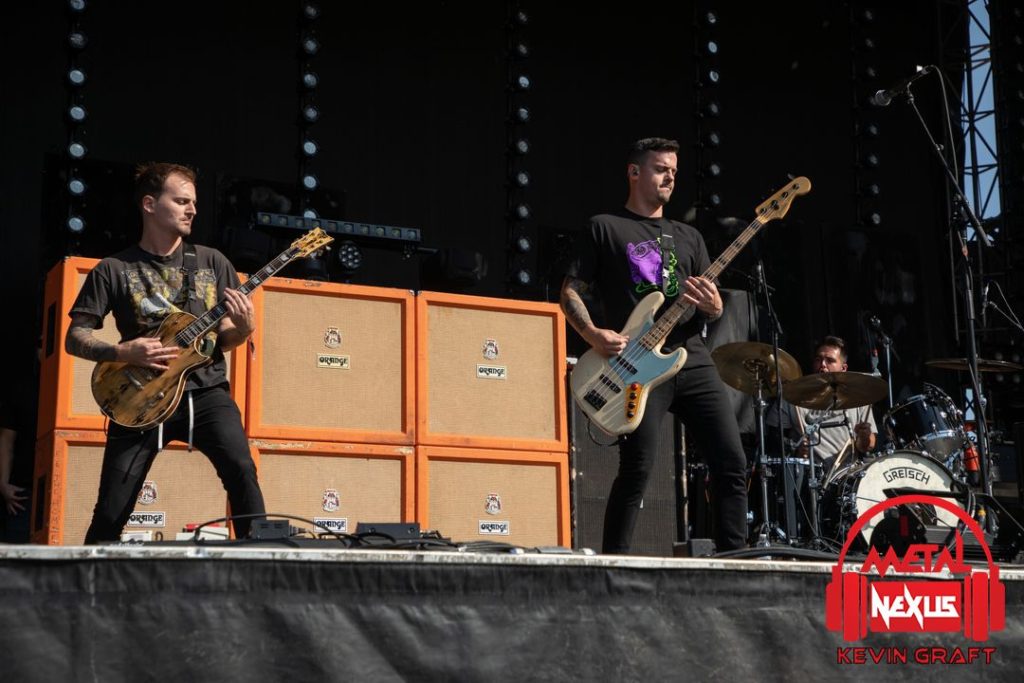 By mid-afternoon, Ohio melodic hardcore act Beartooth was ready to go on the Discovery Stage for their third appearance at Aftershock. The five-piece has unquestionably built a loyal following in Sacramento, and fans showed their love with swirling moshpits and sing-along choruses. Their 10-song set opened up with "The Lines" and included such crowd favorites as "Enemy," "Hated," "In Between," and others – including a souped up cover of Randy Newman's "You've Got a Friend in Me."
Next up, on the Monster Energy Stage, was Michigan metalcore act I Prevail making their Aftershock debut. The manbun and skinny jeans-clad rockers kicked out their dual-vocal attack performance that had the audience jumping right along. Highlights of the set included "Scars," "Paranoid," and "Breaking Down."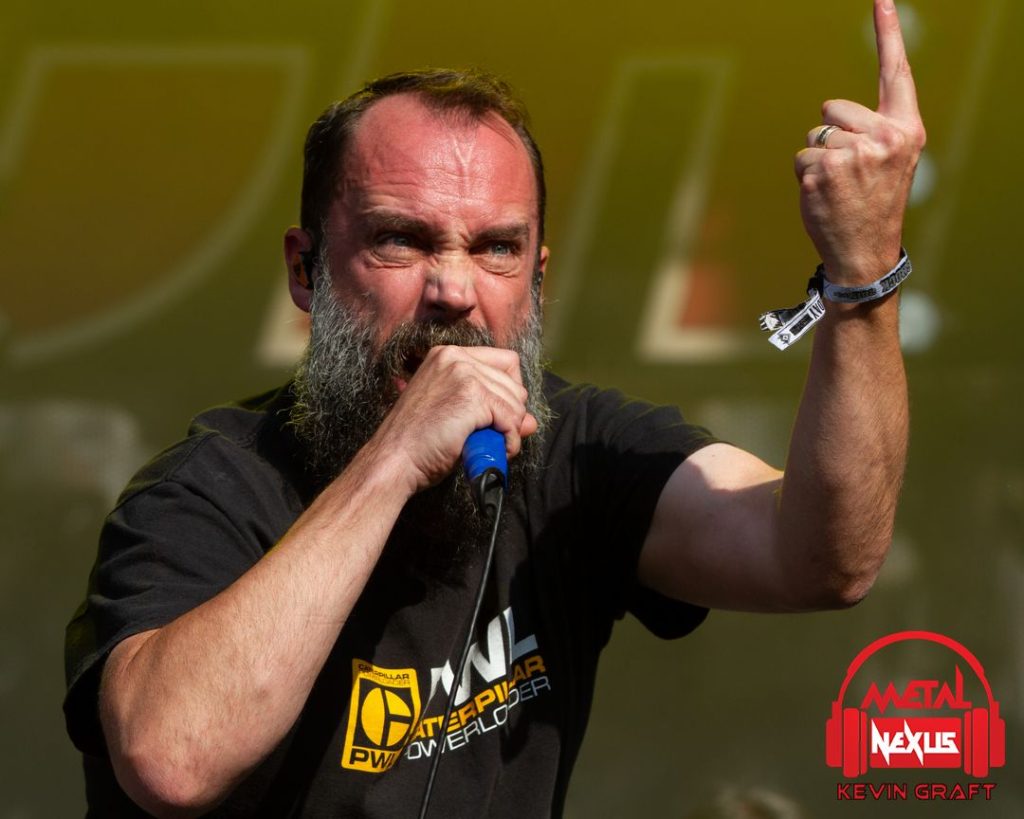 Around late afternoon, it was time for a quick lunch break and then right back into it with Clutch back at the Discovery Stage, making their second Aftershock appearance since 2015. The smoke clouds arose as the Maryland hard rock veterans blazed through a setlist of Clutch classics, covers, and new material that put this thoroughly packed Sacramento crowd into the groove. A cover of Chuck Brown & The Soul Searchers' "We Need Some Money" opened up the set which also included fan favorites such as "The Mob Goes Wild," "X-Ray Visions," "Earth Rocker," "Willie Nelson," and new track "Gimme the Keys."
Getting the party kicked up several notches on the Monster Energy Stage was Massachusetts, Celtic rock veterans Dropkick Murphys. Their blend of traditional Irish folk and catchy, sing-along punk acted as the perfect drinking music for this Sacramento crowd who readily obliged with cups in hand. "Rose Tattoo" and "I Fought the Law" (The Crickets cover) were performance highlights.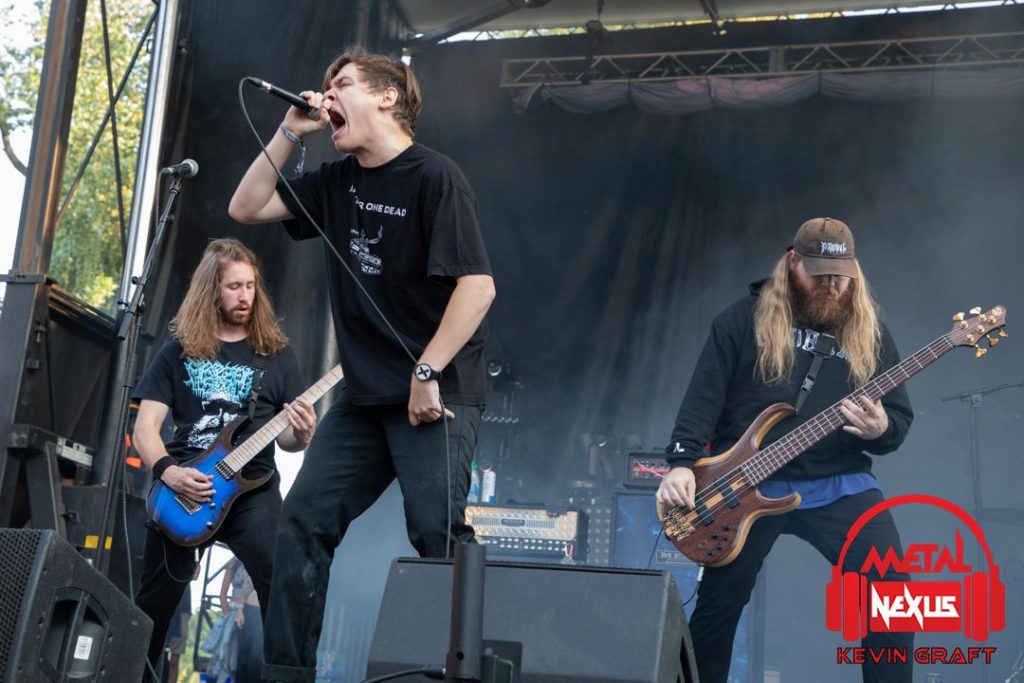 A band who made a lot of buzz this year with their newest release 'A Different Shade of Blue' was Kentucky hardcore act Knocked Loose, who were set to perform on the Capital Stage at 4:50 PM. This was one show I'd definitely been looking forward to and I made sure to find a good spot to experience the chaos as up close and personal as possible. Windmills and spin kicks filled the multiple violent moshpits during the most intense set of heavy music the day had seen so far. Knocked Loose's punishing breakdowns and tortured screams set the eager fans into a frenzy of dust clouds and sweat that ended with vocalist Bryan Garris surfing the crowd during the final song, "Counting Worms." This was undoubtedly one of the highlight performances of the festival.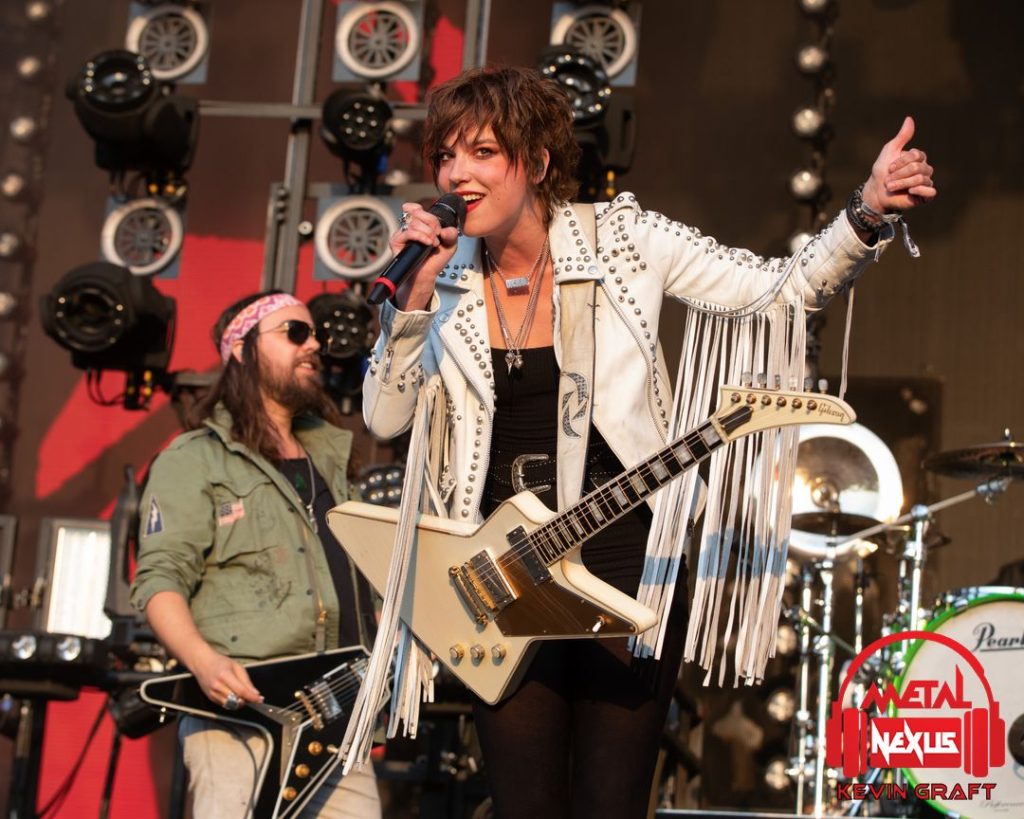 Back again for their third Aftershock appearance were Pennsylvania hard rockers Halestorm performing over on the Discovery Stage. What can be said about this band other than that they are true professionals? Lead vocalist/guitarist Lzzy Hale, donning a kickass, studded white leather jacket that read "LZZY" on the back, jammed out nasty riffs and sultry vocals like a true rock n' roll goddess. Her signature Benatar-esque range did not disappoint as she and the band crushed every track of their nine-song setlist (including a shirtless drum solo by Lzzy's brother Arejay), giving the audience exactly what they wanted as the sun began to go down. The crowd responded with a memorable "Happy Birthday" serenade for Lzzy who had just celebrated a birthday the day before.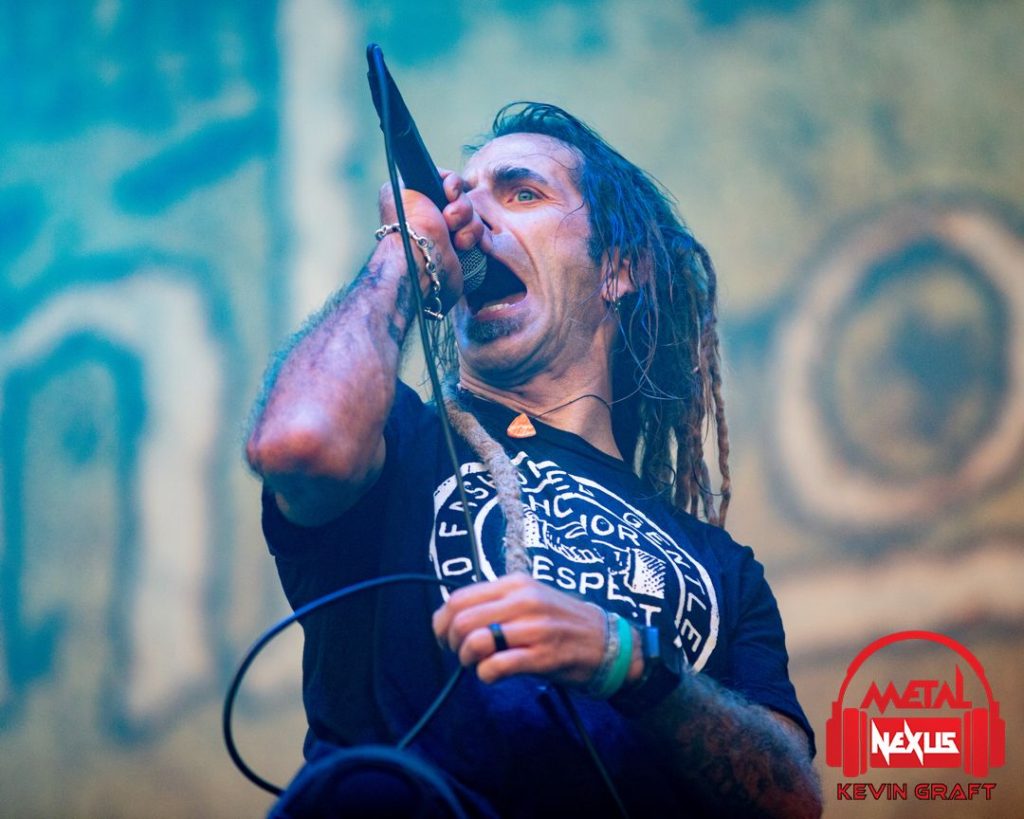 Taking the heaviness up several notches were Lamb of God performing next on the Monster Energy Stage. The Virginia metallers wasted no time getting down to business and opened with the crushing "Omerta," off of their critically acclaimed LP 'Ashes of the Wake.' Their 10-song set included "Walk With Me in Hell" that had the crowd singing along and the moshpit in full effect until lead vocalist Randy Blythe signaled for the band to stop playing. Apparently, someone in the audience appeared to have gotten hurt and signaled for the dreadlocked singer's attention. "We care about you people," he yelled to the crowd after realizing the person was ok and then joked, "Make sure they're really hurt next time before you tell me to stop." Wasting no extra time, they picked up right where leaving off and continued on without any further interruption.
Lamb of God performed like a well-oiled metal machine and Blythe prowled the stage like an agile wild cat contemplating his next kill. Unfortunately, due to what seemed to be beyond their control, the sound was coming out extremely muddled which made it difficult to distinguish much melody through the overwhelming low-end noise. It was unfortunate, as it certainly took away from what could have turned out to be a much more impressive performance by the metal veterans for their Aftershock debut.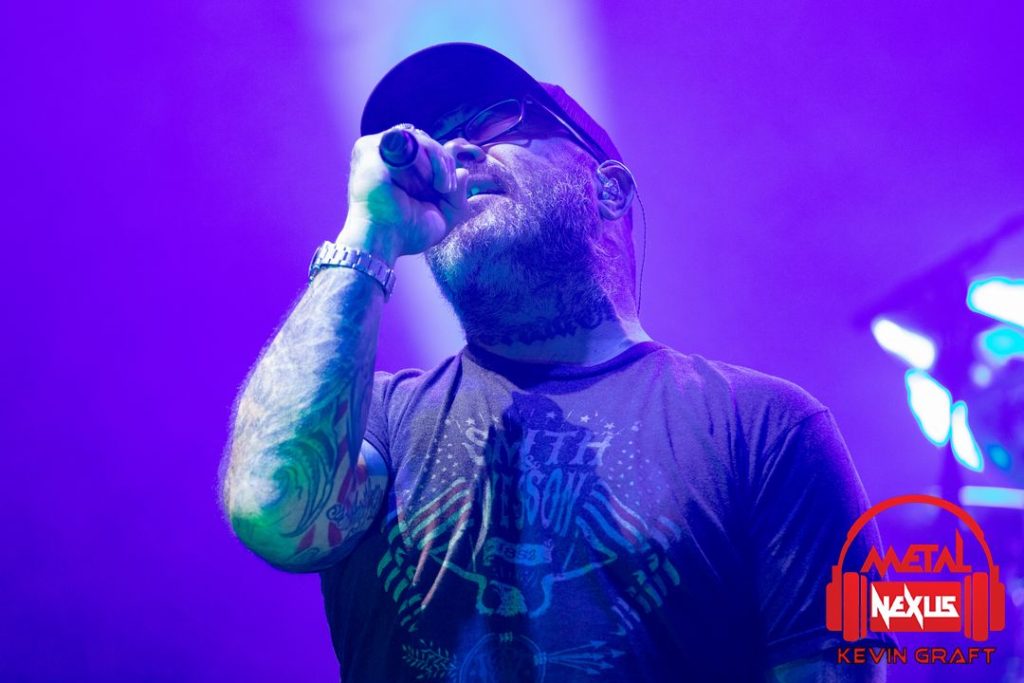 The sun was down by this point and playing next on the Discovery Stage was the newly re-united Staind, who recently began their reunion tour last month at Kentucky's Louder Than Life festival. A massive crowd formed to see Aaron Lewis and gang play their set of fan favorites. The alt-metal veterans opened with "Eyes Wide Open," off their 2011 self-titled release, which immediately put the audience into the groove. Lewis, who has been regularly playing and performing solo as a country artist, sounded in top-notch form vocally. Sporting a Smith & Wesson t-shirt, trucker hat, and scruffy beard, the "country boy" seemed right at home again rocking out with the band – and even showcased a pretty blood-chilling death growl amidst his powerful clean vocals. The rest of the band delivered an equally energetic performance as pyro spires ignited and a large video screen shuffled through imagery behind them.
It was during the second half of the set where the crowd was really feeling it as the band took us through a nostalgic trip down memory lane with "Right Here," "Outside," "So Far Away," "Raw," and the mega-hit "It's Been Awhile." My only complaint, as well as the complaint yelled out loudly by multiple fans in the audience, was that the volume was way too low. Lewis especially was difficult to hear at times, which was disappointing as fans were eager to be blown away by this performance which would have otherwise been amazing.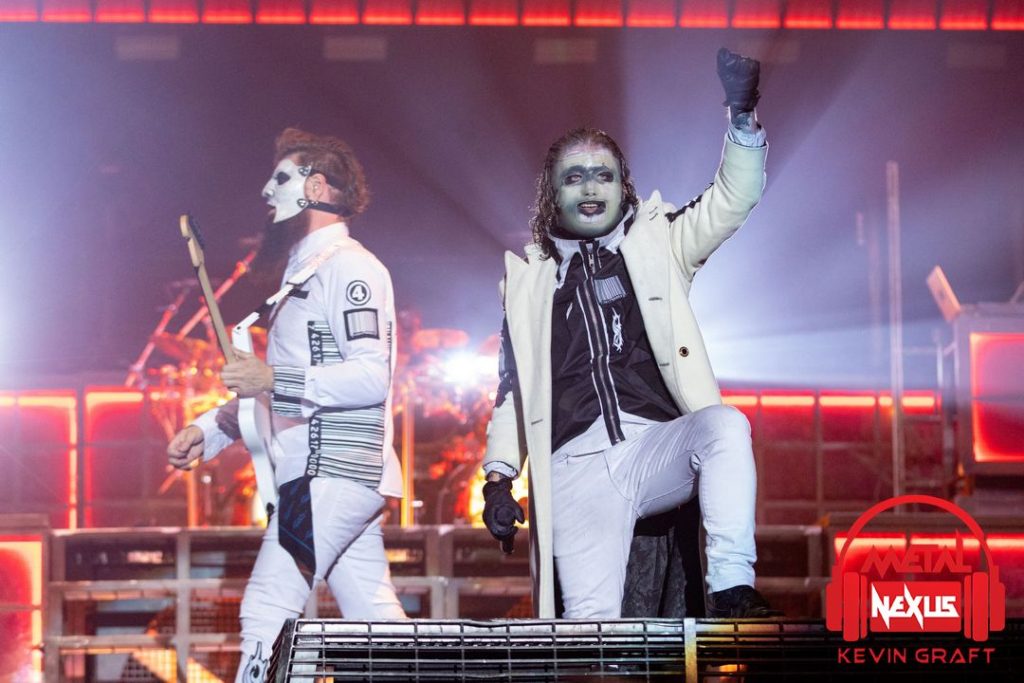 Closing out the evening was the highly-anticipated performance by Iowa nu-metal legends, Slipknot. A virtual sea of humans funneled in to claim any open spot of real estate not occupied in the pit, on the grass, or in the dirt areas of the park to catch a glimpse of the show. Opening with "People = Shit," the stage lit up and Slipknot were underway. Visually, the stage glowed with illuminated square and rectangle lighting, revealing a multi-level stage with percussionists on either side and drums positioned in the middle on the second tier. Frontman, Corey Taylor and guitarists moved around mostly on the bottom tier, and somewhere in the middle was Sid Wilson on a treadmill? Anyway, the stage was definitely impressive as was the band's playing, which was loud. And I mean, really, really loud as it echoed throughout the entire venue and into the neighborhoods of West Sacramento.
The audience was eating up every second of the extensive setlist that included "(sic)," "Unsainted," "The Heretic Anthem," "Psychosocial," "The Devil in I," Vermilion," "Wait and Bleed," "All Out Life," and many more. With so many in attendance, it must have been a stunning sight from the stage, which inspired Taylor to comment on the fact that people were literally watching from the trees. The encore included "Spit It Out" and "Surfacing" to top off day one of great music. Stay tuned for my review of day two and three coming soon.