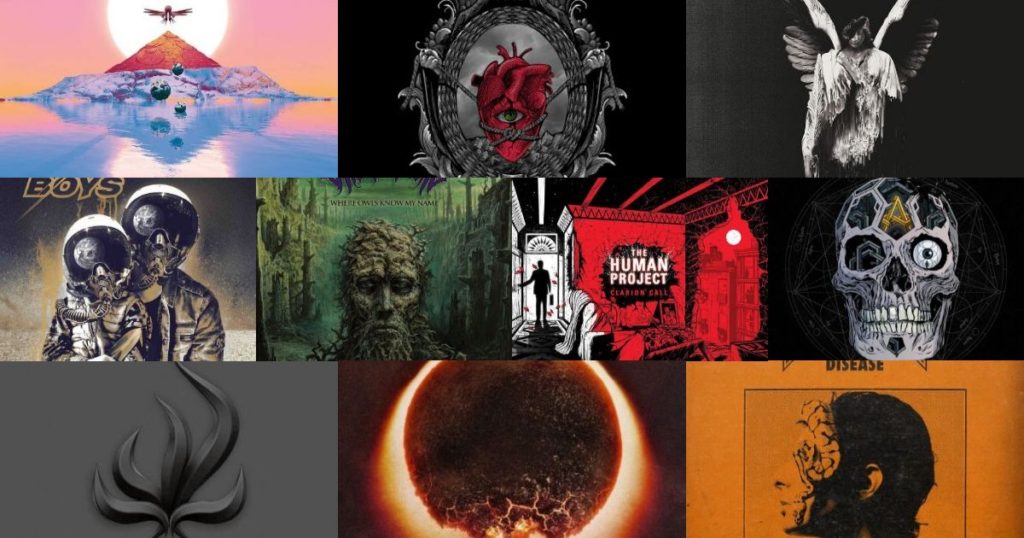 My memories of 2018 are inextricably linked to amazing music.  Life has been fairly unremarkable, but for the sonic highways I have followed which led to me writing for the great Metal Nexus site. Thank you Fist, for taking me on and for the whole team being like family. I am blessed that I can creatively vent through this fantastic site.
This year has seen my love for Metal music being well and truly filled. It has been another bumper year and I hope my top album picks make for interesting reading and lead to people listening to the albums.  Whatever you do, please support the artists and I look forward to even more great music in 2019.

10. Underoath – 'Erase Me'
'Erase Me' is the eighth album by American rock band Underoath. It is their first album in eight years, following their 'Disambiguation' record of 2010, marking the longest gap between two studio albums in the band's career.  It is also their first one with founding drummer (and clean vocalist) Aaron Gillespie since 'Lost in the Sound of Separation' in 2008. It was recorded in mid-2017 with Matt Squire and mixed by Ken Andrews. The album was released via Fearless Records on April 6, 2018.
I love the modern sound of the record. It has melody and melancholy all merged into a mountain of metallic menace.  Tracks that hit the mark for me include "Rapture" and the angular"In Motion."  I will be spinning this disc well into 2019, as it is just phenomenal.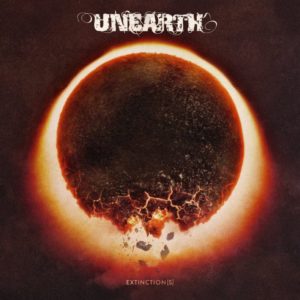 9. Unearth – 'Extinction(s)'
Album number 7 from Boston's Unearthed is a gem.  I am a huge Unearthed fan, with their 'The March' being one of my favorite albums of all time.  They blend Hardcore vocals with traditional Metal riffing and blindingly technical solos.  What is not to like?
'Extinction(s)' has a fearsome aggression that swells your adrenal glands to bursting point. Every groove on the record makes your heart beat faster.  It takes the best of 'The March' and mixes it with the other standout album 'Darkness In The Light' and produces a cocktail of knockout proportions.  The production is warm and the guitar playing exceptional, a real treat for the ears.  Standout tracks include "Incinerate" and "Cultivation Of Infection."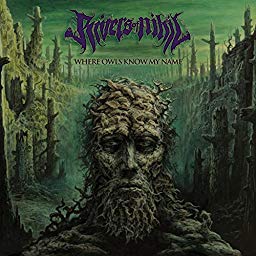 8. Rivers Of Nihil – 'Where Owls Know My Name'
Until I read reviews of this album, I never thought about the title.  Now I understand the joke (owls saying "who"), but it still makes for an intriguing package.  This is the one album of my ten that is as complex as life itself.  It teases you with saxaphone and some Prog influences, then bludgeons you with fiery fretwork.
I do not really pretend to understand what Rivers Of Nihil write about, but the songs engage as a stream of consciousness and the musicianship is top notch.  "A Home" is a specific highlight for me, as it mixes blastbeats of insanity with bursts of keyboards.  This is an album to listen to on headphones in a darkened room.  It lives, it breathes, it takes you on a dark journey filled with insanity and beauty. I love the artwork too, which is very much reminescent of Bernie Wrightson in his prime.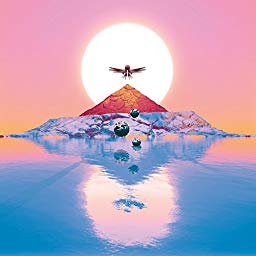 7. Hopesfall – 'Arbiter'
'Faint Object Camera' is the most misleading opening track ever.  I was not familiar with their work until this record (to my shame), but I checked them out after looking for something new.  The opening song made me not want to check out the rest, as it just didn't click with me.  However, the next track, "H.A.Wallace Space Academy", sold me.  Here, the vocals melted my heart and the songs started to appeal.
What I found was a collection of tunes that emotionally connected with me.  There is a brutality to the record, but there is more to it than that. The music grips and I sense the Emo vibe, which is a plus for me. The clean singing is amazing and I can get through the shouty bits (which are at a register that grates somewhat) due to the emotional content. Top picks include "Bradley Fighting Vehicle" and "Drowning Potential."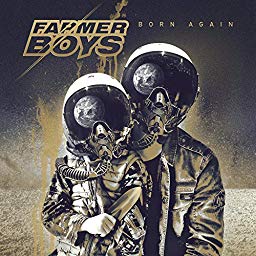 6. Farmer Boys – 'Born Again'
In the 90's, Farmer Boys played some of the world's largest festivals, toured with the likes of Rammstein, Deftones and Metallica. They were a bright spot in the German music scene. However, since their fourth album 'The Other Side', which was released in 2004, they seemingly disappeared from view. However, three of the founding members Matthias Sayer (vocals), Alex Scholpp (guitar) and Ralf Botzenhart (bass) brought in two new members in Timm Schreiner (drums) and Richard Düe (keyboards) and started playing again in 2017. 'Born Again' is the album from this reunion.
The album is a lesson in melodic Metal. Sayer has a voice that is full of passion and is technically unique. From the off, the record hooks in the listener and makes this type of groove-laden Metal as much fun as a party full of David Lee Roth impersonators.
Standout tunes include "Faint Lines", with its brilliantly baleful singing and glorious chorus. Other bangers are the semi-acoustic shimmer of "Isle Of The Dead" and the Euro groover "Stars."  Huge album.  Here's to more farming in Metal.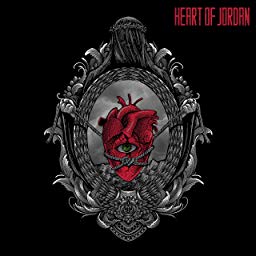 5. Heart Of Jordan– 'Heart Of Jordan'
From Michigan, Heart Of Jordan have only been around for a short time. However, they have produced a monster debut that has ingrained itself into my brain and has taken over my nervous system like a virus. The music is a potent seizure of Metalcore riffing and melody. The band have stormed into my top ten as I have listened non-stop to this release for months.  Every time I listen, I hear more interesting parts, from opener "Throne Alone" to closer  "Enslaved."  Like Farmers Boys, the singing is outstanding with Preston Maitland powering through the ten tracks.
As a side note, the guitarist Elijah White is a gentleman and one of the nicest people I have ever dealt with in the Rock world.  Move over Dave Grohl! I wish these guys all the best.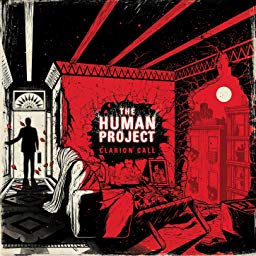 4. The Human Project – 'Clarion Call'
Leeds (UK) is the home town of The Human Project.  This album was given to me to review for Metal Nexus and, I confess, I had never heard of these guys.  That all changed, as I was absolutely captivated by their Pop Punk approach and their snarling political polemic.  The collection changes through the gears at a breakneck speed, as they rail against injustices over the world.
So what do they offer to distinguish them from others in the same genre?  This is easy to answer, it is the pure tunefulness and memorable lines of songs such as "That One Percent" or "The Rhetoric."  There is something so joyous in these compositions that you can't help but bang your head or bounce around the room.  The sonic landscape of their songs is also unique, with the singing being processed through some signature effects.  The guitar playing is tight and the drumming is outstanding.  They are one talented unit and this album will stay with you for many years.  Get human and give them a try.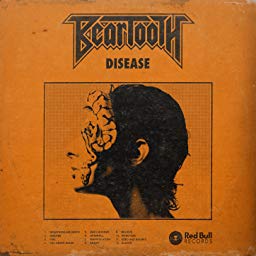 3. Beartooth – Disease
Absolutely outstanding.  Loved 'Aggressive' and love 'Disease' as well.  Caleb Shomo is one of the most talented singer/songwriters in the Metal world and this album is a natural progression on their attempt to take over the planet.
2. Bury Tomorrow – 'Black Flame'
Yeah, I am loading the list with Metalcore bands (although there are some who dispute that Bury Tomorrow are core).  However, this is a record of severe gravity.  I loved it since it was released earlier in 2018 and I still love it today.  It is brutal, but also melodious in the extreme.  There are two singers, the fantastic Daniel Winter-Bates (growls) and the amazing Jason Cameron (clean).  Cameron especially delivers in spades and sets this apart from many Metalcore releases.  "Black Flame" and "No Less Violent" are favorites of mine.
There a lashings of Gothenberg-type melodic Death Metal across the grooves, but a rhythmic base keeps this release moving.  The energy flashes out from the speakers and dances all over the place.  The guitar work is inventive and the leads slash the air with explosive tethering.  This is a record that picks me up when I feel my energy is low.  Standout tracks include the aforementioned songs, along with "More Than Mortal" and the beastial "Stormbringer."
A beautifully blackened album. This is by far the most listened to record in the Coxy household.  I seriously fell for this beast.  The title track is perfection and it is a collection with no failings.  A songwriting masterclass for all new bands.  Listen to "Safety Pin" or "Blind Deaf & Dumb" and if your head doesn't bang or your foot tap, you gotta see a doctor, because you have no soul.
As for those with honorable mentions, may I suggest 'Kicker' from The Get Up Kids or 'Reap The Storm' by Undertow or even Stars Aligned with 'From Darkness To Light."  Mic drop 2018!