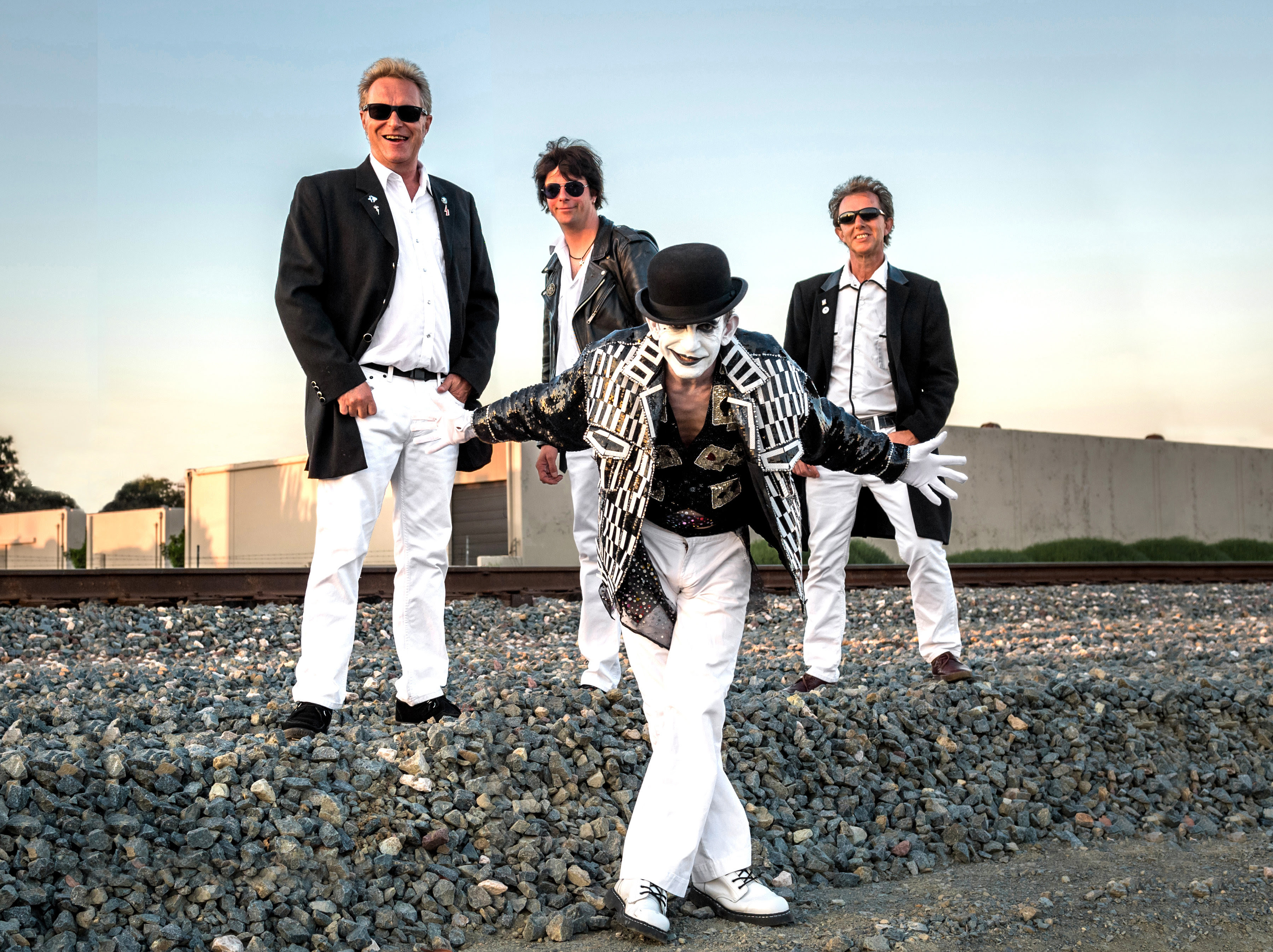 Tomorrow night (Fri 27th October), don't miss your chance to experience the unforgettable, high energy, mosh-pit inducing, up-tempo music from Kings of Punk The Adicts. Fashioned in unparalleled Clockwork Orange Droog attire, the band is returning to the House of Blues of Anaheim for a very special Clockwork Orange County Halloween show. Joining the band are none other than Los Angeles based punkers, The Generators and L.A. sleaze-rockers, Dr. Boogie! Purchase your tickets for the show here and join them in raising hell on earth! (Scroll down for further tour dates).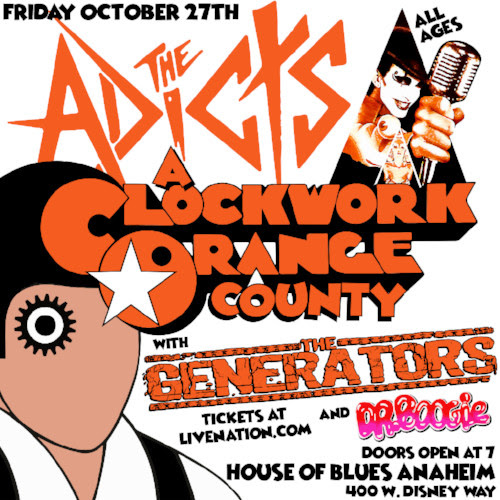 To get you in the mood we've got the positively infectious new music video for "Picture The Scene" off their brand new full length album 'And It was So!' for your viewing pleasure. The artistically surreal Dali-esque motion voyage was skillfully directed by Bobby Hacker and produced by Luke "Ramone" Davison, and is an energetic visual feast infused with The Adicts classic Punk/Rock vibes. "Picture The Scene" is the first single to be released from their forthcoming album and is strictly limited to 1000 copies worldwide via 7" vinyl. Don't delay! Order your own exclusive copy of "Picture The Scene" here!
The bands impressive eleventh studio album 'And It Was So!' is set for an explosive release on November 17th via Nuclear Blast in the U.S. and Arising Empire for Europe and the U.K. The album was recorded at lead guitarist Pete Dee's place in California, and collectively Tom Arley, Pete Dee and Christopher Brookes handled the engineering. Pete was also in charge of handling the mixing of the record. Impressively, the band created the artwork for the album, giving it a thoroughly personal touch. Click here to pre-order on CD Jewel, exclusive White vinyl or Clear with Orange Splatter vinyl (limited to 500 each), exclusive vintage style White cassette (limited to 200), "Keyhole" T-shirt and "Cover" T-shirt/CD/Poster/Button bundle. 'And It Was So!' is also available digitally on iTunes or Amazon.
'And It Was So!' Track Listing:
Picture The Scene
Fucked Up World
Talking Shit
If You Want It
Gospel According To Me
Gimme Something To Do
Love Sick Baby
And It Was So
Déjà vu
I Owe You
Wanna Be
You'll Be The Death Of Me
Catch The Adicts live:
10/27/2017 House Of Blues – Anaheim, CA
11/16/2017 Astra – Berlin, DE
11/18/2017 Streetpunk Ink Mas Party – Saint-Brieuc, FR
11/21/2017 TUI Arena – Hannover, DE sold out*
11/22/2017 Fabrik – Hamburg, DE
11/24/2017 Arena Leipzig Leipzig, DE sold out
11/25/2017 DE, Leipzig, DE Arena Leipzig sold out *
11/28/2017 Basel, CH St. Jakobshalle sold out *
11/30/2017 Festhalle – Frankfurt, DE sold out *
12/01/2017 Festhalle – Frankfurt, DE sold out *
12/02/17 Zakk Dusseldorf, DE
*Support for Die Toten Hosen
06/02/2018 Rebellion Festival Amsterdam – Amsterdam, NL
06/28/2018 O2 Academy Islington – London, UK
06/29/2018 The Marble Factory -Bristol, UK
06/30/2018 O2 Ritz -Manchester, UK
The Adicts are:
Monkey – Vocals & Chop Sticks.
Pete Dee – Lead Guitar
Kid Dee – Drums
Highko Strom – Guitar