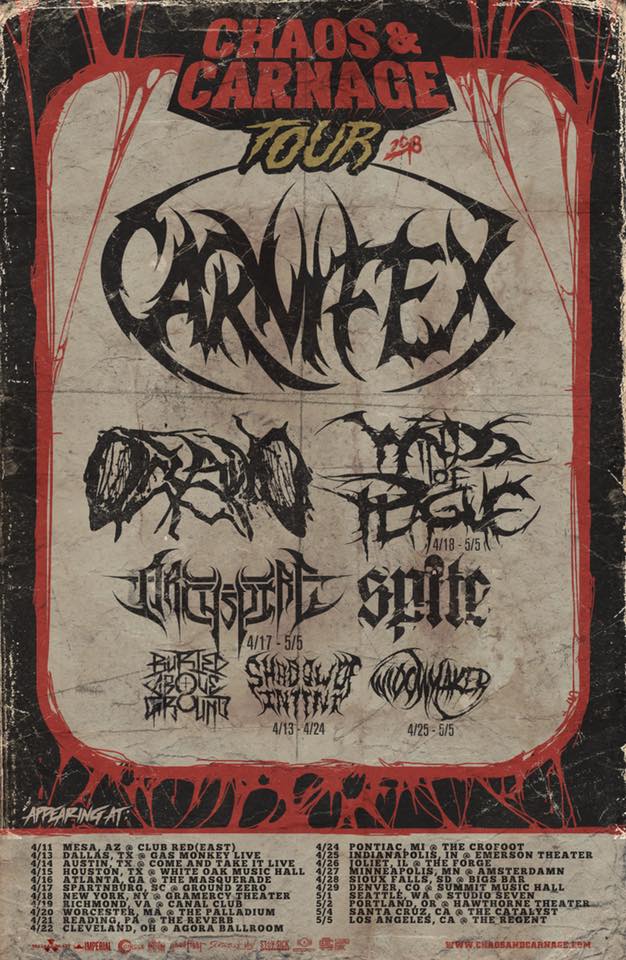 The year has just begun and already one of what might be the greatest deathcore tours has been announced. So stop whatever you are doing and check this beauty out!
From the 11th of April till the 5th of May you can witness what can be labeled as top tier deathcore bands. Carnifex will be headlining acts such as Oceano, Winds Of Plague, Archspire, Spite, Shadow Of Intent, Widowmaker and even Buried Above Ground. If this isn't an insane line up with bands then I honestly don't know what is. I highly recomment any deathcore fan to go witness what might be the end of the world.
4/11 Mesa, AZ @ Club Red
4/13 Dallas, TX @ Gas Monkey Live
4/14 Austin, TX @ Come and Take It Live(Texas Independence Fest)
4/15 Houston, TX @ White Oak Music Hall
4/16 Atlanta, GA @ The Masquerade
4/17 Spartanburg, SC @ Ground Zero
4/18 New York, NY @ Gramercy Theatre
4/19 Richmond, VA @ Canal Club
4/20 Worcester, MA @ The Palladium(New England Metal and Hardcore Fest)
4/21 Reading, PA @ Reverb
4/22 Cleveland, OH @ Agora Theatre
4/24 Pontiac, MI @ The Crofoot
4/25 Indianaplis, IN @ Emerson Theater
4/26 Joliet, IL @ The Forge
4/27 St. Paul, MN @ Amsterdam
4/28 Sioux Falls, SD @ Bigs Bar
4/29 Denver, CO @ Summit Music Hall
5/1 Seattle, WA @ Studio Seven
5/2 Portland, OR @ Hawthrone Theater
5/4 Santa Cruz, CA @ The Catalyst
5/5 Los Angeles, CA @ Regent Theater
VIP tickets go on sale tomorrow, and general admission tickets on sale Friday! For more info go to chaosandcarnage.com!