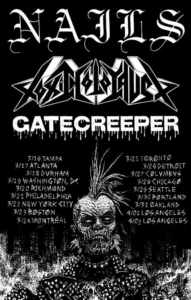 Hardcore punk, thrash-punk, and death metal fans alike are in for a treat! Tomorrow, 03/16/2017, starts the beginning of this extreme music trifecta hitting the road together for this 18 date, 17 city tour that's sure to be a monster.  Nails is a hardcore punk band from Oxnard, CA currently signed with Nuclear Blast.  Currently with 3 full lengths and a couple of EPs under their belt, band members Todd Jones (ex Terror), John Gianelli, and Taylor Young meld elements of grindcore, powerviolence and death metal to create their own exclusive taste of hardcore. They will be supported by the intense but fun thrash punkers Toxic Holocaust.  TH has won recognition from metal publications across the board who all agree that they are among one of the most important and entertaining thrash bands in the modern era.  Originally founded as the solo effort of frontman Joel Grind, Toxic Holocaust now claims Nick Bellmore on the skins with Charlie Bellmore stepping in the role of touring guitar support since 2015. Last but certainly not least are their Relapse Records label mates Gatecreeper who saw the release of their first full length album last fall.  The quartet of Chase Mason, Eric Wagner, Seth Mears, and Matthew Arrebello have a primarily death metal sound that's interwoven with a peppering of thrash and punk elements, but one that maintains death metal as it's core.  The three bands combine on the same bill to form the Voltron of the hardcore/punk/thrash/black metal scenes, a juggernaut of a tour that's sure to please old fans and invite curious new ones.  Don't make excuses; make plans instead to catch this as it's definitely gonna be a highlight of the touring circuit this year!  Dates and locations are posted below:
3/16/2017 Orpheum – Tampa, FL
3/17/2017 The Masquerade – Atlanta, GA
3/18/2017 Motorco Music Hall – Durham, NC
3/19/2017 Rock & Roll Hotel – Washington, DC
3/20/2017 Broadberry – Richmond, VA
3/21/2017 Union Transfer – Philadelphia, PA
3/22/2017 Music Hall Of Williamsburg – New York City, NY
3/23/2017 Middle East (Downstairs) – Boston, MA
3/24/2017 Foufounes Electriques – Montréal, QC
3/25/2017 Lee's Palace – Toronto, ON
3/26/2017 Magic Stick – Detroit, MI
3/27/2017 Park Street – Columbus, OH
3/28/2017 Bottom Lounge – Chicago, IL
3/29/2017 Neumos – Seattle, WA
3/30/2017 Analog Theater –  Portland, OR
3/31/2017 New Parish – Oakland, CA
4/01 & 02/2017 The Hi Hat – Los Angeles, CA
Follow Gatecreeper on Facebook here, Nails on Facebook here, and Toxic Holocaust here.
Nails:
Toxic Holocaust:
Gatecreeper: