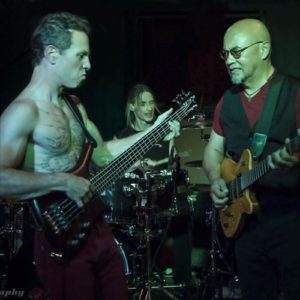 Our friends Ben Lozaga, Ryan Martinie and Mitch Hull out of Soften the Glare have just released their stream for "March of the Cephalopods" off their upcoming release of Making Faces due out in April!  This funky little tune truly showcases the diverse texture and talent this supergroup brings to bear!  Check it out, share then head over to the Soften the Glare Pledge Music site for your pre-0rder and get in on some other goodies they have to offer; including shirts, posters, vinyl, mugs, guitars, basses and a huge array of other desirable swag!  I already have my stuff ordered.  If you are like me, April cannot get here fast enough!  Enjoy!
Soften the Glare is an instrumental super-group comprised of Jazz/Blues guitar great Bon Lozaga of Gong and TinyBoxes fame who has been featured with Allan Holdsworth, Kai Eckhardt, David Torn, David Fiuczynski among many others; Rock/Metal bass wizard Ryan Martinie from Mudvayne and Gongzilla/Staxx/Chemeleon/War 4Peace drummer Mitch Hull. The result of seemingly unrelated specialties is some of the most fun, complex and genre-bending music available anywhere! Jazz, Funk, Metal, Heavy Blues and Rock "with a touch of chaos" as they say. With the depth of talent this trio bring to the table, rest assured that no one will find fault with Soften the Glare's inspirational fun vibe.
Check Soften the Glare out on Facebook for more information!