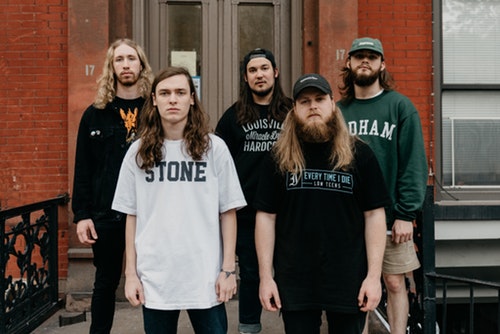 Have you ever just been standing there, minding your own when someone jump kicks your teeth into your skull? That's exactly what Knocked Loose sounds like. These riffs are so grimy and down tuned so low that the neck of the guitar might as well snap due to lack of tension. They make you want to take a bite out of the sidewalk.
Perhaps the heaviest thing that Kentucky has every produced, Knocked Loose has been cranking out filth since around 2012 with their current lineup. Lead by vocalist, Bryan Garris, Cole Crutchfield and Isaac Hale on guitars, Kevin Otten on bass and on drums, Kevin Kaine. Their metalcore/hardcore revival outfit is currently signed with Pure Noise Records, with one full length, "Laugh Tracks" that was released in the fall of 2016. It was masterfully produced by Will Putney of Fit For An Autopsy whose done work with Body Count, Every Time I Die, Thy Art is Murder, etc.
Knocked Loose is currently making their rounds on a select few dates of the last inception of Warped Tour. Their very first US headlining run was earlier this Spring, alongside Terror and Jesus Piece. This band has been turning heads in the scene ever since their LP dropped. These breakdowns are so heavy the floor nearly caves in. Vocalist Garris prefaces the "Counting Worms" breakdown by barking. This might be the best way to announce a breakdown since 2004 when Unearth called "BREAKDOWN" before it came down in "This Lying World."
They are definitely one of the hardest bands on the 2018 lineup of Rock Allegiance and arguably one of the most important bands to check out at said festival. Do not leave your vans and dad hats at home.
Knocked Loose will be playing alongside Avenged Sevenfold, Limp Bizkit and Papa Roach on October 6th, in Camden, NJ.
Tickets for Rock Allegiance are on sale right here and VIP packages are still available.