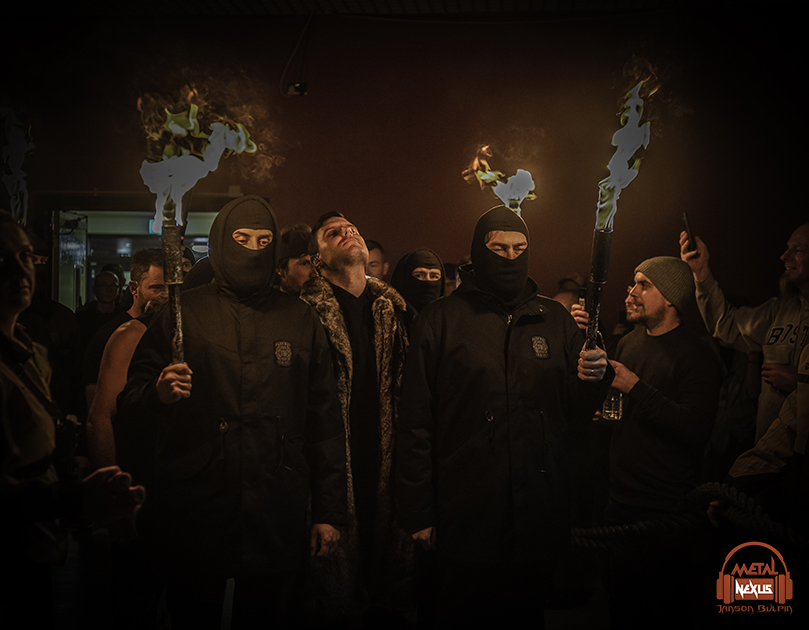 Parkway Drive may have only scheduled 4 dates for their UK tour but with the jaw dropping lineup of support acts they have bestowed upon us pure metal happiness. Kicking things off is Parkway Drive's fellow Australian's Thy Art Is Murder using their deathcore sound to get the crowd pumped right from the start, they are followed by metalcore royalty with Killswitch Engage who have been on a roll since original singer Jesse Leach re-joined the band. Then the proverbial cherry on top of course is Parkway Drive touring in support of their tremendous new record 'Reverence.' This tour February 1st stop in Cardiff at Motorpoint Arena was bound to be explosive.
From the get go the lads in Thy Art Is Murder were not messing around whilst smashing straight in with "Dear Desolution" with its ultra fast double bass drum and fast runs and riffs on the guitars. Then CJ kicks in with his unique powerful screams, growls and shouts, the crowd went nuts. This is the first time I've witnessed them live and to see them grace a stage like this arena was amazing, they looked right at home. I can only imagine what a smaller show would be like (carnage) but then they played the fourth song on the setlist "Reign Of Darkness" and CJ asked the crowd to split for a wall of death. It was at least a 20 foot gap from the front of the arena to the back. Then bang the charge from the crowd and for the next two songs the crowd was going insane. Ending on "Puppet Master" was a great choice with that pounding snare hitting intro got the crowd banging their heads. As the momentum picked up they knew it was their last chance to dance so they went crazy for CJ and crew. I can't wait to witness this again soon.
Not gonna lie I'm a huge Killswitch Engage fan and have been since day one. Recently I witnessed them supporting Iron Maiden last year at the London o2 which was a phenomenal performance and to be fair it always is. Tonight people who had a ticket were in for a treat. They played 11 songs in total and a great mixture of old and new. You could tell they had a lot of fans in the audience due to the amount of singing going on and especially to "My Curse" and "My Last Serenade" the crowd were nearly drowning out the band they singing along so loud. I was hoping Guitarist Adam D was going to pop to the bar and order a couple shots mid song like he did at a recent show whilst still playing his guitar (We've all seen that video right?). I was waiting but sadly this didn't happen (search for the video its awesome). Watching Adam's quirky personality on stage is always amazing, the faces he pulls are great along with his jogging around the stage, he is in my eyes one of the best guitarists out there. Jesse Leach is just one of those flawless live vocalists, he sounded perfect in every way. I normally don't say this but it was great vocal deliveries all night long. He delivers just as good as the album version live. He deserves a lot of respect, hats off to you sir! The pit was crazy from start to finish. I stood just out of the area and saw a random shoe on the ground and then another shoe made it to the stage. As Jesse asked who's it was, well there was either one person with no shoes or two people with one shoe…ha ha ha. One more thing to look out for is a new album from Killswitch Engage this year and 2019 marks the 20 year anniversary of the band so I'm sure its going to be a banger of an album.
So the time has come for the Australian lads in Parkway Drive to hit the stage. The lights dimmed and the band appeared at the back of the venue with four of their crew surrounding them with flame torches. They walked through the crowd to the stage with the intro to "Wishing Wells" before gracing the stage and continuing to deliver the rest of this tune from 'Reverence'. Lights dimmed to an almighty roar, Parkway Drive officially warmed the crowd up together with the amount of pyros, explosions and flame throwers from all sides of stage.
The stand out tunes for me were "Carrion," "Vice Grip" and "Wild Eyes." To hear everyone in the crowd chanting to the riff like on the album version was incredible and vocalist Winston McCall looked like that gets him amped every night. Drummer Ben Gordon is a beast on the kit, he's a drummer I've liked for a while now. If you wanna be a hard hitting drummer just watch this guy. He didn't let up all night and had 17 tunes to play, just wish he had his drum cradle tonight but unfortunately some venues can't accommodate everything in a bands production. To be fair, it did not matter as Parkway Drive let the music and performance do the talking. Winston McCall did say it felt like last week they were playing Merthyr Tydfil to 10 people and he couldn't sing ha ha.
Well I was there in the early days and not so long ago when people used to turn up with inflatable boats and crowd surf in them, amazing times. However, to see this band progress into what they are now and to be doing arena tours is well deserved. I hope the momentum for them keeps growing. If you manage to get to a show you can expect explosions, flames, fire balls from all directions, a string section joining them and Winston McCall going to a little stage at the sound desk to join a cello player to perform with elevating platforms which Luke Kilpatrick and Jeff Ling were lifted high up above the stage. I read an article saying there are no bands coming up to replace the legendary bands we are losing, well think again, they are here and they are called Parkway Drive. They have always been here and right now they are getting the recognition for their hard work over the last 16 years. So stadiums might be next on the agenda? I certainly hope so. I would like to wish every member of the band all the best for the future. We can only hope they help influence a new generation of bands that are even half as talented as they are.