Transcontinental black/death metal band Hiss From The Moat have released a lyric video for their new track, "The Harrier". This international powerhouse was founded by James Payne (Vital Remains, Hour of Penance) with Italian friends bassist/vocalist Carlo Cremascoli and guitarist Giacomo "Jack" Poli. In 2009 the three-piece released their debut EP The Carved Flesh Message. Sharing the stage with acts such as Psycroptic, Skeletonwitch and The Black Dahlia Murder they took their project to as many audiences as possible. Four years later they released their debut full-length Misanthropy via Lacerated Enemy/Nuclear Blast. During this period Payne left Italian death metal band Vital Remains to work full time on Hiss From The Moat. Taking their blended sound of black and death metal the band toured Europe and Asia with acts such as Behemoth, Belphegor and Rotting Christ. The band then brought on guitarist/vocalist Max Cirelli.
Touring internationally, the band began working between the United States and Italy on their sophomore release, The Harrier. The title track is a powerful and dark track that calls out the religious and political powers that be that aim to oppress the masses. The video explains, "'The Harrier' refers to he who devastates. It is not intended as someone whom we created to destroy, but rather to indicate everything that devastated our history. Like politics, religion, dictatorship, etc.." Using images as well as words, the video explains what the message of the song is on a bilingual level. Using religious symbols like Jesus Christ and The Prophet Isaac. Payne explains, "The lyrics, instead, are composed from extracts of sacred and political texts (as it's indicated from the inscription in brackets) that, isolated and used in a more direct way, express and show how violent and brutal these books are, and sums up a good part of what the album itself talks about." The band's goal is to give their fans and potential new ones another brutal assault with this new album.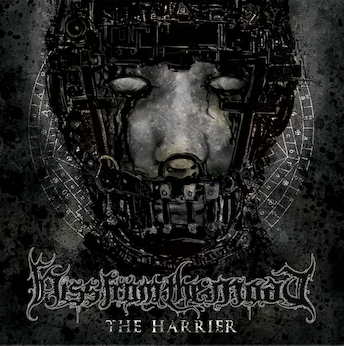 The Harrier was produced, mixed, and mastered by Stefano Orkid Santi (Origin, Suffocation, and Cattle Decapitation) with artwork done by Stefano Bonora (Maze of Sothoth). The album is due out February 22 2019 via M-Theory Audio. The song can also be streamed on Spotify, Apple Music and other digital platforms. There is also a preorder available that comes with a CD and limited edition (200 copies) of a "moat-black" LP. Digital preorders via Bandcamp come with an instant download of the title track. To keep up to date on Hiss From The Moat follow them on Bandcamp, Facebook, and Instagram.