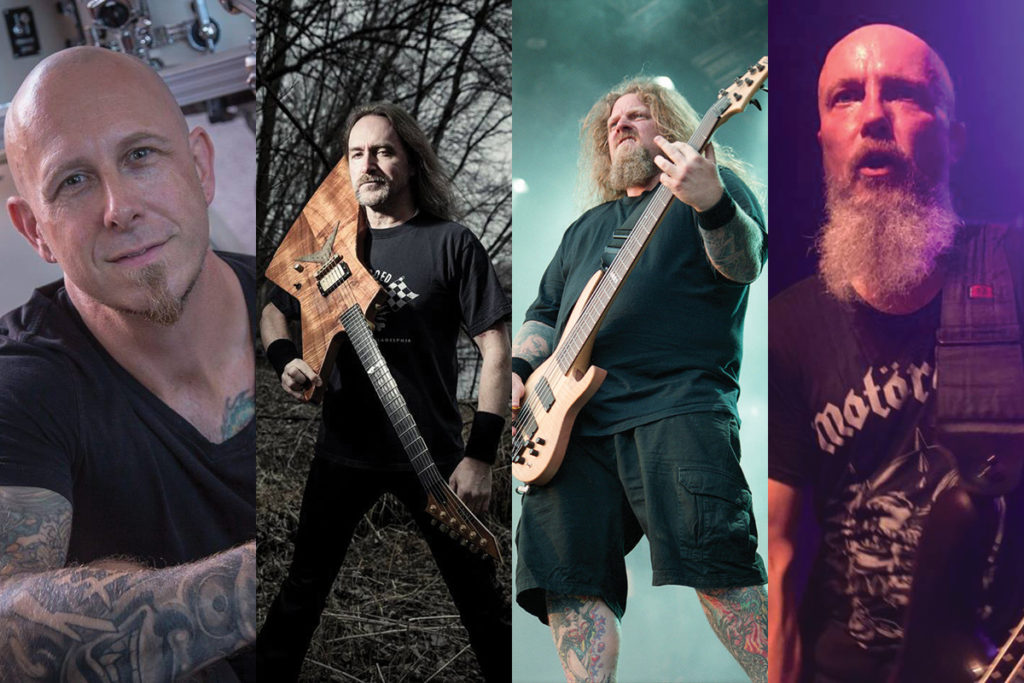 Whilst the Devin Townsend Project may be on hiatus for the foreseeable future, with the man himself, the big 'D' following other musical pursuits. What better way to fill the void then with a brand new band featuring members from Devin's past and present, the Devin Townsend Project and ex-members of Strapping Young Lad!
"This is something completely new, heavy and filled with killer musicians" – Ryan van Poederooyen
This exciting new project has been teased over the past few weeks by drummer Ryan van Poederooyen (ex-The Devin Townsend Band, Devin Townsend Project), and we can now reveal that he will be joined by guitarist/bassist Brian 'Beav' Waddell (Devin Townsend Project) returning to his native instrument on guitar, with 2nd guitarist Jed Simon (ex-Strapping Young Lad, Zimmers Hole, Scar The Martyr, Vimic), and on bass Byron Stroud (ex-Strapping Young Lad, ex-Fear Factory, Zimmers Hole)! What one hell of a line-up this is already!
But that's not all! This coming Wednesday the line-up will be complete with the announcement of who will be the 5th and final member, the all important vocalist with the band name being dropped shortly after.
Read todays full announcement below:
"We would like to announce our 2nd Guitar Player of this brand new band. It is none other than, Mr. Jed Simon of Strapping Young Lad, Zimmers Hole, Scar the Martyr and Vimic acclaim. The majority of you all were hoping for Jed 'Fucking' Simon and now it's a reality. Jed joining the band was an obvious choice after Brian 'Beav' Waddell, Byron Stroud and I decided we were going to do a heavier sounding band. Jed was our first, and really, our only choice. We didn't think of anyone past Jed, because it made so much sense to have him involved for many reasons… He writes memorable, bad ass riffs, Byron and Jed have played together forever, we're all great friends, and his personality along with his 'team comes first' attitude, fits in exactly with what we're doing. Beav, Byron and I are stoked to have Mr. Metal on board. Prepare your best Taco for, Jed when we come to a city near you!!!!
Thanks to all of you for your incredible support, comments and general excitement for this band. You guys were calling for Jed a lot these past few days after, Byron was announced. We all had big grins on our faces knowing he was a part of this.
Next, we get to announce our singer on Wednesday. The guesses for this will be very interesting to see… all I can say is that he really blew us away with his voice on our demos. This guy is the real deal and the perfect fit for the music we're playing! Who could it be ? Find out on Wednesday!
Lastly, we will be announcing the name of the band, shortly after our singer is announced and then much more info to come. Once we've worked out our look, I imagine we will get to work on branding. I have noticed other newly formed bands have started customizing their instruments with the likes of drum wraps, so that is something to think about. Please spread the news, share it and let people know about the metal that's about to ensue! We're stoked and we're looking forward to giving you EVERY reason to be stoked with us! Stay posted…." – RVP