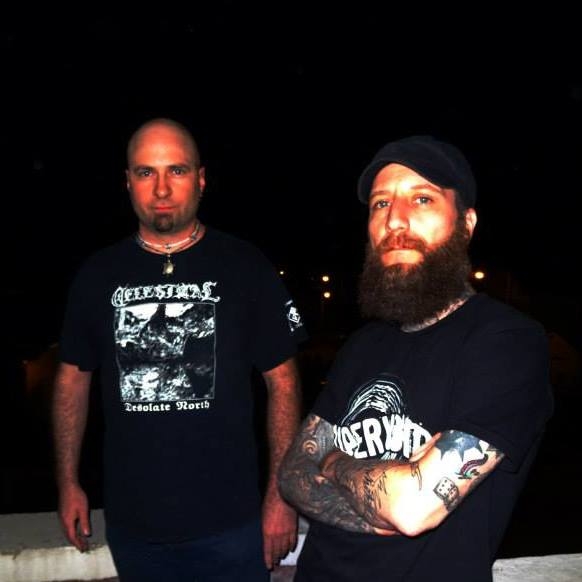 Apalači folk metal two-piece Nechochwen are based in the dense forest of West Virginia. Nechochwen (Aaron Carey) plays the nylon and steel string guitars, hand drum, flute, lalawas, and vocals while Pohonasin (Andrew D'Cagna) supports the rhythm section with drums and bass. Taking inspiration from indigenous peoples, their music is a blend of modern and folk instrumentation.
Formed in 2005, they focus on their Native American roots both lyrically and instrumentally. Releasing Algonkian Mythos in 2008, Nechochwen wrote and performed all the tracks. Finding spiritual guidance Nechochwen explains,  "It was only natural that the mythos of the Eastern Woodland Indians of which I was learning would manifest itself through my other passion, music. There is no central theme to Algonkian Mythos; it is just my attempt to paint musical scenes of Native events that inspire, anger, or sadden me. I hope it somehow will transport you to another time and place." The tracks on this album vibrate with a spiritual intensity and curiosity.

While Algonkian Mythos has a acoustic atmosphere, the rest of their releases take a aggressive turn with heavy riffs and fast rhythm. Keeping the themes of Native American folklore, Azimuths to the Otherworld tell the ancient tale of the Ohio River peoples the Adena and Hopewell. Their latest release, Heart of Akamon is a heavy-hitting and aggressive tribute to the troubled past and unfortunate present of indigenous people. Tracks like 'The Serpent Tradition" and "October 6, 1813" profile the struggle of Native American life clashing with colonizers. Catchy riffs and shamanistic lyrics make Nechochwen one of the most underrated folk metal bands. Creating stories that need to be heard through extreme music while paying homage to tradition. Of course the Appalachian forests would create something so meaningful yet hard as nails at the same time.
Nechochwen can be found on Bandcamp, Facebook, and Spotify. They have digital and physical copies available of their music. I would recommend this to any metal fan that is looking to reach for something that is beyond their day to day listens. I discovered them a few months ago reading a Noisey piece written by Mason Adams profiling black metal of Appalachia. Became a fan ever since.