*This is part of our State Of The Art series, showcasing bands every Monday from the featured State*
This month's State is Colorado!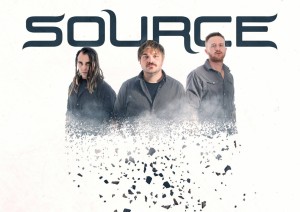 Starting this month's State of the Art: Colorado off with one hydrogen bomb of a bang: Source. Right out of the gate, this triumvirate of fine musicians from Boulder confound with dazzling, atmospheric and technical Progressive Metal in the vein of other notably uncharacteristic Metal bands like Opeth, Tool and Porcupine Tree. So good, in fact, producer Scott Wilson described them as a supergroup shortly after meeting with them in the studio even though Source was formed only three years ago.
Already rated as the top band in Colorado by Reverbnation and garnering top honors at the 2015 Akademia Music Awards for Best Heavy Metal Song with Forgiveness, the members of Source: Ben Gleason (vocals and guitar), Georges OctoBous (drums) and Dan Crisafulli (bass) are all masters of their individual instruments but together create something that is so very powerful and special. The cohesion of rhythm, unusual chord progressions and sophisticated melodies add up to form music that is unbelievably complex yet so easy to listen to; maybe so bold to say: perfect. The Art at its finest. Gleason's fusion-influenced guitar playing is second to none and easily trades leads and rhythms with Crisafulli's often Funk-based and fingertapped bass lines as they thread their way through the labyrinth of sound Source creates. Add to that the penultimate drum skills of Mr. OctoBous and the sound is that of a full-on orchestra from Source's three members. Gleason's soulful voice finishes things off, singing songs with often dark subject matter, yet offering thoughtfully bright hope and philosophical perspective for a very positive, poetic and uplifting experience. Cerebral and beautifully lyric by word alone.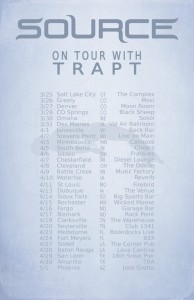 Recently signed with Pavement Entertainment in March, Source's debut album titled Return to Nothing is due for release in August of 2016 but can be had along their US tour stops with Trapt. With solid backing from Pavement and their US tour, Source is sure to collect fans and followers en mass. Their talent simply cannot be ignored. To quote the Source bio: "The music is an expression of the sensations experienced on this planet, the profoundness of the human experience and the beauty of all that is." This goal is hammered home with absolute perfection!
Please see the following links for more information on Source:
Facebook  Web  Instagram  SoundCloud  Spotify  Twitter  iTunes  Tumblr  Georges OctoBous: Return to Drumming DVD
Band Manager: Brent Boutte