*This is part of our State Of The Art series, showcasing bands every Monday from the featured State*
This month's State is Pennsylvania!

Week number three of our State of the Art: Pennsylvania series takes us back to Philadelphia where we find an extremely unusual band that pulls influences from all over the musical landscape: Metal, Psychedelia, Progressive Rock/Metal and everything in between to create a sound like no other. My spotlight band this week is Tungsten.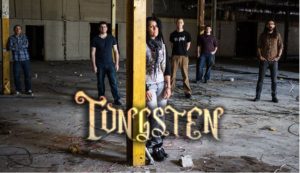 Brought to fruition six years ago in 2011, Tungsten describes their sound as a conglomeration of 70's "psychedelia of 70's Pink Floyd with the blistering guitar harmonies of 80's Iron Maiden. Update those classic sounds with the modern progressiveness of Opeth and Mastodon, top the blend with the intense vocals of one of Philadelphia's most talented front-women, and you get Tungsten." Amazing that this combination does not sound like scattered, experimental and schizophrenia but Tungsten manages to pull off the feat with ease. Other influences include Ayreon, Porcupine Tree, In Mourning, Barren Earth, The Sword, Umphery's McGee, Baroness, Ghost, Camel, Ancients, New Keepers of the Water Tower. Quite a diverse group of bands and a true testament to my theory that good music is simply that: good music and plays well across any genre of music. Classical music sounds great as Metal (Yngwie Malmsteen, Jason Becker, et. al.) and vice versa (Apocolyptica, Sirenia, etc.); and the list goes on and on. But I digress… The original line-up of the band included Madelaine Novak (Light Up Bettie, Heavies) on vocals, Mishah "Meesh" Salman (Pistola, Nomad) on bass, Ben Grossberg and Jeff McCall covering guitars, Justin Jones (Apex, Centralia, The Monroe Experiment) on keyboards/synthesizers and JT Wieme (Willing Swords, The Rifle, Reverence) on drums. Over the coming years, Titi Musick (Kandela) took over vocal responsibilities in 2012 and remains up front today; Mike Louis (Echolalia, Drive Without, Blueskiesfade) replaced Salman in 2013 on bass and was replaced a year later by Clint Argent (Autumn Hour, Jimmy Kunes), who remains on the big strings today. Once formed, the band played relentlessly in New York City and Philadelphia to further develop their sound and stage persona before hitting The Damage Room in the summer of 2013 to record what they had been working out since inception. The resulting debut CD, The Reservoir contained a full spectrum of music including "Water Over Stone", "Contamination", "Atmos (Masto) Stoma", "Night Wanders By", "Coda", "El Dolor", "The Opera House" and "The Reservoir". The creative nuances of Progressive and Psychedelic Rock meld beautifully with the duel guitar harmonies reminiscent of the NWOBHM while remaining completely modern and rather dark much of the time. The vocal timber of Musick add the finishing touch and much of the attitude that Tungsten exudes on stage or in the studio. Once released, the band has been guest to many local radio stations where they remained the number one local band for weeks at a time, played with Doro, Haken, Leperous among many others and continued to play shows in and around Philadelphia and New York. At the current time, the band is taking a break from performing and is diligently working on new material to take back to the studio for their, much anticipated, second album. If it is half as good as The Reservoir, Tungsten will be off to the races!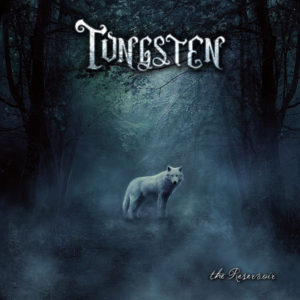 One thing of huge note that also grabbed my attention with this band is their great attitudes about their local Metal scene. Going over the band's posts, interviews and other on-line information when researching Tungsten, it became crystal freaking clear that the band members' view the Metal community is that of a family as opposed to "the competition". Hell, they post more stuff encouraging other bands than they do about themselves, which is usually a post about a show and then a few posts thanking the fans for coming out a few days later. This, my friends, is how things should work. Bands work together with venue owners to get local voices heard. Fan bases are developed and the voices get bigger and are afforded the opportunity to expand, leaving new bands a void to fill; and the cycle continues, ad nauseum. There is no part of this equation that is any more important than the other, and Tungsten so obviously gets this. So, get out there and enjoy the talent that surrounds you, no matter where you live. Venues should be packed for good local artists. $15 or less for hours of musical entertainment and Metal camaraderie is a small price to pay when considering the big picture. If you live in the Philly area, throw Tungsten some support. Yet another band that makes the future of Metal very bright! My hat is off to this group!
More information on Tungsten can be found on Web Bandcamp Facebook Twitter YouTube Spotify iTunes Amazon