*This is part of our State Of The Art series, showcasing bands every Monday from the featured State*
This month's State is Washington!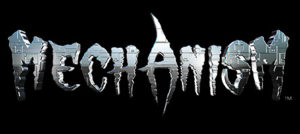 So I was on vacation last week and, as a result, did not post a State of the Art: Washington showcase article. Well, when looking for Washington bands to cover this week, I was almost overwhelmed with the number of really good bands deserving some attention and have decided to make up for last week by posting two this week. So, let's go to Tacoma, Washington, just northeast of Olympia, home of Melodic Hard Rock/Metal monsters, Mechanism.
Mechanism has been for about twelve years now and has a rabid fan base that has spread from the Seattle area in Washington to Oregon, California, Idaho, British Columbia and beyond. Known as much for being professional, friendly and easy to work as they are at bringing "raw and almost animalistic energy" to each performance, Mechanism has gained the respect of local and national acts as well as critics and fans. So good, in fact, that they have been inducted into the Metal Monthly Hall of Fame after being listed as one of their Top 12 bands, been voted Band of the Year by listeners and hosts of Chaos: A Show for the Masses a number of times and have had multiple nominations for Best Local Band, Best Metal Band, Best Vocalist, Best Guitarist and Best Bass Player for the 2014 Seattle Music Awards and is currently ranked #1 on ReverbNation for Tacoma, Washington. This is all attributable to their almost constant practice, show schedule and their widely hailed work ethic in perfecting their sound and working well with their contemporaries. The current lineup for Mechanism has Ryan Renfield on lead guitar and vocals, Tony DeLisio on lead guitar, Bobby D'Angelo on bass and backing vocals, Rene Monjaras on drums and percussion and Manny Rojas on keyboards and "sonic mayhem". It should not come as a surprise then that they are just as comfortable playing with Sanctuary, Where Angels Suffer, Dokken, Lynch Mob, Mindflow, Lizzy Borden, The Devin Townsend Project and Michael Schenker as they are playing with similar local bands in and around Washington. It is no wonder that they are one of the most sought after bands for national touring acts as well as any high profile show. Hard work, unwavering dedication and steady consistency has paid off huge for the members of Mechanism.
There are the facts. Impressed? Yeah, me too. Take a listen to this quintet of first class musicians and prepare to have your mind blown. According to their media outlets, adjectives like heavy, dark, intense, rhythmic, precise and energetic are thrown around pretty commonly while describing Mechanism. Agreed, although I would have to add intelligent, shredders from Hell and jaw-dropping (and probably a few expletives that are better left elsewhere). While nothing is weak or half-assed anywhere, the guitar struck me right out of the gate. Theirs is no speed just for the sake of speed, ego trip either. This is melodic and timed shredding to fit cleanly into every hook, riff and bridge they choose to go off in while the other lead is driving a low pulse of sonic excellence. They have to own stock in a string company because they have to be melting those babies after each song. Add to this amalgamation of raw guitar power the thick, rich tone of D'Angelo's bass playing, atmospheric and colorful keys of Rojas and the Rain of Hammers drumming of Monjaras, and the Mechanism's sound is damned near perfect. If not for such a powerhouse of sound from this ridiculously talented band, the vocals of Renfield would overpower everything. With a unique, throaty rasp and huge deep semi-clean tone along with angry, moral and honest lyrics, Mechanism is complete. Just damn… Influences for Mechanism include Disturbed, Killswitch Engage, Dope, Iron Maiden, White Zombie, Pantera, Slipknot, Randy Rhoads, Yngwie Malmsteen, Slayer, Megadeth, Vivaldi, Pagannini, Bach, Al Dimeola and many other. Honestly, they have far surpassed a few of their influences, in my humble opinion (I will leave it to the reader to figure out which). Yes, they are, in fact, that good. Scary freakin' good…
Mechanism has one EP, a full length CD released a couple of years ago called Shadows and Dust and a bunch of other singles that can be found on their website or on other media outlets. The EP is really good, the LP is spectacular. Don't take my word for it though. Take a listen to the streams below to verify that I am right: Mechanism is destined for greatness. My only suggestion is that they open their tour schedule up and bring their bad-selves around FL so I can see what I already love listening to. Can't wait for new material from these guys. We will keep our eyes out and share as we hear anything. Until then, rock the f*ck on with Mechanism!!!
All the goods on Mechanism can be found at: Web   Facebook  ReverbNation  Twitter
[/embed]