Source is:
Ben Gleason: vocals, guitar, piano, keyboards, synthesizers
Justin Mirarck: drums
Riley Selleck: bass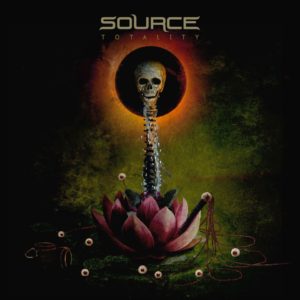 Totality
Release date: 01 March 2019
Source has become a mainstay with past and present members of the Metal Nexus staff. Starting with the first listen to "Memories of Yesterday" when they were first covered as a State of the Art band for Colorado back in April of 2016, through tour coverage, multiple interviews, album reviews, video introductions and King of Strings honors, Source is one of those special bands that we just cannot shake. Their masterpiece debut album Return to Nothing even gleaned top honors for my Best Album of the Year in 2016. There was not even any competition, in my humble opinion, even though my long-time heroes Metal Church dropped their long awaited XI and Aleah Stanbridge's final album with Trees of Eternity before her untimely passing entitled Hour of the Nightingale were released the same year. Return to Nothing still mesmerizes and moves me, often to tears, depending on the mood. All things considered, it is probably one of my all time favorite albums and has still not grown long in the tooth after three years. It is my sage haven anymore. That said, what about their most recent release Totality? Read on…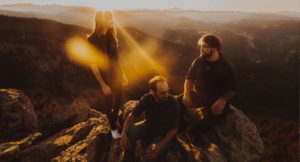 Just some quick background for those that are unfamiliar with this stellar band. Source is a Boulder, Colorado based Progressive Metal band born in 2013 to founder, frontman, composer and guitarist, Ben Gleason. Once joining creative forces with bass player virtuoso Dan Crisafulli and drummer extraordinaire Georges OctoBous, this remarkable trio were off to the races with a sound likened to greats like Tool, Mastodon, Opeth and Porcupine Tree and went about winning awards, increasing their fan base and touring with the likes of Trapt, In Flames, Flaw, Hellyeah (RIP Vinnie. Still miss you, brother!) among many others. In the time that followed, writing began for the new album. As is the case in all of our lives, things change and Justin Mirarack eventually took the seat behind the drums and Riley Selleck began manning the big five string bass. After retooling and tweaking some of the writing, this new beast was born: Totality.
So first: What is or isn't Totality? It is a streamlined album that is intended to gain Source traction in the deep waters of modern music and to initiate those that get lost in much of the Progressive genres of Rock, Alt Rock and Metal. Totality is much more aggressive and accessible than their debut, in sound and theme. This is a straightforward album with the same, positive drive but with a sharper and more focused timber that strays from their epic, often dense and heady debut. It took me weeks to get my head fully wrapped around everything going on in Return to Nothing. Not so with Totality. Opening song "Benjamin", "The Witness" and title track "Totality" show that Progressive Metal needn't be "out there" and can easily move the spirit while remaining catchy and unusually heavy in timing and overall feel. According to Ben, much of this is due to the evolving band and new-found influences of 90's Alt–Rock and Metal. This is not to say that it is bad, just different. With of the exception of ten minute plus monster "Embodied", all songs stick to the radio and tour friendly three to five minute mark that contrasts deeply with most songs on the debut being ten to thirteen minutes long. Leaving much more space in the music and through experimentation with a variety of instrumentation, Source has essentially done the impossible: effectively distilled their sound and feel without losing force or trajectory. Put simply, Return to Nothing is to Totality what Leo Tolstoy's Anna Karenina would be to Bramm Stoker's Dracula. Both spectacular and beautifully written but having a huge disparity of length and overt density. Equal, otherwise on every other count (pun intended!). This feat is quite remarkable since all songs also manage to sound like the band we have all fallen in love with over the years. "Sinking", "Intimacy" and "Embodied" (my favorite track on the album) being the keystones that fully encompass the vision Source brought to fruition in their infancy. "Philiac" and "Unsure" are the newly minted aggressors in the bunch while "Intimacy" and "The Changes Constant" show an emotive and an almost voyeuristic, introverted softness that strike a perfect balance that is normally very difficult to achieve without sounding cheesy and/or insincere. Instrumental heart-breaker "Between" shows that Source is not only supremely talented but also not afraid to push the envelope into an intense, acoustic softness that most bands would not even consider. Brilliant songwriting to be sure. Overall, Ben's vocals harmonies and vibrato have improved as has his forever growing mastery of the guitar. Drummer Justin Mirarck is a beast and great addition to what Source has become. Wicked time changes that the band has been known for flow from this man so naturally it is scary. He has almost a Folk feel to his playing. Do not get me wrong here. His style if velvety smooth and very heavy but always precise in his signature push that likens more to Jazz, Fusion and Folk than to straight Metal. His fit in Source is exceptional. Bass playing on the album was recorded by Dan Crisafulli shortly before parting ways with Source.  His style definitely diverges from the original lines that helped define Return to Nothing, and has a wonderful sense of not only rhythm but also of melody. This is due in large part to his ample use of chording, exceptional tone and unusual but complimentary progressions that feed from the drums into Ben's guitar work and vocals. He fills much more space that he needs to and does so radiantly. New bass player Riley Selleck definitely has some big shoes to fill, but based on videos posted on Source's various online sites, he is up to the challenge and bound to become yet another superstar talent from one of the best bands on the planet!  Cannot wait to see them live whenever they hit a show within seven or eight hours of me.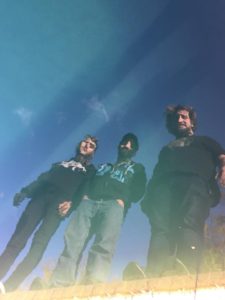 The bottom line is that Source is back with an outrageously good, must have album that I am sure to wear out in the coming years. Is it Return to Nothing? In a word, "no". That album is simply perfect and truly magical. It was one of those rare albums that struck all of the right chords at the right time and bored to the very core of my being. That kind of feeling is so precious and rare and almost impossible to replace. It's like asking me which Star Wars was my favorite. The answer is always going to be A New Hope or Empire Strikes Back. How can the awe and wonder of an eight year old boy first seeing these movies ever be replaced later in life after much of the childhood innocence has faded? Source will always have that respect, wonder and awe of this fifty year old man. Ben also said that once Source has solidified their ranks among the best in Progressive Metal, they can go back to doing any "crazy shit" that strikes their collective fancy. Cannot wait what the future holds! Thanks guys! I am also honored to call you friends.
Tracklist for Totality:
"Benjamin"
"Sinking"
"The Witness"
"Intimacy"
"Philiac"
"Unsure"
"Between"
"The Changes Constant"
"Totality"
"Embodied"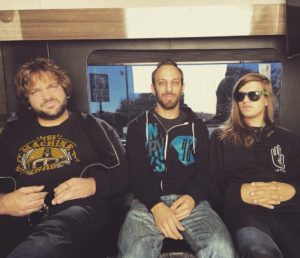 Gilly Gonzalez – Percussion on "Between" and "Embodied"
Andy Skellenger – Tablas on "Between", "Embodied" and "The Changes Constant"
Beth Quist – Hammer dulcimer on "Between" and "Embodied" and vocals on "The Changes Constant"
Trevor Minton – Cello on "Between" and "Embodied"
Produced, engineered, mixed and mastered by Ulrich Wild
Recorded at Colorado Sound Studios (Facebook)
Cover Art by Travis Smith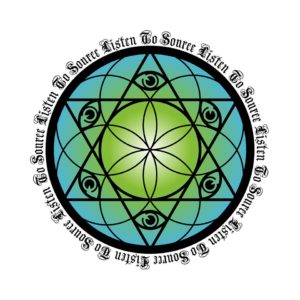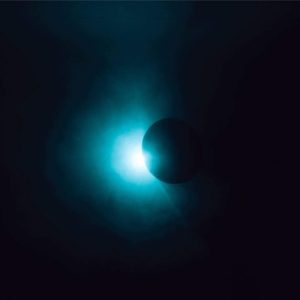 Follow and learn more about this incredible band on the Web Facebook Instagram Twitter
Listen to and buy Totality on Spotify iTunes and Amazon
Released on the Pavement Entertainment record label (Facebook)