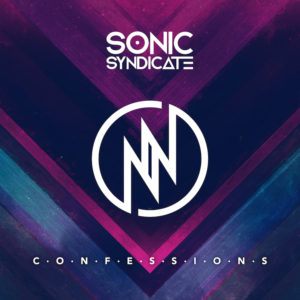 Sonic Syndicate is:
Nathan J. Biggs – Lead Vocals
Robin Sjunnesson – Guitars
Michael Bärzén – Bass
Sonic Syndicate has been around since 2005, when guitarist Robin Sjunnesson was only sixteen years old. Shortly thereafter, the band released its debut, Eden Fire on Pivotal Reckordings September 13, 2005. Two years later, after being picked up by Nuclear Blast records, they released Only Human on May 18, 2007. With solid backing, Sonic Syndicate was able to tour non-stop and sharing the stage with international sensations like Nightwish, In Flames, Soilwork and many, many others. As a result, they were awarded Best Newcomer by the Swedish Metal Awards and Bandit Rock Awards 2008 in Stockholm, Sweden.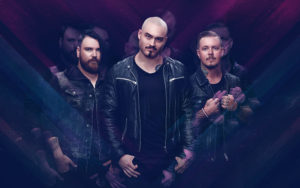 On September 19, 2008, Nuclear Blast cut Love and Other Disasters loose, just before personnel turmoil temporarily bypassed the band. In 2009, Sonic Syndicate came back with new vocalist Nathan J. Biggs and immediately went into the studio, releasing Burn the City November 6, 2009. In 2010, Sonic Syndicate added a couple new notches in their belt, winning Best Music Video and Best Swedish Group awards. Their first Gold Album in Sweden, We Rule the Night was released August 27, 2010 after a huge media blitz with their single "Revolution, Baby!" also going gold. On July 7, 2014, after an almost complete lineup change, Sonic Syndicate released their final, self-titled album on the Nuclear Blast label. Once touring bass player Michael Bärzén became a permanent member, Sonic Syndicate signed on with Despotz Records and began writing and demoing tracks which has resulted in their breakout album, Confessions, that was released last month. Recorded at Purple Skull Music June of 2016, in Stockholm and produced by Kristoffer Folin (Degradead, Domkraft, Siniestro, VAK), Confessions represents the new, emotionally charged direction that Sonic Syndicate has chosen to take.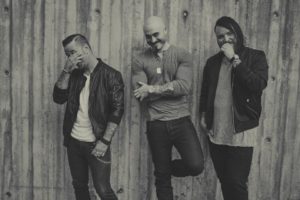 Confessions is a far cry from everything Sonic Syndicate has ever done in the past. Gone is all sense of harshness, in sound and in lyrical content. Guitars tend more toward that of late eighties Metal that was tinged with Pop rhythms from the keyboard, bass and drum tracks. Vocals are now pleasantly throaty clean and show a maturity and depth that Sonic Syndicate has never explored on any prior release. Biggs has some big vocal chords that emit an unusually large sense of encompassing emotion. After hearing this album, the screamed vocals of the past really neglect the shear, God-given talent that this man has. Really, really incredible. Another pleasant change is the new lyrical direction that band has taken. There is absolutely no sense of aggression outward, instead taking an introspective view of emotional response to outside input; a stance that is applicable to the lives of any listener. Confessions also shows the songwriting prowess of band members. Building tension to the point of anthemic climax and easing back to a fitting release is done with Teflon smoothness within each song and from song to song on this record. Much of this melodic feel can be attributed to flawless vocal harmonies launched from the keyboards that were absent in the past. Additional vocals served up by MADYX in "Still Believe" broaden the overall tone of the release; all done with emotional sincerity and drive. If asked to pick favorites, I would have to choose either "It's a Shame" or "Crystalize", both epitomizing where Sonic Syndicate is headed. Confessions, very good in its own rite, is a ballsy move from a band that gained much of its fan base from their formerly Nu-Metal sound. While I don't think they have alienated anyone here, single minded Metal fans are likely to shake their heads in confusion while listening to Confessions. I do, however think that with an open ear, most fans will remain tethered to the new sound and pick up many more as a result of following the creative path Sonic Syndicate has now stormed down. It should serve as a launching point that allows Sonic Syndicate a much longer reach into the music world. Organic and natural; emotive and driving; passionate and positive. What's not to like?
Tracklist for Confessions:
"Confessions"
* "It's a Shame"
"Start a War"
"Falling"
"I Like it Rough"
"Still Believe"
"Crystalize"
"Burn to Live"
"Life is Not a Map"
"Russian Roulette"
"Closure"
"Halfway Down the Road"


More on Sweden's Sonic Syndicate can be found at Sonic Syndicate  FaceBook  Twitter  Instagram  ReverbNation  YouTube