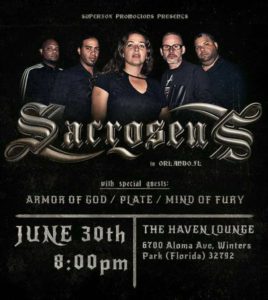 A few weeks ago I was invited to a show in Orlando by my friend and promoter Rhonda Fox with Superfox Promotions. Plate, Mind of Fury, Armor of God and Sacrosent plus I would finally be able to meet Rhonda? Heard Plate, been dying to cover my friend and Chilean guitar god, Ghee Yeh and the rest of Mind of Fury for quite a while now, seen, covered and love Armor of God and have the opportunity to hear Puerto Rican metalists Sacrosent, whom I was formerly unfamiliar with. Sure it is two and half hours away, but I am always down to support Florida Metal when I have the chance, so, hell yeah! I am there! Bought my tickets from Orlando with Armor of God and I was on my way.
Since the family was out of town and I had to stop to test some new equipment for work, I headed to The Haven early to meet Rhonda and maybe talk to the bands before the show. Rain, traffic and GPS turning me around a couple of times got me there about a half an hour early but I was still able to get a spot up front and meet some cool fans along with Rhonda and her lovely daughter, Sterling. Just as kind and sweet a pair of women as I have gone back and forth with over the course of the last couple of years. Great to finally put faces to a names! Friends, new and old, are never too far away at any Metal show, right? Always good to get out and support the music and the scene that supports it.

Right on time, the show opened after Rhonda introduced Orlando's own, Plate. Having heard some of the band's music before, but never having had the pleasure to see them live, I was excited to see and hear their faith-based brand of Hard Rock/Metal. They have an honest, raw and rather late-80s retro Metal sound, guitarist and frontman Craig Fraley, bass player Mung Parker and Jazz drummer Erik Pimentel took the stage to the growing crowd. Get there early, stay late, I always say. Their all-original set included "Bobcat Blues", "Creatzon", "Transformed", "Wheels of Freedom", "Levee", "Brain Teeze", "Vanilla Sundae" and "Descenzion"; all except one being on their latest release entitled Techtonic Planet (review to follow shortly). Being a music theory teacher and minister of music, it came as no surprise that the guitarwork was spectacular and the messages positive in the musical themes and in between song banter with the audience. If you dig old Van Halen, Dokken guitarist George Lynch and throaty, 70s Hard Rock vocals, Plate is definitely in your wheelhouse. Throw in traditional, Bluesy bass lines and very tight drumming and really good gets that much better. With the addition of looped samples, the depth of this trio gets some thicker feeling, allowing for more melody to play harmony through. Very, very clever use of looping that I have not heard used in this manner so effectively. Honestly, it just drops into the background unless you are listening for it but very cool nevertheless. Definitely check these guys out if you are tired of the same old and need some divine encouragement.
More on Plate can be found on Facebook and on the Web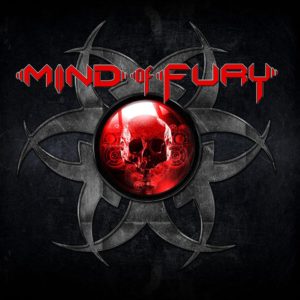 Next up was a band that I have been following and been dying to cover for a couple of years after my friend Andrew with All That Shreds Magazine put them on my radar. After a brief introduction, Mind of Fury took over The Haven stage. Guitarist and vocalist Ghee Yeh, drummer Henry Moreno and bass player Mike Frankenbush have the look, attitude and stage presence defying their underground status. Right out of the gates jaws dropped as Ghee started burning the maple off the scalloped neck of his custom signature Dc Custom guitar. To say this man can play is an understatement. He is probably the best guitarist I have heard in the past couple of years and is 100% CD accurate live too. Amazing. Add to that vocals reminiscent of Ted Pilot from Fifth Angel and you have one very, very talented man. He is also unbelievably cool to top it all off too! Sitting behind the massive kit, Moreno more than holds his own. This dude has the thunder of the gods at his fingertips. Think Vinnie Paul meets Bonham, no exaggeration. He is that freaking good. Not to be left out, Mike slams down the gauntlet to provide no only rhythm, but much of the melody. This super-trio has a heavy sound that comes up just shy of Thrash but is much heavier than the late 80's Metal much of their sound is rooted in. Their spectacular set included "Fight Another Day", "On the Road of Lust", "Anger is Killing Your Soul", "Ten Feet Under", "The Champion", "Hole in the Head", "Breaking Free" and "Holding On", all off of their debut album Do Or Die, which I will also be reviewing shortly. As good as all of these musicians are, the real horsepower with Mind of Fury is their songwriting. Yes, Ghee plays as fast as Vinnie Moore, the drums and bass are damned near abusive, but everything they do fits so tightly around the musicality of each song. Just sick! If melodic Thrashy Metal on steroids is what turns you on, then Mind of Fury simply must be added to your song list. Seriously. Right now, before you continue reading!
More on Mind of Fury on Facebook and on their Website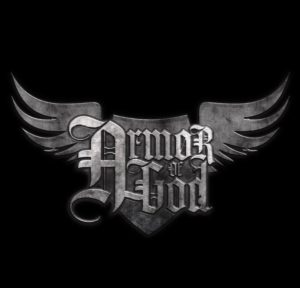 Third up was Armor of God. I am no stranger to this melodic Christian Metal band and have seen them a number of times, so I knew precisely what we were in for. Guitarist/vocalist/composer Orlando Vicente, drummer Henry Leonardo, bass player Hector Acevedo, guitarist/vocalist Richmond Slaathaug, and leather-clad vocalists Karla Danielle and Diana Murillo stormed the stage and belted out a set that included: "Armor of God", "In the Night", "Dark Face of Greed", "Faith, Hope and Love", "Beneath the Gates of Splendor", new tune "Joan of Arc", "The Crusader", "Rage of the Angels" and "Warrior of Light". Like MoF before them, Armor of God is defined by second to none songwriting, tight musicianship and melodic heaviness that is rooted in the sounds of late eighties/early nineties greats like Stryper, Nightwish, Iron Maiden, Blackmore's Night and others in the same vein. Power Metal without keyboards maybe. However, they really cannot be put into a neat little box because the music is interspersed with rough vocals, extremely heavy rhythms, mild shred along with the opera quality vocals of the angels on lead vocals. While Karla undeniably has the more powerful pipes of the two lead singers, Diana's harmonies are pure, clean and tear-jerkingly beautiful. The combination produces a unique sound that compliments the sharp, dueling guitarwork and heavy rhythms of drums and bass. I also fully appreciate the positive messages based in His word. If Christianity is to be based in service to others and reflecting the Lord's glory to expand His Kingdom, Armor of God provides exactly that to Metal fans. They stand as a powerful alternative to the stereotypical, nerdy and shallow modern church music (three chords and two sentences repeated, ad nauseum) that many of us cannot stand. I could, however, listen to Armor of God all day. This is real praise, spoken in our language. As always, the entire band obviously loves doing what they are doing and are unbelievably friendly to boot. Zero egos, even playing at the high caliber that they do. Overall, Armor of God ranks as one of the best Metal bands in Florida, in my humble opinion (not just Christian Metal either!). Bar none. These are serious musicians playing seriously good music. Love this band and was primarily the reason I made the trip. Check 'em out! Well worth your time!
All things Armor of God can be found on Facebook, on the Web and on ReverbNation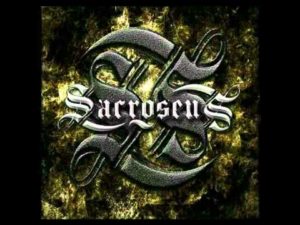 Headliners from Puerto Rico Sacrosent (meaning sacred envoy) was the final band of the evening. Having little knowledge of band short of Rhonda's description of being a Hard Rock/Power/Thrash Christian Metal band, I had no idea what to expect. Man, what a powerhouse of energy and hard hitting music they bring to bear! They are highly regarded in Latin America and are gaining ground in the States playing with the likes of Sacred Warrior, Skillet, Stryper, Petra, Deliverance, Saint, Grave Robber, Silent Planet, Leave's Eyes and Atrocity. Pretty impressive resume! Mostly in Spanish, their set included a crushing selection that included: "Lastima", "Barco A Tarsis", "Esperando", "El Reino Perdido", "El Ultimo Portal", "Perdido", "Legado Eterno" and "Soldado De Metal" (this is a seriously heavy song and my favorite of the night) off of their first album entitled El Reino Perdido. Vocalist Lizanette Frank fronts the band. I definitely like the timber of her voice over the former, male vocalist. Her voice ranges from clean and airy to throaty and powerful. What a range this lovely woman has! On guitars are Simon Rivera and Jose Torres. Both are very impressive and play very well together and with the rest of this uber-tight band. Holding down the almost oppressive rhythms are drummer Victor M. Rodriguez and bass player Jason Carrasquillo. Each member of the band is an excellent musician by themselves; as a cohesive band they are nothing short of spectacular! Even though they have a very distinctive sound, their mojo ranges from Metal ballad to brutally heavy Thrash. Lizanette's vocals tend to temper some of the heaviness and adds power when things slowed down a bit, so the sound was consistent throughout the set. Like the other bands of the evening, Sacrosent has a stage presence that makes the local stage seem like a stadium so entertainment was guaranteed. So much energy all the way up to 1 am. Like AoG, although heavier, this band provides a positive outlet for Metal fans that want something different with a positive message. I don't have too much experience with Puerto Rican Metal, but Sacrosent has definitely made me a fan. If you like heavy, female fronted Metal, you are going to love this band!
Sacrosent can be found on Facebook, ReverbNation and Soundcloud
So much good underground music out there. This fine evening proves that you don't have to spend a mint to see a good show, plus you can be close to the stage, hang out with the bands and even make some new friends. Seriously. Get off the couch a couple of times a month and hit a show to support your local artists. Invite some friends, buy a CD, a shirt or whatever other swag turns your crank so that stellar bands like Plate, Mind of Fury, Armor of God and Sacrosent can continue to provide first-rate entertainment well into the future. We as fans are just as important to them as they are to us!